PGA Tour
What we do and don't know about the PGA Tour's schedule for 2024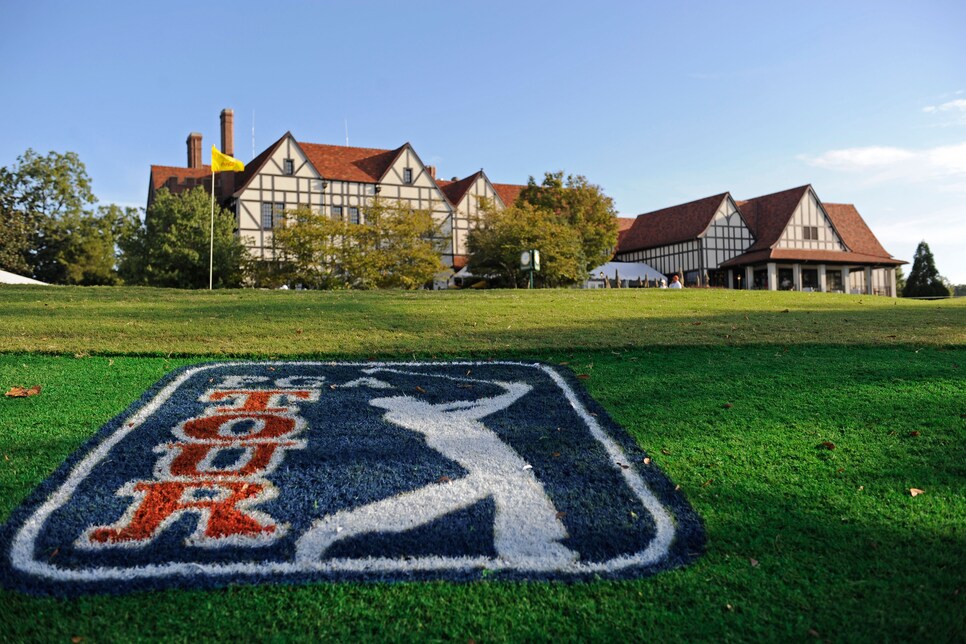 DUBLIN, Ohio — The PGA Tour is perhaps only a month away from announcing its revamped and reimagined 2024 schedule of tournaments, according to PGA Tour officials who met with the media Wednesday at the Memorial Tournament at Muirfield Village Golf Club.
PGA Tour executives Andy Pazder and Tyler Dennis provided an update on the ongoing task of putting together the 2024 tour schedule that has been touted to feature a new flow of designated events and groupings of "swing events" between them.
The tour officials said that the schedule is about "90-plus percent complete," and that they expect to make an announcement on the full slate by the end of June either before or in conjunction with a scheduled PGA Tour Policy Board meeting.
"We've been in a process for a couple of months now of talking to every single title sponsor, every host organization, and things are going really well," said Dennis, the tour's executive vice president.
While Dennis and Pazder, chief tournaments and competitions officer, were still not at liberty to discuss many specifics of the plan due to ongoing discussions, they did shed light on several issues, including the reduction of designated events from nine to eight prior to the FedEx Cup Playoffs and its intention to go forward with limited fields of 70 to 80 players in most of those tournaments.
Here are the key takeaways from the meeting:
What are the designated events for next year?
In addition to the Sentry Tournament of Champions, there are the three invitationals—the Memorial, Arnold Palmer Invitational and Genesis Invitational—and four others yet to be confirmed. Sources have identified the Travelers Championship, RBC Heritage and Wells Fargo Championship, which also are/were designated events this season, as well as the AT&T Pebble Beach Pro Am. The WM Phoenix Open reverts to a "swing" tournament in 2024, while WGC-Dell Match Play is not returning to the schedule.
How did the tour decide to settle on fields of 70-80 players in regular season designated events?
First of all, we're not talking about all designated regular-season events. The Players, the tour's flagship event, will remain at 144 players. Meanwhile, the Sentry Tournament of Champions has a fluctuating field depending on the number of different winners and the number of Tour Championship participants who didn't win in the previous season.
Said Dennis: "When you studied the overall strength of each and every event, so all those 31 weeks going into the FedEx Cup Playoffs, the smaller field size emerged as something that really lifted every tournament. And it has to do with how the eligibility system works and sort of the meritocratic way of guys who are playing the best either through a swing of full field events, or you know, at that point in the season, they can promote themselves into the designated events, and having that be something you're trying to strive to achieve. It really strengthened significantly all of the other full-field events, which as we said, top guys are also going to be playing in those depending on their own kind of personal choices."
Will all the designated events be no-cut tournaments?
There was a bit of a mixed message provided on that question. Pazder said that is still to be determined, particularly as it relates to the invitationals.
"We are having a further conversation about that," he said. "I'm aware that certain hosts of designated events have voiced viewpoints that they'd like to see a cut at their event. Some of the designated events we've announced, everybody knows, that they would be no-cut events. But that's something if there's support for a change, there could be [a cut] at some of the designated events, or all the designated, or none of the events. There's a wide, wide array of viewpoints that you have to take into consideration."
Dennis, however, said that fields of 70-80 players "is a field size that doesn't need a cut. We have a long history of a number of no-cut events out here, smaller field sizes. So that was sort of the logic that led us to the announcement [of having no-cut events]."
The Players, of course, will still have a cut of low 65 players and ties.
Will purses in designated events remain at their current levels?
The Players was $25 million this year while the Sentry Tournament of Champions was $15 million. The other regular-season designated events, including this week's Memorial, offer $20 million.
Pazder anticipates that the $20 million events will remain the same next year. They will not recede. "Our plan is keeping them at $20 million and growing," he said.
What is the tour's response to the notion it is creating a two-tier system or two separate tours?
"I don't think that's a fair comment," Pazder said. "To me, the beauty of the schedule that you'll see next year is that it is one FedEx Cup competition. And the designated events are designed to be aspirational in nature. You always want to play against the best, right? You've heard us this year and years past—to be the best you gotta beat the best and all that. We know our top players want to play against each other more often. And these designated events, as I said, are aspirational. So if you're not in the top 50, on the prior your FedEx Cup lists, well, one of your goals, top of the list, you always want to win. But short of that you want to play your way into those designated events … to measure yourself against the best, the financial rewards of being in those, and so forth. And, again, the way we've stitched together this schedule, it allows every single week on the PGA Tour to have a massive chance of being very successful. I don't buy into this notion that somehow there's two different tours, not at all, not whatsoever."
What are the chances that future tour schedules will look roughly similar to the 2024 slate? Initially, there was a plan to rotate designated events.
Said Pazder: "Our intention is to have consistency from year to year in the schedule, which means designated events specifically having blocks. That's important from a membership standpoint. From a fan standpoint, though, we'd like for our fans to begin to understand and follow the flow of our schedule to know roughly the timing of when the designated events will happen, and we think that, generally, will elevate the entire schedule. And that is our objective.
"We looked at all sorts of different models over the last couple of years: Do you rotate? Which events in which sponsors are designated events? There's some plusses to that. But I think there's more negatives. It would create isolated weeks. Putting the schedule together, as you all know, it's very complicated for weather and agronomics, and a million other factors. So having designated events rotate from year to year, on paper, it sounded good initially, because we kind of dove into it. And it quickly became apparent that the best path for me to identify strong events on good golf courses. That would be our plan."