News
PGA of America CEO Pete Bevacqua named president of NBC Sports Group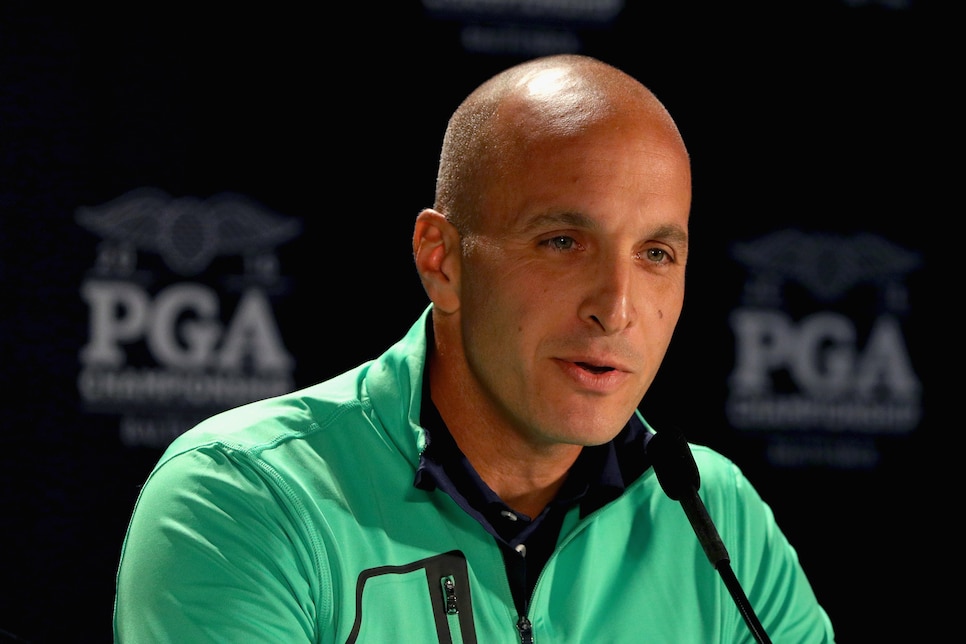 Scott Halleran/Getty Images
PGA of America CEO Pete Bevacqua announced on Tuesday he is leaving his current position to join NBC Sports. Bevacqua, who has been with the organization since 2012 and whose contract with the PGA of America was extended to 2024, will leave the organization for the newly created role of president of NBC Sports Group.
"The opportunity to join NBC Sports Group, and the larger company of Comcast NBCUniversal, which holds media rights to the world's biggest events and an incredible assortment of assets, was too good to be true," Bevacqua said in a statement. "I am also deeply grateful to the membership, leadership and staff at the PGA of America. Professionally and personally, for me and my family, these have been the best six years of my life. Leading the PGA of America and the 29,000 PGA Golf Professionals will always mean a great deal to me."
Bevacqua had just steered the move of the PGA of America's flagship enterprise, the PGA Championship, from August to May. He was also instrumental in establishing a 15-year rights deal between the PGA of America and NBC Sports that locked up the Ryder Cup through 2030, and was said to be exploring relocating the PGA's headquarters from South Florida to the Dallas area.
In his new role, Bevacqua will manage several facets of NBC Sports' business ventures, including programming, marketing, digital, the group's regional networks and all of its golf operations. Bevacqua will working for NBC in September, staying on with the PGA of America through next month's PGA Championship at Bellerive Country Club in St. Louis.
"With the expansion of NBC Sports Group over the last seven years, and our continuing investments in new and existing businesses, adding Pete to our already strong management team will help us organize for future growth," said Mark Lazarus, chairman of NBC Broadcasting and Sports, in the release. "We are thrilled to have someone with his experience and reputation join our organization."
In a statement to Golf Digest, the PGA of America wished Bevacqua the best in his new endeavor.
"We are grateful to Pete for his nearly six years of visionary leadership," said PGA of America president Paul Levy. "Under Pete's guidance, we advanced our mission to grow the game and serve our members in many ways.
"With the PGA of America well-positioned for continued success, Pete departs with our gratitude and best wishes for continued success in this new chapter at NBC Sports."
In a memo to PGA members, Levy said that Chief Membership Officer John Easterbrook will serve as interim CEO. "During this time, we will look internally and externally to find a long-term CEO," he added.
Among the things a new CEO will need to address are a potential move of the PGA of America's headquarters and the soon-to-expire TV deal for the PGA Championship.
Before joining the PGA of America, Bevacqua served as Global Head of Golf at Creative Artists Agency (CAA Sports). He was also Chief Business Officer for the USGA and served as the first Managing Director of the U.S. Open Championship. He began his career at a New York City law firm. Bevacqua will join NBC Sports starting in September. He is the latest figure to use golf as a training ground for bigger jobs in sports, as USGA executive Sarah Hirshland was recently tabbed to lead the beleaguered United States Olympic Committee.