News
U.S. Olympic Committee tabs USGA executive Sarah Hirshland as its CEO, tasked with helping repair its damaged image in wake of sex abuse scandals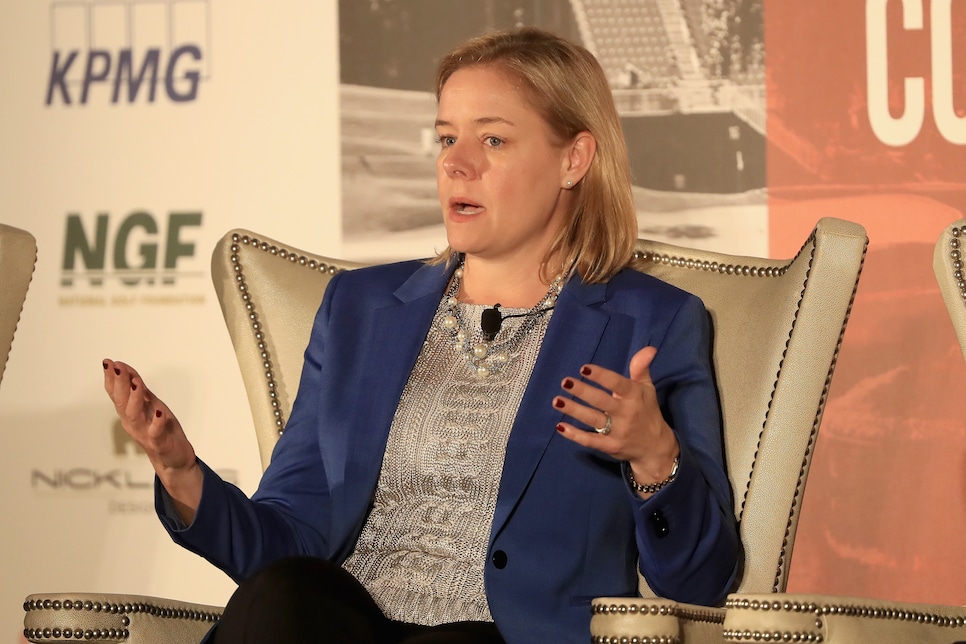 The beleaguered United States Olympic Committee turned to golf to find a leader to help repair its reputation, hiring Sarah Hirshland, the chief commercial officer of the United States Golf Association, it announced on Thursday.
"The USOC is at a critical time in its history and requires an energetic, creative and inspiring leader who is capable of building on past success while making sure that the athletes we serve are protected, supported and empowered in every possible way," USOC Chairman Larry Probst said in a news release. Hirshland will replace acting CEO Susanne Lyons, who took over when CEO Scott Blackmun resigned in February.
Sexual abuse scandals, notably that of Larry Nassar, USA Gymnastics' national team doctor, have tarnished the USOC's reputation in recent years. Earlier this year, Nassar was sentenced to 40 to 175 years in a Michigan state prison. A year ago, he was sentenced to 60 years in federal prison on a child pornography conviction.
"I…recognize the challenges ahead as we navigate this critical moment in the USOC's history," Hirshland said in the news release. "We must protect, support and empower athletes, young and old, elite and beginner. Olympic and Paralympic sport in the United States must be a shining example, able to provide athletes with the benefits of participation in an environment free from abuse of any kind. The USOC has made great strides in this area and I look forward to carrying on that critically important work."
A Duke graduate, Hirshland joined the USGA as its senior managing director of business affairs. She was involved in the USGA's decision to partner with Fox Sports, with which it entered into a 12-year contract reportedly worth $1.1 billion to the USGA to televise its events.
"Sarah has been a wonderfully impactful leader as we have worked to preserve, protect and enhance the game of golf," Mike Davis, CEO of the USGA, said in the news release. "With golf's return to the Olympics a couple years ago, the game already has a strong working relationship with the USOC and now with Sarah at the helm this connection will only be strengthened."
Hirshland previously worked for the Wasserman Media Group, as a senior vice president in charge of strategic business development. Casey Wasserman, the chairman and CEO of the Wasserman Media Group, headed Los Angeles' successful effort to secure the 2028 Olympic Games.
"I know firsthand that Sarah is a visionary leader and exactly the right person to lead the USOC as we collectively build to the LA 2028 Olympic and Paralympic Games," Wasserman, the chair of LA2028, said. "I look forward to re-teaming with Sarah plus the entire team at the USOC to deliver a new Games for a new era that benefit athletes and our communities alike, and connect the Olympic and Paralympic movements to the future."
Hirshland and her husband Keith, who have three children, live in Peapack, N.J., and are members at Fiddler's Elbow Country Club in Bedminster Township, N.J. She has a handicap index of 25.4. They will relocate to Colorado Springs, Colo., where the USOC is headquartered.
"The Olympic and Paralympic Games, and the movements they help advance, are a source of inspiration and admiration on every continent on earth, and one of the few things in history that can bring the world together in celebration," she said in the release. "To be invited to lead the Olympic and Paralympic community in the United States, to be associated with Team USA, and to have the honor and privilege of serving America's athletes is an absolute dream come true."