News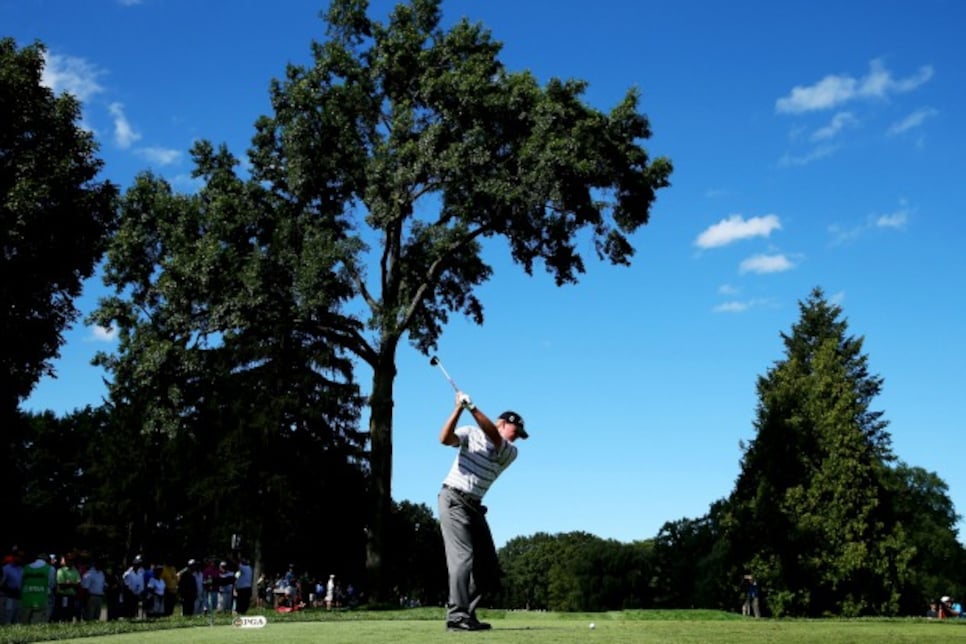 Steve Stricker is undoubtedly one of the good guys, but he remains without a major.
ROCHESTER, N.Y. -- So Steve Stricker tied his shoelaces on the 17th green. Then he walked from behind the 22-foot putt to the other side of the hole. There, he tied the same shoelaces again. In Steve Stricker's golf game, tying shoelaces passes for drama. It's not that the man from Wisconsin is without color. It's that all the colors are gray.
After the shoelace deal, he walked back toward his ball. He is 46 years old, half-retired so he can stay home more with the wife and kids, and if he's not the best player who has never won a major, he is The One We Most Want to Win a Major. A good story: as a kid in the '90's he could really play, then got lost in a swing wilderness so long we forgot him, and somehow found his way back in middle age to be better than ever -- while being a nice guy, a sweetheart, polite when then there's no need, and all that Midwest hokum.
So he had this birdie putt at the 17th. Make it and he's a breath out of the lead with Sunday coming to the PGA Championship. Tiger's comatose, Phil's toast, but Steve Stricker can win here. As he headed back to the ball, he stopped and returned to the far side. The PGA Tour's best putter had forgotten what he'd decided about the line.
"Had to be sure," he said later.
The 17th at Oak Hill Country Club is a beast. It's 509 yards, up a hill, and into a breeze on this day. Stricker had reached it with a rifle-shot 3-wood from 240 yards. That's the kind of shot that wins majors in the Sunday heat -- and on a Saturday you don't want to waste it by rushing a putt before you're sure.
It wasn't a putt he made -- inches away -- but the method was pure Stricker. The man is a metronome, every movement the same as the one before. Tiger gets screams. It was 11:03 Saturday morning when Tiger walked across a high bridge to the first tee. An Air Force master sergeant, Darrell DeMotta, shouted, "There he is! THERE! The man! Walking into history! He's frickin' doin' it today, 62, 64, yeah!" At 2:21 p.m., Stricker crossed that bridge, unnoticed by screamers.
This day he heard the occasional call of, "Hey, Strick," and, along the 18th fairway he smiled when a man said, "Steve, I love Wisconsin," and added, "I really do." What Stricker had done at the 17th -- put a drive precisely where it needed to be, in the middle of the fairway -- he did again at the 18th.
The veteran Stewart Cink has said Stricker has "the swing of the future, just perfect." It's simple. It's back on a plane, returning on that plane. No loose parts, no tight parts, just the parts necessary to repeat it. On this day, on a course with fairways narrower than a city street, Stricker hit 12 of 14 and missed the other two only in the first cut.
At the 18th, he put a drive on the right half of the fairway. Come tomorrow afternoon, late, with the PGA to be won, the 497-yard hole will scare the beejeezus out of a man who needs par. The hole runs uphill to a small, elevated green. Stricker had 184 yards to the flag. Hit a 5-iron to 30 feet. Two putts, par, a round of even-par 70 that left him where he started -- five-under par for the tournament, four shots behind the leader.
Tied for fifth with Adam Scott, Stricker is a shot behind Jonas Blixt, two behind Henrik Stenson, three behind 36-hole leader Jason Dufner and four behind the new leader, Jim Furyk.
"It's going to be fun," Stricker said. "There are a lot of great players up there on top. We have got 18 holes to play, so there is a lot that can happen in that stretch of golf. Have to be patient and go out there and hopefully get off to a good start and get right in the mix real early."
He had no number in mind. "Just go out and play. See what everybody is doing and hopefully pay enough attention to my game where I can throw in a couple birdies. Tomorrow, hopefully, everything goes well and I have a chance coming down the back nine."
Well. Hmmm. Not sure Tiger ever went for the kill on a Sunday "hoping" he'd have a chance. So one might wish one's pick to win this thing had used one or two fewer "hopefullys" in his look ahead to the back nine.
"Steve, those tee shots today at 17 and 18," someone said, "would you want them tomorrow, late?"
Stricker laughed at the questions a man hears.