News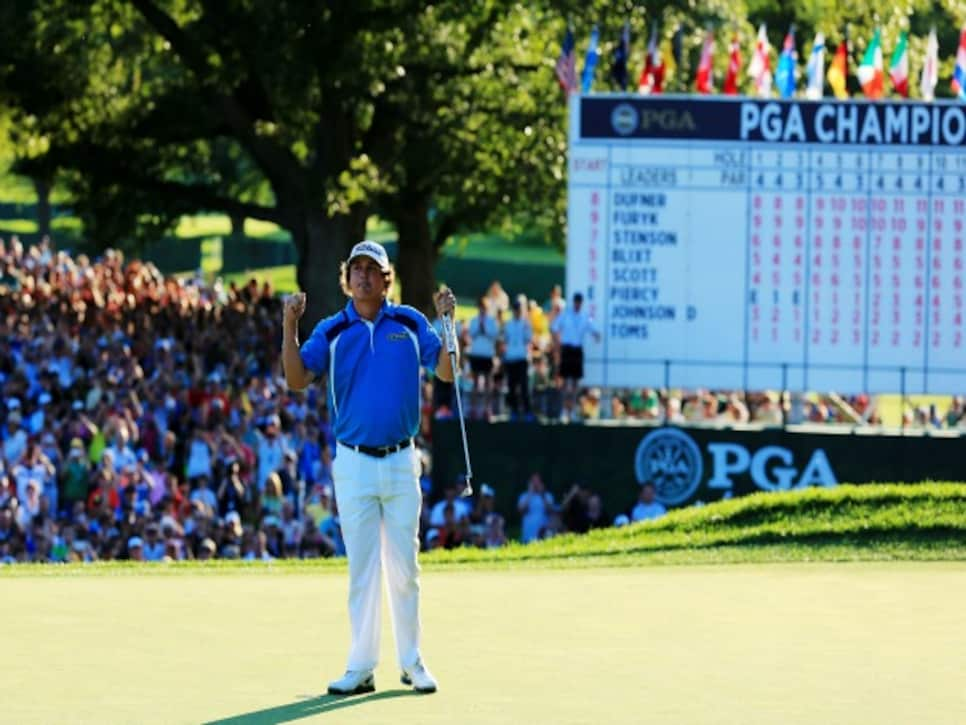 A runner-up at the 2011 PGA, Jason Dufner returned in 2013 to capture his first major.
ROCHESTER, N.Y. -- This man calls for closer study, this Jason Dufner. He hits it pure, fairways and greens. He has the beautiful wife. He didn't play a lick until he was old enough to drive, then he knocked around in golf's bush leagues for two or three years. Now he has won millions on the PGA Tour and, in today's dying light on one of the game's grand stages, he lifted high the Wanamaker Trophy with his name engraved alongside Nicklaus and Woods, Snead and Hogan.
All this hero stuff and yet, to see him, you'd think. . .well, first you'd think they don't make heroes like they used to.
"Iron Byron with a beer belly."
"Living proof of something I haven't figured out yet."
Twitter danced with sweet insults as Dufner won the PGA Championship yesterday. One twit thought that The Duff's unmanaged hair, sprouting sideways over his ears and popping out the back of his cap, was proof that he'd missed his every-other-month appointment at the drive-through barber shop in Auburn. Not to mention the flavor-catcher growing under his lip, and the dip inside that lip, and the body language that runs the gamut from A to B.
"I come across as a pretty cool customer, I guess," he said.
"But there are definitely some nerves out there," he said, "especially when you're trying to win a major championship."
Nerves? Coulda fooled us.
"Pretty nervous on that first three-footer," he said.
That would be at the first hole. Made it. After that, he said, "I was really settled in and determined to play well today and give myself a chance. . .I would say I was pretty flatlined for most of the day."
Here he is, Jason Dufner, out of Cleveland, now living in Alabama, the first flatlining hero in American sports.
Big drive and 3-wood at the par-5 fourth to set up a birdie. Tied Jim Furyk for the lead. Big drive at the 5th -- "I went right at it" -- and a wedge that spun back to six inches. Another birdie. Suddenly, he was the tournament leader and he never let up. Two more kick-in birdies won it for him, the second at the 16th hole when Furyk, hanging in, might have thought he had a chance.
Furyk was on the green, 18 feet away. Then Dufner, from 105 yards, stuffed another wedge to six inches.  Furyk made his putt for a birdie, but it meant nothing.
"A stiletto slid under Furyk's rib cage."
Though they finished the formalities of the 17th and 18th holes, there was nothing more to decide. Furyk was two shots down coming to Oak Hill Country Club's two most difficult holes. And Dufner had striped everything all day, no reason to think he'd change when it meant the most.
They limped in, both making bogeys on the last two holes. No Adam Scott fist-pumping birdie to set up a Masters playoff. No Justin Rose 4-iron before blowing a kiss skyward to his late father.
No bold, gambling, daredevil of a 3-wood to match the one Phil Mickelson threaded through the eye of Muirfield's 17th fairway needle. If it's theatrics you want in your golf, do not, by any means, give Jason Dufner a two-shot lead at the turn on Sunday.
Here's what he'll do to you. . .
At the turn, Dufner saw he was two shots up. He'd turned in 32 with three birdies. Coming off a par at the 9th, he strung together six more, smooth, efficient, unflappable. Then, at the 16th, it was over.
The only remaining question was, how would Jason Dufner celebrate?
From 12 feet at the 18th, he had three putts to win.
As a kid, sure, "I thought about 'This putt here is to win. . .'"
He left the putt six inches away.
"Fortunate with me. . ." he said to the assembled press afterward, and some scribblers thought they'd seen a change of expression, an almost-smile, though they could only testify under oath that there was a tiny, little, really small hint of amusement in Dufner's tone as he spoke of the six-inch putt, ". . .that last putt was right in the perfect range for me to make it."
Cooler than cool, this man: "There's not much to celebrate from six inches or less," he said. "But it was nice to have that short of a putt. . .but, you know, I didn't practice many four- to six-inchers to win a tournament."
"It was," he said, "a perfect ending for me."
Then it got more perfecter. His wife, Amanda, came onto the green. They embraced. And when they moved apart, Dufner did a nice, gentle low-five on the backside of Amanda's dress.