News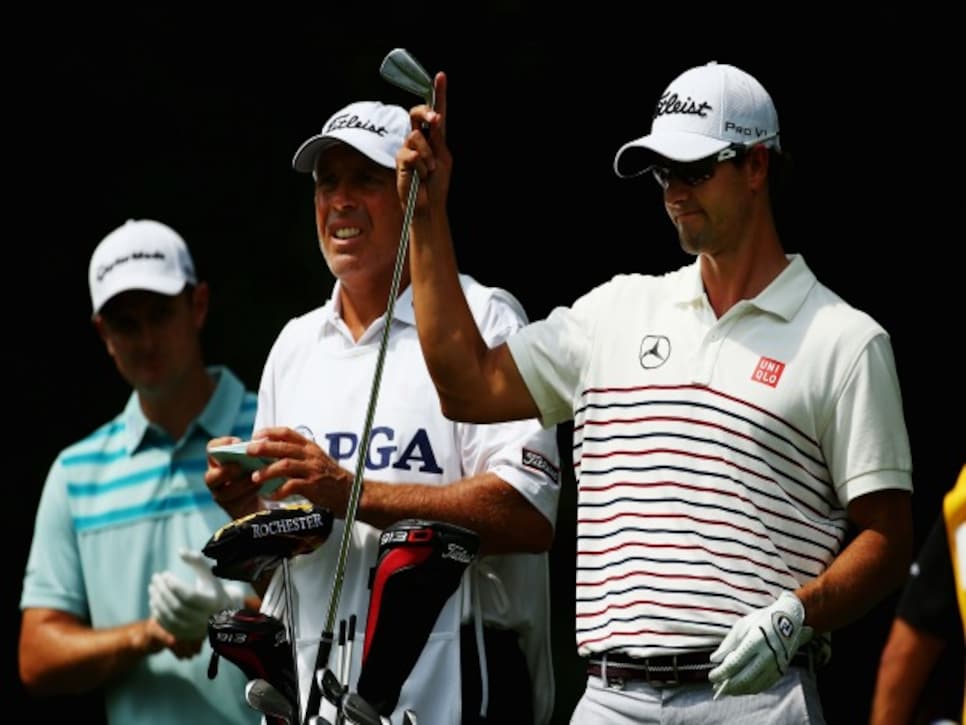 The 2013 Masters and U.S. Open proved to be a breakout tournaments for both Adam Scott and Justin Rose.
ROCHESTER, N.Y. -- Who knows, maybe it's Jason Dufner's time in this week's PGA Championship, maybe Matt Kuchar's, maybe Lee Westwood's. Winning a major can happen to anybody. Andy North won the U.S. Open twice. (Bobby Jones nudged God the second time, "Not funny.")
Still, in golf's fifth or sixth century, winning a major is a big deal. Win one, you're somebody. Don't win, you're Porky Oliver.
Poor Porky. A great guy, but not many immortals are named Porky. At 5-foot-9, 240, Edward Stewart Oliver was built like Lee Trevino, if Trevino had a safe fall on his head. Oliver's biggest mistake, though, was living in Ben Hogan's time. He finished second to Ben in the 1946 PGA and '53 Masters. He was also second to Julius Boros in the '52 Open.
That wasn't the worst of it.
"At the 1940 U.S. Open, he tied Gene Sarazen and Lawson Little and was headed for a playoff," Dan Jenkins said. Jenkins knows, writes books, and now, down the row in the media tent here, tweets laughs for Golf Digest.
"But Porky, Claude Harmon, and four other players had teed off ahead of a storm, 30 minutes before their scheduled time."
The imperious, omnipotent Joe Dey ran the USGA. When told that an official allowed Oliver's group to start early, Dey said, "He did WHAT?" Dey disqualified Oliver. For all we know, the DQ established an atmosphere of inevitable failure that allowed Oliver to do well in majors (seven top-eight finishes) but not immortally well.
Yes, on the weekend of a major, if you've never won one, nerves get twangly. No one is brave enough to say so out loud, but that doom's-coming sense was made clear Friday in the retroactive thinking of Adam Scott, Justin Rose, and Webb Simpson. Simpson won the U.S. Open in 2012, Scott won this year's Masters, and Rose this year's U.S. Open -- all first-time winners of majors, all in the hunt for this PGA Championship.
Did Rose, for one, feel liberated by this summer's victory at Merion?
"It's wonderful to be in this situation right now . . ." (The Englishman, 33 years old, a nascent star at age 17 who disappeared for years only to return better than ever, had finished his day's work with 29 shots on the last nine holes, a 66 for the round, six-under par halfway through) " . . . talking about having done it, talking about feeling like you can win more, believing in yourself -- not talking about how I hope it could happen this week."
Coming to a major, having done it, does a guy feel . . . different?
Simpson does. In only his fourth pro season, at age 26, the North Carolinian won at Olympic Club.
"A little bit. It just gives me confidence knowing that if get in contention this week, or next year at Augusta, any of them, I know what to expect . . .More than anything, it just gives me a little bit of peace knowing there's not many unknowns. . . . Mentally, it frees you up to know -- OK, kind of know -- what to expect this weekend."
For Scott, one's not enough. He's an Australian, 33, who, like Rose, never quite got it done. He had the British Open won in 2012 until he found a way to lose it. Then, this April, he won the Masters. For the last two seasons, there has been no one better in the majors.
"I was hungry before the Masters," he said, "and I might even have a bigger appetite after it. It might be greedy, but I feel like this is my time to get everything I want out of my career. And I'm going to keep pushing until I do. My game is in great shape. I've got to take advantage of it. Otherwise, it's all a waste."
Maybe it's unfair,judging a player's worth by majors. Westwood, for one, insists it's only a game, it's nothing truly important, if he wins a major or not, he doesn't much care, in fact he says so often that he doesn't much care that it's clear he cares very much. Maybe it is unfair to set the standard of excellence at winning a major -- after all, whose career would you rather have: Westwood's with 16 top-10s in majors, including two runners-ups, or, say, Mark Brooks's with his 1996 PGA victory and zilch else?
Still, the players care. Here's Justin Rose again, talking about Phil Mickelson's five major championships won from age 33 on: "It's motivating to know that you can still build that kind of career in your 30s. But at the same time, you understand how hard it is. There are great players . . . who haven't been able to win a major."
Name 'em today: Dufner, Kuchar, Westwood, Luke Donald, Brandt Snedeker, Sergio Garcia, Hunter Mahan, Dustin Johnson, Steve Stricker, Jason Day.
But let's get serious. Who's the best player EVER who didn't win a major?
The Ancient Twitterer said, "Porky was a great guy, great quotes, but he couldn't really play."
He came with names: Lighthorse Harry Cooper. Wild Bill Mehlhorn. Bruce Crampton. Colin Montgomerie. Sergio Garcia. Doug Sanders.
All good, all near great, but there came a suggestion of music in Jenkins's voice when he said, "And there was Macdonald Smith."
Eleven times, Macdonald Smith was in the top four of the U.S. Open (once losing a playoff to his brother Alex) and the British Open. Two of his three runners-up finishes were to Bobby Jones in the year of the Grand Slam. He had 15 other top-10s in majors though playing only two a year. (The Masters hadn't started, the PGA often overlapped the British.)
Besides, Jenkins said, "Macdonald Smith won the Western Open three times when it was just as important as the U.S. Open. He also won the Los Angeles Open four times when it was considered a major. And until Sam Snead came along, Macdonald Smith had the best swing in golf."