News
There are stirring golf triumphs to celebrate, even when they fly under the radar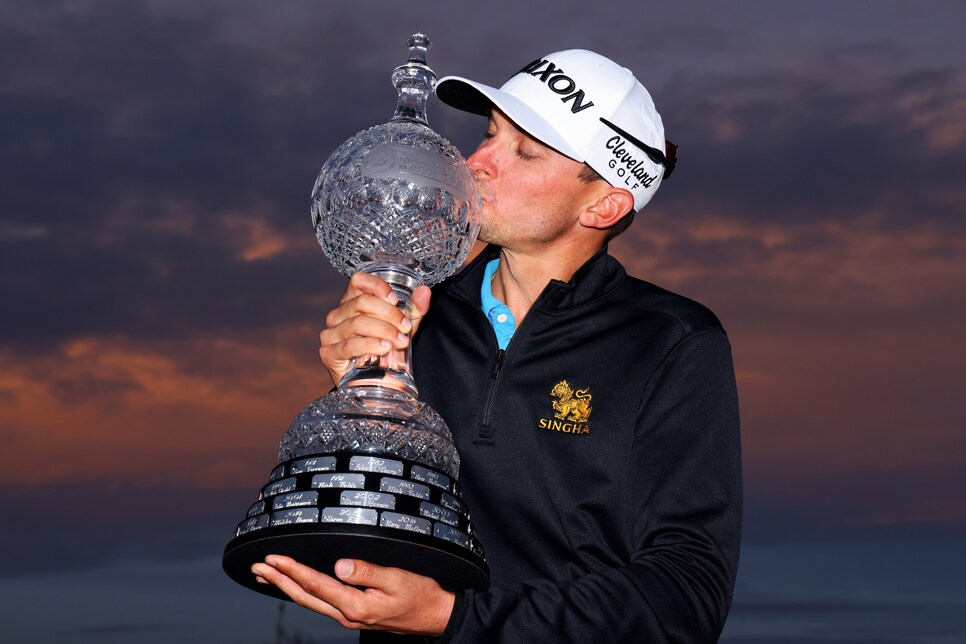 Photo By: Richard Heathcote
On Sunday afternoon, while most Americans were watching football, an American golfer was pulling off a stunning feat. The golfer, though, wasn't Bryson DeChambeau or Phil Mickelson or Tiger Woods.
It was John Catlin, someone who even golf geeks know almost nothing about. Playing in the Dubai Duty Free Irish Open, Catlin birdied three of his final four holes to shoot a final-round 64. A spectacular 3-wood on the par-5 18th from 268 yards set up the final two-putt birdie that allowed him to beat Englishman Aaron Rai by two shots.
Catlin, who turns 30 in November, has now won twice this month on the European Tour. On Labor Day weekend he won at Valderrama in Spain, arguably the most famous course on the European continent, and Sunday he won a tournament whose previous champions include names like Seve Ballesteros, Nick Faldo, Bernhard Langer, Sergio Garcia, Ian Woosnam, Colin Montgomerie and—more recently—Rory McIlroy and Jon Rahm.
Catlin became just the third American (and the first in 43 years) to win the title. Ben Crenshaw won it in 1976 and Hubert Green won it a year later, the same year he won the U.S. Open and finished third in the Open Championship.
Because Catlin's win came on a late September Sunday, a lot more people were focused on how their local NFL team was doing or even on the last day of the Major League Baseball truncated regular season. Heck, even U.S. golf fans were more aware of Hudson Swafford's one-stroke win at the Corales Puntacana Resort and Club Championship than Catlin's victory.
Golf is a sport that is off the radar of many, if not most, general sports fans except when the game's biggest events, most notably the four majors and the Ryder Cup, are taking place. The shame of this is that wonderful stories often go unnoticed or are glossed over, even by those of us who cover golf. No one is more guilty of pushing the importance of the major championships than I am. I've often said that winning one major is worth winning 10 regular tour events—at least. And the only players I know who disagree with that assessment are those who have won regular tour events but have never won a major.
That does not mean, however, that great stories don't occur at non-majors. In fact, some of the most poignant stories happen on weeks when only we geeks are paying attention.
There was no better example of that than two Sundays ago when Stewart Cink won the Safeway Open. In 2009, at the age of 36, Cink won the Open Championship—the culmination of a career that had included five tour victories and four Ryder Cup appearances. Instead of becoming known to most of the public as a major champion, Cink became the guy who had beaten Tom Watson—denying him the chance to win a sixth claret jug at age 59.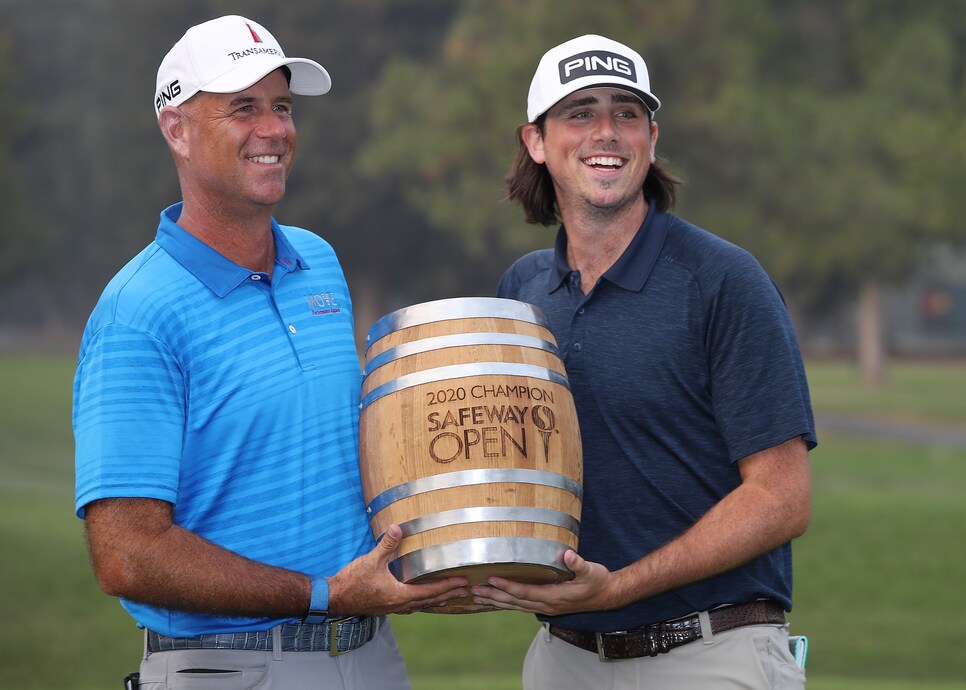 Stewart Cink celebrates with the trophy and his son Reagan after winning the Safeway Open.
Sean M. Haffey
Cink handled it all with grace and humility, saying if he'd been watching the four-hole playoff from home, he would have been pulling for Watson. Until two weeks ago, he hadn't won in more than 11 years since that day at Turnberry, a period of time in which he had endured the torture of watching his wife, Lisa, be diagnosed with stage IV breast cancer in March 2016.
Lisa Cink is cancer-free now and her husband shot 65-65 on the weekend in the Napa Valley to hold a trophy for the first time since his win over Watson. Son Reagan was on the bag for Cink, and the family's quiet victory celebration was about as poignant as you are likely to see anywhere in sports in this strange pandemic-dominated year.
But because the NFL season started that weekend and because the rescheduled U.S. Open was up next on the golf schedule, Cink's victory was little noted beyond the golf websites. It wasn't on network TV and there's no doubt a lot more people were watching Tom Brady's debut as a Tampa Bay Buccaneer than Cink's two-shot win over Harry Higgs.
The thing is, Cink's story might not have been nearly as glamorous, but it was one far more people should have been able to relate to than the golden boy making his debut in another uniform. Truth be told, Cink played a lot better than Brady that day.
Because golf is built around the four majors and the Ryder Cup, a lot of non-major stories are missed—certainly by the mainstream media.
Earlier this summer, Daniel Summerhays announced before the start of the Korn Ferry Tour's Utah Classic that he was going to retire at week's end to coach golf at the high school he graduated from 28 years earlier. Summerhays never won on the PGA Tour, but he twice finished in the top 10 in majors (T-8 at the 2017 U.S. Open after getting in as fourth alternate and third at that year's PGA). He won once on what was then the Nationwide Tour—as an amateur—and had a solid, though decidedly un-glamorous, career.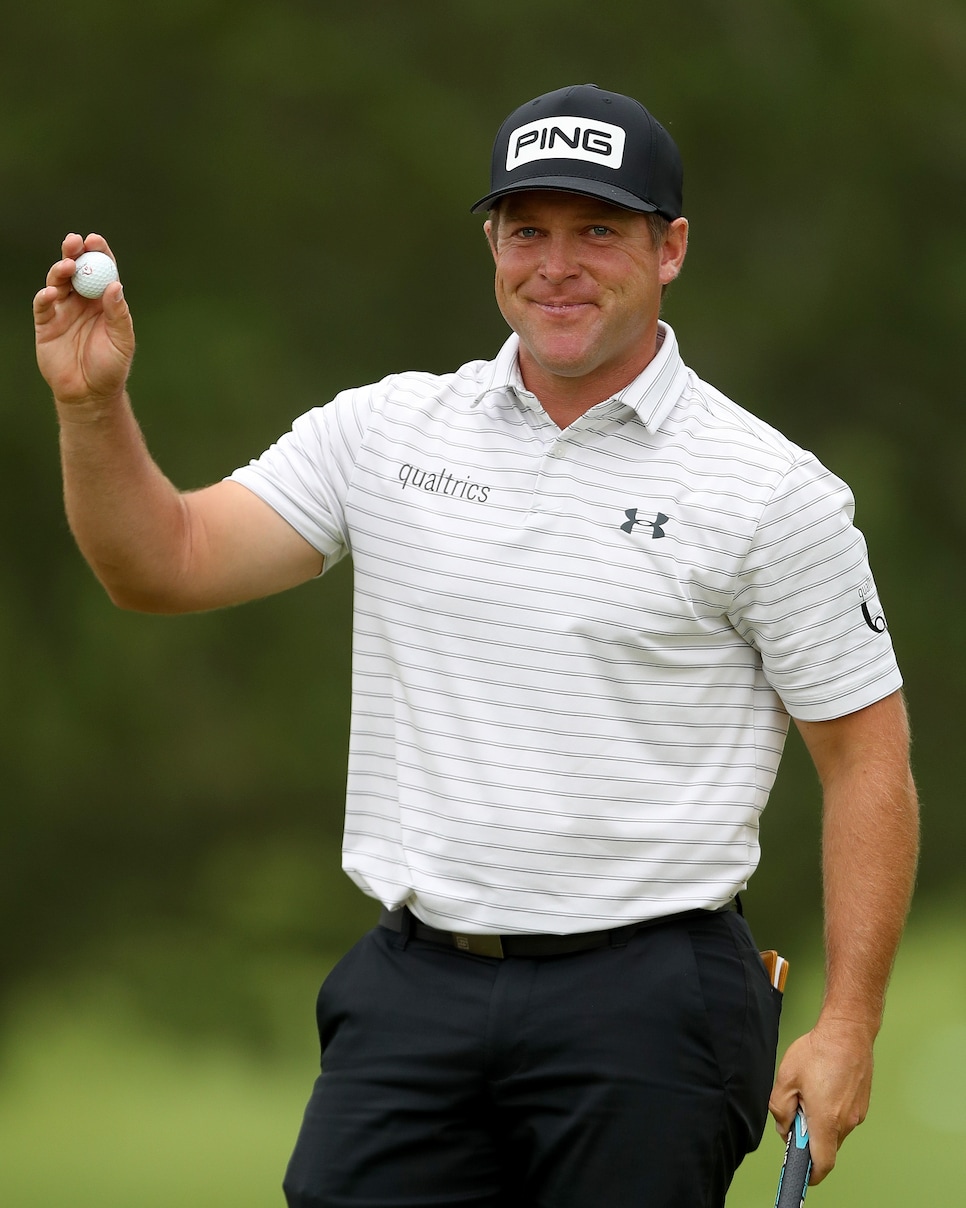 Daniel Summerhays nearly won the Utah Championship in his home after announcing he was retiring to becone a high school golf coach.
Matthew Stockman
He decided to retire at a tournament near home, even though there wouldn't be spectators at the event. Then, he almost wrote the script for a Disney movie, shooting 62 the last day to get into a playoff with Kyle Jones and Paul Haley II. Someone botched the ending, though, when Jones won the playoff. Even so, one could almost picture the freeze-frame-ending on that final green as Summerhays walked into the sunset.
Every year there are terrific stories that never make it out of golf's insular world. Early in 2019, 31-year-old Adam Long arrived at what was then the Desert Classic with four PGA Tour starts to his credit—one cut made in those four starts. He somehow played his way into Sunday's last group along with Adam Hadwin and Phil Mickelson, the tournament's "host" and a darling of golf crowds everywhere, no more so than in the Coachella Valley.
With 80 percent of the crowd cheering lustily for Mickelson and the rest for Hadwin (fellow Canadians snow-birding in the desert), Long hung in all day. Finally, on the 18th hole, he drilled a 20-foot birdie putt to win, stunning Mickelson, Hadwin and almost every fan in attendance.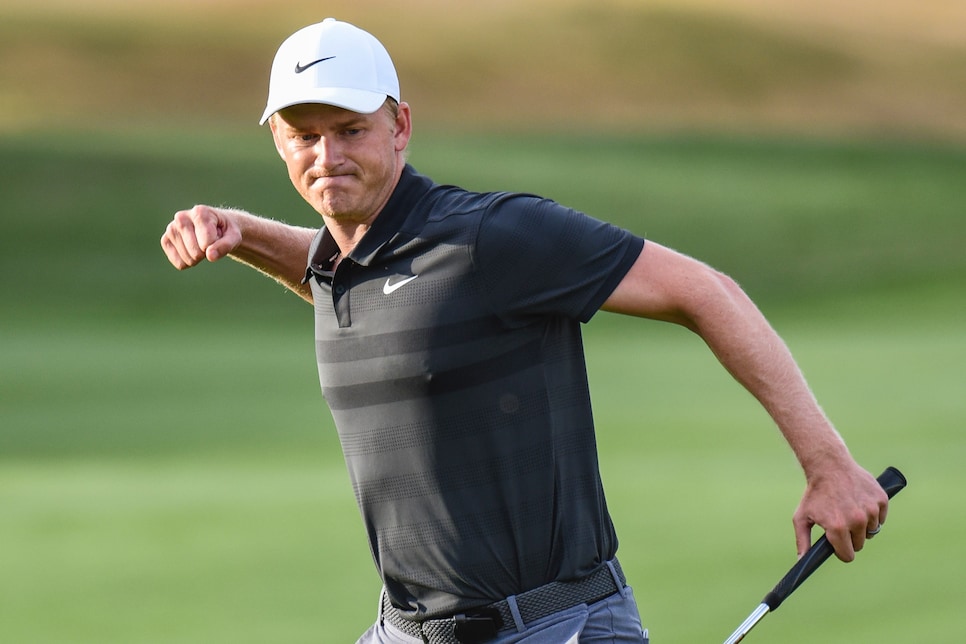 dam Long pumps his fist and celebrates his one stroke victory after making a winning birdie putt on the 18th hole green during the final round of the 2019 Desert Classic.
Keyur Khamar
The win was life-changing for Long, who just missed the Tour Championship this year—finishing 31st on the points list—and had a two-shot lead Sunday at Puntacana, before a final-round 75 dropped him to fifth place.
There's also the too-tough-to-believe-even-for-Disney story of Nate Lashley, who had very little status going into last year's inaugural Rocket Mortgage Classic in Detroit. Lashley tried to Monday qualify for the tournament and just missed, finishing as the third alternate. He got into the field on Wednesday and then, at the age of 36, WON going from limited tour status to an exemption through the end of the 2020-'21 season. That's not to mention the slightly more than $1.3 million he won to go with the silly-looking trophy someone handed him.
Catlin is just the latest example of a story worthy of our attention that will be largely overlooked. He was a three-time academic All-American at New Mexico and has taken the arduous journey in the direction of the PGA Tour that those who come out of college without star credentials often have to take.
Since turning pro in 2013, he has played on the PGA Tour Canada and then on the Asian Developmental Tour for two years. His breakthrough came in 2018 when he won three times on the Asian Tour to gain status to the European Tour. His post-COVID return to golf didn't start very well this summer when he and his caddie, Nathan Mulrooney, went to a restaurant outside the tour's bubble just prior to the start of the UK Swing in August.
Catlin, who had only limited status on the European Tour, was banned from the tournament, apologized and then came back to win at Valderrama a month later. His victory in Ireland moved him to 14th place in the Road to Dubai standings and 84th in the Official World Golf Rankings.
If Catlin can stay hot and reach the top 50, he will suddenly be eligible for the majors and for World Golf Championship events. Someone named Brooks Koepka followed a similar path six years ago. If Catlin can continue in those footsteps, he might get noticed someday. Maybe.