PGA Championship
PGA Championship 2021: Will Zalatoris continues to make the hard look easy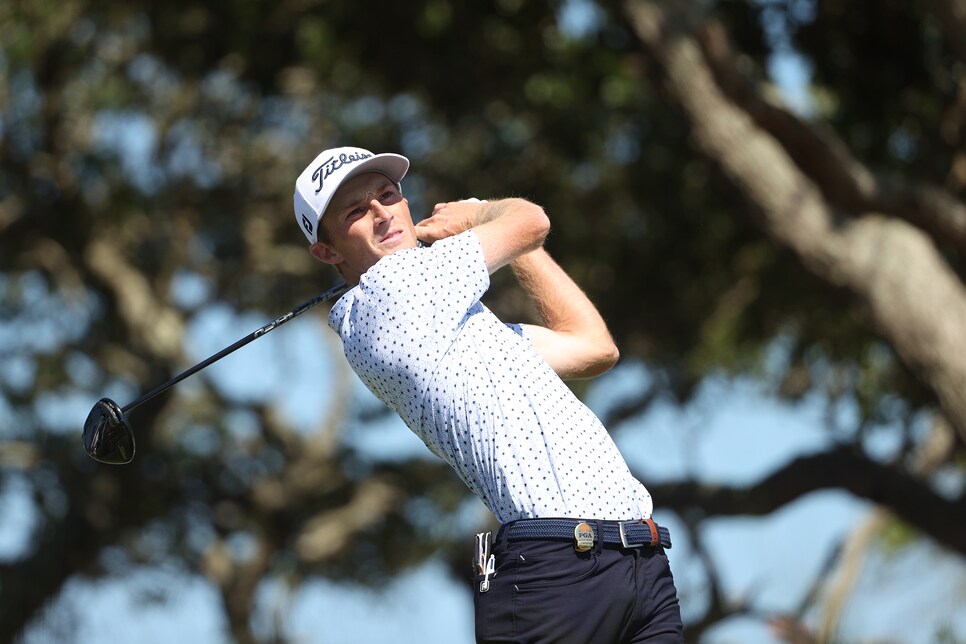 KIAWAH ISLAND, S.C — What was supposed to be hard was easy. Or maybe he just made easy work of the hard. Will Zalatoris has a habit of doing that.
Zalatoris continued to exceed ever-growing expectations by turning in a one-under 71 Thursday to be squarely in the PGA Championship mix.
"Yeah, actually everything was solid," Zalatoris said after Round 1.
He is making his first career PGA Championship start but we are well past introductions with Young Master Zalatoris. Zealots long eyed him as an intriguing prospect, golf fans became acquainted during his lights-out fall, everyone knew his name after he came a shot short of wearing the green jacket. When you're trading tweets with Happy Gilmore, you know you've made it. Zalatoris' rising celebrity was on display before the tournament began in earnest, playing a practice round with United States Ryder Cup captain Steve Stricker, assistant captain Zach Johnson and, ahem, team consigliere Phil Mickelson on Monday.
"He hits it a long ways," Stricker said of Zalatoris. "He's got a great imagination. I was talking to his coach a little bit and yeah, so you know, it's a guy if he continues to play well would be a great fit for Whistling Straits."
Before we start entertaining Zalatoris playing at that Pete Dye gem in the fall, he must tackle Dye's Ocean Course this week. And it was an inauspicious start for Zalatoris Thursday, making 6 at the par-5 second and 5 at the par-4 fourth. The front is the easier of sides, and going deep in the black before the back is nothing but bad news. Luckily for Zalatoris, the sixth delivered good tidings.
From 120 yards, he spun in a 60-degree wedge for an eagle 2, moving him above the rising tide and allowing a chance to breathe.
"Yeah, it was a nice bonus," Zalatoris said. "I had 122, about a 15-mph wind right behind me, and I tried to smash a 60, and thankfully it flew straight into the hill and had a ton of spin." He added a birdie at the par-5 seventh and another one at the 12th to move to two under, just a stroke out of the lead.
Yet what was just as impressive, if not more so, was his finish. It wasn't pretty; he missed a five-footer for birdie at the par-3 14th and did not take advantage of the 18th's grandstand backstop by blowing his drive right of all America. But nothing about the Ocean Course's closing stretch is pretty (at least for competitors), and playing the final four in one over is a number plenty of guys would have signed for. A bogey at the 18th will leave a sour taste. Conversely, that he kept it from being worse after a drive into the junk might have been his most important play of the round.
"Obviously would have been nice to make a couple more birdies coming in," Zalatoris said. "I had my chances but I did everything I needed to do to play well. So it's there."
Zalatoris is not kidding: He gained more than three strokes on the field in approach. At first glance that's not too surprising, as he entered the week third on tour in the category. However, considering the afternoon wave came out on the business end of scoring (nearly a stroke higher than the morning group), that is a damn fine day.
Which brings us to Friday. It's a congested leader board with a heck of a lot of starpower, but Zalatoris' star is as bright as anyone's at the moment. As for the moment itself, the 24-year-old is at ease, saying the reason he played well at the Masters and the U.S. Open before that was he treated those showcases like a normal week.
"You know, the golf courses are obviously way harder than regular tournaments, and harder golf courses tend to favor me since my ball-striking is the best part of my game," he said. "I think if anything, it's the same ol' same ol', keep on doing what we're doing."
Given what he's been doing, that could lead to a weekend that's anything but regular.