News
PGA of America re-ups with CBS for coverage of PGA Championship, signs on with ESPN in new 11-year deal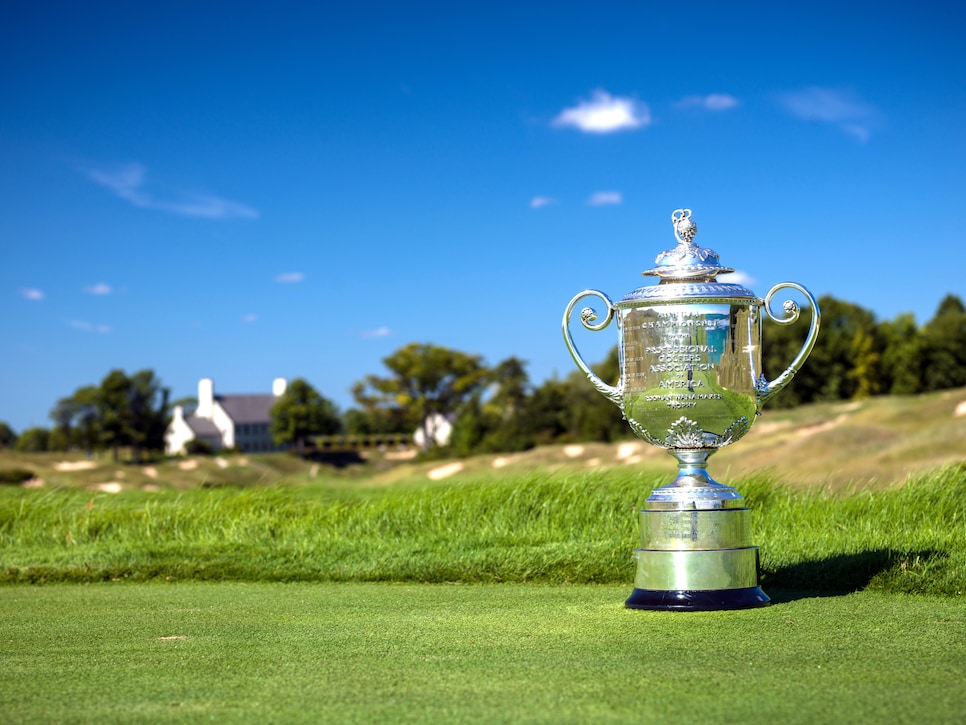 Montana Pritchard/PGA of America
The PGA Championship has a new date on the calendar. It will soon have, in part, a new broadcast home as well.
On Wednesday, the PGA of America announced an 11-year multimedia deal with CBS and ESPN for television, digital and OTT rights to the PGA Championship beginning in 2020 at TPC Harding Park in San Francisco.
"For nearly a half-century, CBS Sports has been a vital member of the PGA of America extended family while delivering our major championship to golf fans across the country," said PGA chief executive officer Seth Waugh in a statement. "We are also thrilled to partner with ESPN and connect with sports fans through the reach of the ESPN networks. The PGA is a major that not only typically delivers the strongest field in golf, but is synonymous with historic moments that resonate with golf fans everywhere. As we move this iconic championship to May, we are extremely excited that CBS and ESPN will present the highest-quality product with the state-of-the-art technology through a broadcast team that shares our mission to grow the sport of golf."
CBS, which has been home to weekend coverage of the PGA since 1991 (and prior to that from 1958-1964), will continue to broadcast the third and fourth rounds, adding an additional hour of airtime each day.
"It's a marquee, signature event for CBS Sports," Sean McManus, chairman of CBS Sports, told Golf Digest. "It's moving to May, which makes it an even more attractive property for us. I think the viewership will be up in May, the sales marketplace is better in May, and to have the first two major championships was really important. It's a really good move for us, and a really good move for the PGA. So we couldn't be happier. We've been working on this one for two years, so I'm really pleased about this one."
McManus said the primary negotiations took place in August and were not impacted by the turnover at the top of the PGA of America, with Pete Bevacqua leaving as CEO to take a position with NBC Sports, and Seth Waugh being brought on to replace Bevacqua.
By broadcasting consecutive majors with the Masters and PGA, McManus believes the continuity will help the network and both tournaments. "We do all those [PGA Tour] events after the Masters, starting with Hilton Head," McManus said. "It really means that CBS is your home for broadcast golf from the Masters through the PGA Championship and even after that in May. So the continuity was very important to us."
For its part, ESPN will have live action on all four days of the tournament, as well as pre-tournament and other ancillary coverage. ESPN will have exclusive coverage on Thursday and Friday, with early round action on the weekends on ESPN, and ESPN+ showing featured groups and holes later in the day.
"ESPN is proud to work together with the PGA of America and CBS to provide fans with unprecedented coverage of this prestigious event," said ESPN president Jimmy Pitaro. "The addition of ESPN+ provides us the opportunity to go even deeper in showcasing the drama and excitement of The PGA for years to come."
The move is a welcome one to golf fans, as TNT, one of the current broadcast partners, has come under fire for its lack of coverage and underwhelming presentation of the event. TNT will still broadcast the 2019 PGA Championship at Bethpage Black.
Additional reporting from Ryan Herrington