ROCHESTER, N.Y. — It's Friday night, deep in the abyss of Internet traffic, and what better time to issue a proclamation that can never be used against me, unless it fails spectacularly and the entire population of Twitter shoves it down my throat on Sunday when literally everyone is watching:
Scottie Scheffler is winning the PGA Championship.
On a rainy Friday at Oak Hill, where stasis or worse was the name of the game, Scheffler posted a 68 that felt both clinical and chaotic, both surprising and inevitable. He sits tied with Corey Conners and Viktor Hovland atop the leaderboard at five under for the tournament, and that leaderboard is iffy enough to make the sturdy shoulders and square jaw of Scheffler look like the ideal human mantle for a Wanamaker Trophy. Put simply: Who's going to beat him, and how can he possibly lose?
Putting aside that the practical answer to those questions are "about three dozen people" and "pretty easily," the reality that transcends the practical is that folks, Scheffler is looking larger-than-life, invincible, and—we have to use this word again—inevitable. Scheffler started his round with two straight birdies, vaulting Bryson DeChambeau (who hadn't yet teed off) to take first place. That maneuver alone was enough to show that his attitude was one of seizing initiative on a week where some of his potential rivals, from Rory McIlroy to Jon Rahm to Justin Thomas, had failed to materialize, which in turn presented a massive opportunity. Four tap-in or near tap-in pars ensued as the 26-year-old reigning PGA Tour player of the year exerted control over a tough course, followed by a narrow par miss for his first bogey of the day at seven. He had to make a couple tricky par putts, but nothing longer than six feet, before he broke through with two more birdies on 14 and 15 to once again get a small dose of separation.
A bogey on 18 kept him from the outright lead, but the stats told the story of a player in control of all facets of his game. The ball-striking was typically good—he ranked 11th in strokes gained/tee to green and 13th in SG/approach—and while his putting was just marginally worse at 41st, still well within the top half of the field, it was the par saves and birdie putts he rolled in that told an important story. That story is simple: The putting troubles that plagued him at Augusta are gone.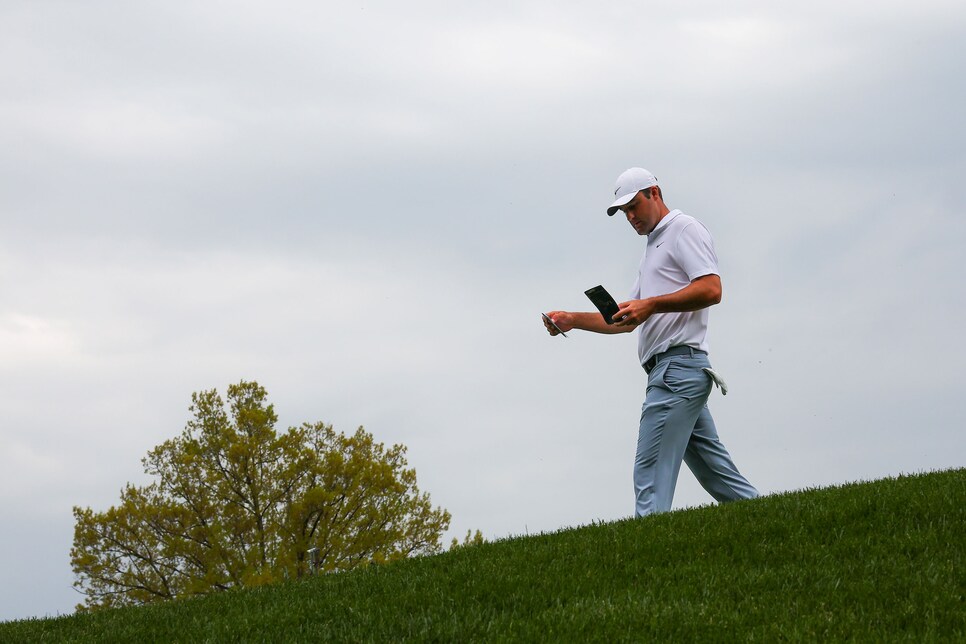 It was easy to lose Scheffler in the Rahm fever that captured us after the Masters, but his form following a win at the Players Championship has been just fine … fourth at the Match Play, T-10 at the Masters with a woeful putter, T-11 at the RBC Heritage, T-5 at the AT&T Byron Nelson. This is still Scottie Scheffler; this is still the No. 2 player in the entire universe of professional golfers.
After his round, he sounded like a man ready to break out.
"I feel like on a golf course like this, I'm one swing away from getting everything back together," he said. "You get rewarded for good shots out here, and if you execute, you can birdie pretty much any hole. Granted, it's going to take two pretty incredible golf shots to do that, but it can be done. It's not impossible. So when you can kind of hang around the lead and stay in position and hopefully wait to get hot, it's a good position to be in. I've done a good job the first two days of keeping the golf course in front of me and scrambling well."
Remember, these are the words of a man who is leading the damn tournament!
There are things to improve; as Scheffler himself noted, he wasn't particularly accurate off the tee, and if you can't hit fairways at Oak Hill, eventually that thick rough is going to bite you. Someone like Conners, who seemingly never misses, looks just a little scary here, as does Hovland. And it's at this point that your brain, scared of making such a bold call, starts inventing a million caveats.
Here's the problem with those caveats: Conners and Hovland have never won a major, and Conners in particular hasn't shown that he can hole putts under pressure (though he's admittedly putting well this week). Bryson DeChambeau and Brooks Koepka, the two scariest names lurking below Scheffler and both major winners, are still finding their feet in pressure situations after injuries sent them on long journeys to the murky depths of the game. Scheffler is the one person at even or better with the mentality, the game, and the recent experience to withstand both the course and the pressure that comes from a major championship.
After his round, he was almost studiously professional, walking his usual tightrope walk between refreshingly matter-of-fact and a little boring. ("I'm in a good position going into the weekend, but other than that, I don't really have much to say," was a representative quote.) He's a human being like everyone else, and he's churning beneath the surface, but if he's not totally unflappable, he certainly seems more unflappable than anyone within shouting distance.
The conservative way to frame this argument is that it's Scheffler's "tournament to lose," but again, it's Friday night, a big weekend looms, and what's the point of conservatism when you feel like you can read the writing on the wall? Scheffler knows it's time for the big swing—most of his really terrifying enemies barely made the cut—and we may as well take a big swing too:
Scottie Scheffler is winning the PGA Championship. Nobody can beat him, and more importantly, he can't lose.
MORE FROM GOLF DIGEST @ THE PGA CHAMPIONSHIP