Spicy reception
PGA Championship 2023: Bryson DeChambeau shakes off boos at beginning of highly anticipated pairing with Brooks Koepka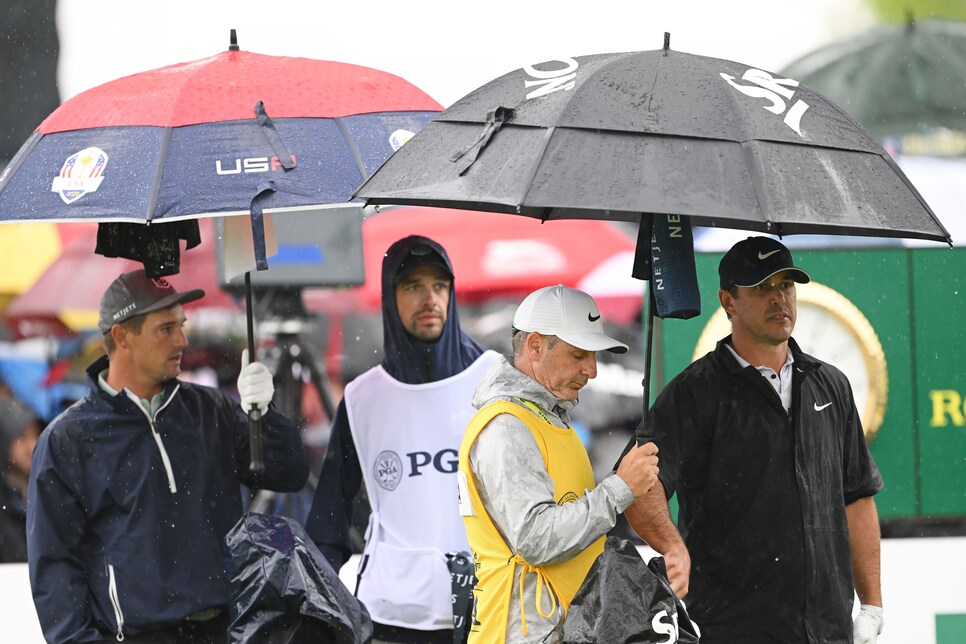 Bryson DeChambeau and Brooks Koepka waits to play their opening tee shot during the third round of the PGA Championship.
Ross Kinnaird
ROCHESTER, N.Y. — The pairing of Bryson DeChambeau and Brooks Koepka in the third round of the PGA Championship Saturday afternoon figured to have the potential for an awkward moment or two, and we got one even before the two American players, who each have won a major in the state of New York, had hit a shot.
Famously at odds over the years but now cohorts, of sorts, as members of the LIV Golf League, the duo was met with less than enthusiastic support from the rain-drenched gallery as they began their day at 2:30 p.m. EDT. Actually, that's putting it kindly. The patrons were determined to give the two men a piece of their New York state of mind, raining down a cascade of jeers and loud boos.
Introduced first, DeChambeau, the 2020 U.S. Open champion at Winged Foot, was greeted with a cascade of jeers and loud boos while he peered out from his red U.S. Ryder Cup umbrella. He took his time teeing up his ball, which only gave the crowd more time to bellow their sour sentiments.
The first-round leader after a four-under 66, DeChambeau finally hit and unleashed a beauty of a drive that found the left side of the fairway only to be informed that he had hit into the pairing of Callum Tarren and Taylor Pendrith, who were still in range because of a ruling. CBS cameras caught DeChambeau saying a few seconds later that he didn't know the players ahead hadn't hit their approaches to the first green.
"I don't care. I mean, it's not a big deal. They're gonna do that no matter what," DeChambeau said after shooting even-par 70. "Look, it's New York, you've gotta expect it here. And I appreciate the fans, and them doing that to me, it's like, OK, cool, no problem. I've got no problem either way. If I'm loved, that's fantastic. If I'm not, then you know what? It's fine. It is what it is. It still was fun today."
Perhaps more surprisingly, the more popular Koepka, who won the second of his two consecutive PGA title at Bethpage Black on Long Island, didn't get all that warm a reception either. There were some cheers, but also plenty of boos and some grumbling.
CBS on-course reporter Colt Knost said that Koepka got a lot of cheers, but anchor Jim Nantz wasn't so sure, saying the reception for the four-time major winner was mixed, at best. Nantz seemed surprised, noting that LIV players largely had been treated politely at previous majors since LIV was launched before the U.S. Open last June.
The Bryson-Brooks pairing, the first in a major, likely would have blown up the internet a few years ago when their feud was at its most contentious. On Saturday it was just a curiosity. And while they received a chilly first-tee reception from the crowd, the two men did garner their share of cheers as the day wore on.
They put on a show with Koepka, 33, taking the outright 54-hole lead with his second straight 66 to post six-under 204. DeChambeau, 29, wasn't quite as sharp, but his 70, thanks to a couple of late birdies, left him only three behind heading into the final round.
Though they still might not be pals, DeChambeau said they've moved past the acrimony between them. "I think we have a common goal, growth of the game," he said, referring to their LIV Golf participation. "We have franchises to focus on now and also good golf to play.
"Tomorrow is a big day for each of us."
MORE FROM GOLF DIGEST @ THE PGA CHAMPIONSHIP