PGA Championship
PGA Championship 2022: ESPN's Sage Steele, Aaron Wise each hit with errant tee shots at Southern Hills on consecutive days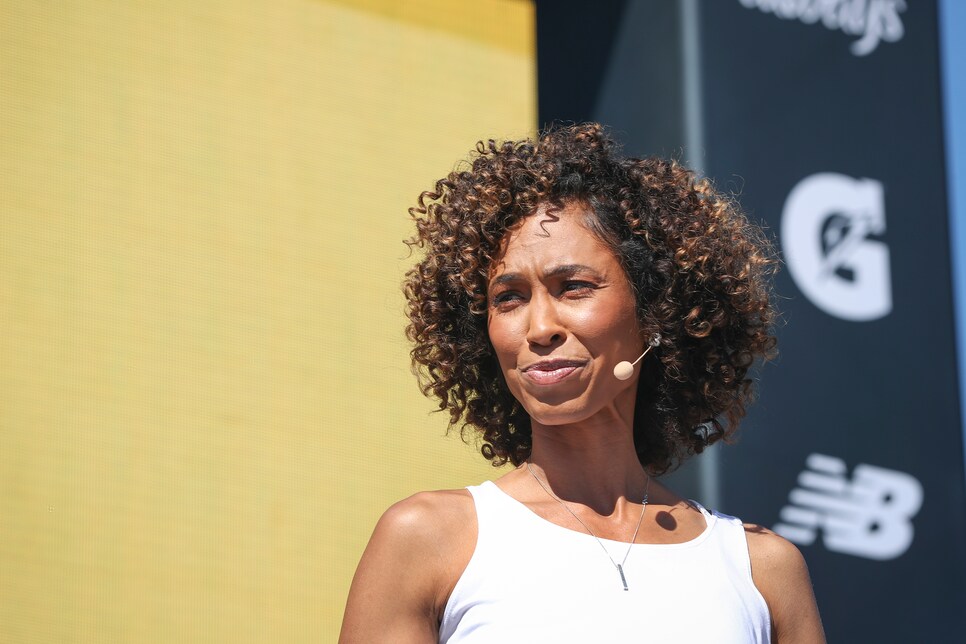 ESPN anchor Sage Steele was struck in the face with an errant tee shot from Jon Rahm on Thursday at Southern Hills, according to a report from Geoff Shackelford.
The incident occurred at the par-4 third hole, where Rahm badly hooked his tee shot and immediately screamed "Fore left!" Steele, who is in Tulsa this week covering the PGA Championship for ESPN's "Sportscenter", was standing underneath a tree in the left rough when Rahm's ball hit her in the face. An eyewitness told Shackelford they saw Steele "on the ground, holding her nose, mouth, or chin area" and her hands were "covered in blood."
Video of the Rahm tee shot on pgachampionship.com, which is showing every shot from every player this week, seems to confirm the eyewitness' claim.
As Shackelford wrote, Rahm's ball actually ended up back in the third fairway, meaning the impact had to be particularly painful for Steele. According to the New York Post, she was hospitalized and has since returned home to Connecticut, presumably to recover.
In a strange coincidence, or perhaps an alarming trend, Aaron Wise was also struck in the head with an errant tee shot less than 24 hours later. The ball came from the driver of Cameron Smith, and ESPN+ featured groups coverage happened to capture the whole unfortunate ordeal:
As Golf Digest's Ryan Herrington reported from the grounds this week, the routing at Southern Hills is a bit quirky, with a number of tee boxes and greens actually crisscrossing with one another. The issue that was supposed to lead to slow play, as players teeing off would have to wait for certain greens to clear and vice versa.
So far, that hasn't been as big of an issue as spectators and players getting hit with golf balls. Of course, neither of these happened on one of the tee boxes or greens that cross with one another. They are more than likely two freak accidents that we, hopefully, don't see a third edition of this week.
Golf Channel's Ryan Lavner was able to grab this photo of Wise after his round, and it appears that he's doing OK, though he is icing the back of his head:
It's tough out there in Tulsa. If you're heading out to Southern Hills this weekend, keep your head on a swivel.