FIRE PIT COLLECTIVE
Five intriguing club pros to keep an eye on during the 2022 PGA Championship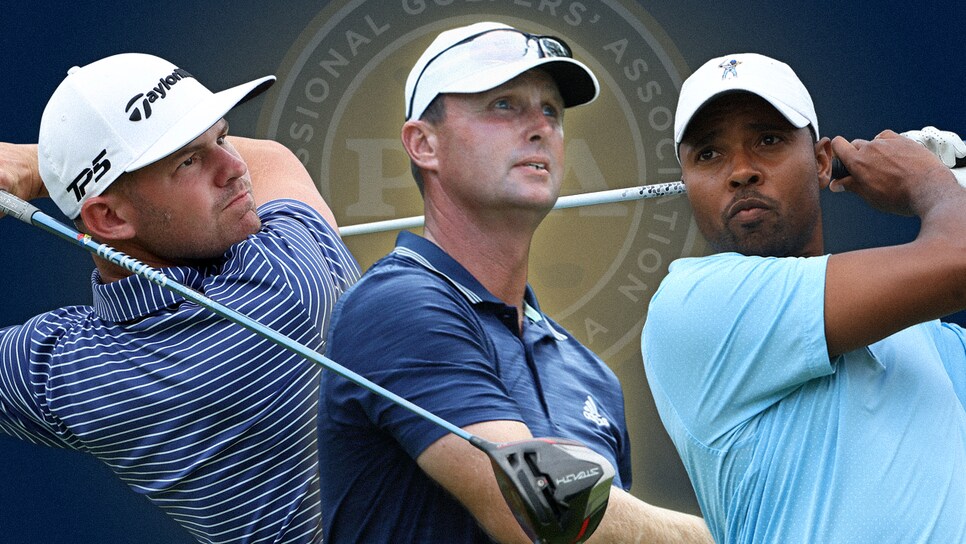 All the big guns are at Southern Hills Country Club in Tulsa, Okla., for the 2022 PGA Championship. Story lines abound. Can Masters champion Scottie Scheffler complete the second leg of the Grand Slam? Will fellow Dallasite Jordan Spieth, looking to complete the career Grand Slam, get in his way? Can Rory McIlroy end a majorless drought that dates to 2014? Where will Tiger Woods be come Sunday? Will we get a first-time major champion?
But the PGA Championship is also about the players who grind in relative obscurity. More precisely, it's about the 20 club professionals who played their way into the PGA of America's marquee event through section qualifying and then a 72-hole event last month at the Omni Barton Creek Resort in Austin, Texas. The mission this week starts with playing the weekend, then maybe drawing a pairing with one of the stars of the game, perhaps moving up the leaderboard and cashing a big check. Here are five club pros to keep an eye on.
Club: The Stanwich Club, Greenwich, Conn.
PGA Professional Championship finish: T-11
PGA Championship starts: 0
• The road to qualifying was a winding one. Most players get into the field at Barton Creek through their PGA section championship. But Pyne played poorly in his section and missed. He then learned he could go to the Stroke Play Championship and earn a spot if he finished in the top two among players who weren't already qualified. He played well and got into a three-for-two playoff for the final qualifying spots. He bogeyed the opening hole, but so did another player. He got through with a par at the second hole.
• Pyne has lived the mini-tour grind while chasing tours around the world. Once on his way to Kansas City for a tournament, he connected with a friend to stay at his place. When he arrived, he couldn't get in touch with the so-called friend. Like a lot of guys chasing their dreams, Pyne is always looking for ways to save money. With no place to stay and having already bought a 24-hour pass to a gym, he returned to the gym and hung out until 7 a.m.
• Pyne plays the Asian Tour school during the winter and has made it to the final stage in his last two attempts. He struggled there, and without full status and no financial backing, he went back to his job at Stanwich.
• A friend of his told me Pyne is always tinkering. The friend said Pyne once read that Ben Hogan drank ginger ale to help with "fat fingers." So before a round, Pyne drank a ton of ginger ale; he had the shakes the entire front nine.
• After playing at Lewis University and while chasing the tour, Pyne worked at Macy's, Sam's Club and Domino's to make ends meet.
Club: River Oaks Country Club, Houston
PGA Professional Championship finish: T-2
PGA Championship starts: 0
• Jones had a solid career at Ohio State and a decorated amateur career; he was a two-time West Virginia Junior Player of the Year.
• He caddied for Jack Nicklaus in the first round Nicklaus played on the redesigned Scarlet Course at Ohio State.
• He was set to play at the 2020 Valero Texas Open after being named Southern Texas PGA Player of the Year, but it was canceled because of COVID-19. This will be his first PGA Tour start. "I always had the dream to play a PGA Tour event," he told me. "I am just going to really enjoy this week."
• On Monday he played nine holes with Rickie Fowler and Jason Dufner. Jones mentioned how nice the two were and how grateful he was that they let him join them.
• Jones was an assistant pro at famed Muirfield Village for more than seven years before being named director of instruction at River Oaks.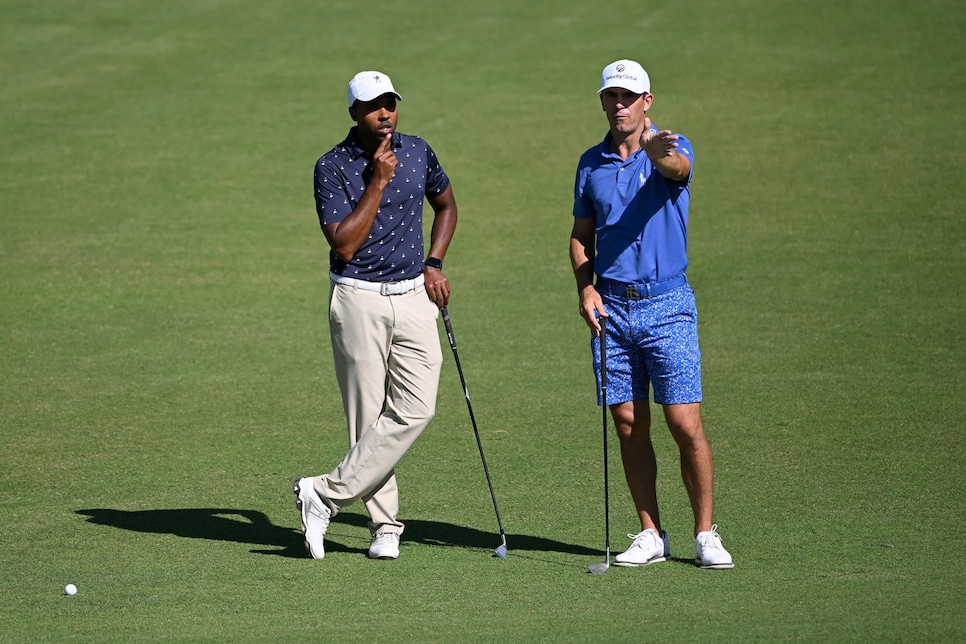 Worthington (left) got some tips about playing Southern Hills from Horschel on Monday.
Club: The Golf Depot, Gahanna, Ohio
PGA Professional Championship finish: T-4
PGA Championship starts: 1
• Worthington teed it up at the 2016 PGA at Baltusrol, where he became the second African American to qualify through the PGA Professional Championship. He shot 76-76 and missed the cut.
• More than 20 years ago, he attended a clinic hosted by Tiger Woods. That's when a 13-year-old found his passion for golf.
• A lifelong grinder, he grew up learning the game at a range in Ohio and walked onto the golf team at Methodist University.
• The Golf Depot is a 1,598-yard, nine-hole par-3 course that is also home to a large instruction facility.
• Worthington recently finished T-4 at the Billy Horschel APGA Tour Invitational in Florida, winning $9,000 and matching his best finish on that tour.
• Last year he made it through the first stage of Korn Ferry Tour Q school before struggling at the second stage.
Club: Bidermann Golf Club, Wilmington, Del.
PGA Professional Championship finish: T-6
PGA Championship starts: 0
• When he isn't working as a teaching professional in Delaware, Oakley caddies at Seminole Golf Club during the winter months and plays section events between loops.
• In the Philadelphia PGA section he set the scoring record for a season, ending 2021 with a 68.93 average.
• His father, Pete, was a decorated player in the Philly section, winning player of the year four times. Pete went on to a successful career on the Champions Tour, including a win in the 2004 Senior British Open, where he beat Tom Kite and Eduardo Romero by a shot at Royal Portrush. And talk about walking in your father's footsteps: Although he never played the weekend, Pete made six starts in the PGA Championship, including in 1994 at … Southern Hills.
• Oakley was sidelined for nearly a month leading up to the PGA Professional, but he shot a third-round 65 to move up the leaderboard. In the final round he was 6 over through 12 holes and in danger of falling out of the top 20, but he rallied to play the last six holes in two under.
• During a time when he was struggling with his putting, Oakley went to YouTube in search of a cure. He studied videos of Tiger Woods to address the issue.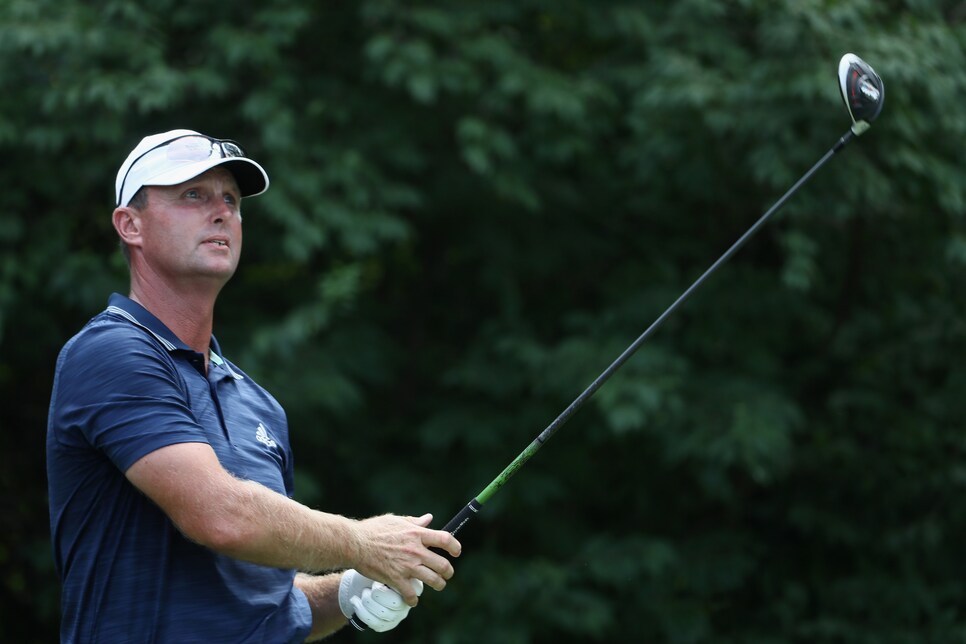 Club Professional Sean McCarty plays a shot during the first round of the 2018 PGA Championship at Bellerive Country Club in 2018.
Jamie Squire
Club: Brown Deer Golf Club, Coralville, Iowa
PGA Professional Championship finish: T-6
PGA Championship starts: 1
• A legend in the Iowa PGA section, McCarty has more than 100 victories, including stretches of winning 10 of 12 and seven in a row and seasons during which he shot over par only twice.
• McCarty had a decorated amateur and college career. He helped Iowa to its only Big Ten golf title in 1992, and in 1995 he was named a first-team All-American. He was joined on that team by a couple of guys who have done OK: Tiger Woods and Stewart Cink.
• He was the first golfer inducted into the University of Iowa Hall of Fame, in 2019.
• Many players talk about growing up on a golf course. Well, McCarty grew up at a golf course. His parents owned a course in West Branch, Iowa, and the family lived above the clubhouse. McCarty remembers mornings when players got lost looking for the pro shop and interrupted his breakfast.
• He was once one of the longest players in the game, and he can still top out at around 340 yards off the tee.
• He is playing in his third major championship. He missed the cut at the 2003 U.S. Open at Olympia Fields and the 2018 PGA Championship at Bellerive. He has played in nine PGA Tour events, with two made cuts. In 1997 he played in his first Tour event, the Quad City Classic, and finished T22. His first event on the Ben Hogan (now Korn Ferry) Tour was as a freshman at Iowa; he finished T52.
• McCarty hopes to make a run at the Champions Tour next season.