Local Rule
PGA Championship 2021: Why technically there are no bunkers (but a lot of sand) at the Ocean Course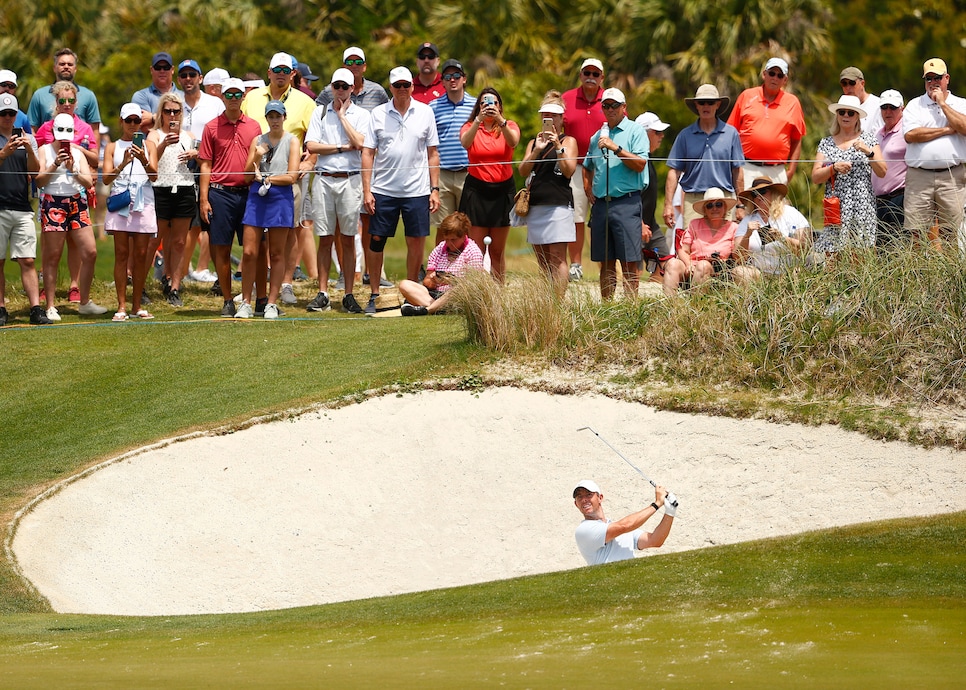 A local rule in effect this week at the PGA Championship deems that there are only "sandy areas" at the Ocean Course and no bunkers.
Maddie Meyer/PGA of America
There are no bunkers on the Ocean Course at Kiawah Island.
Yes, there's sand as far as the eye can see on the Pete Dye brute—the course is hard by the Atlantic Ocean—but PGA of America officials have deemed that all areas around the course that have sand are to be defined as "sandy areas" rather than bunkers.
The logistical difference is an important one for players as they will actually have more freedom when they play shots from these places. Particularly areas around greens that at any other course would certainly be deemed bunkers.
By defining all areas as sandy areas, when playing a shot from them you're playing not from a penalty area but from a general area under the Rules of Golf. That means that players can take practice swings and ground their clubs lightly in front of or behind their balls without penalty.
While sandy areas are considered through the green, there are still some subtle differences that players will need to be aware of. For instance, when a ball comes to rest in an awkward indented spot it cannot be deemed an embedded ball.
This question was raised by Rory McIlroy during the first round on the 16th hole. McIlroy's second shot ended up in a sandy area and sat in an indentation. He called for a rules official to see if the ball could be considered embedded. But under the local rule, relief from an embedded ball under Rule 16.3B isn't allowed this week, which the rules official explained to McIlroy. Rory had to play the ball as it lied.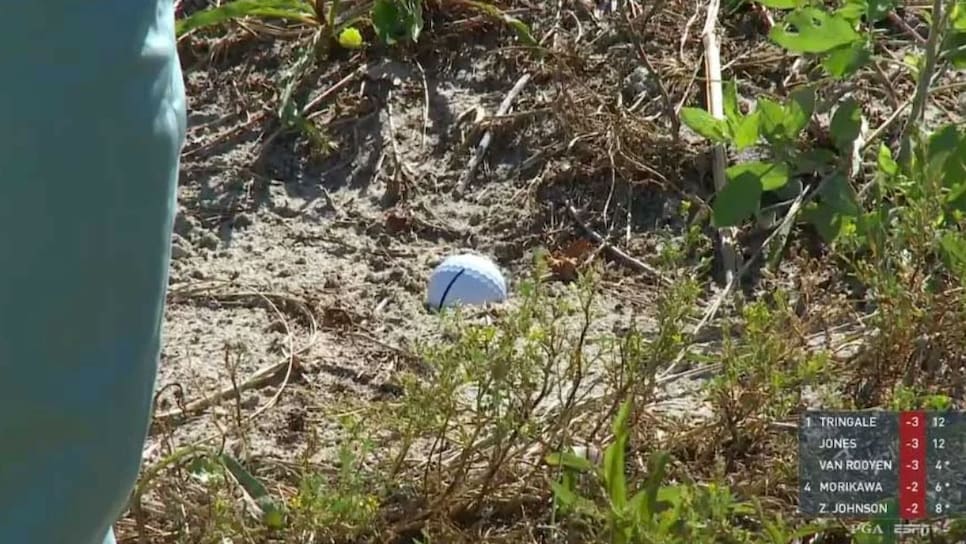 Here is the Local Rule as laid out by the PGA of America to players: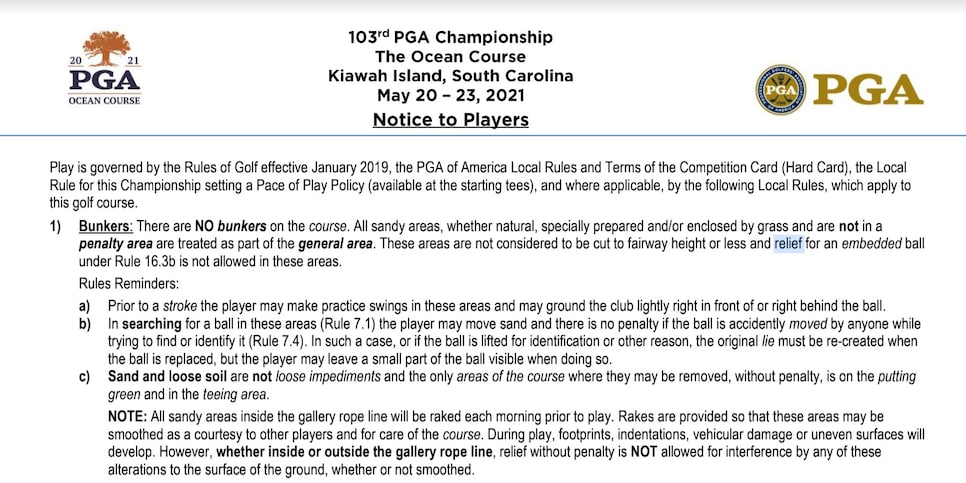 Why make such a big deal that all sand on the course be deemed a "sandy area" and not a "bunker"? Ask Dustin Johnson. At the 2010 PGA Championship at Whistling Straits, on the 72nd hole of the tournament, Johnson played his second shot from such an area that had been trampled through by spectators. Before hitting the ball, he grounded his club. He thought he made a par on the hole, which would have qualified for a playoff with Martin Kaymer and Bubba Watson, but then was informed that by grounding the club, he actually committed a two-stroke penalty. That week all sand was defined as bunkers.
Subsequently, the PGA of America has decided at courses like Whistling Straits and the Ocean Course, where distinguishing between bunkers and sandy areas can be a challenge given in some instances they are places where spectators are actually walking, that they all will sandy areas as a caution.