News
PGA Championship 2020: Why TPC Harding Park's bunkers could determine who wins on Sunday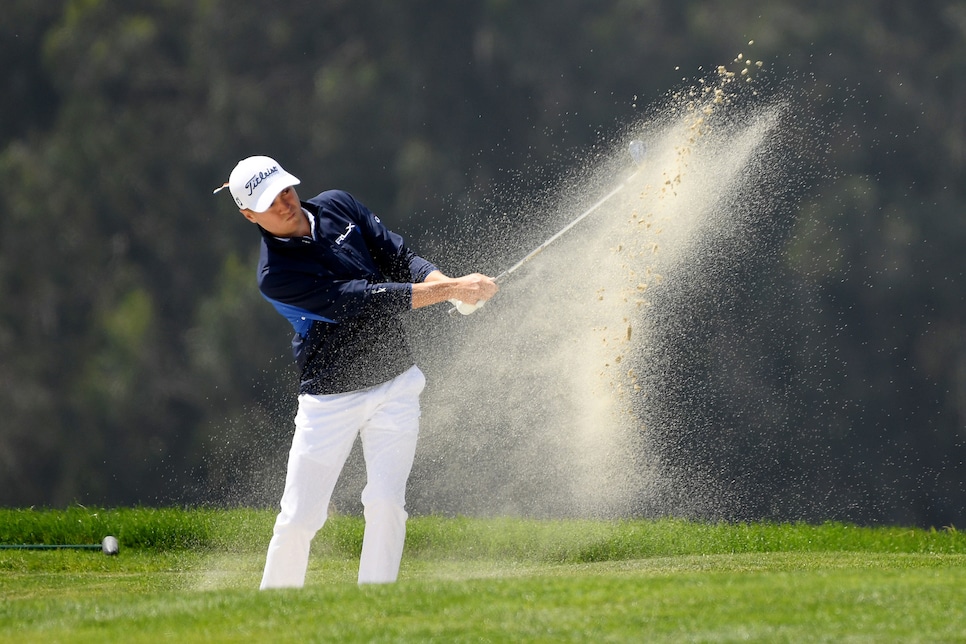 Justin Thomas plays a shot from a bunker on the 16th hole during the third round of the 2020 PGA Championship.
Harry How
After finishing his third round early Saturday afternoon, Justin Thomas faced a handful of questions from the media, one of which inquired about course strategy at TPC Harding Park. Specifically, someone asked about the 16th hole, a potentially drivable par 4 that could prove pivotal in the outcome of the PGA Championship. In deciding what to use off the tee (JT laid up, only to make a bogey), Thomas explained how a few factors come into play. Foremost is how much wind you're facing and from what direction it's coming from. But an additional consideration is how you feel about playing from the bunkers, three large ones guarding the left side of the hole with another short right of the green.
For Thomas, the latter is a critical question on any hole at Harding Park, thanks to an unusual nuance of the San Francisco course compared to regular tour venues.
"A good amount of them out here, just didn't have any sand," said Thomas, which became an issue when his toed tee shot found a fairway bunker. He then thinned his approach into a greenside bunker, blasted his third 27 feet past the hole and two-putted for his 5.
"I mean, I was pretty screwed if that was … if [the bunker] had a lot of sand in it, let alone no sand," Thomas said. "I just didn't really put myself in a good position to save [par]."
Thomas didn't carry a critical tone, speaking instead rather matter of factly. But he hasn't been alone in making the observation. Throughout the week at the PGA, several players have noted the unusual (for tour pros) conditions in the bunkers.
Barren bunkers are a staple of municipal courses, which Harding Park proudly calls itself. It's just that in no other way has Harding Park actually played like the typical muny this week.
To the chagrin of average golfers everywhere, tour pros often root for errant shots to find the sand rather than the rough. The reason is simple: Save for a fried egg or a ball plugged under a lip, the number of unpredictable lies in a bunker is far less compared to the rough and the gnarly outcomes it can leave. And tour pros are so deft at playing bunker shots, even tricky ones are manageable.
But being unable to predict what they might face from the Harding Park's sand, players aren't quite so bullish about finding a bunker this week.
If Sunday's play mirrors that of the third round, this course feature could become a factor in who is holding the Wanamaker Trophy at day's end.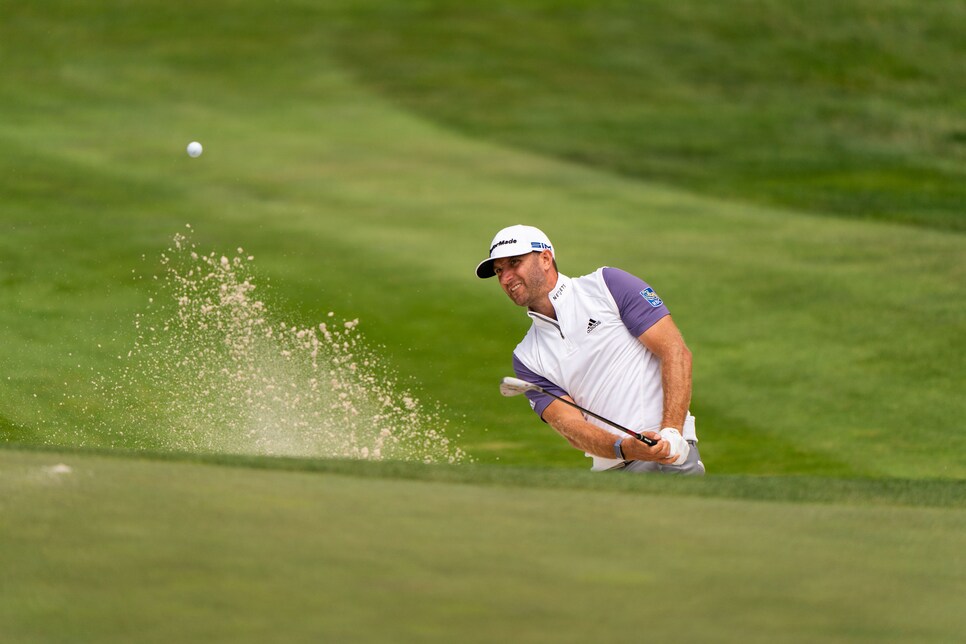 Dustin Johnson hits out of a bunker early in the week at Harding Park.
Darren Carroll/PGA of America
Saturday on the par-4 ninth hole, playing his third shot, Dustin Johnson sculled one out of the greenside bunker. He put his fourth on the green and two-putted for a double-bogey 6 that halted any momentum he was building. But four back-nine birdies gave DJ a closing 65 and propelled him to a one-stroke lead heading into the final 18.
"I should have never hit it in the left bunker, is what I was thinking," Johnson said when asked about the stumble at No. 9. "I knew it was a bad spot. I actually went down a club not to get there, and I misjudged the lie a little bit. I didn't think it was going to come out very good, and it came out way better than I thought it was, and I hit it in the one spot I didn't want to hit it in. It's just one of those things."
Brooks Koepka, meanwhile, held a share of the lead at eight under until making a bogey on the 13th hole. Then, on the 470-yard par-4 14th, his approach shot took a harsh kick left into a greenside bunker. Koepka couldn't get his third close to the hole, splashing it 18 feet past the pin. While just missing the par-saving putt, it meant a second straight bogey. He'd bogey 15 as well, seemingly playing his way out of contention until two late birdies brought him back to within two of DJ's lead.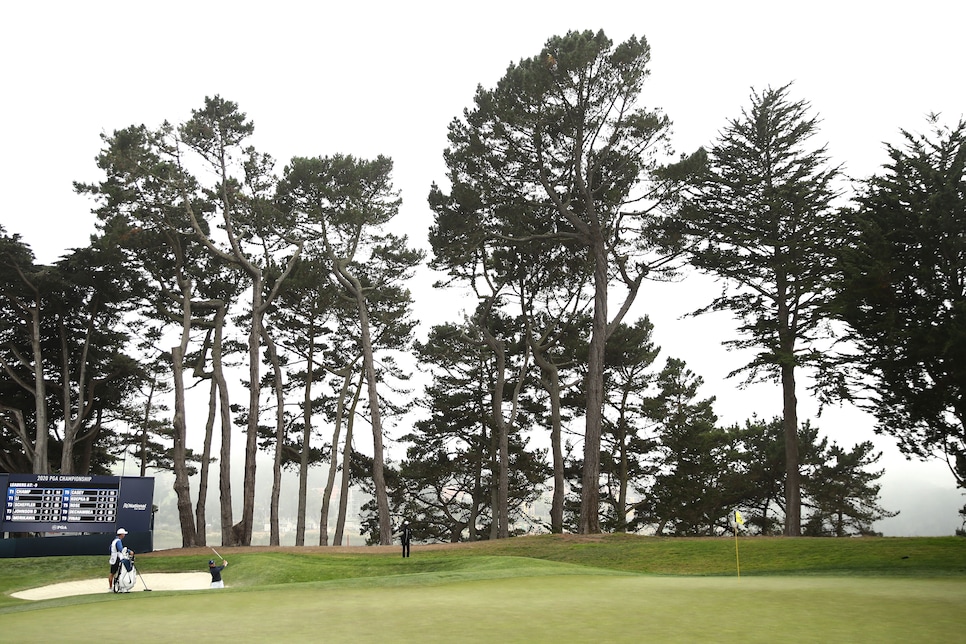 Brooks Koepka plays a shot from a bunker on the 14th hole Saturday, but couldn't get it to stop closer than 18 feet from the hole.
Ezra Shaw
As the leaders make their way around Harding Park on Sunday, many are likely to share the sentiments of Johnson.
"I definitely need to hit some more fairways, because it's really tough playing this golf course from the rough. Obviously the bunkers, too, are very tough."
Now tour pros know how average Joes have felt for the longest time.