Equipment
PGA Championship 2019: What the pros will wear—including Tiger and when we'll see the mock-neck—at Bethpage
Despite the stir caused by Tiger Woods' mock neck at the Masters, he'll only wear the style on Sunday at the PGA Championship. Thursday through Saturday, Woods will wear traditional collar versions of the Nike TW Vapor Block Polo.
Woods will start the week out in the blue color-blocked stripe shirt and grey pants. The blue solid shoulder pattern gives the traditional striped shirt a little more personality and style. On Friday and Saturday, Woods will stick with a quieter color palette in a black striped shirt on Friday and white stripes on Saturday. The simple looks are consistent with Woods' typical athletic-yet-serious styling. The looks are also in line with the Nike team's scripting that was inspired by the nearby New York City style scene and 1990s color-blocking patterns. Expect to see similar color palettes of bright blue, red and black from other Nike athletes like Brooks Koepka and Rory McIlroy. On Sunday, Woods will return to his now-iconic mock neck Sunday red shirt and black pants. Woods is now the only Nike athlete to wear the mock neck on tour. The shirt has been flying off shelves since Woods' win at Augusta and even a PGA Championship-logoed version of the top was spotted at the tournament merchandise tent.
SHOP WOODS' PGA CHAMPIONSHIP LOOKS NOW: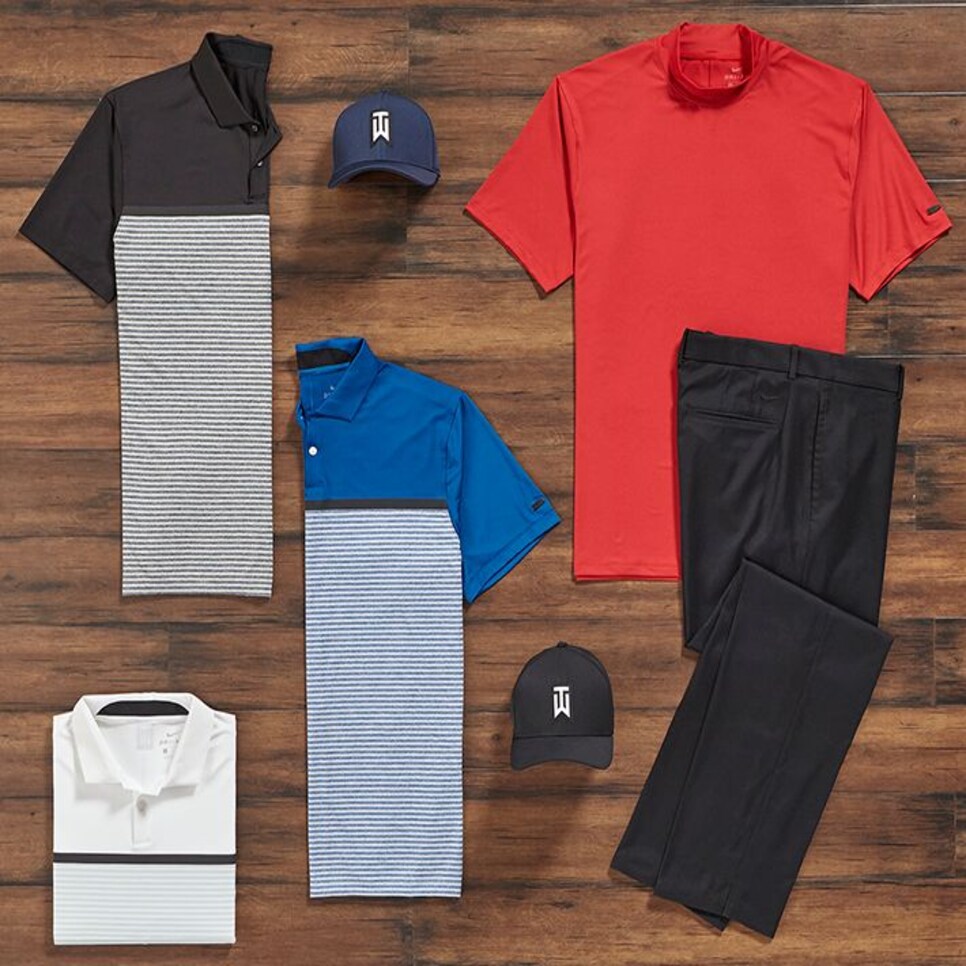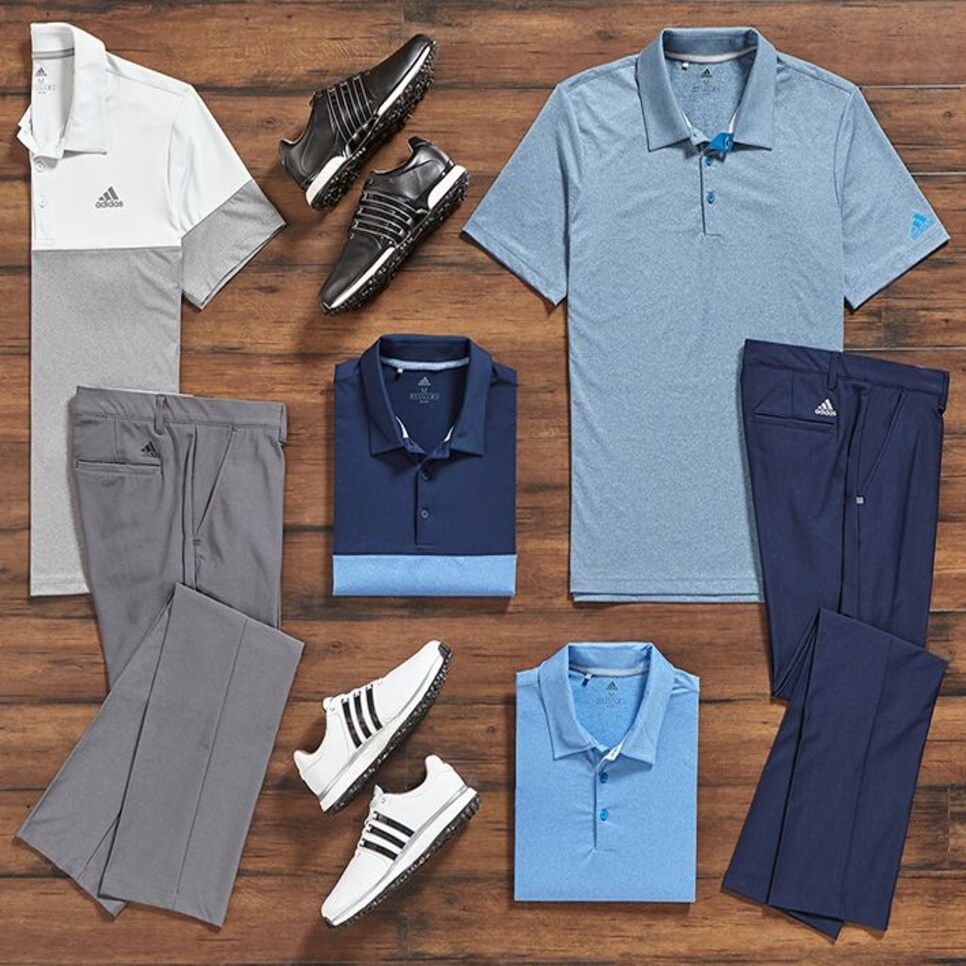 World No. 1 Dustin Johnson will look fresh and athletic in classic blues and grays at Bethpage. On Thursday and Saturday, he'll wear a heathered and color-blocked golf shirt. Both styles are very on-trend in the golf world. Heathered patterns are a great way to give character to dull shades—like Johnson's Thursday gray—or tone down bright colors—like his Saturday blue. Color-blocked apparel is an excellent way to mix colors without too much of a risk, especially for those who typically stray away from anything but simple one-color tops. It's a classic and sophisticated look that is easy to match with.
Though it would be nice to see Johnson in some more playful colors during the other two days at Bethpage, he's said in the past that blue is the color he feels most powerful in—and we won't fault him for turning to comfort for the second major of the year. His Friday and Sunday blues are youthful and simple, an easy win in the style world.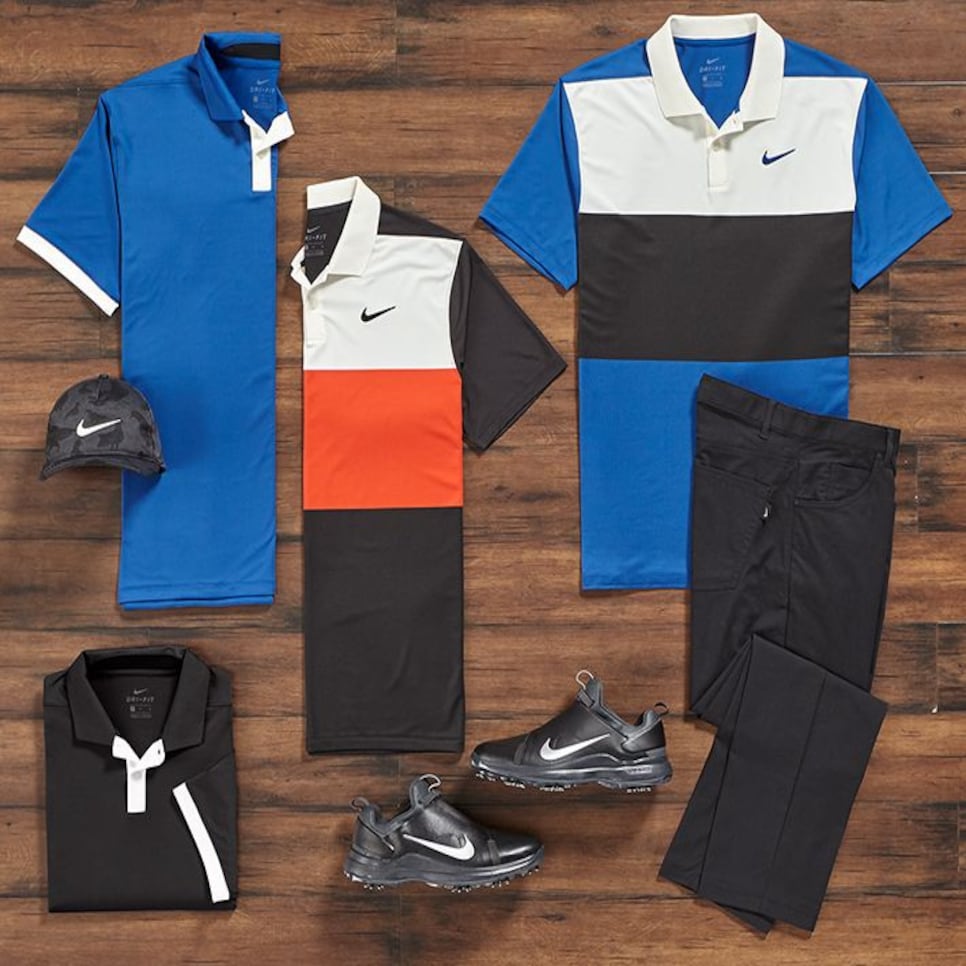 As always, the Nike team will be bringing fresh looks to the major season. Inspired by Bethpage's proximity to NYC, Brooks Koepka's outfits are themed after 1990's NYC street style. His Thursday and Sunday looks feature bold, primary color blocking patterns that are sure to turn a few heads. The black, red and white first-round shirt will match great with the limited edition Safari Pack shoes that just dropped. While the cement pattern is similar to the vintage Michael Jordan print seen on the recently launched Nike Golf Jordan ADG golf shoe, it's actually inspired by the concrete jungle that is New York City. A maple leaf on the back of the shoe pays homage to the fact that Bethpage is a State Park and the pigeon-covered sole is a nod to the city's unofficial bird. This pigeon pattern will also be seen on Koepka second- and third-round hat selections, blue on Friday and black on Saturday. He'll pair the pattern hats with matching, solid tops to allow the accessories be the focal points of the outfits.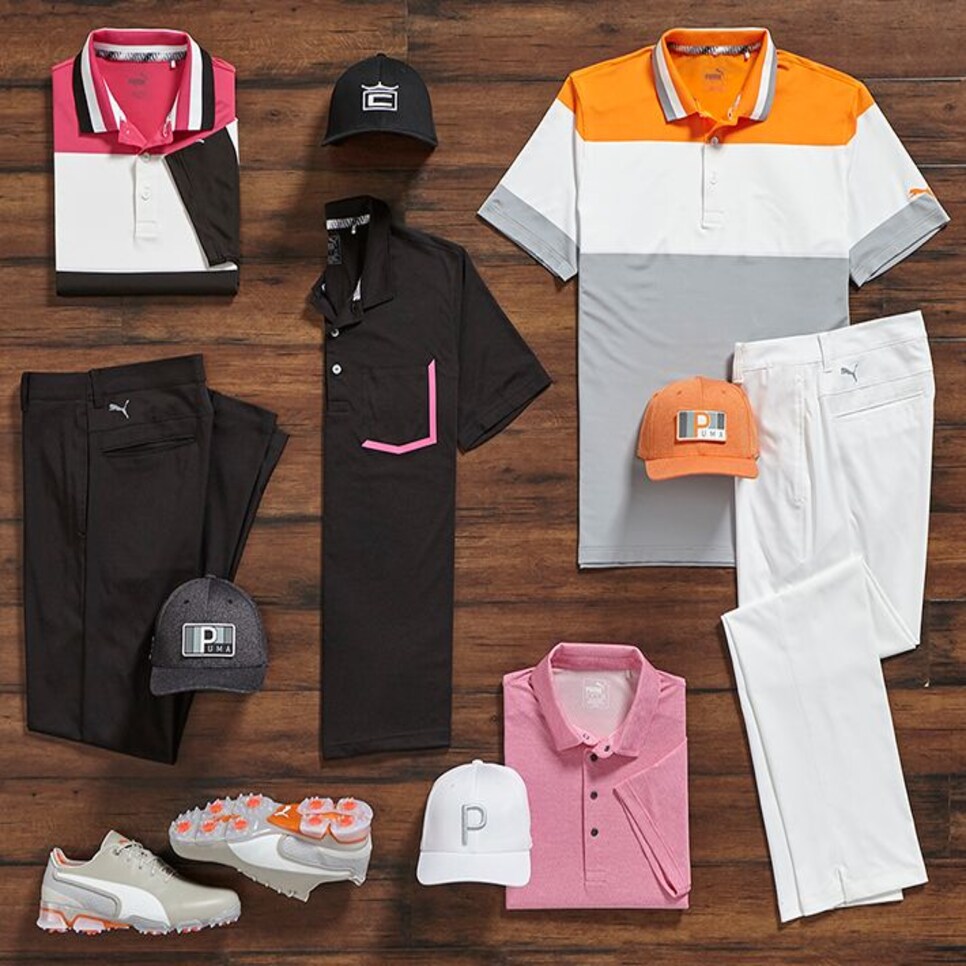 Rickie Fowler's PGA Championship scripting will also feature pieces inspired by 1990s street style, but in even brighter colors that align with Fowler's typically bold looks. He'll begin the week in fuchsia pants and a black top. While it is always smart to pair a dark, solid shirt with bright pants, his Puma Farday Polo features a subtle fuchsia pocket detail to match the pants and give the ensemble a pulled-together feel. Fowler will play with the same black and fuchsia color palette on Friday in an ultra-90's color-blocked top and simple black pants. A unique part of this shirt is an additional stripe pattern across the collar that matches the rest of the shirt. It's a clean way to create a playful look, without going overboard. He'll top the look off with a limited edition cap that has a pattern under the bill inspired by the iconic Bethpage "Warning" sign.
Going into moving day, Fowler will debut another throwback look with gray microcheck pants and a pale pink heather shirt. The soft pink shade is tame, stylish and an excellent balance to the vintage trouser look. On Sunday, Fowler will return to his traditional orange, with a twist. The orange version of the Puma Nineties Polo features orange as the top stripe of the thick-striped shirt. While Rickie looks great in full orange looks, this break up of the color using white and grey adds a ton of style for a cleaner ensemble that still makes a statement.