News
PGA Championship 2018: Tommy Fleetwood has an equipment issue on his hands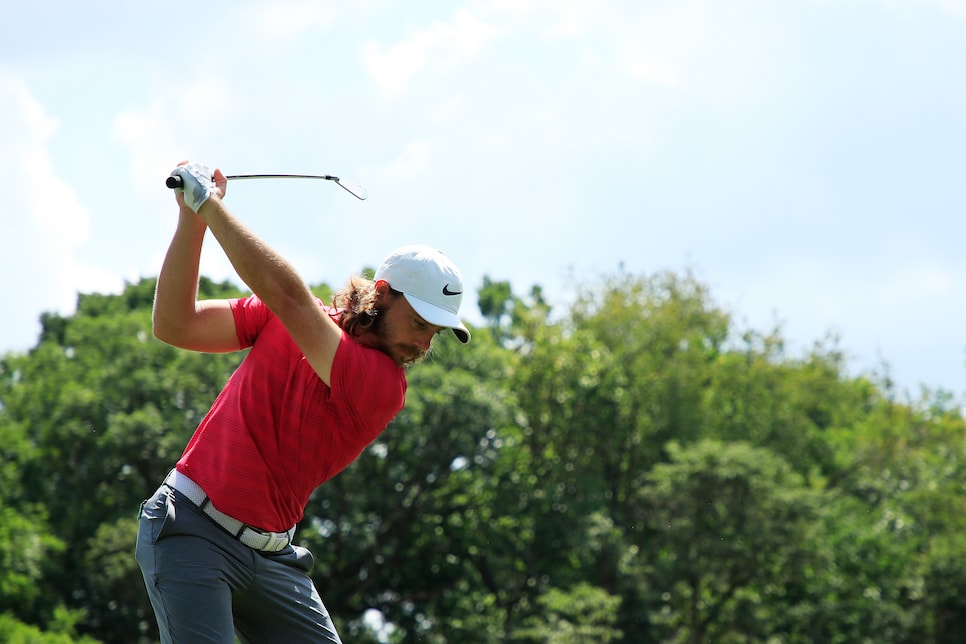 ST. LOUIS — Before tour players were living under par, we were reminded these guys were good. It's too bad the much-beloved slogan is no longer, for Tommy Fleetwood's Mexico tale would make a heck of an ad.
Fleetwood, speaking on Wednesday at Bellerive, recalled playing with just 12 clubs this year at the WGC event south of the border. "The hosels on the 7- and the 8-iron bent from wear and tear," the Englishman said on the eve of the 2018 PGA Championship. "You can work around that. Mid-irons are all right. You can go soft or hard with the ones in between." Despite the rest of the field equipped with 14 sticks, Fleetwood managed to finish T-14.
"It would have been worse if it was like a wedge or something maybe," Fleetwood said. "But it didn't cause too many problems."
If you're wondering why Fleetwood failed to put replacements in the bag, it certainly wasn't vanity or apathy. Instead, it was the byproduct of a harsh reality, one that's coming close to fruition.
For Fleetwood carries Nike equipment, and the Swoosh is no longer in the manufacturing game. However, while other Nike players like Tiger Woods, Rory McIlroy, Brooks Koepka and Francesco Molinari have put new clubs in their bags, Fleetwood continues to play with VR Pro blades and Vapor Fly fairway woods. That means, while other players can go to their company's equipment van for a tune-up, the long-locked Fleetwood is stuck with what he has.
"Absolutely, playing a [different] set of irons would make life easier in terms of all the trucks are out on tour every week, and it's easier to get one fixed or easy to get one sent out," Fleetwood admitted.
So what prevents Fleetwood from making a change? Simple: He is playing the best golf of his career. Two years ago, the 27-year-old was outside the world's top 150. He now enters the 100th PGA Championship ranked No. 11, boasting three wins since January 2017 and recording a runner-up finish at this year's U.S. Open. In short, don't fix what's not broke.
"There's always a sense of, Oh, if I change my irons, they might not be as good or might not perform as well," Fleetwood says.
But that precipice is coming, as Fleetwood no longer has a back-up set. He told PGATour.com's Jon Wall that he attempted to buy spares from Paul Casey (another former Nike endorser who now plays Mizuno), but Casey playfully rebuffed him.
"I think he thought I was joking," Fleetwood said. "But, no, it's fine, absolutely fine. And I don't want P.C. on my irons anyway."
Fleetwood has accepted that, eventually, the Nikes will have to go, and is confident his set can be copied by a new manufacturer. Nevertheless, he's not letting them go until squeezing out every ounce of life.
"Once this set goes, I'll quite happily change into something else," Fleetwood says. "It's just that I have the ability at the moment to play with a set of irons that I've loved and played with for so long."
In a bit of serendipity, every major champion in 2018 has won without a club deal. If recent history repeats itself, Fleetwood's PGA prospects seem promising.
Assuming he has 14 clubs in the bag come Sunday.