The Loop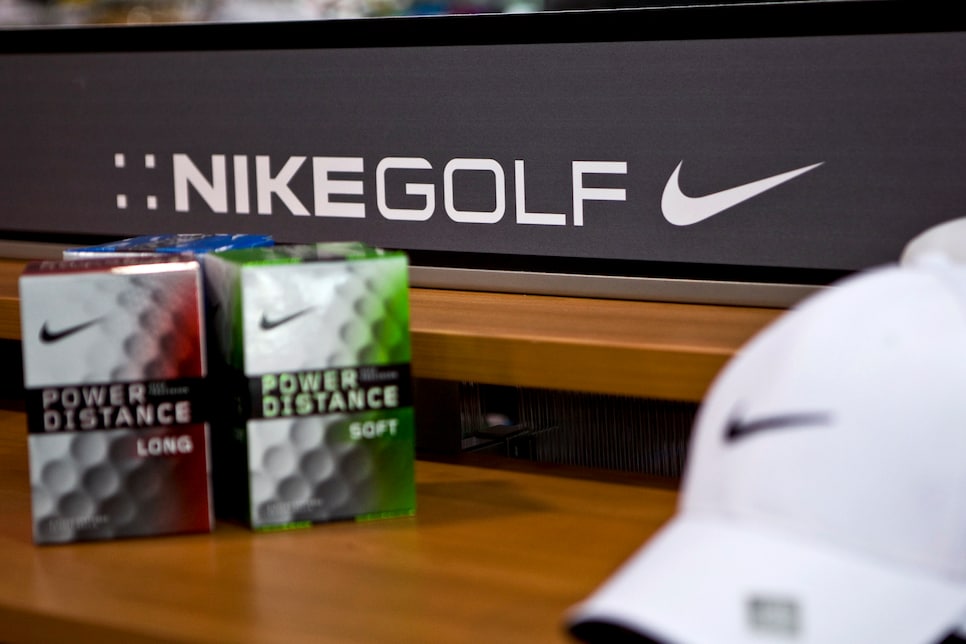 Bloomberg via Getty Images
Golf is still reeling from Wednesday's announcement that Nike is exiting the equipment realm. The Swoosh will still be present in the game, as the company stated it's shifting its focus to golf apparel and shoes. Still, the news took many in the sport -- from fans, competitors, even Nike's own endorsers -- by surprise. As golf pauses to reflect on the consequences and upshot of this decision, let's take a look at Nike Golf's history and timeline in the game:
1984 -- Nike makes its introduction into golf with its first line of shirts and shoes. The shirts are a limited production, but the shoe line, featuring an edition named "Turnberry," become a hot item.
1985 -- Seve Ballesteros becomes the first golfer to sign an endorsement deal with the company. Other big names -- including Curtis Strange, Peter Jacobsen, Juli Inkster and U.S. Women's Open winner Kathy Baker -- follow suit.
1986 -- The University of Georgia women's team becomes first college squad to ink with Nike.
1987 -- Oklahoma State University men's team, wearing Nike, wins NCAA championship.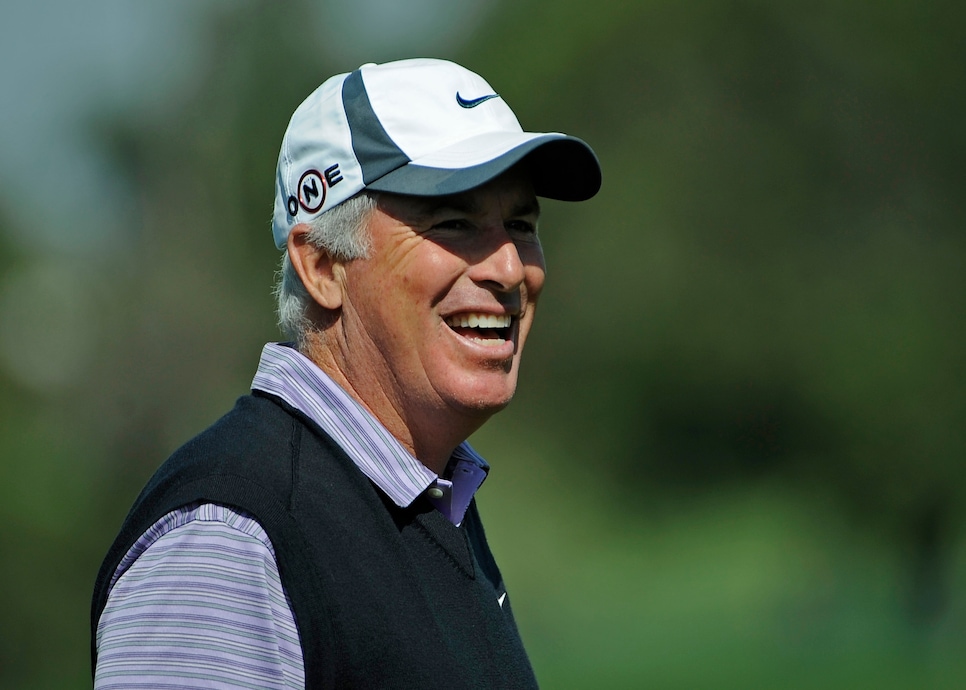 1988 -- Strange wins first of back-to-back U.S. Open titles at Brookline.
1989 -- The first Nike golf glove is produced, a combination of leather and "seamless palm technology."
1990 -- "The Big Swing," featuring Strange and Jacobsen, becomes Nike's first golf commercial. Also, the company produces its first waterproof shoes in the The Air Classic Plus and the Air Waverly.
1993 -- Nike constructs the first Gore-Tex golf shoe. Nike also becomes sponsor of the Ben Hogan Tour, the PGA's developmental circuit that began in 1990.
1994 -- Nike puts its first towels and head covers on the market.
1996 -- Tiger Woods signs with Nike, reportedly for five years and $40 million. Company introduces the "Hello World" and "I'm Tiger Woods" television spots, and releases Woods-branded shoes.
1997 -- Woods wins the Masters at age 21 by record 12 shots; his winning shirt is mass produced. Nike pushes out the SSL shoe, which features a combination of cleats, permanent-like spikes and permanent rubber nubs.
1998 -- Nike Golf, spurred by new president Bob Wood, discussed as separate division in the company. Nike produces first golf balls: Precision Distance, Precision Tour Control, Precision Spin Control, and Precision Distance Control.
1999 -- Glen Day wins at Hilton Head, becoming first player to win PGA Tour event with Nike ball. Iconic commercial of Woods "hackey sacking" ball on club premieres.
2000 -- Woods cuts ties with Titleist ball, switches to Nike. He goes on to win the next four majors; his ball -- the solid-core Tour Accuracy -- spurs Titleist to debut Pro V1.
2001 -- Nike hires Tom Stites and purchases his company, Impact Golf Technologies. Stites, one of the more revolutionary and respected minds in the industry, named director of product creation for equipment. David Duval becomes first player to capture a major title with Nike equipment, winning Open Championship at Royal Lytham & St Annes Golf Club. Woods agrees to five-year, $100 million extension. The Power Distance ball is introduced, and Tiger's ball -- the Tour Accuracy TW -- sold in stores. Nike Golf becomes its own division, employing over 200 workers.
2002 -- Nike clubs are available at retail for first time in February. "The Oven," a research and development site, is opened in Fort Worth. Woods puts Nike equipment -- a driver, irons and wedges -- into play for first time and wins WGC-American Express event in Kilkenny, Ireland.
2003 -- Nike passes Etonic in footwear market share, behind only FootJoy. Bo Van Pelt becomes first player to win with Nike putter. The Mojo ball, marketed in a psychedelic box, and the Ignite driver are introduced. A Dri-FIT short-sleeve, mock-neck shirt goes to market. Phil Mickelson makes waves by claiming Woods is playing with "inferior clubs."
2004 -- Cavity-backed Slingshot irons and CPR hybrids named to Golf Digest Hot List. Nike One Black and Nike One Gold golf balls produced.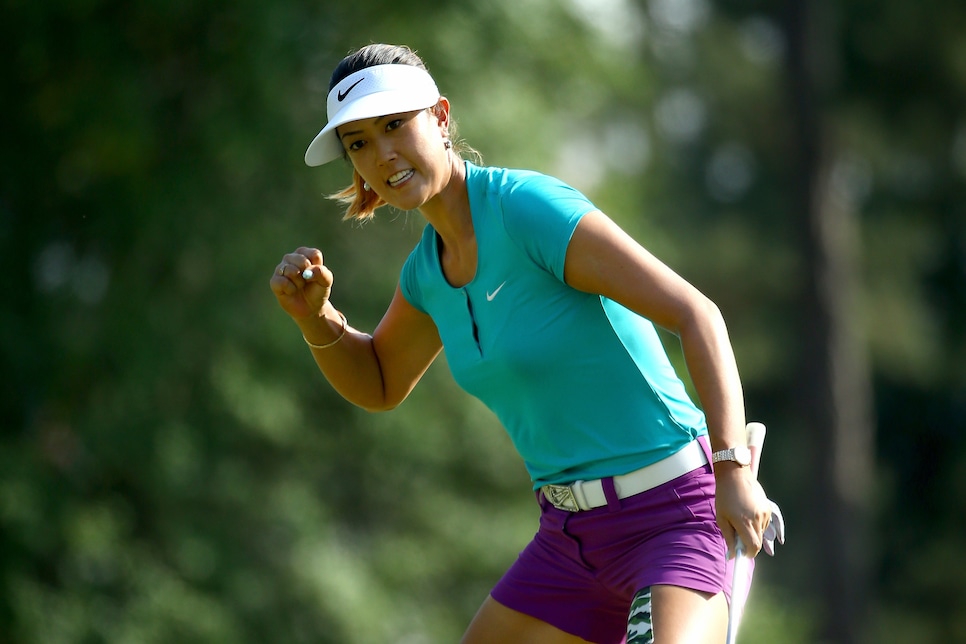 2005 -- Woods wins Masters and Open Championship; victory at Augusta National is defined by chip-in on the 16th hole, in which a Nike ball hangs on lip of hole before dropping. Wood wins with Ignite driver in bag. Nike signs Michelle Wie. Markets first ball for women, the "Power Lady." The Nike SasQuatch appears on tour.
2006 -- Nike apparel becomes the No. 1 brand globally in golf. Nike Golf leads PGA Tour in driver, irons and fairway wood wins. Company signs Anthony Kim. SasQuatch makes Golf Digest Hot List. Woods renews contract. Slingshot Tour and Hybrid irons, along with Juice ball, are introduced to retail.
2007 -- The SQ SUMO2 is first square driver to retail. Some clubs are found to exceed USGA limit for springlike effect; company issues new versions that fall in parameters.
2008 -- Cindy Davis replaces Bob Wood as head of Nike Golf. A high-end apparel collection named "Tiger Woods Platinum" introduced, and company is official sponsor of US Ryder Cup team. Woods wins 2008 U.S. Open, his 14th major. Company reaches $700 million in revenue, boasts 700 employees.
2009 -- The Air Zoom Vapor, the lightest golf shoe available, hits market.
2011 -- Charl Schwartzel wins the Masters. It's 10th win in last 25 majors for Nike. Lunar Control golf shoe, featuring Lunarlon cushioning and Flywire technology, goes to retail.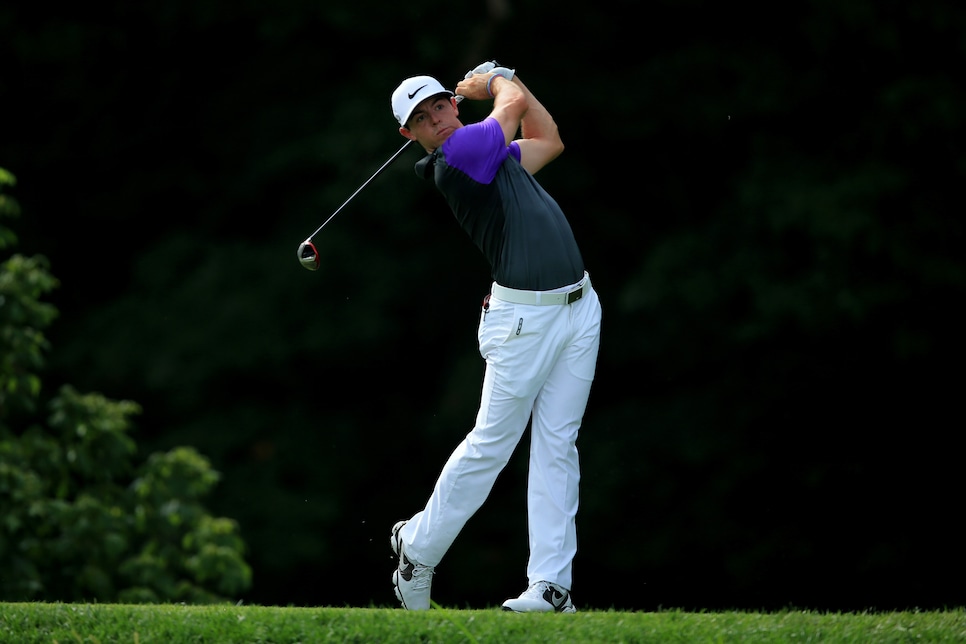 2012 -- Nate Radcliffe named director of engineering. Radcliffe previously worked with Cleveland Golf/Srixon.
2013 -- Rory McIlroy signs with Nike for 10 years, $200 million; Woods agrees to extension.
2014 -- Daric Ashford, who had worked with other Nike brands for 20-plus years, takes over for Cindy Davis, who retires at age 52. McIlroy wins Open Championship and PGA Championship with Nike equipment.
2015 -- Following revenues of $789 million in 2014 and $792 million in 2013, company revenues drop to $771 million.
2016 --Bloomberg reports sales at the Nike Golf division fell 8.2 percent to $706 million in the fiscal year that ended in May, Nike's worst performing major category. Company announces exit from equipment business.