News
PGA Championship 2018: Tiger Woods, Rickie Fowler, Jason Day face grueling Saturday prospects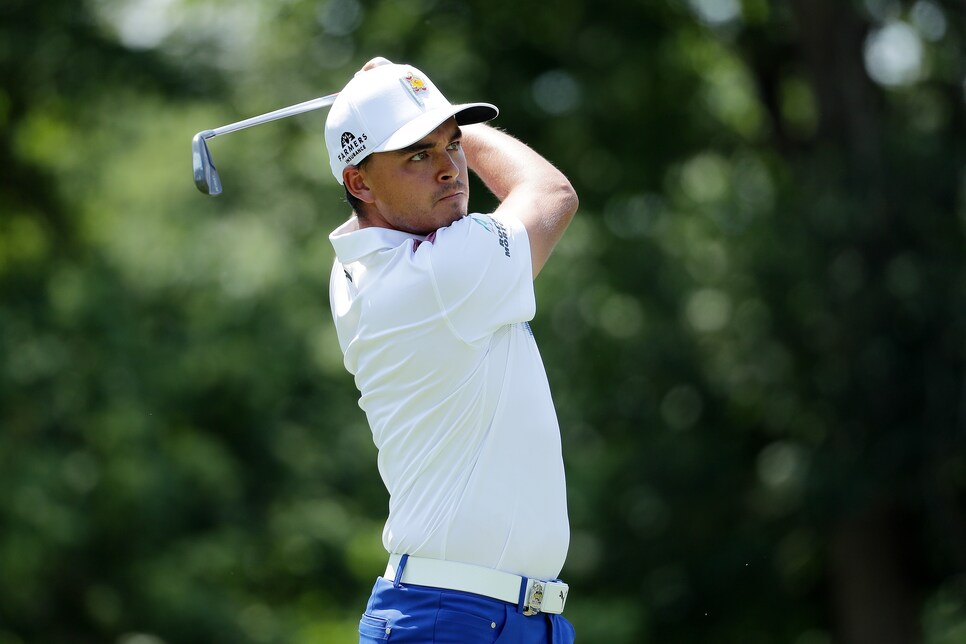 ST. LOUIS — The Wanamaker Trophy is a big piece of hardware. Fitting, for if Rickie Fowler wins his first major championship this week at Bellerive, he deserves a huge prize for the gauntlet that's ahead.
As if throwing that "best player to never..." monkey off his back wasn't grueling enough, Fowler now faces 26 holes of play on Saturday after afternoon thunderstorms halted Round 2 on Friday . In truth, the climb started early in the afternoon for the 29-year-old. Fowler, who turned in a five-under 65 on Thursday to sit a stroke back of overnight leader Gary Woodland, wasn't even in the top 10 by the time he teed off Friday afternoon, with the course handing out birdies at whim.
"Once we went to warm up on range, I could see a little bit on the board on the side of the range," Fowler said. "I saw the lead got to 10, and there were a few guys out there, and I had moved back a bit."
He took another step back, this one self-inflicted at Bellerive's first, one of the statistically easiest holes on Friday. Not for Fowler, who took a bogey to find himself six shots back. For a man with an avalanche of unanswered questions at majors, it was an inauspicious start.
However, he righted the ship by playing the next nine holes in three under, getting himself to seven under for the tournament when the horn blew. He'll start on the 11th, a drivable par 4 that surrendered two eagles and 56 birdies against just nine bogeys, and with the property drenched from Friday's showers, will be in a position to pounce on the back.
"I feel like we're in a great spot," Fowler said. "Obviously, it would be nice to keep going after birdieing 8 and 10. I feel like we're in a good spot. But the nice thing about the delay and going back out tomorrow morning, we'll get fresh greens."
Conversely, Fowler will have a quick turnaround for Round 3—which begins 30 minutes after the final 36-hole round is complete. Easier said than done in this Missouri humidity.
If there's any consolation to be had, it's that he won't be alone in this endeavor.
Jason Day is four under for the tournament with 10 remaining holes in Round 2. The 2015 PGA champ shares Fowler's mind-set for the early start, brushing away the long-day worries at the chance to do damage in the morning.
"The hard thing is to like not get wrapped up in it, because you can go out there and try and overplay the golf course," Day said. "I'm one under, currently on the 9th green, so if I can come back tomorrow with softer conditions, I think that I'll be able to try to get some more birdies out there."
Billy Horschel is another on the leader board facing 20-something holes, the 2014 FedEx Cup champ at five under. Oh, as for a certain 42-year-old, 14-time major winner? Tiger Woods, three under on his round and tournament, will start on Bellerive's par-5 eighth when balls are in the air Saturday morning.
"I felt I was headed in the right direction," Woods said. "Tomorrow is going to be a long day for a lot of us and try and get back at it early tomorrow morning."
Despite the worries such a haul could have on his body, Woods actually favored restarting on Saturday instead of heading back on Friday night.
"The good thing is we're going to have the greens prepared before we go back out there and to finish up our second round," Woods said. "It would have been quite a bit different if we had to go back out this afternoon and finish it up. But the greens will be freshly cut, so it will be just like it was when we played on Thursday."
At the moment, the projected cut is even par. Play it set to resume at Bellerive at 7 a.m. local time.