News
PGA Championship 2018: Michael Block is coming back home—thanks to his quick-thinking son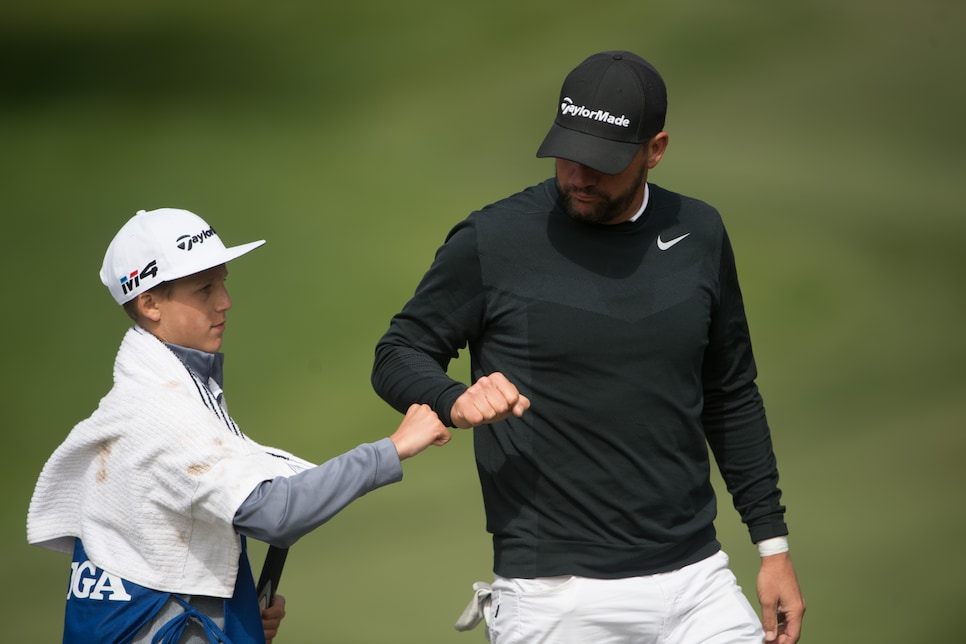 Photo By: Montana Pritchard/PGA of America
Obscurity is the plight of the club professional, whose hours are longer than Dustin Johnson and certain to produce only yawning instead of fawning. There are lessons, budgets, tournaments, purchase orders, personnel decisions, assorted minutiae and, sunlight permitting, maybe, maybe, a quick nine at the end of the day, hold your applause.
Then a ball rolls down a burrowing animal hole.
Michael Block is the head professional at Arroyo Trabuco Golf Club in Mission Viejo, Calif., a public course paradoxically close to the freeway in South Orange County yet free of the imposing housing tracts that proliferate in those parts.
Block, as you might know though probably don't, is a past winner of the PGA Professional Championship, the club pros' major. But those who routinely follow golf likely saw video of his son and caddie, Dylan, 13, spotting Dad's golf ball in a burrowing animal hole, then sticking his arm into it to retrieve it in the second round of the PGA Professional Championship at the Bayonet Golf Course in Seaside, Calif., in June.
"It had more to do with the father-son dynamic," Block, 42, said of the attention it garnered. "It was huge for people to gravitate toward that. Probably 95 percent of those watching were men—fathers and sons. It probably kind of hit home with a lot of people."
Block's turn in the spotlight was fleeting, as often is the case in an internet age when news becomes old in a day or less. But his story itself is more durable. It has legs, strong ones, strong enough to carry him home, to St. Louis, and the old neighborhood.
And Dylan was responsible.
Dylan's save in the second round and a timely admonishment in the final round enabled Block to finish in the top 20 at the PGA Professional Championship, earning him a start in the PGA Championship at Bellerive Country Club outside St. Louis.
Block, who played college golf at the University of Missouri-St. Louis, grew up two miles from Bellerive. He attended the PGA Championship there in 1992 and had Payne Stewart and winner Nick Price sign his program.
Twenty years later, the PGA of America announced that Bellerive would host the PGA Championship in 2018. "For six years, it's been my goal to play in it," he said. "Dylan is the reason I'm going to the PGA Championship."
Dylan "is a stick," as his father describes him, and it is confirmed by his 3.2 handicap index. He had never caddied, though he had been badgering his father to allow him to do so for a couple of years. "He had been begging me since the day he turned 11," Block said. "At age 12, he was originally going to do it. We did a test at the club once, and I said, 'Buddy you need one more year.' "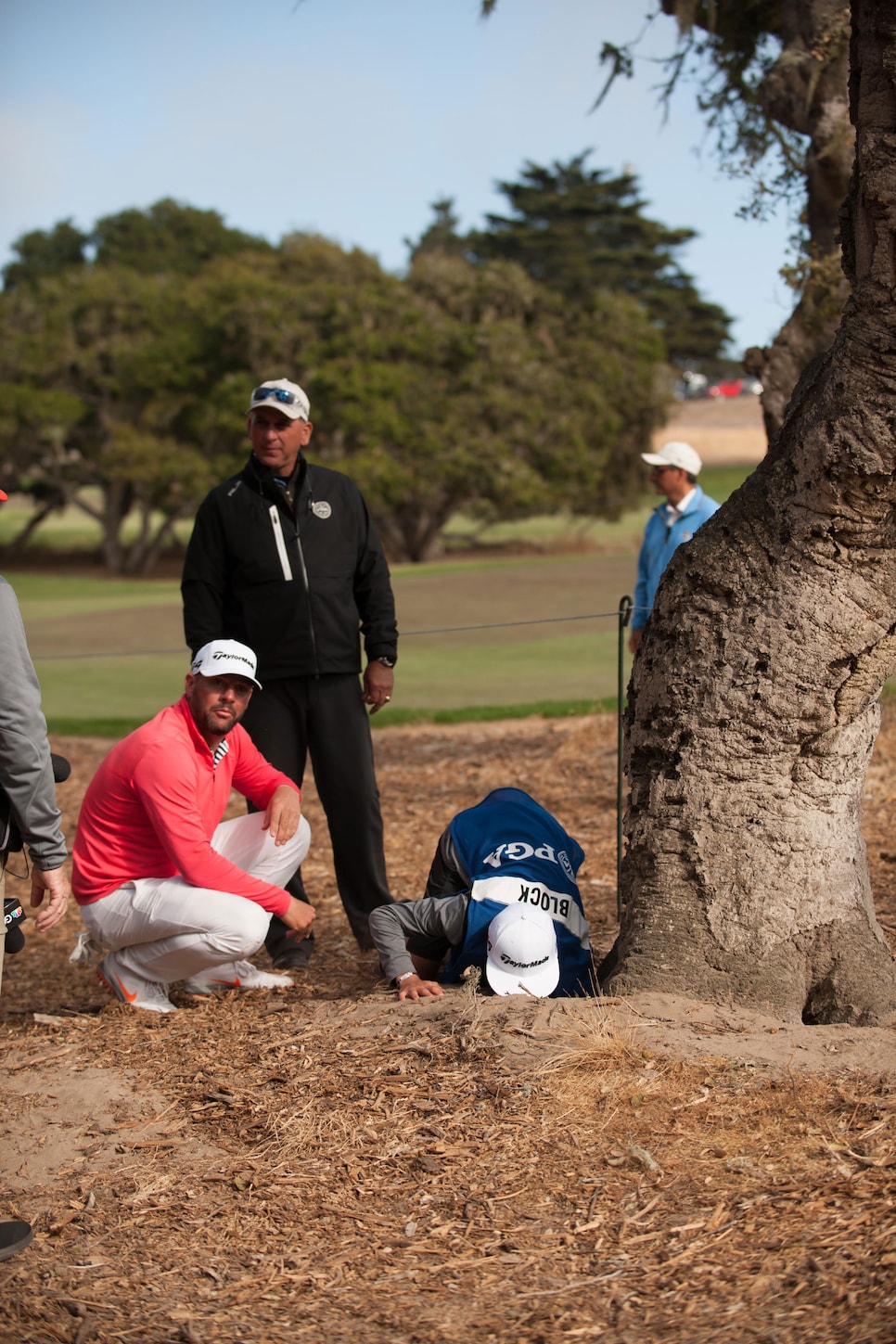 Montana Pritchard/PGA of America
This was going to be the year, at least in the PGA Professional Championship (Block will use a professional caddie, Kerry Baugher, at Bellerive). The idea was that Dylan would have three practice rounds to train. Then Block qualified to play in the U.S. Open.
When Block missed the cut at Shinnecock Hills, the family flew to Northern California for the club pro championship, scheduled to begin on the day the final round of the U.S. Open was being played. Block did not have an opportunity to play a single practice round, depriving Dylan of his training rounds. "I was paired [in the first two rounds] with Mike Small and Bob Sowards, two straight-laced pros," Block said. "I was little nervous about [having Dylan caddie]. But I knew it would be a good test for Dylan. Immediately, I was getting comments from Mike and Bob that they enjoyed listening to our conversations, and that put me at ease."
Yet after opening with a 74, Block was fighting to make the cut in the second round. He was two over for the round when he came to the par-4 15th hole and hit a loose tee shot right of the fairway. "We can't find the golf ball," Block said. "We had no more than 60 seconds left to look, and all of sudden Dylan finds it. I would never in my life have found it."
Dylan spotted it in a burrowing animal hole at the base of a tree. Block identified it as his own, his only requirement to get a free drop with a new ball. But before he did, "Dylan went head first into the dirt, grabs the ball out of there and tosses it me," Block said. "He didn't ask me. I didn't even think what could have been in the hole."
Block took his drop, no penalty, and wound up making a birdie rather than having to endure the walk of shame back to the tee and incurring a stroke-and-distance penalty that likely would have resulted in a double bogey to send him home early.
He made the cut on the number, then shot a 66 in the third round to keep his dream alive, at least until he triple bogeyed the second hole in the final round.
"We walk off the green, and I'm absolutely depressed and mad as hell," Block said. "And he says to me, 'You know what it says in your shoe?' I had no idea. These were new shoes. I'd just gotten them for the Open."
His Nike golf shoes carried one of the company's slogans, "Don't quit," Dylan noted.
"And you're not going to quit on me right now," he said to his father.
"No one told him anything," Block said. "That was 100 percent natural instinct."
Block shot 77 that day, but he birdied the 18th hole to get into a tie for 16th that sent him to a playoff, nine players for the five remaining exemptions into the PGA Championship. He quickly secured one of the spots.
Often overlooked is the quality of golf played by club professionals, especially among their upper echelon. Some are former tour pros. Block is not one of them.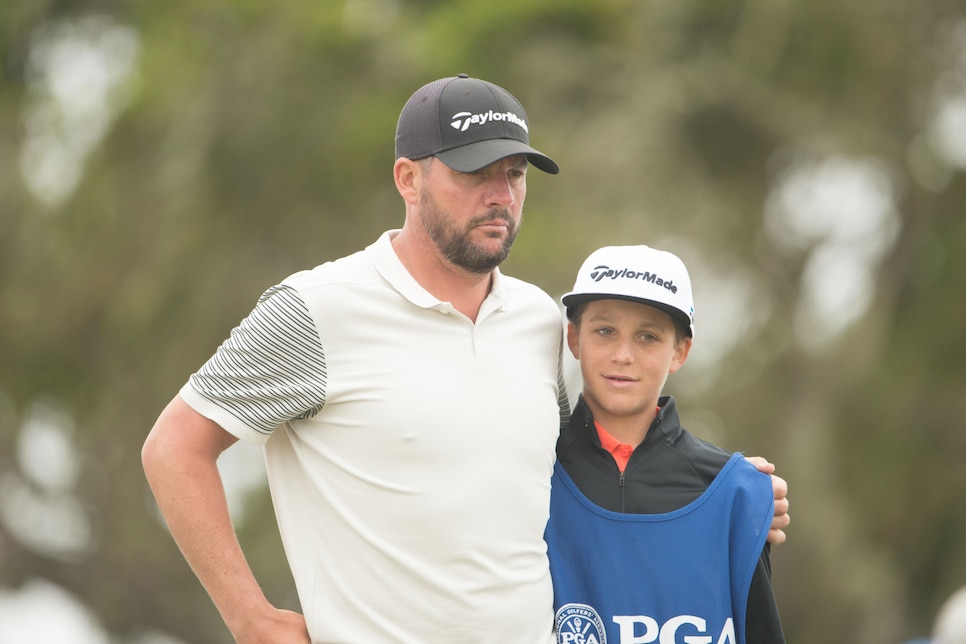 Montana Pritchard/PGA of America
"I went to Q school one time, in 2007," he said. "I made it to the second stage, in Dallas. I remember Sonny Skinner shooting 66 on a cold, windy day, and I shot 73." He was immediately convinced to opt for the security of a club job.
But that does not begin to address the quality of his game. The PGA will be the fifth major championship in which Block has played, his third PGA to go along with two U.S. Opens. These guys are good, as an old PGA Tour slogan noted, and so are the club pros.
Juxtapose Block with, say, PGA Tour pro Ryan Armour, who also is 42, and it becomes clearer. Armour has earned $5.4 million on the PGA Tour and Web.com Tour, has won on the PGA Tour, yet played in only his first major championship at the British Open last month.
"I love the combination, seeing myself as a three-pronged professional," Block said. "I teach, run golf operations and play, and I have a job for a lifetime. If I would have been a tour pro I'd be done at 40. I feel like I've set myself up nicely.
"I've played in enough of these events and played with world-class professionals. I have zero looks back at what I've done in the past, Everything happens for a reason. I still get to go live the dream. Over the last five years, I've been able to play two to seven events a year on the PGA Tour. It's a pretty cool thing to do. I'm blessed."
A typical day for Block, incidentally, does not include hitting buckets of balls. "I probably hit two buckets a week," he said. A typical day includes two lessons early in the morning, followed by golf club business from 10 a.m. to 3 p.m., then maybe two more lessons in the afternoon, "and hopefully nine holes with my boys," he said.
He calls himself blessed for what another might consider mundane. But mundane does not account for a homecoming on one of golf's biggest stages. "All my high school friends and college friends, some I haven't seen in 20 years, we've set up places to meet," he said of his impending trip to St. Louis. "It's really cool."
In their own circle, no one is obscure, even a club professional, notably one with a precocious teen at his side.