News
PGA Championship 2018: Making sense of Sunday at Bellerive in a season of 'you never know'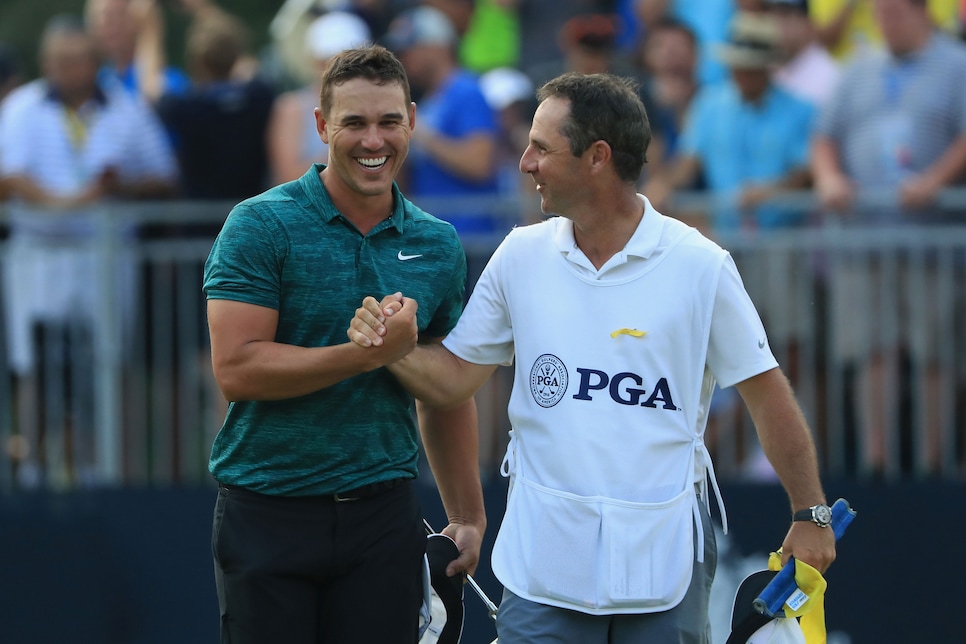 Photo By: Sam Greenwood/Getty Images
In the fall of 2015, Brooks Koepka very much wanted to make the Presidents Cup team. He knew he wasn't going to on points because he had spent 2014 playing in Europe, but believed—hoped—that Jay Haas would select him as a captain's pick. After all, Koepka had won early in the year in Phoenix, had finished in the top 10 in two majors and moved into the top 20 in the Official World Golf Rankings.
Haas instead chose Phil Mickelson, J.B. Holmes and his son, Bill, who eventually won the deciding match.
Koepka's reaction? "Disappointing," he said back then with a shrug of his shoulders. "But it just gives me more incentive to make sure I make the Ryder Cup team next year."
That response is a pretty good microcosm of who Koepka is—on and off the golf course. About the only time anyone has seen a burst of emotion from him was last year at Erin Hills when he climbed into a golf cart for the long ride from the 18th green to the scoring area and it hit him that he'd just won the U.S. Open. He buried his head in his hands, overcome by the moment.
That, however, is an outlier.
Koepka's reaction to most things in life may have been best summed up by the moment Sunday when his mother came to greet him as he walked off the 18th green, having just become the fifth man in golf history to win the U.S. Open and the PGA Championship in the same year.
The CBS crew spent most of 20 minutes telling the world that Koepka didn't know that Denise Jakows had flown in to watch the final round. One might have thought that Jakows hadn't seen her son in years as opposed to merely having flown up from Florida. When Koepka saw his mom, he hugged her and said matter-of-factly, "How are you?"
Nick Faldo, whose dry sense of humor is often the saving grace of CBS's golf coverage, noticed. "So, what's for dinner?" he said.
It is that nonchalant approach that has allowed Koepka to hold up in the crucible to win three of the last six majors he's played in. He has now made serious golf history twice this year, becoming only the second man since Ben Hogan (Curtis Strange 1988, 1989) to win back-to-back U.S. Opens and now joining Hogan, Gene Sarazen, Jack Nicklaus and Woods as the only men to win the U.S. Open and the PGA in the same year.
Given the way Koepka's year started, what he accomplished is even more remarkable. He missed the Masters because of a torn tendon in his left wrist and had only played in five tournaments post-injury when he arrived at Shinnecock.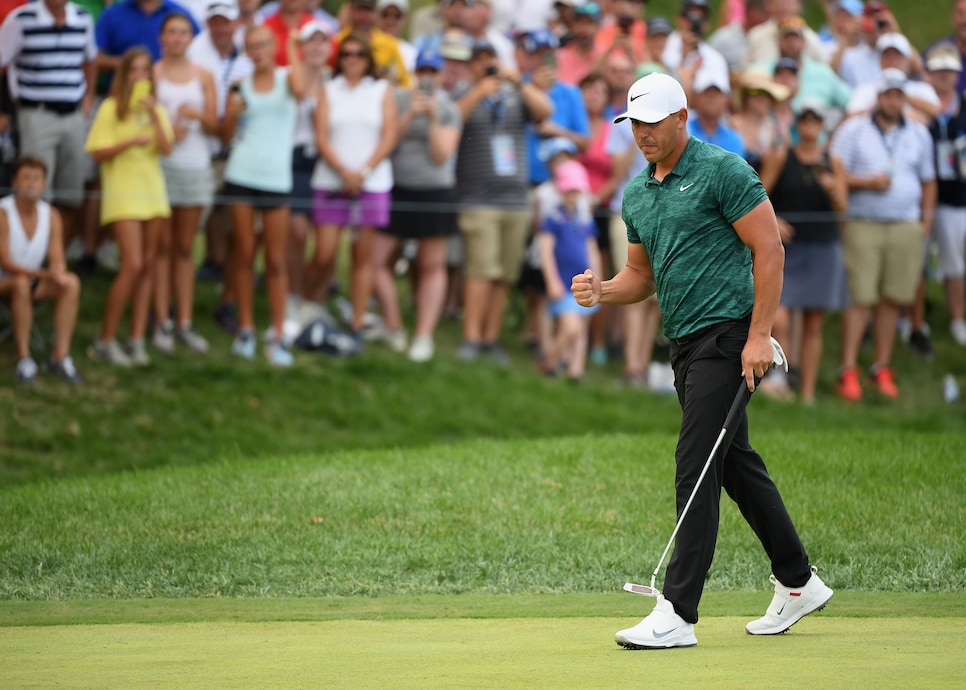 Ross Kinnaird/Getty Images
He was five over par through 27 holes at the U.S. Open and a lot closer to the cut line (eight over par as it turned out) than the lead. But he shot 31 on the back nine on Friday and stayed calm all day Sunday to beat Tommy Fleetwood by a shot and his pal Dustin Johnson by two.
He was equally calm at Bellerive on Sunday, chased by a bevy of major champions, among them Woods, who played superbly to shoot 64. The reaction to his play was so over the top from the crowds, that CBS's Peter Kostis even acknowledged it as Koepka and Adam Scott walked up the 18th fairway.
"These two have played in relative privacy most of the day," he said.
Scott, who needed an exemption from the PGA of America just to get into the championship, was the only player who actually caught Koepka on Sunday—briefly—but his Achilles heel, the putter, caught up with him down the stretch and he bogeyed 18 to finish third.
There was a good deal of the old Woods on display Sunday. He didn't hit a fairway on the front nine but still managed to turn in two under par and, at one point, did close to within a shot of Koepka.
If being chased by Woods and the constant roars he was hearing ahead of him bothered Koepka, he certainly didn't show it. He calmly—the word is actually redundant because Koepka's always calm—birdied 15 and 16 and didn't even need to birdie the par-5 17th to coast to his two-shot victory.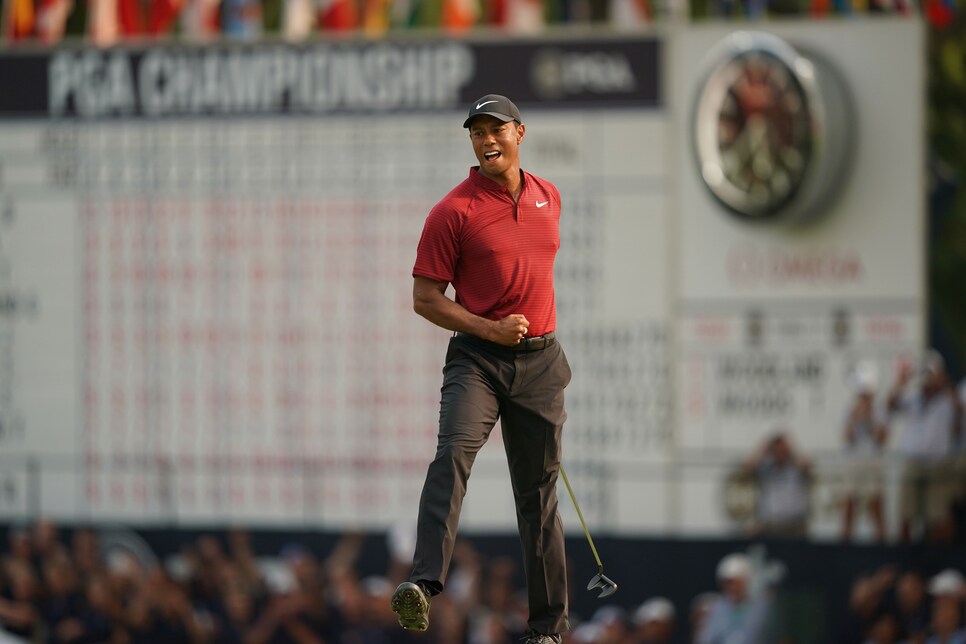 Montana Pritchard/PGA of America
There was also some of the new Woods to be seen Sunday. He stepped to the 17th tee knowing he needed a birdie to have any realistic chance to catch Koepka. He promptly sprayed his tee shot right and had to work to make par. That's been a pattern all year with Woods: Just when it appears he might break through and win, there's a wayward shot or a couple of short missed putts.
That's the second biggest difference between OT (Old Tiger) and NT (New Tiger). When OT sensed a chance to win, he pounced. NT—at least so far—retreats. His birdie on 18 sent the announcers and fans into paroxysms of joy, but it had little meaning. Sure, it was fun to see, but Koepka was on 17 by then and the Woods birdie closed the margin from three shots to two shots. All it did, ultimately, was allow him to jump the fading Scott for second place.
The biggest difference between OT and NT? He seems to understand now that second place doesn't suck when you're 42, you've been through seven surgeries and you've wondered if you'd ever be competitive again.
He clearly enjoyed the breathless reactions of the fans and actually waited for Koepka outside the scoring area to give him a congratulatory hug. OT would have been en route to the airport or wheels up by then. NT is clearly enjoying what he's accomplished this year—even if he hasn't yet been handed a trophy on a Sunday.
What's more, Woods absolutely earned a spot on Jim Furyk's Ryder Cup team. His second-place finish at Bellerive moved Woods into 11th place in the final U.S. points standings—and all those points came this year. He and Phil Mickelson—who fell to 10th after missing the cut—are locks to be two of Furyk's captain's picks three weeks from now.
Matt Kuchar, who finished 13th, is highly likely to be taken, too, because of his experience and popularity among the players. The only question is the fourth pick. Furyk's made it clear he wants experience playing on the road, but with seven of the eight qualifiers on points having played in the past (only Justin Thomas is a Ryder Cup rookie), plus Woods, Mickelson and Kuchar, that might give him the luxury of taking birdie-machine Tony Finau over less spectacular but more experienced Zach Johnson. How those two play in the first two FedEx Cup playoff events might decide who gets the last slot.
This was a PGA filled with storylines—many overlooked. Stewart Cink, who has been largely invisible the last several years while his wife, Lisa, has been fighting (and beating) breast cancer, finished tied for fourth, his first top-10 finish in a major since his victory over Tom Watson in the 2009 Open Championship.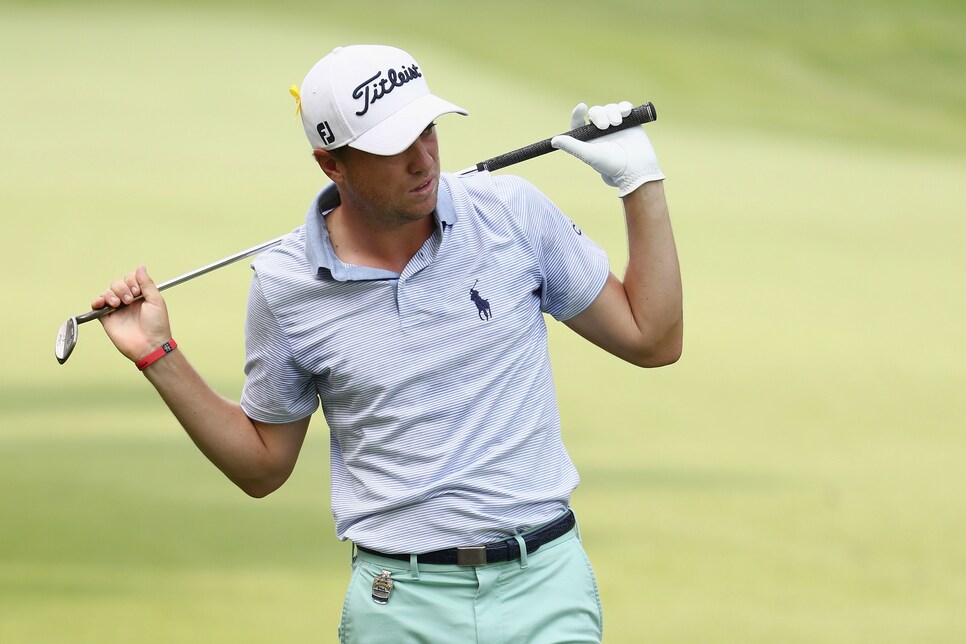 Jamie Squire/Getty Images
Thomas had a chance to match Koepka, by defending a major championship, deep into Sunday before fading to a tie for sixth, which left him tied with British Open champ Francesco Molinari, who was the leader in the clubhouse for player-of-the-year honors until Koepka nailed that title down with his victory.
If there were still an official PGA Tour comeback player-of-the-year, no doubt it would belong to Woods. In 2007, when his friend Steve Stricker won the honor for a second straight year, Woods said to him, "You've now done something I'll never do."
That was when Woods was still dominating the sport and the notion that he would ever need to make a "comeback" never crossed his—or anyone else's—mind. Now though, if he were to win a major next year, perhaps he might match Stricker?
You never know. If the year in golf to date proves anything, it's just that. You never know.