News
PGA Championship 2018 live blog: Second-round play suspended at Bellerive, will resume at 7 a.m. local time on Saturday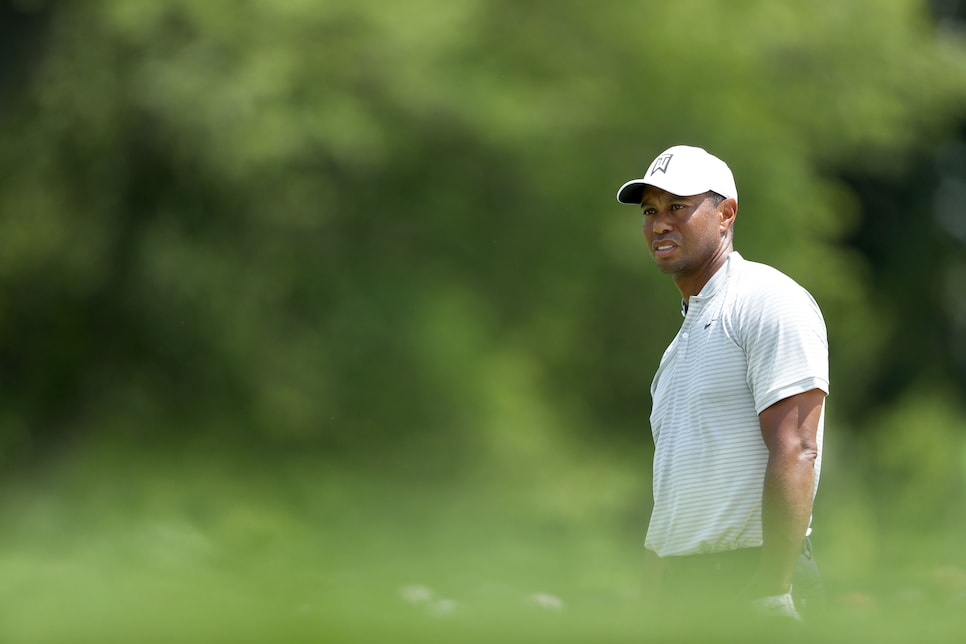 6:37 p.m.: Major buzzkill as they announce second-round play has been suspended until Saturday morning. Play is set to resume at 8 a.m. ET, 7 a.m. local. Tough break for the likes of Tiger, Fowler & co. who were just getting rolling. Going to have to wait until tomorrow to see if they can build on that. Make sure to check golfdigest.com bright and early for live updates of the second and third round of the PGA Championship.
5:48 p.m.: We have our update and ... it's not good. At least 45 more minutes. Safe to say the second round won't be getting done tonight. Who is ready for the PGA to move to May?
5:19 p.m.: Looks like we got at least another 30 minutes just until we get another update. Woof:
4:38 p.m.: Just when things were getting going, the weather sirens sounded and play has been suspended. Dagger.
Before that happened though, Fowler threw a dart into the 10th hole and made his birdie to get to seven under. Good way to head into the delay for Rick. When they come back, Tiger will have an interesting second shot from the rough at the par-5 eighth. We're not sure if he's sitting up or not, but we'll find out. Check back here for updates.
4:24 p.m.: Tiger's tee shot at the seventh found a fairway bunker, and from there he left his approach just short of the green and nearly holed the cup. Another par, and now he'll head to the par-5 eighth looking for his fourth birdie of the day.
Fowler missed his birdie at nine, finishing with a front-nine 34. Nothing spectacular, but it keeps him in striking distance of the leaders.
4:18 p.m.: Our first Tony Finau sighting on the TNT broadcast comes on his 10th hole of the day, where he just made his first par. Let's hope that's not the last we see of him.
4:11 p.m.: After hitting his worst shot of the day at the par-3 sixth, Tiger splashes one out from a green side bunker and left himself a 15-footer for par, which he lipped IN. What an enormous par, one that will feel even better than those three birdies.
Up ahead at the eighth, Rickie Fowler makes another birdie to get to six under. And he's just hit one inside 10 feet at No. 9. He'll have that to get within three.
3:55 p.m.: For all the low scores this morning, there aren't a ton of super low numbers just yet this afternoon, although Finau is trying to post one. But he just bogeyed No. 9 to card a three-under 32 that did not feature a single par. Seven birdies, a triple bogey and a bogey. Wild.
The guys closest to the leaders out on the course? Rickie Fowler and Pat Perez, who are each at five under through seven holes. Perez is two under on the day, while Fowler is even. Since our last leader board update, not much has changed at the top. Check out the full board here.
At the fifth, Tiger rolls in his third birdie of the day, producing a huge roar from the crowd. He's three under for the tournament.
3:38 p.m.: Tony Finau's round has officially gotten out of control. Check out this psychopathic scorecard:

The best part? TNT hasn't shown a single shot of it! What a time to be alive ... NOT.
Meanwhile, Tiger nearly chipped in for his third consecutive birdie, prematurely fist-pumping as his ball nearly caught the lip. So close.
3:25 p.m.: Two in a row for Woods. Game ON. By the way, the crowds are absolutely insane following this group. But no one cares about Tiger anymore, right? Jokes.
3:19 p.m.: Just like that, the super trio throws a couple darts into No. 3, none closer than Woods.
3:15 p.m.: Tiger and Thomas both hit their approaches tight at the second and convert the birdies. Much needed as they head to the 132-yard par-3 third, which has been a great spot for an easy birdie for the whole field today. Rory's going to need one there as well, as he's made back-to-back pars to open his round.
3:06 p.m.: Three pars at the first for the super group. There's certainly been more electric starts.
Speaking of electric, check out Tony Finau's round so far: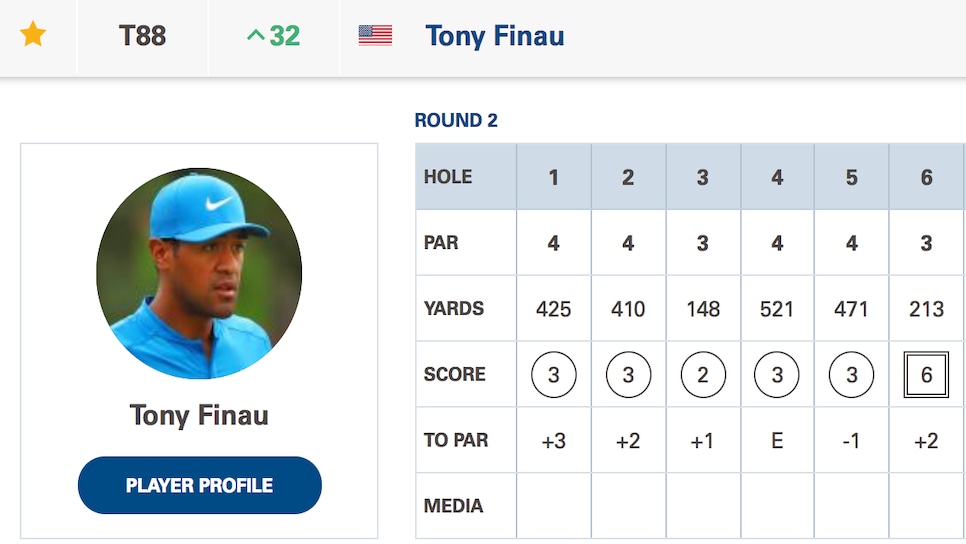 Absolute dagger of a triple at No. 6. We'll see if he can get a few of those strokes back at the short par-4 sixth and the par-5 seventh.
2:54 p.m.: Tiger, Rory and JT are off, and Thomas is the only one of the trio to not find the fairway, driving it in a fairway bunker.
2:42 p.m.: Welp, not much too update on other than a ton of commercials. Very poor effort from TNT so far. Although, not much has happened other than Rickie Fowler making bogey at the second, but would still like to see some more golf shots.
Just as we typed that, Fowler makes birdie at No. 3 to get back to five under. No we're getting somewhere!
2:09 p.m.: OK, to be fair to TNT, they did show Schwartzel's putt live, and it came up well short. He went on to make the six-footer for par and post the second 63 of the day.
2:06 p.m.: It's a miracle! We officially have LIVE COVERAGE! Get over to TNT while it lasts folks!
All jokes aside, it should be a fun afternoon, with Rickie Fowler (-5), Jason Day (-3), Justin Thomas (-1), Tiger Woods (E) and Rory McIlroy (E) all set to tee off shortly. As for the guy gunning for a 62, Charl Schwartzel, TNT has made no mention of him yet. Perhaps they want him to make the putt first so they can say "this from a moment ago...."
1:45 p.m.: Bogey at the last for Kisner and he settles for a 64, sending him to the weekend at nine under, one back of Gary Woodland, who carded a four-under 66.
1:35 p.m.: The bash brothers are in the clubhouse and in great position for the weekend. Dustin finished off his four-under 66 to get to seven under overall, while Koepka finished birdie-par to post a seven-under, record-tying 63, matching the lowest score in PGA Championship history and putting him at eight under for the tournament. Wouldn't mind running back Sunday at Shinnecock with these two.
Unfortunately for those two, the entire field is LIGHTING this place up. Kevin Kisner is one par away from posting another 63, while Charl Schwartzel is seven under on his round with two to play. Andrew Landry is even getting in on the fun, already at six under on the day through 13 holes. It's a 63fest. Someone call up Johnny Miller and get his take immediately, please and thanks.
1:05 p.m.: Dustin Johnson is officially on fire. The World No. 1 makes it five birdies in his last six holes to get to seven under. Johnson has one hole left and he currently trails co-leaders Kevin Kisner and Gary Woodland by two. Here's a look at how the leaders stand right now:
1t. Gary Woodland (-9)
1t. Kevin Kisner (-9) 3t. Dustin Johnson (-7) 3t. Brooks Koepka (-7)
12:53 p.m.: Jordan Spieth still has a lot of work to do if he's going to complete the career Grand Slam this week, but it looks like he'll at least give himself a chance on the weekend. Spieth roles in a rare birdie putt on the par-4 5th hole (his 14th of the day) to get to two under for the tournament for the first time. Playing partners Justin Rose and Jon Rahm both par to stay at four under, five back of co-leaders Kevin Kisner and Gary Woodland.
12:41 p.m.: John Daly pars the difficult par-4 15th to remain at two under on his round. With three holes to play on Friday, Daly is up to one over for the tournament, which is currently one off the cut line. The 1991 PGA champ still has the par-5 17th to play and making it to the weekend would be pretty impressive for a guy who had to withdraw from the U.S. Senior Open less than two months ago. Also, he has already wrapped up the award for best golf pants this week. Obviously.
12:29 p.m.: Here comes Dustin Johnson again. The World No. 1 makes it three consecutive birdies to get back to five under, where he was briefly on Thursday. Johnson's win at the Canadian Open made him the first player since Tiger Woods in 2009 to win at least three PGA Tour titles in three straight seasons. Still, with as well as he's played, making it through a second straight year without a major victory would be disappointing.
12:25 p.m.: PGA.com's live feed shows highlights from Kevin Kisner's opening 29 and as you can probably imagine, the guy is playing some good golf. It just might be nice to see him doing it live. Or his playing partner, Gary Woodland. They're only leading the golf tournament.
12:14 p.m.: Justin Rose makes it back-to-back birdies by rolling in a 12-footer on the par-3 3rd. He's now five under, five back of Gary Woodland. Playing partner Jon Rahm answers with a birdie of his own to get to four under, while Jordan Spieth's two-putt par keeps him at one under.
11:52 a.m.: ANOTHER birdie for Brooks at the third, his sixth in the last nine holes. He's now seven under for the tournament.
11:45 a.m.: The low scores we were expecting yesterday are coming on Friday morning at Bellerive. In addition to Kisner's red-hot front nine, Brooks Koepka has found another gear, playing his first 11 holes in five under. He's moved into a tie for third at six under with Brandon Stone, who has quietly made his way to his 16th hole of the day with a round of two under.
Dustin Johnson also just made his second straight birdie, which gets him to four under overall.
11:28 a.m.: Well, we just had our wackiest moment of the week (though it's still early) at the short par-3 third hole. As Dustin Johnson began his backswing, a ball came flying in and hit the ground directly behind him, rolling just off the tee box. It's unclear if it was another player's stray shot or a great St. Louis sports fan throwing it in. Despite the distraction, DJ stuck the tee shot and then made the putt for birdie to get back to three under for the tournament. Unfortunately for him, that has him six back, as Kisner made another birdie at the 18th to turn in six-under 29. Guy is en fuego.
11:07 a.m.: We've got quite a match going on between Kevin Kisner and Gary Woodland, if only we could watch it. Woodland makes an eagle-3 at the par-5 17th to get to eight under, while Kiz made a birdie, his fifth of the day, all on his opening nine. They are tied at the top at eight under, three clear of Stone, Molinari and Fowler.
10:45 a.m.: Boom! Another birdie at the 18th for Scott, who turns in four-under 31 and is now just three off the lead. Johnson also makes birdie, his first of the day, to get back to three under and turn in even par 35, an impressive feat considering he hit the ball all over the place. As for the third member of this group, Bubba Watson, he's going to need to turn it around on the back nine if he wants to play the weekend. A double bogey at the 18th drops him to three over, currently two off the projected cut line.
10:34 a.m.: We have a new leader, Kevin Kisner, who has caught fire early on Friday morning. He just made his fourth birdie of the day, which moves him to seven under.
10:32 a.m.: The way Dustin Johnson has hit it, he should probably be three or four over, but he's somehow battled to remain at one over on his round thanks to some all-world par saves. He heads to the 18th in need of a jolt of energy before his back nine, but he's still very much in the mix at two under.
Meanwhile, one of his playing partners, Adam Scott, has had a strong opening nine, just making his third birdie of the day at the par-5 17th to get to three under. Amazingly, the 2013 Masters winner has just one top 10 this season, and it's his only one since the 2017 FedEx St. Jude Classic. His putting has been worse than usual this year, as he ranks 192nd on tour in strokes-gained/putting, but if you listen to many of the players' comments from yesterday, Scott has just as good a chance as anyone this week. Avoid the rough, hit the greens in the right spots and give yourself some looks and you'll have a shot.
10:25 a.m.: Gary Woodland makes his first bogey of the day at the par-4 14th and we now have a three-way tie at the top with Woodland, Stone and Kisner and six under. Francesco Molinari's birdie at the 14th puts him at five under. Let's have a look at the latest leader board:
9:59 a.m.: At the par-3 13th, Kevin Kisner put his tee shot to three feet, setting up his third birdie of the day. He's now at six under, as is Brandon Stone, who made back-to-back birdies at the 16th and 17th holes.
Back at No. 15, Dustin Johnson couldn't houdini himself out of his latest missed fairway, lipping out a 10 footer for par and dropping his first shot of the day.
9:36 a.m.: Judging by PGA's shot tracker (because you can't watch the leader of the PGA on TV), Gary Woodland took advantage of the short par-4 11th, driving it just left of the green and getting up and down for birdie with ease. He needed it for some breathing room, because Brandon Stone and Kevin Kisner have both moved to five under. Another early mover is Open champion Francesco Molinari, who has birdied two of his first three holes to get to four under.
9:19 a.m.: Dustin's par save at the 10th was as good as they get, but he may have topped himself just now at the 12th. After his drive found a fairway bunker, he pulled his approach well left of the green, leaving himself short sided to a tucked pin from a wet, thick lie in the rough. DJ opened the faced, flopped one to 11 feet and buried the putt for par. Ho hum.
Gary Woodland's has gotten his second round underway, and he's off to a fine start, picking up a par at No. 10 to remain on top. But he's got more company close behind as Kevin Kisner, one of Woodland's playing partners, birdies the 10th. Could be an interesting day in that group. Here's a quick update of the leader board:
9:09 a.m.: Word from our own Joel Beall on site is that guys are driving the 11th green and getting 20-foot looks at eagle. So naturally, DJ, Bubba and Scott all played irons off the tee. Scott was the only one to hit one really close and make an easy birdie, getting him in red figures for the week at one under, while Bubba and DJ settled for par.
8:46 a.m.: After a wayward drive to start and a penalty stroke to begin his second round, Dustin Johnson made an incredible par save to start his day and remain at three under. Check it out:
The World No. 1 is playing with fellow three-time PGA Tour winner this season Bubba Watson and Adam Scott. And you're going to hear a lot about this group since they're one of two being shown during the morning wave. Yep, no TV coverage until 2 p.m. again. Makes sense. It's only a MAJOR championship.
8:22 a.m.: Play is well underway on Day 2 at Bellerive. Here's a quick update of the leader board: