News
PGA Championship 2018: A stumble, a shirt-change and a changing of the guard can't distract Tiger Woods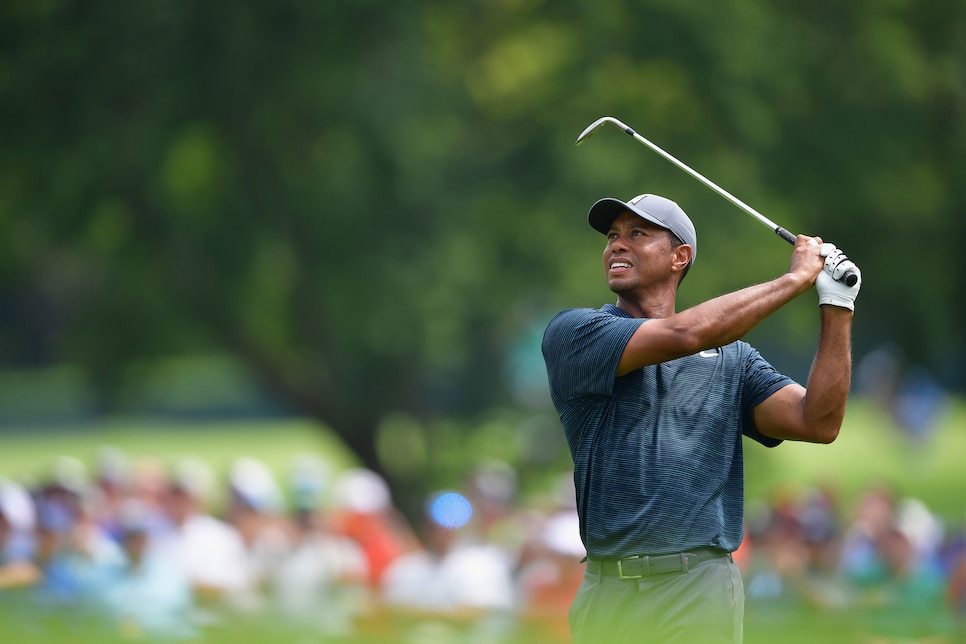 Photo By: Stuart Franklin/Getty Images
ST. LOUIS — Just before 9 o'clock this morning, Tiger Woods changed shirts. He'd gone to work in a light gray number. A half-hour later, he switched to blue. Kind of like Clark Kent in a phone booth, except Tiger sneaked into a Port-a-John. If he didn't reappear as Superman, he did remind us of the Tiger Woods we used to know.
He'd made a mess of his second hole. From the left rough on the 355-yard par 4, he had 118 yards to the flagstick. From there he stubbed a wedge, flying the shot 106 yards and not left of the hole but short—right onto rocks that threw it into a pond. The resulting splash led to a double bogey, after he had failed to get up and down to save par on his first. No way to start a major: "I could easily have gone the other way, being three over through two. A lot of things could happen. Not a lot of them were positive."
It has been Woods' habit, on hot summer days ("I sweat a lot"), to put on a dry shirt after warming up. But he began at the 10th tee Thursday with nowhere to change. The bogey/double-bogey start might have raised his temperature a bit, too, and when he spotted the Port-a-John he double-timed it there for the wardrobe change. Once upon a time, when Arnold Palmer sprinted from a fairway to the necessary room, his return caused an ovation from the gallery happy to see the King relieved. No such applause met Woods this day, though he did look dry, if disheveled, in the blue, swoosh-marked shirt.
Immediately, at the 12th, he backed up a wedge to six inches for birdie.
By day's end on the first round of the PGA Championship at Bellerive Country Club, Tiger had redeemed the gray-shirt errors. In the blue, he played the last 16 holes three under. "Just hung in there," he said. "It kept me in the golf tournament."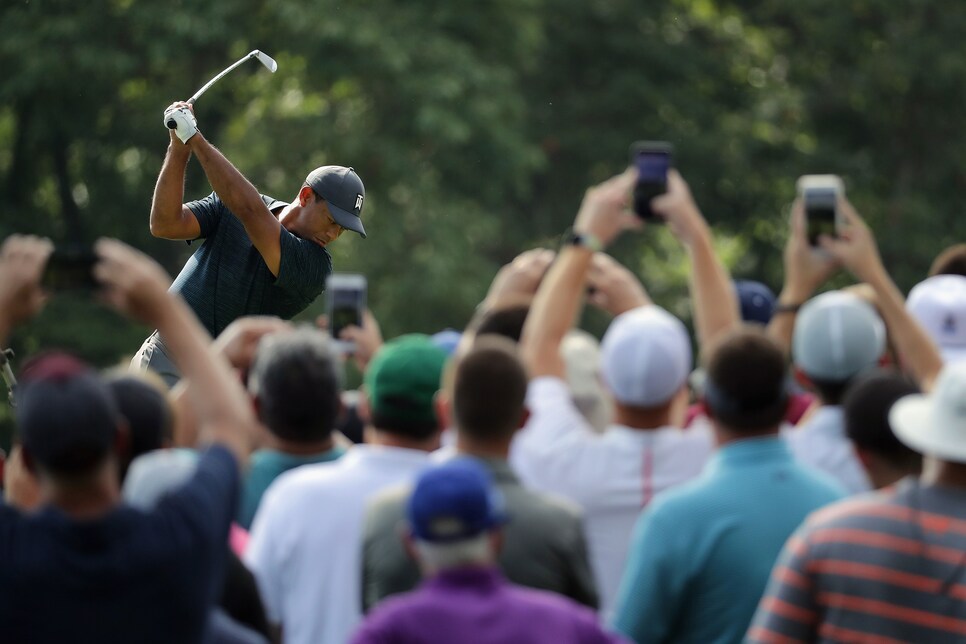 Richard Heathcote/Getty Images
As he spoke, Woods' even-par 70 left him five shots behind the early leader, Rickie Fowler, who was 11 years old when Tiger began, in 2000, doing what only Tiger Woods ever did, the Tiger Slam, winning the four major championships in a row. Twenty times in 2000, Tiger teed it up on the PGA Tour and won nine times. That year he won the U.S. Open at Pebble Beach by 15 shots. Whatever he is today—all those surgeries later, to a knee, to his back—it's clear he's good enough to win, one of maybe 30 guys good enough to win.
What he can't do is be Tiger Woods again.
It wasn't just that he was the best of his time. For a decade and more, he was flat-out the best of all time. Maybe we have forgotten that. Maybe, after the mess he made of his personal life, and maybe, after multiple microdiscectomies ("minimally invasive surgical procedure performed on patients with a herniated lumbar disc" is the WebMD definition)—maybe we had downsized him.
No longer. Just last month he led the Open Championship on Sunday. He finished fifth. To have put his body back together, to have persevered through times that must have frightened a man once invincible, to have rebuilt his swing to accommodate limitations he never knew—maybe in all of that he has given us, at last, the full measure of his skill and character.
And here he is, at age 42, at work on a Thursday in a major, in a threesome with two players who grew up in thrall to the Tiger Woods of their childhood. Justin Thomas, 25 years old, last year's PGA champion, declared the morning's crowd "pretty wild for a Thursday." Rory McIroy, 29, twice a PGA champion, noted that "Tiger's iron play was really good today," and said he and Thomas decided the galleries would get "a little crazy" during Friday's afternoon round. Thomas posted a 69 Thursday, McIlroy 70.
So one child is one shot up on the master, and the other child did well to keep up. This Tiger, now a mortal, is happy to be in their company.
"These guys have proven that they've all been playing well," Woods said. "These two guys have been basically at the top of the world for the last four or five years now consistently. … It was fun to get out there and compete."
I heard him say it was fun.
There were times, before the troubles, when Tiger Woods never spoke of fun, let alone seemed to enjoy the day.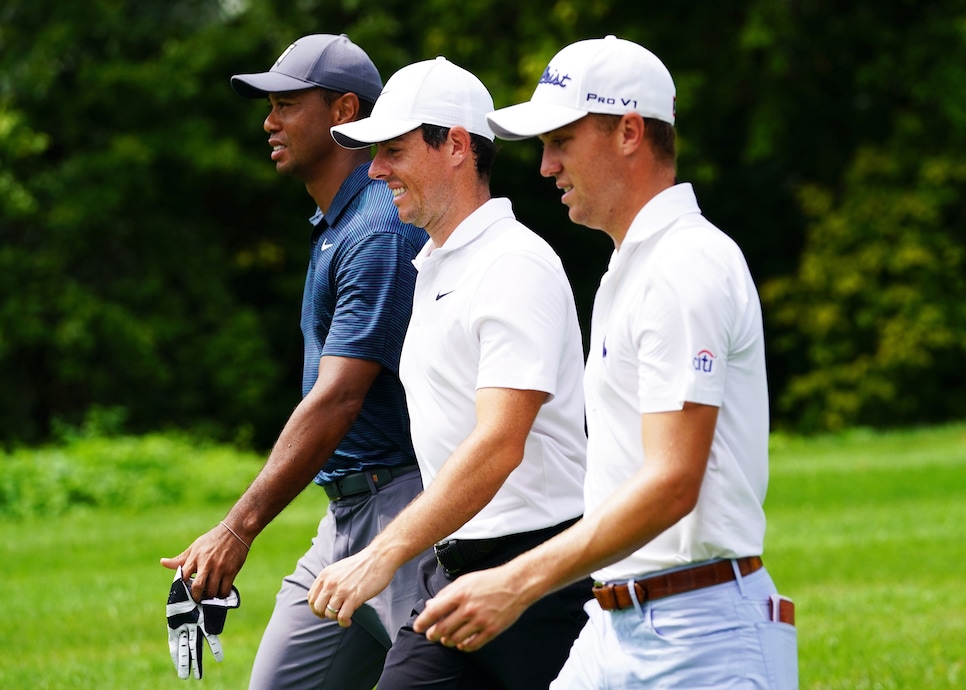 Stuart Franklin/Getty Images
But let's say that was then and this is now, and let's listen to today's Tiger telling a story about the PGA Champions dinner of this week.
He told the gathering that he had played with Jack Nicklaus at Valhalla 18 years ago in Nicklaus's last PGA. Nicklaus, in turn, said he had played with Gene Sarazen in Sarazen's last PGA.
"It's interesting what this game can do," Woods said today, "how we can basically last for so many different generations. And now I'm playing with …"
"…and I was telling the story because J.T. invited me to speak on behalf of himself and PGA of America, and J.T. was 7 years old when we were at Valhalla, and he was in the clubhouse when I made that putt on 18 [to win it]. So kind of trying to tie in Gene Sarazen, Jack, and little J.T. there, and now he's PGA champion for the last year, 17 years later. So it's pretty neat."
He left out one name in that string of great ones.