News
PGA Championship 2018: How this hole could cause chaos on Sunday at Bellerive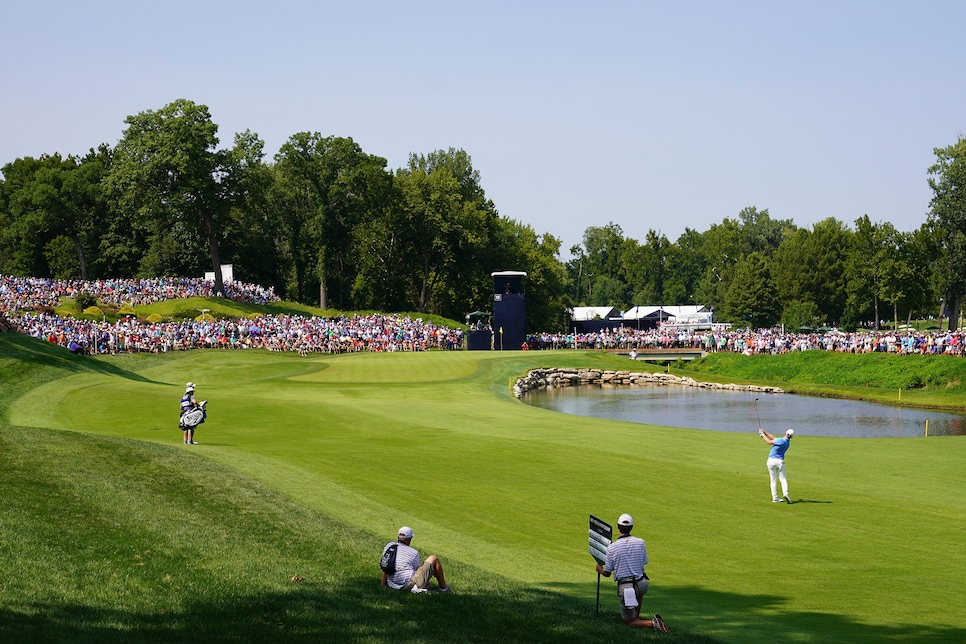 ST. LOUIS — Bellerive's defenses, or lack thereof, have been a storyline throughout this PGA Championship. One that's, frankly, a bit misguided: Brooks Koepka's 54-hole leading score of 12 under is higher in relation to par than that of recent PGAs at Valhalla and Whistling Straits, and only one shot lower than the 2016 contest at Baltusrol.
There is a chance, with tame weather and inviting hole locations, that the scoreboard gets a nasty rash of red Sunday afternoon. Yet Bellerive may also get revenge in the final round thanks to, statistically, one of its easiest holes.
Save for Tiger Woods, who doubled it to start his tournament on Thursday, the field has managed the par-4 11th this week without incident. The 11th has been the second-easiest hole of the championship (save for the par 5s), surrendering three eagles and 119 birdies against a meager 31 bogeys and five doubles. Stretched out, it plays 355 yards, which for most guys has meant iron off the tee, then a wedge with the approach.
On Sunday, however, the tees have been moved up to 294 yards, making it extremely inviting for players off the tee.
"I can't wait to see how 11 plays today," Kerry Haigh, the PGA of America's chief championships officer, said early Sunday morning. "It's very accessible for every player in the field if they want to go at it, depending how they feel and how they're scoring. It will be interesting to me to see who will go for it and who won't. Obviously it will depend if you're going after the lead or if you're leading."
This isn't the first time the tees have been up. It was drivable on Friday, as well, and the field took advantage, recording three eagles and 72 birdies versus just nine bogeys and one double, making it the easiest hole on the day. With Sunday's flag allowing a clear run-up to the hole, we should be seeing more of the same, right?
If the early groups are any indication, not quite.
Though the pin makes an eagle, or the much-pursued albatross, a real possibility, it's not without obstacles. Water hugs the right side of the green, while a collection area nudges four paces to the left of the hole. Missing short leaves an awkward pitch over a short swale, and going long presents a slippery putt downhill (or into another collection area behind the green). Which explains why, despite nearly every player in the first nine groups attempting to drive the green, there's been only one eagle (Hideki Matsuyama) and four birdies against three bogeys and 10 pars.
That ratio might not seem dramatic, but—under the context of this tightly-knit leader board—few holes present the platform for a three-shot swing.
There are other spots that will offer eagle opportunities, specifically the par-5 eighth and 17th. Meanwhile, the sixth, 10th and 16th have a better chance of racking up more bogeys. But don't be surprised, when the Wanamaker is ultimately raised on Sunday night, we look back to the 11th as the divergent point in the tournament.
You are using an unsupported version of Internet Explorer. Please upgrade to Internet Explorer 11 or use a different web browser.