News
PGA Championship 2018: Brooks Koepka, always out to prove a point, is provided another opportunity at Bellerive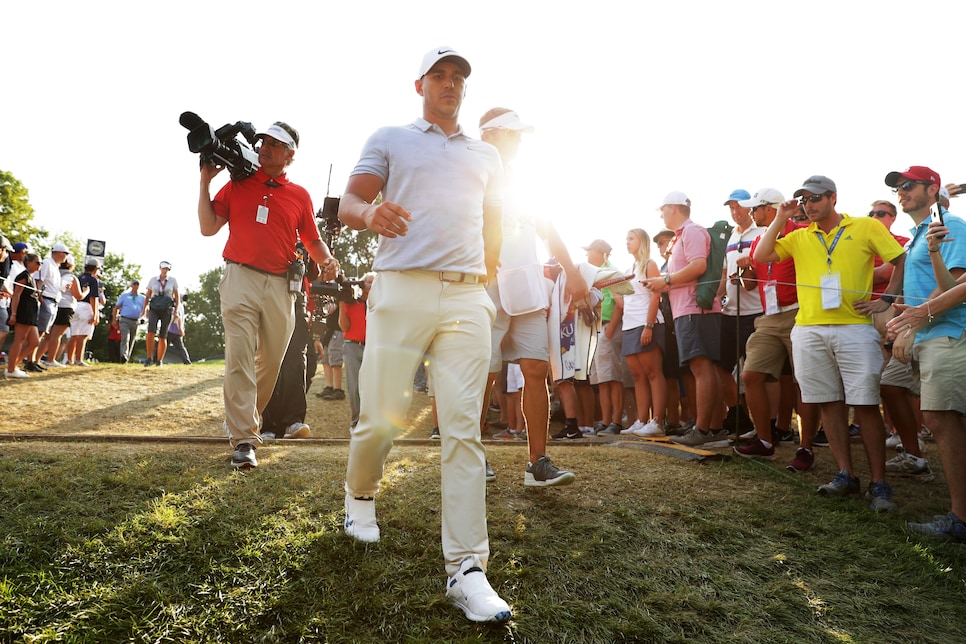 Photo By: Streeter Lecka/PGA of America
ST. LOUIS — In the aftermath of his second consecutive U.S. Open victory in June, Brooks Koepka was asked a stunningly ridiculous question about how the achievement "affected his legacy." At 28, he has barely started to build a career, let alone a legacy.
But on the first score, he is on the verge of adding another important brick. Thanks to a four-under 66 Saturday at Bellerive Country Club, Koepka holds a two-stroke lead through 54 holes in the 100th PGA Championship, the second time this year he'll sleep on a third-round lead in a major.
The first, of course, was at Shinnecock Hills, where he shared the top with his pal Dustin Johnson, the World No. 1 player, before posting a bloodless two-under 68 to become just the sixth man (and the first in 29 years) to win back-to-back U.S. Open titles. At 12-under 198, Koepka is two ahead of former Masters champion Adam Scott, who needed a special exemption to get into the field. The list of pursuers within four shots include Jon Rahm, Rickie Fowler, Tiger Woods, Jason Day and defending champion Justin Thomas.
"Yeah, there's a lot of star power, and it should be, it's a major championship," Koepka said with a shrug. (This guy has one of the best shrugs in sports, by the way.) "You should see the best players in the world come to the top. And that's what you have, and that's what's going to make this event very exciting to watch [Sunday].
"I feel like, if I do what I'm supposed to, I should win the golf tournament."
Not unlike Shinnecock, where he was brimming with confidence, Koepka arrived at Bellerive with his confidence scraping the top of the famed Gateway Arch. He tied for fifth at last week's WGC-Bridgestone Invitational at Firestone Country Club, a layout similar in characteristic to Bellerive, but hadn't done much else since his U.S. Open triumph.
Turns out his play at Firestone was a true harbinger.
"I felt like last week I played probably the best golf I played in a really long time, better than both U.S. Open [wins], just didn't putt very well," he said. "And then coming into this week, you build on that confidence, and I feel like I'm extremely confident. I like the way I'm hitting the ball, I'm putting much better, and my short game's on point this week. So, when all those add up, I could see why I've played so well."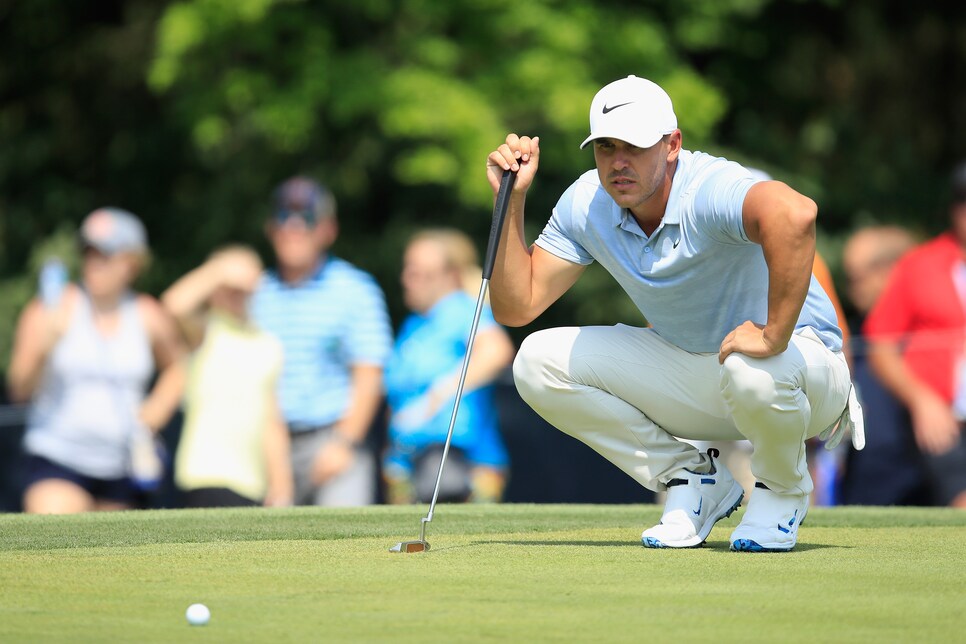 (Photo by Andy Lyons/Getty Images)
Beginning the third round two strokes behind Gary Woodland, Koepka birdied the first two holes to jump atop the board and he never relinquished the lead. After going out in five-under 30, his lead swelled to as many as four shots before a few wayward drives cost him consecutive bogeys, his first in 43 holes. It could have been three in a row, but he sank an eight-footer to save par at No. 16.
It's that kind of putt that shapes a champion's outlook. It's that kind of putt that a player with a champion's outlook finds a way to make.
"I want to say it kind of helped me go into 17, relax a little bit, hit that tee shot down the middle of the fairway," said Koepka, who went on to birdie the par-5 17th for extra cushion. "And to hit such a good iron shot on 17 kind of gave me a little bit of confidence. And then it's one of those putts where you hate to see three [bogeys] in a row, and you hate to let it kind of slip away from you a little bit, but I mean, to make that putt was very big."
More than one story this week on the reigning U.S. Open champion has addressed his relative lack of acclaim, and the subject came up again Saturday night in his post-round press conference. Koepka, ranked No. 4 in the world, says all the right things, that he uses the apparent snubs as motivation.
[RELATED: Why doesn't golf consider Brooks Koepka a star?](https://www.golfdigest.com/story/pga-championship-2018-why-doesnt-golf-consider-brooks-koepka-a-star
After the first round of this championship, 26 players were interviewed by the media. Koepka, who opened with a paltry one-under 69, was not among them.
Then he followed up with a championship record-tying 63. Motivated he is.
But his ambitions are fueled by his own steam. And he rises to the occasion in major championships—which perhaps explains why he has but one other career win on the PGA Tour, the 2015 Phoenix Open. In 19 career starts in majors, Koepka has seven top-10 finishes and 11 finishes in the top 15, and he might have more had injury not robbed him of a couple of appearances, including this year's Masters when he sat out because of a wrist injury.
"For some reason, I can really tune in in the majors and I have no idea why. They really get my attention," he said.
Well, we know it isn't for his legacy.
But since we're on the subject, Koepka can add his name to an impressive list if he were to win Sunday. He'd be just the fifth player to win the U.S. Open and the PGA Championship in the same year, joining Tiger Woods, Jack Nicklaus, Ben Hogan and Gene Sarazen. You keep adding your name to lists like this and no one will have to ask about a legacy.
To ensure that he stays loose and focused, Koepka will undertake his usual pre-round routine Sunday morning that includes a trip to the gym. Prior to the final round of the U.S. Open, he bench-pressed 225 pounds 14 times. His personal best is 315.
Folks, this is a golfer. But not a golfer. Koepka, like many of his peers, is an athlete in the mold set by Tiger Woods.
Now he has a chance to be mentioned in the same breath with him.
This week, Koepka has been venturing to a nearby Lifetime Fitness with Johnson. A few patrons recognized him.
"I was in there with Dustin and everybody wanted a picture with Dustin. They were talking about him as we left, and I was just standing there laughing," Koepka said with a smile. "They were like, 'Did you see that No. 1 player in the world was here' It's like, yeah, OK. I don't know what to say to that."
Actually, we're betting he does. Likely, it would be unprintable.
And he could say it most emphatically with a victory at Bellerive.