News
PGA Championship 2018: Brooks Koepka alone in first following marathon Saturday at Bellerive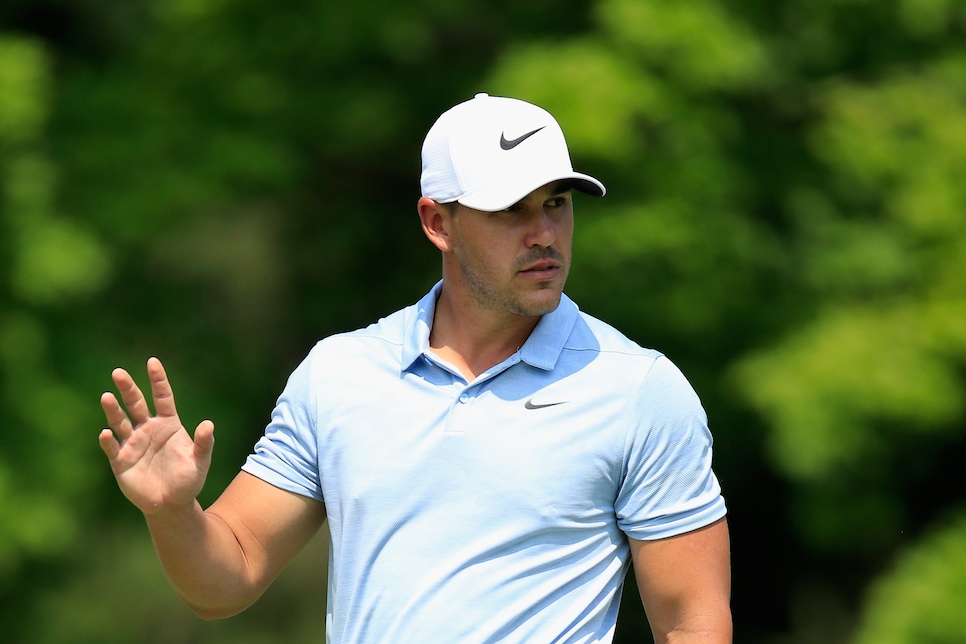 For much of his third round on Saturday at Bellerive, Brooks Koepka appeared as though he would run away with the 100th PGA Championship, holing birdie after birdie en route to a front-nine 30. As he saved par from everywhere imaginable early on the back nine and extended his streak of holes without a bogey to 44 at the par-3 13th, it seemed like everyone was playing for second.
But even Koepka, who often looks more like a machine than a human, can fall into some bad habits from time to time, and he first flinched on the 14th hole, missing his drive in the left rough and making his first bogey of the round. At 15 things took a turn for the worse, with the back-to-back U.S. Open winner pushing his drive down the right side and his ball coming to rest against a tree, forcing him to take an unplayable lie. Things were starting to unravel, which was a jarring sight for a player who has never shown any signs of unraveling when he gets into contention on the PGA Tour.
In typical Koepka fashion, he was able to battle for a bogey, one that ended up being his last of the day as he played his final three holes in one under, carding a four-under 66 to get to 12-under 198. Even after a marathon day that could have ended poorly, he remains alone at the top, two clear of Adam Scott.
"I played pretty well, obviously got of to a hot start," said Koepka, who narrowly missed a birdie putt at the 18th that would have matched the low round of the day. "It was nice on the front nine, played really well. And then the back, just a couple of loose swings, got a little long, but it was nice to right the ship there. Played well coming in to go home on."
It's more than nice considering the fact that Koepka played the 14th, 15th and 16th holes in two over, when four and even five over was legitimately in play. A key moment came at the 16th, when Koepka faced a delicate chip from off the right side of the green and blew it past the hole, leaving 10 feet for par. He banged it off the back of the cup with authority and then decimated the par-5 17th, hitting driver, 5-iron to 12 feet and then two-putting for birdie. He heads into Sunday in search of his third major victory in the last seven majors, an accomplishment that would immediately remove any of the "under-the-radar" talk that still seems to follow him around.
"Just stay in the moment," he said. "That's the big thing, don't get ahead of yourself, don't think about anything else. Just wake up, do the same routine I've been doing, and come out here and play."
That strategy has served him well before, but he still has work to do to protect his lead with a host of marquee names close behind him, including Scott, who carded his second-straight 65 on Saturday with just one bogey, at the 15th hole. While he has plenty of major championship experience, including a 2013 Masters victory, it comes as a bit of a surprise that the Aussie will tee it up in Sunday's final pairing. Per Golf Channel's Justin Ray, Scott has not finished inside the top five worldwide in nearly two years, and he has finished inside the top 10 just once on the PGA Tour since last June.
"It's been quite awhile since I was really in contention," said Scott, whose last win came at Doral in 2016, "which has been quite frustrating, but I'm glad I got a dose of it today because I want a whole lot tomorrow."
A strong trio is just two back at nine-under 201, including Rickie Fowler, who pieced together a one-under 69 to give himself a chance at his first major title.
"It will be fun. I'm looking forward to it," said Fowler. "It's going to take a solid round of golf from whoever's going to win tomorrow because there's a lot of guys. Obviously, Brooks out front, but a lot of guys from 10 to seven under. It's not going to be given to anyone."
Also at nine under and looking for their first major are young Jon Rahm and veteran Gary Woodland, who appeared to play himself out of the tournament with a triple bogey at the 10th hole. But he managed to fight back, playing his final eight holes in two under to shoot a one-over 71. Rahm posted a bogey-free, four-under 66.
Six players are at eight-under 202, five of them who are already major champions, including Tiger Woods and Jason Day, who will be paired together on Sunday. Justin Thomas, Stewart Cink, Charl Schwartzel and Shane Lowry round out the group.