The Loop
PGA Championship 2017: Why Justin Thomas "almost choked" on 17, and it's not what you think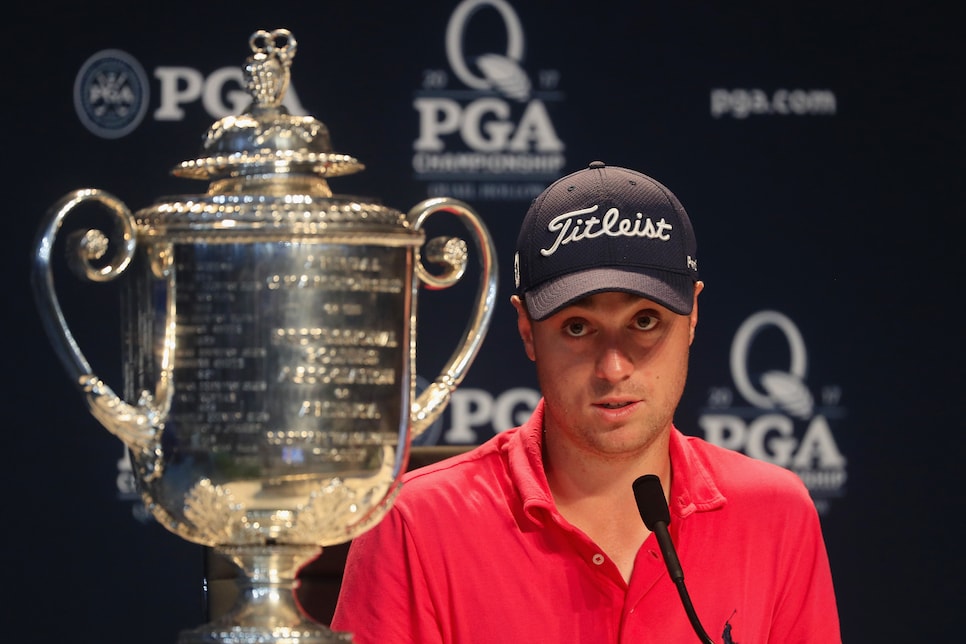 Facing the immense pressure of trying to win a first major championship late on Sunday for the first time, it wouldn't be surprising for Justin Thomas to admit to battling his nerves. And following his victory at the 99th PGA Championship, Thomas admitted he "almost choked" on the penultimate hole. It's just not what you think.
Following a brilliant tee shot on Quail Hollow's difficult par-3 17th that set up a birdie that all but sealed the tournament, TV cameras caught JT eating. It caught most golf fans by surprise because A.) Who could possibly think about food in that situation? And B.) Who knew this 150-pound dude was such a voracious eater? But eat he did, and it almost backfired in a big way.
"As funny as it is, I tried to eat a lot today and drink a lot. Obviously it was beyond hot. But walking to 17 green, I had some snacks in my bag and I was eating it and I literally almost choked," Thomas said in his post-round press conference. "Like I started coughing and I was like, you've got to be -- like am I really going to choke; is this a sign to come? I don't know what's going to happen. It's funny, the things that you think about, you know, when you get in those situations."
Almost choking aside, Thomas obviously handled the situation fantastically. And believe it or not, he wasn't that nervous down the stretch.
"I was a lot more calm than I thought I would be," Thomas said. "I thought I would be very, very shaky. I remember at one point, I looked at my hand and it was a little bit shaky. But I mean, that's why you play. You know, you play for those nerves."
And for those types of wins. It's been pointed out that the giant Wanamaker Trophy can hold 43 beers, but it can also be filled with plenty of snacks. Just take your time eating, Justin.