PGA Championship 2017: Tee times released for first two rounds at Quail Hollow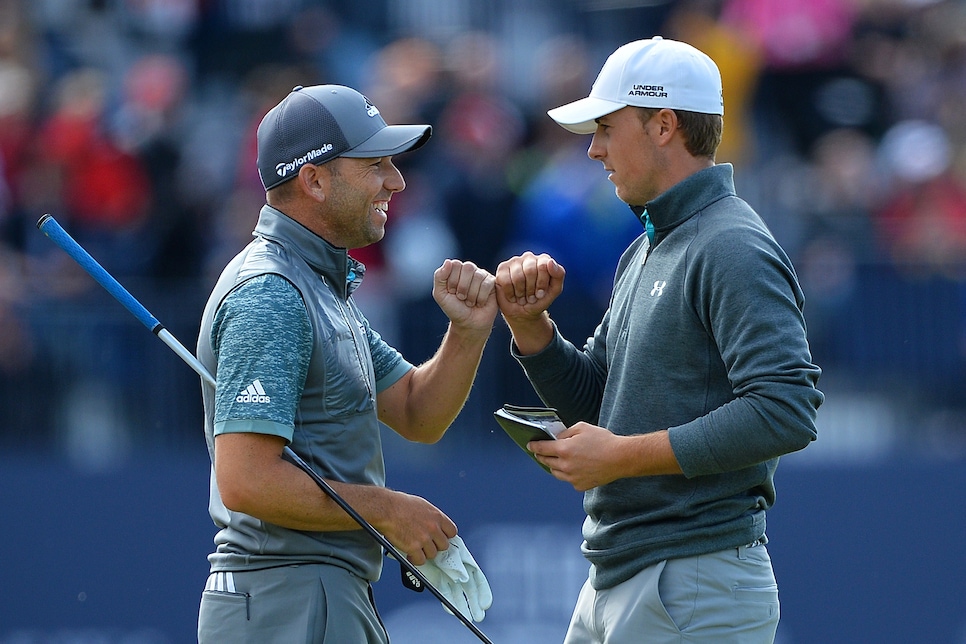 Tee times for the 2017 PGA Championship are out and there are some great groups to watch, headlined by the pairing of Spieth, the British Open champ, and Masters and U.S. Open winners Sergio Garcia and Brooks Koepka. And fans won't have to wait long to see this star-studded threesome, which will tee off Quail Hollow's 10th hole at 8:25 a.m. (ET) Thursday morning.
Other marquee groups include World No. 1 Dustin Johnson, Jason Day and Henrik Stenson playing in the group behind Spieth, Rory McIlroy, Rickie Fowler and Jon Rahm (1:35 on Thursday), and defending champ Jimmy Walker playing with Ryder Cup teammates and fellow PGA Championship winners Phil Mickelson and Jason Dufner (1:35 on Thursday).
Here's a complete list of tee times for Thursday and Friday (All times ET):
7:20 a.m., Round 1, Hole 1; 12:30 p.m., Round 2, Hole 10
Grayson MURRAY, Raleigh, NC Rich BERBERIAN, JR., Hooksett, NH Peter UIHLEIN, Jupiter, FL
7:30 a.m., Round 1, Hole 1; 12:40 p.m., Round 2, Hole 10
Adam RAINAUD, Chester, CT Tony FINAU, Lehi, UT Fabrizio ZANOTTI, PARAGUAY
7:40 a.m., Round 1, Hole 1; 12:50 p.m., Round 2, Hole 10
Younghan SONG, REPUBLIC of KOREA Dave MCNABB, Newark, DE Charles HOWELL III, Windermere, FL
7:50 a.m., Round 1, Hole 1; 1 p.m., Round 2, Hole 10
Sung KANG, REPUBLIC of KOREA Wesley BRYAN, Augusta, GA Dylan FRITTELLI, SOUTH AFRICA
8 a.m., Round 1, Hole 1; 1:10 p.m., Round 2, Hole 10 William MCGIRT, Spartanburg, SC Francesco MOLINARI, ITALY Jim HERMAN, Palm City, FL
8:10 a.m., Round 1, Hole 1; 1:20 p.m., Round 2, Hole 10
Gary WOODLAND, Topeka, KS Andy SULLIVAN, ENGLAND Kyle STANLEY, Gig Harbor, WA
8:20 a.m., Round 1, Hole 1; 1:30 p.m., Round 2, Hole 10
Rich BEEM, Austin, TX Vijay SINGH, FIJI John DALY, Dardanelle, AR
8:30 a.m., Round 1, Hole 1; 1:40 p.m., Round 2, Hole 10
Louis OOSTHUIZEN, SOUTH AFRICA Danny WILLETT, ENGLAND J.B. HOLMES, Campbellsville, KY
8:40 a.m., Round 1, Hole 1; 1:50 p.m., Round 2, Hole 10
Thomas PIETERS, BELGIUM Xander SCHAUFFELE, San Diego, CA Rod PAMPLING, AUSTRALIA
8:50 a.m., Round 1, Hole 1; 2 p.m., Round 2, Hole 10
Thorbjorn OLESEN, DENMARK Brendan STEELE, Idyllwild, CA Hudson SWAFFORD, Sea Island, GA
9 a.m., Round 1, Hole 1; 2:10 p.m., Round 2, Hole 10
Cameron SMITH, AUSTRALIA Bernd WIESBERGER, AUSTRIA Brandon STONE, SOUTH AFRICA
9:10 a.m., Round 1, Hole 1; 2:20 p.m., Round 2, Hole 10
K.T. KIM, REPUBLIC of KOREA Greg GREGORY, Joshua, TX James HAHN, Alameda , CA
9:20 a.m., Round 1, Hole 1; 2:30 p.m., Round 2, Hole 10
Richard STERNE, SOUTH AFRICA Ryan VERMEER, Omaha, NE WINNER – Barracuda Championship
7:25 a.m., Round 1, Hole 10; 12:35 p.m., Round 2, Hole 1
Shane LOWRY, IRELAND Stuart DEANE, Arlington, TX Pablo LARRAZABAL, SPAIN
7:35 a.m., Round 1, Hole 10; 12:45 p.m., Round 2, Hole 1
Alex NOREN, SWEDEN Scott HEBERT, Traverse City, MI Russell KNOX, SCOTLAND
7:45 a.m., Round 1, Hole 10; 12:55 p.m., Round 2, Hole 1
Hideki MATSUYAMA, JAPAN Ernie ELS, SOUTH AFRICA Ian POULTER, ENGLAND
7:55 a.m., Round 1, Hole 10; 1:05 p.m., Round 2, Hole 1
Daniel SUMMERHAYS, Fruit Heights, UT Robert STREB, Shawnee, KS Chris WOOD, ENGLAND
8:05 a.m., Round 1, Hole 10; 1:15 p.m., Round 2, Hole 1
Tommy FLEETWOOD, ENGLAND Justin THOMAS, Goshen, KY Patrick REED, The Woodlands, TX
8:15 a.m., Round 1, Hole 10; 1:25 p.m., Round 2, Hole 1
Bubba WATSON, Scottsdale, AZ Charl SCHWARTZEL, SOUTH AFRICA Paul CASEY, ENGLAND
8:25 a.m., Round 1, Hole 10; 1:35 p.m., Round 2, Hole 1
Sergio GARCIA, SPAIN Brooks KOEPKA, West Palm Beach, FL Jordan SPIETH, Dallas, TX
8:35 a.m., Round 1, Hole 10; 1:45 p.m., Round 2, Hole 1
Jason DAY, AUSTRALIA Dustin JOHNSON, Jupiter, FL Henrik STENSON, SWEDEN
8:45 a.m., Round 1, Hole 10; 1:55 p.m., Round 2, Hole 1
Padraig HARRINGTON, IRELAND Keegan BRADLEY, Woodstock, VT Davis LOVE III, Sea Island, GA
8:55 a.m., Round 1, Hole 10; 2:05 p.m., Round 2, Hole 1
Zach JOHNSON, Cedar Rapids, IA Lee WESTWOOD, ENGLAND Charley HOFFMAN, San Diego, CA
9:05 a.m., Round 1, Hole 10; 2:15 p.m., Round 2, Hole 1
David LINGMERTH, SWEDEN Scott BROWN, Aiken, SC Nicolas COLSAERTS, BELGIUM
9:15 a.m., Round 1, Hole 10; 2:25 p.m., Round 2, Hole 1
Scott HEND, AUSTRALIA Kenny PIGMAN, Norco, CA Andrew JOHNSTON, ENGLAND
9:25 a.m., Round 1, Hole 10; 2:35 p.m., Round 2, Hole 1 Kelly KRAFT, Dallas, TX Brian SMOCK, Coronado, CA Patrick RODGERS, Avon, IN
12:35 p.m., Round 1, Hole 1; 7:25 a.m., Round 2, Hole 10
Lucas GLOVER, Jupiter, FL Matt DOBYNS, Lake Success, NY Hideto TANIHARA, JAPAN
12:45 p.m., Round 1, Hole 1; 7:35 a.m., Round 2, Hole 10
Mike SMALL, Champaign, IL Jason KOKRAK, Charlotte, NC Satoshi KODAIRA, JAPAN
12:55 p.m., Round 1, Hole 1; 7:45 a.m., Round 2, Hole 10
Thomas BJORN, DENMARK Branden GRACE, SOUTH AFRICA Pat PEREZ, Scottsdale, AZ
1:05 p.m., Round 1, Hole 1; 7:55 a.m., Round 2, Hole 10
Adam SCOTT, AUSTRALIA Luke DONALD, ENGLAND Webb SIMPSON, Charlotte, NC
1:15 p.m., Round 1, Hole 1; 8:05 a.m., Round 2, Hole 10
Billy HORSCHEL, Ponte Vedra Beach, FL Matthew FITZPATRICK, ENGLAND Si Woo KIM, REPUBLIC of KOREA
1:25 p.m., Round 1, Hole 1; 8:15 a.m., Round 2, Hole 10
Jimmy WALKER, Boerne, TX Phil MICKELSON, Rancho Santa Fe, CA Jason DUFNER, Auburn, AL
1:35 p.m., Round 1, Hole 1; 8:25 a.m., Round 2, Hole 10
Rory MCILROY, NORTHERN IRELAND Jon RAHM, SPAIN Rickie FOWLER, Murrieta, CA
1:45 p.m., Round 1, Hole 1; 8:35 a.m., Round 2, Hole 10
Matt KUCHAR, Sea Island, GA Justin ROSE, ENGLAND Brandt SNEDEKER, Nashville, TN
1:55 p.m., Round 1, Hole 1; 8:45 a.m., Round 2, Hole 10
Daniel BERGER, Jupiter, FL Jim FURYK, Ponte Vedra Beach, FL Kevin KISNER, Aiken, SC
2:05 p.m., Round 1, Hole 1; 8:55 a.m., Round 2, Hole 10
Ross FISHER, ENGLAND Rafa CABRERA BELLO, SPAIN Ryan MOORE, Las Vegas, NV
2:15 p.m., Round 1, Hole 1; 9:05 a.m., Round 2, Hole 10
Jhonattan VEGAS, VENEZUELA Bryson DECHAMBEAU, Clovis, CA Jordan SMITH, ENGLAND
2:25 p.m., Round 1, Hole 1; 9:15 a.m., Round 2, Hole 10
Alex BEACH, Stillwater, MN Sean O'HAIR, Chadds Ford, PA Kevin NA, Las Vegas, NV
2:35 p.m., Round 1, Hole 1; 9:25 a.m., Round 2, Hole 10
Chris MOODY, Provo, UT Luke LIST, Seal Beach, CA Jamie LOVEMARK, San Diego, CA
12:30 p.m., Round 1, Hole 10; 7:20 a.m., Round 2, Hole 1
David MUTTITT, Albuquerque, NM Bud CAULEY, Jupiter, FL Graham DELAET, CANADA
12:40 p.m., Round 1, Hole 10; 7:30 a.m., Round 2, Hole 1
Rod PERRY, Port Orange, FL Yuta IKEDA, JAPAN Emiliano GRILLO, ARGENTINA
12:50 p.m., Round 1, Hole 10; 7:40 a.m., Round 2, Hole 1
Joost LUITEN, NETHERLANDS Paul CLAXTON, Claxton, GA Russell HENLEY, Kiawah Island, SC
1 p.m., Round 1, Hole 10; 7:50 a.m., Round 2, Hole 1
Patrick CANTLAY, Long Beach, CA Thongchai JAIDEE, THAILAND Soren KJELDSEN, DENMARK
1:10 p.m., Round 1, Hole 10; 8 a.m., Round 2, Hole 1
Omar URESTI, Austin, TX Y.E. YANG, REPUBLIC of KOREA Shaun MICHEEL, Collierville, TN
1:20 p.m., Round 1, Hole 10; 8:10 a.m., Round 2, Hole 1
Danny LEE, NEW ZEALAND Marc LEISHMAN, AUSTRALIA Anirban LAHIRI, INDIA
1:30 p.m., Round 1, Hole 10; 8:20 a.m., Round 2, Hole 1
Byeong Hun AN, REPUBLIC of KOREA Kevin CHAPPELL, Fresno, CA Mackenzie HUGHES, CANADA
1:40 p.m., Round 1, Hole 10; 8:30 a.m., Round 2, Hole 1
Jonas BLIXT, SWEDEN Steve STRICKER, Madison, WI Brian HARMAN, Sea Island, GA
1:50 p.m., Round 1, Hole 10; 8:40 a.m., Round 2, Hole 1
D.A. POINTS, Pekin, IL Tyrrell HATTON, ENGLAND Adam HADWIN, CANADA
2 p.m., Round 1, Hole 10; 8:50 a.m., Round 2, Hole 1
Martin LAIRD, SCOTLAND Bill HAAS, Greenville, SC Graeme MCDOWELL, NORTHERN IRELAND
2:10 p.m., Round 1, Hole 10; 9 a.m., Round 2, Hole 1
Jeunghun WANG, REPUBLIC of KOREA Alexander LEVY, FRANCE Jamie BROCE, Speedway, IN
2:20 p.m., Round 1, Hole 10; 9:10 a.m., Round 2, Hole 1
JJ WOOD, Yuma, AZ Ryan FOX, NEW ZEALAND Haotong LI, CHINA
2:30 p.m., Round 1, Hole 10; 9:20 a.m., Round 2, Hole 1
Jaysen HANSEN, Solon, OH WINNER – WGC Bridgestone Invitational Cody GRIBBLE, Dallas, TX