News
PGA Championship 2017: The Transformation of Quail Hollow Club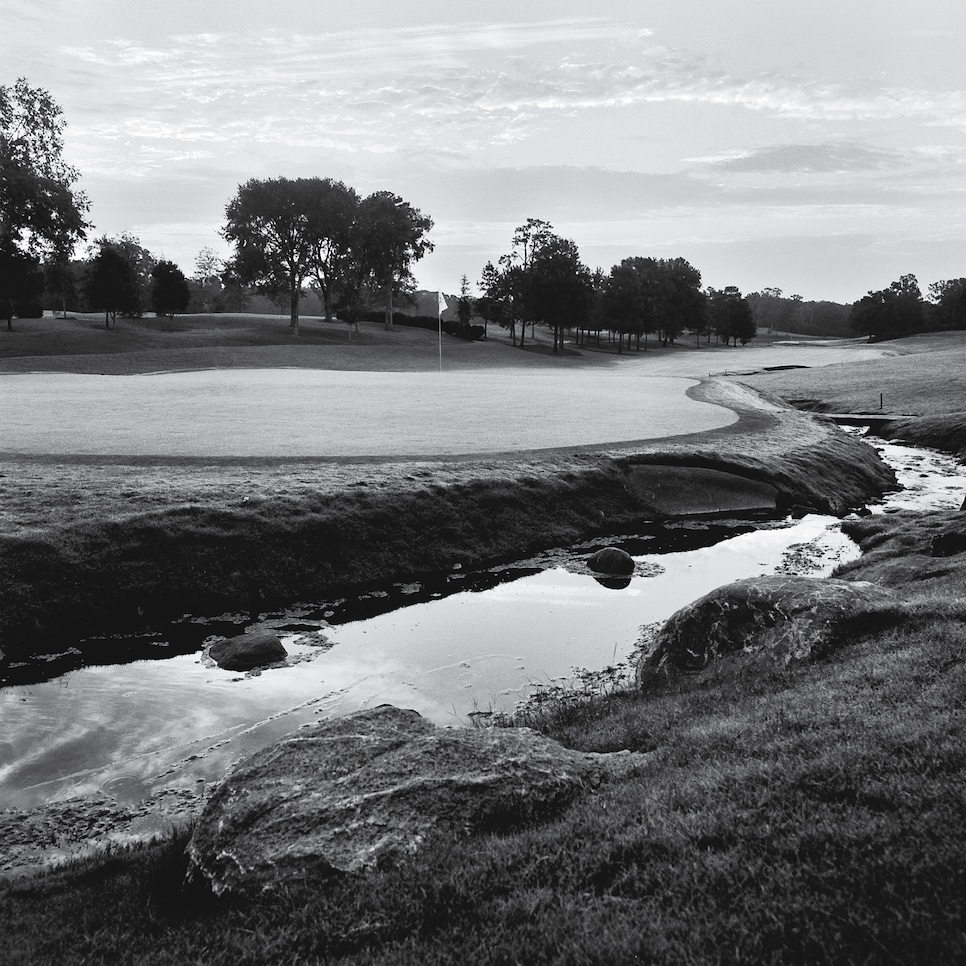 Photos by Alan P. Pittman
On the afternoon of Sunday, May 8, 2016, even before James Hahn had defeated Roberto Castro on the first hole of sudden death to win the Wells Fargo Championship at Charlotte's Quail Hollow Club, crews were busy on the front nine, preparing the course for the 2017 PGA Championship. Not by trimming tree limbs or spreading fertilizer, but by removing all the sand from bunkers and preparing the greens to be gassed, stripping all the grass from them. The next day, bulldozers moved in to rip apart three holes on the front nine and one on the back. Chainsaws were soon fired up, and clusters of tall pines came tumbling down.
Were they mad? The PGA, to be played Aug. 10-13, was only 15 months away. The year preceding a major championship is supposed to be spent tightening fairways, growing rough and fine-tuning operations, not reinventing the place.
"This was not a gamble," says Johnny Harris, president of Quail Hollow. "This was a calculated risk."
Why risk it at all? Because Harris was not satisfied with the potential of the club's Bermuda putting surfaces, which had been installed three years earlier, after the catastrophic failure of its previous bentgrass greens from intense heat and humidity through three straight summers.
At one time, MiniVerde was considered a miracle turf. It has since fallen out of favor among many of its adopters, who report that after several years the turf becomes splotchy and blotchy because of contamination or a mutation of its original strain. Regardless of the cause, Harris didn't want Quail Hollow's greens to turn up half-dead on the eve of the PGA Championship. He'd already experienced patchy bentgrass putting surfaces at the 2013 Wells Fargo.
So out went MiniVerde, to be replaced by the newest strain of another genetically engineered ultradwarf Bermuda called Champion G-12, trucked in from Texas in refrigerated semi-trailers.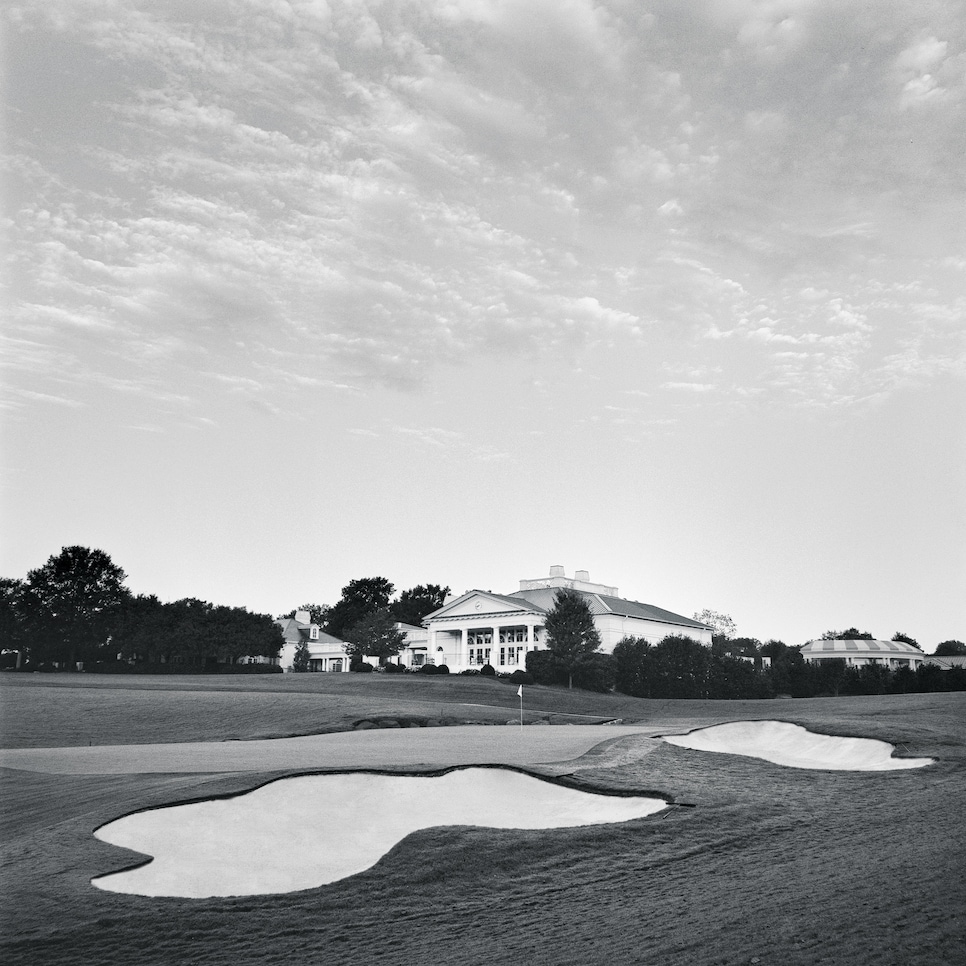 COMPLETING THE MASTER PLAN
Still, that doesn't explain the destruction of four holes. "That was Tom Fazio's idea," Harris says. "He thought we should take advantage of the opportunity, since the course was going to be closed anyway, to finally complete his long-range master plan."
Fazio's vision dates to 1993, soon after Harris had become president of the club founded in 1959 by his father, Jimmy, on pasture land inherited by his mother, Angelia. Quail Hollow had been a pleasant if undemanding George Cobb design that in the 1970s hosted a PGA Tour event, the Kemper Open, and in the 1980s a Senior Tour event, the World Seniors Invitational. Johnny wanted Fazio to transform Quail Hollow into something worthy of a major.
A first round of changes occurred in 1996 and included the creation of a man-made stream gurgling down the left edge of the par-4 18th hole, posing the threat of calamity on drives and second shots. In 2013, Fazio created an entirely new par-4 16th, edging the club's magnificent 15-acre lake. It strengthened the closing three-hole stretch previously dubbed by writer Ron Green Jr. as The Green Mile.
Among the changes this time, Fazio transformed what he termed the club's weakest holes: the par-4 first, the par-3 second and the par-5 fifth, which was turned into two new holes. Fazio's description of his changes is so clinical as to sound surgical, but golf-course reconstruction is not an outpatient procedure. Turf needs time to heal. Why do all these changes just months before the PGA?
"We live in the now," Fazio says. "It's not about taking your time anymore. People want it done now. And with today's technology and resources, there's no excuse not to do it now. There's no risk, really. The only risk is whether Johnny Harris would like our new holes."
What lessened anxiety, if not the budget, was the hiring of three firms to handle tree removal and major earthmoving, and three contractors to shape the new holes and handle the finish work.
"Using three contractors to build the holes is like doing three small golf courses," Fazio says. "Then it's just about supervision, to make sure everything is consistent."
Among the expert touches coordinated by Blake Bickford, from Fazio's North Carolina office, were the redesign of Quail Hollow's bunkers, installing a vertical edge of stacked sod around each. Harris had played the famed Royal Melbourne in Australia's sandbelt and wanted that feel at Quail Hollow. The new bunker sand is Spruce Pine feldspar, also used at Augusta National.
The reconstruction took only 89 days, start to finish.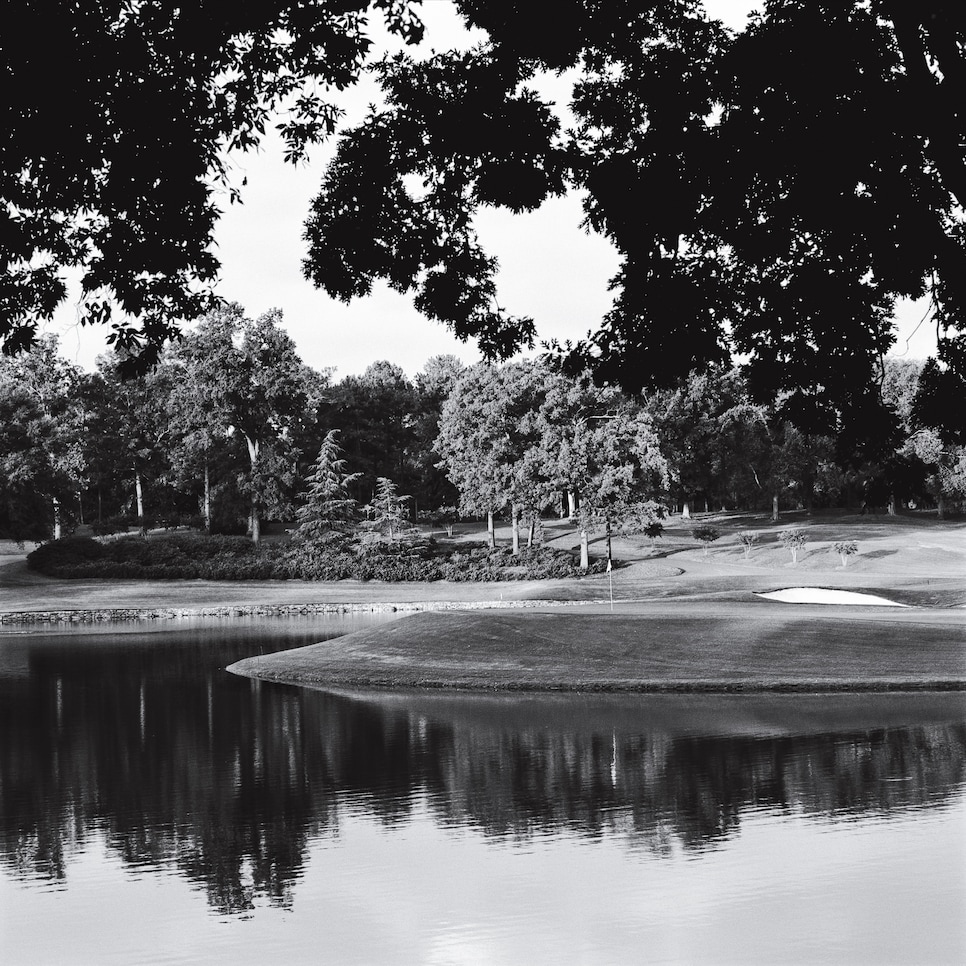 TRADING A FAVOR FOR A PRESIDENTS CUP
This past May, while the Wells Fargo was being played at Eagle Point Golf Club, I inspected Quail Hollow. There was no evidence that the greens had just been rebuilt. The new holes looked as though they'd been there for several years. Did the PGA of America have misgivings during this rapid-fire reconstruction? Had it even had a say in the matter?
Harris and Fazio had visited with Pete Bevacqua, CEO of the PGA of America, and Kerry Haigh, the association's chief championships officer, in January 2016.
"They presented their vision to us," Haigh says. "We talked at length, voiced our concerns. They assured us that they'd spare no effort to get it completed on time.
"We were excited about the prospect of previewing the new course at our event. We liked what we saw on paper. At the end of the discussion, we told them we were all in. Mr. Harris can be very persuasive."
How persuasive? In 2006, Harris was asked to move his annual PGA Tour event, then called the Wachovia Championship, so the Players Championship could be moved from March to Charlotte's time slot in May. Harris agreed, but only if his tournament would thereafter always be played the week before the Players, not the week after, a guarantee he got in writing.
Eight years later, Tim Finchem, PGA Tour commissioner at the time, called again, asking Harris if he'd be willing to forgo his ironclad time slot and move again, if only for a year, to make room for the 2015 WGC Match-Play in San Francisco. Sure, Harris said, but only if you'll award us the Presidents Cup. "I think we can make that happen," Finchem replied, and in early 2015 the tour announced that Quail Hollow would host the 2021 Presidents Cup. "We'd actually been looking at Charlotte for a Presidents Cup for some time," Finchem says. "Johnny's operation had always run so smoothly that it was an easy decision."
Don't be surprised, or alarmed, if Harris and Fazio decide to perform a few more nips and tucks to Quail Hollow during the summer of 2020. The second hole is a bit awkward, and two par 3s, the sixth and 13th, lack some of the pizzazz of other holes. Also, expect the course to be re-routed for that event, so that The Green Mile falls midway in the back nine, assuring that nearly every match will reach that exciting stretch.