Equipment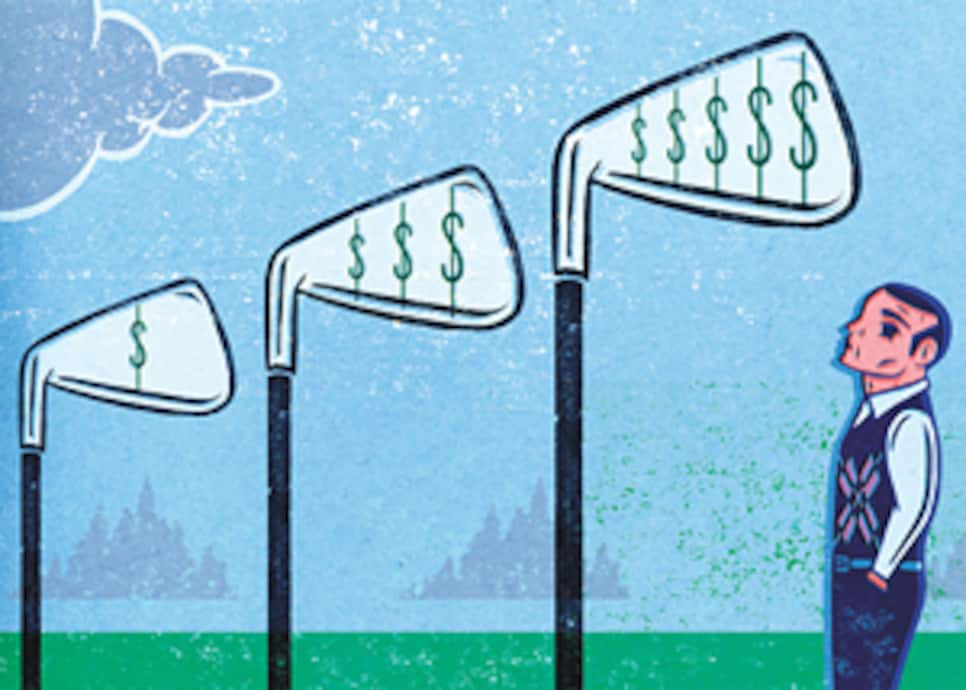 My golf clubs have served me as well as can be expected, but I'm about ready to upgrade. (I don't want to say my driver is out-of-date, but I recently found the exact model on eBay with a starting bid of $9.99. Even that might be too much. I came back a week later and there were zero offers.)
What I never fully appreciated, until starting this search for new clubs, is how important a role the calendar can play in the whole process. The time of year you go shopping might affect not only what products are available but what you'll pay for some of them.
For many of the major clubmakers, pricing follows a predictable pattern. Most introduce their new products in the fall or at the beginning of the next year. Prices on these offerings are at their highest at introduction and then, after six to 12 months, often begin to move downward, according to several retailers I interviewed.
As summer begins, stores might start offering some golf-related accessories as freebies. The next break for consumers typically comes in the late summer or early fall, when a $399 driver might drop to $299 or $249. And then there's the end-of-year closeout to make room for next season's hot new club. (Titleist, Ping and Mizuno are exceptions because they generally come out with new products every two years or so, and they make a point of holding their prices steady for as long as possible.) According to Golf Data-tech, five of the eight gold-medal drivers from the 2011 Golf Digest Hot List
had been reduced by an average of $84 in October.
You'll find these same price movements pretty much wherever you shop. This is because clubmakers exert a huge amount of control over what you pay. Most golf products have a manufacturer's suggested retail price--which hardly anyone charges--and, more important, a "minimum advertised price." Retailers know the rules: If a store or website advertises clubs for sale below this minimum price, the manufacturer can stop doing business with that retailer.
Sound a little like antitrust? The U.S. Supreme Court ruled otherwise in 2007. Equipment companies' right to set minimum prices was affirmed by the court, 5-4, in Leegin Creative Leather Products vs. PSKS Inc., overturning a 96-year-old precedent that had found such agreements anticompetitive. Ping filed a brief in the Leegin case, arguing that strict price controls were essential to "preserve its brand, and its special niche, in the highly competitive golf-equipment marketplace." (Ping's spokesman declined to comment for this article, citing a company policy against talking about prices.)
Some retailers have figured a way around this. They sell closeout golf equipment below the minimum advertised price without advertising it. If you see "call for price" on a website or in a catalog, that's often what's going on. Note: If you're going to go this route, be sure you know who you're dealing with. You might be looking at an unauthorized retailer who's selling knockoffs, counterfeits or even stolen goods.
To play your best, most manufacturers maintain, you shouldn't consider anything but the latest gear. "Every product we launch is significantly better than last year's," says David Abeles, executive vice president and general manager of TaylorMade-Adidas Golf. I heard the same thing from Callaway and a handful of retailers, too. Small wonder they'd say that, of course. But Golf Digest's Hot List judges,
who have no financial stake in whether I buy new clubs, also argue convincingly that newer technology performs better for most average golfers.
Luckily there's an easy way to find out for yourself: Go to a store and try clubs until you find a set you love. A complete launch-monitor fitting is money well-spent, too. (See America's 100 Best Clubfitters
) A store in my town charges $75 to $95 for a full fitting, which is fairly typical, with most of the money going toward my purchase if I decide to buy. Will I be able to resist buying them until later in the year, when prices might get marked down a bit?
I have a feeling the answer is no.
Some retailers will never negotiate, though others say they have no choice but to shave 5 or 10 percent off a price to match one you've seen elsewhere. Timing is key. Once a product has been out for a year or so, stores tend to be more flexible on price. Brand matters, too. Some, such as Mizuno and Titleist, are known for holding the line on the minimum advertised price, so usually there's little to no wiggle room.