Equipment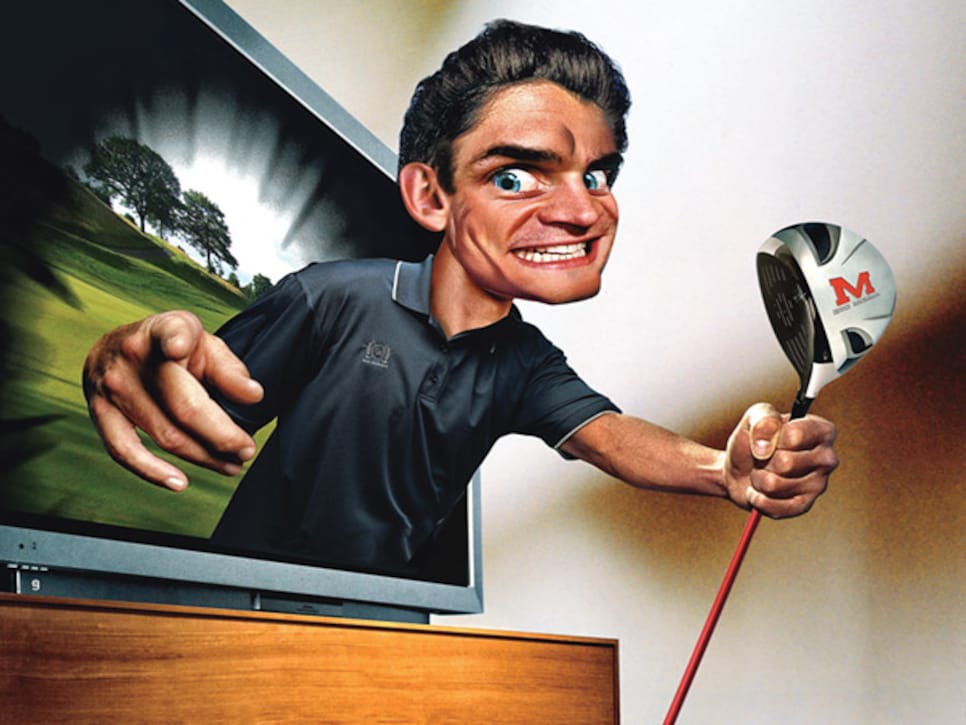 People still recognize them all the time. A surprised greeting on the street. An autograph request at a restaurant. A handshake at a driving range.
"Once I got recognized in Japan," says A.J. Bonar, marveling at the memory. "I was just walking down the street."
"The last time someone recognized me? Yesterday," says Pat Simmons. "He dropped his pen, and it left a mark on my slacks!"
Says Charles Kallassy: "I don't remember going to an airport when somebody didn't come up and say hello."
It stands to reason these guys' faces would look familiar. If you were a golf fan in the mid-'90s and early 2000s, you could scarcely avoid them. For the lack of a better phrase, this was the "golden age" of the golf infomercial, a time when pitchmen seemed to hawk their revolutionary, game-changing, must-have products on a continuous TV loop.
They came out of nowhere, and suddenly they were everywhere. Simmons and his Alien wedge. Bonar and his video series, "AJ Reveals the Truth About Golf." Kallassy's Swing Magic trainer. The Medicus Dual-Hinge Driver. The Tight Lies fairway wood. Jack (The Hammer) Hamm and his Zolex driver. The Perfect Club. "In its heyday, golf was really the big thing" in infomercials, says Tom Haire, editor in chief of Response, an advertising trade magazine. "It was at least 50 percent of the market, maybe 70 percent on the high end. They were knocking it out of the park in those days."
The money was huge. Tight Lies woods, to pick the most celebrated example, went from $1 million in sales to $36 million in two years thanks to infomercials. "It was like the Wild West," says Cindy Herington, former vice president of marketing at Adams Golf, the company making Tight Lies. "We were all just sort of hanging on. Everything was so crazy."
Then, almost as suddenly, it got a lot less crazy. Many of golf's infomercial pioneers began to slip from sight in the late 2000s. They went out of business or merged with other companies or simply moved on. And there wasn't a brigade of newcomers eager to take their place. "Now, the golf infomercial is virtually gone," says Jim Harrison, an investor and marketer who helped promote Alien Golf and Adams Golf, among others.
Though many might applaud this—you can watch TV on either side of a golf tournament and not encounter a half-hour sales pitch—it does raise the question: why? What happened to them?
It turns out there were several factors. Airtime grew more expensive—and scarce. In 2011, when it joined the NBC Sports Group, Golf Channel stopped selling any half-hour blocks for infomercials in the daytime, leaving only the insomniac hours. Golf Channel President Mike McCarley "made it clear that quality programming was going to be our litmus test," says Tom Knapp, senior vice president of programming. "Our viewers want to see the best players in the world playing golf."
Fewer golfers seemed to be watching the infomercials that did appear, marketers say, perhaps a result of Tiger Woods' scandal and injuries. Knockoffs and counterfeit versions of some heavily advertised products also began to crop up, causing prices to plunge.
And then, on top of all that, the economy tanked.
'BLUNDERING INTO LUCKY THINGS'
The first infomercials—selling hair treatments, weight-loss plans and the like—started appearing in the mid-1980s. They sprung up in the wake of advertising deregulation, which for the first time allowed TV stations (as opposed to the government) to choose how many commercial breaks they wanted to sell in an hour.
Script to Screen, producer of "long-form" ads for everything from Hooked on Phonics to the Total Gym, was an early and influential player in this new field. At its peak, it made about a quarter of its revenue from 30-minute golf infomercials. That has fallen to zero in recent years. Though Script to Screen has plenty of other business, "I miss golf," says Ken Kerry, co-founder. "I'm an avid golfer, I enjoy the game, I understand it."
Kerry got his first taste of the golf business in 1990, when Jim Harrison and his business partners hired Script to Screen to produce a campaign for the Alien wedge, which had been created by Pat Simmons. This was among the first golf infomercials.
Simmons, a quirky former minor-league baseball player, had invented the odd-looking sand wedge in his basement. "I'm just a hick, actually," he says, reached by phone at his home in Arizona. "My whole life is a series of blundering into lucky things."
His infomercials combined a simple promise—you'll get out of the sand with one swing, or your money back—and endorsements from guys he met at celebrity tournaments. Among them: Jim Plunkett, John Madden and O.J. Simpson. They got golfer Jerry Pate to appear in the first Alien ad, losing a bet to Simmons and then leaping into a water hazard à la TPC Sawgrass.
Simmons, now 80, is a little fuzzy on some details of the company's history. Twelve or 13 years ago, he was piloting a small plane that crashed, he says. "My memory hasn't been the same since." But Harrison remembers those days well. The Alien's first ads cost roughly $300,000 to shoot, he says, and they came with extra footage for different edits and some 30- and 60-second commercials. The airtime would cost them as little as a few hundred dollars a half hour to as much as $50,000, depending on the channel and the time of day.
"A major part of your success in infomercials is tracking and analysis of media," he says. "We would buy it on a day-by-day basis. So let's say there was a big rainstorm coming in parts of the Northwest. We'd buy because we knew people were going to be inside and watching TV." Harrison recalls buying a half hour in Seattle for "$300 or $400" and selling as many as 120 wedges at $100 each. In a little more than 3½ years, Alien Golf sold more than $200 million worth of wedges, he says.
Around this time, Ohio golf pro Bob Koch was introducing a training aid called the Medicus. It was a golf club with a hinge in the shaft that made it collapse if you began your backswing off-plane. He had a business partner who had done some infomercials, and together they decided to give it a shot.
Everyone in the infomercial business obsesses over "the ratio"—how much an ad costs versus how much it generates in sales. If your sales are three times what you paid for the airtime, that's generally considered very good. The Medicus was pulling a 10-to-1 ratio in the early days, Koch says. "In all honesty, we didn't know enough to know what to expect," he says. "It was way bigger than anyone thought it would be. We sold $20 million in the first couple of years."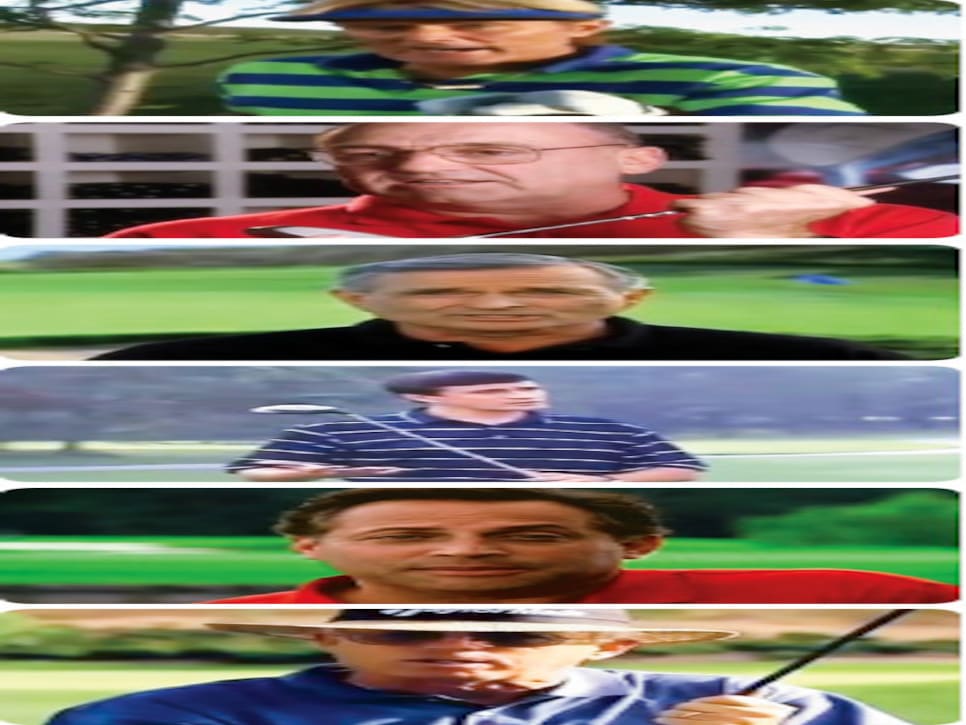 From top: Jack (The Hammer)
Hamm, Tight Lies' Barney Adams,
Alien wedge creator Pat Simmons,
Swing Magic inventor Charles
Kallassy, Perfect Club spokesman
Peter Kessler, "truth"-telling
The gold rush was on, and marketers came pouring into the field. But for every Orlimar TriMetal, Sky Caddie range finder and Bob Mann's Automatic Golf instructional series—three of the longer-running infomercials—there were dozens that fizzled. Unable to generate enough in sales to buy more airtime, they vanished. "I've heard people say only one in 10 companies that tried infomercials was successful," says Mike Abram, president of the Golf Agency, an advertising production company. "It might be one in 20."
Kallassy was nearly one of the casualties. An experienced fitness and swing coach, he'd come up with an unusual training device to help impart the proper feeling of a golfer's hands throughout the swing. It features a right-hand grip that slides away from the left hand during the backswing and returns during the downswing.
Armed with cash from an investor and his life savings (collectively more than $1 million), Kallassy went to work. He formed a business, purchased tooling and inventory, and hired a production company to produce a slick infomercial. The public's reaction: meh. "It was OK, but it was not going to be very profitable," Kallassy says.
He was determined to make it work. "I'd been to the PGA Merchandise Show, and the response we got from all these top instructors was, 'We love this.' They gave me a lot of encouragement, a lot of support." So Kallassy got together with his team members and convinced them to give it one more try. They spent about $75,000 on a new commercial, with a new host and a new script. "It was all the money I had, and then some," he says. "I was looking for change in the cracks of my couch."
This time, it was a hit. Featuring Kallassy with instructors John Elliott and Brad Brewer, the infomercial generated sales of more than $16 million the first year. "It was like going from a 100s-shooter to a PGA Tour pro in a year," Kallassy says.
What made the difference? He figures it was the commercial's earnest tone. "We weren't making fantastic claims," Kallassy says. "We weren't embellishing wildly. What we said was based on fact, presented by highly qualified people." And where'd he get that idea? Tight Lies creator Barney Adams. Says Kallassy: "Barney delivered on his promises, with a product that changed the category."
Adams was working as a clubfitter in the 1980s, tinkering with new designs on the side. He was determined to become a player in the equipment business but couldn't figure out how to compete with the major companies and their massive ad budgets. Then one of his customers mentioned infomercials. This customer had done some work with Susan Powter, a motivational speaker who shaved her head and pitched a weight-loss program on TV, and thought they might work for Adams' clubs.
Adams did some research and decided this was his chance—his only chance—at hitting the big time. But he needed money to make an infomercial and roll it out. So he went to his investors and made his pitch. "I think I have an opportunity here," he said, "but I don't have any money. I'll give you guys the company, and you finance the infomercial. If we meet our goals, I earn back a reasonable return."
It was a huge gamble, and Adams knew it. "There wasn't a Plan B," he says. "We were up against companies 100 times larger than us. There was no other way." The company spent $500,000 to produce and roll out its first infomercial in a few test markets. It was hosted by golf announcer Jack Whitaker and included appearances by instructor Hank Haney, LPGA star Carol Mann and former British Open winner Bill Rogers.
"My position was, if we do a show, we are not going to lie," Adams says. "Some said, 'Wait a minute! This is an infomercial.' I said, 'I don't care. We are going to present the product as we have experienced it.' I was adamant."
Adams remembers driving through rural Georgia when they began testing. Eager to hear how it went, he rushed to a pay phone, but it was out of order. "Out of habit, because I was always broke, I flipped open the change thing and found $3.80 in there," he says. "I thought, Well, I don't have any news about the test, but I got a good sign."
The early tests, in fact, were not home runs. "I'd say they were doubles," Adams says. But then, he wasn't swinging for the fences anyway. His chief goal wasn't getting people to call a toll-free number and buy right then. He was trying to get golfers to go into stores and ask for his clubs.
"My vision was always to be a real company," not merely an infomercial marketer, he says. And it worked. "All of a sudden, retailers were talking to us."
With sales surging and an expanding product line, "we went from three employees to more than 100," Adams says. "It was madness." Adams Golf vaulted onto Inc. magazine's fastest-growing-companies list two years in a row and went public in 1998, a deal that valued the company at nearly $400 million. Adams owned 4.5 million shares, worth $72 million at the time of the offering. The company was bought by TaylorMade-Adidas Golf two years ago.
Says Adams, with more than a little understatement: "We were very fortunate."
Barney Adams might be the most successful business person of golf's infomercial era, but he is surely not the most colorful. That distinction belongs to Colorado clubmaker Jack (The Hammer) Hamm.
If you've seen him, you know him. He's the blond, muscle-y guy who yells "Boom!" and "Wow!" and "Pow!" as he tees off in front of a mountainous backdrop, punctuated with clips of a space-shuttle launch to make sure you get the message.
"Who out there RIGHT NOW wouldn't like to add 50 YARDS to their tee shots?" he barks.
Hamm started buying airtime in 1995 to sell the Air Hammer, a club he designed with six holes in the face. The pitch: more clubhead speed. "The thing about selling golf equipment on TV is that it takes a little time," Hamm says. "It's not like selling a vacuum cleaner. Golfers need to see it six or seven times before they place an order. You have to establish a presence." Once the Air Hammer infomercial caught on, he says, it began generating sales of five, six and seven times the cost of airtime.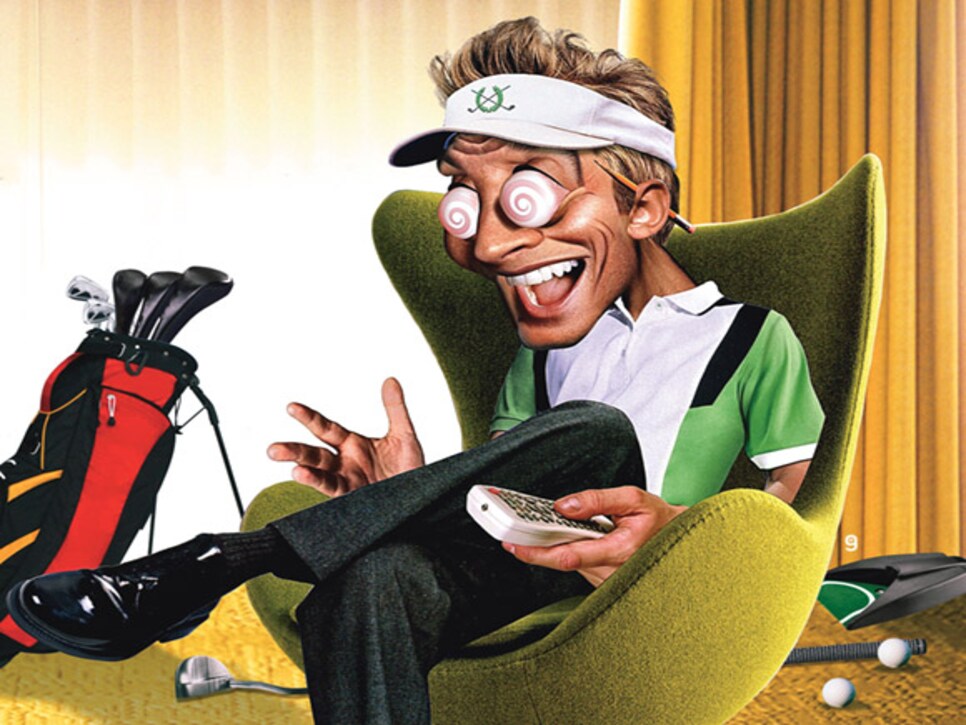 He went on to introduce a few more clubs over the years, including the Zolex Hammer ("world's biggest sweet spot"), the Hammer X ("add up to 50 yards automatically"), and the Zero Axis Putter ("this putter will save everyone 10 shots per round").
His stuff doesn't always conform to United States Golf Association rules, but that has never been Hamm's concern. "I'm going to say 80 percent of golfers can't break 100," he says. "So why not help them?"
Whatever you might think of The Hammer and his self-produced infomercials, give him credit for this: He's still at it. This is what he does for a living, and he has homes in Michigan, Denver and Steamboat Springs, Colo., to show for it. His latest spots, one for the Zero Axis putter and another for his blade-shape Aerospeed Shaft, appear on the likes of Golf Channel and Fox Sports, in the wee hours. "Jack enjoys life more than anyone I've ever met," says Beau Rials, a former disc jockey who has appeared in more than 150 infomercials, including two of Hamm's. "He doesn't care what anybody thinks."
A.J. Bonar is another one who's still at it. In addition to selling some 200,000 copies of his "truth about golf" series over the years, he says, infomercials help boost the foot traffic at his AJ Golf School. Because airtime is more expensive than it used be, though, he buys it sparingly. "You have to be careful. We'll see if we can get some time that's gone unsold or maybe somebody backed out at the last minute, so we can get it at a reasonable price."
Medicus continues to make selective buys, too, says Bob Koch. Later this year or early next, the company plans to roll out a complete line of clubs for average players, and it'll use infomercials as part of its promotion.
Most of the others from the boom years have moved on. Charles Kallassy, who spends much of his time developing new products, consulting and volunteering these days, still sells his swing trainers online but doesn't promote them on TV. After a hot start, the Perfect Club ran into competition from cheap imitations and counterfeits, among other challenges. "Other companies ultimately had more marketing muscle," says Peter Kessler, its former spokesman. The Alien brand name still exists, though Pat Simmons hasn't had anything to do with it for years. After expanding into a full line of clubs in the early 1990s, it filed for bankruptcy, then changed hands a few times. A Canadian investor now owns the name. "I don't really have any complaints," Simmons says. "I did well."
These days, he's still making clubs. He and Jim Harrison recently worked together on a wedge, one they claim is even better than the Alien. Harrison plans to market the Incredible Wedge on the Internet, and he also intends to hire retired military personnel to take the club around to golf courses and show it off on practice greens.
He won't be making any infomercials.