Money Clip: The Client Always Wins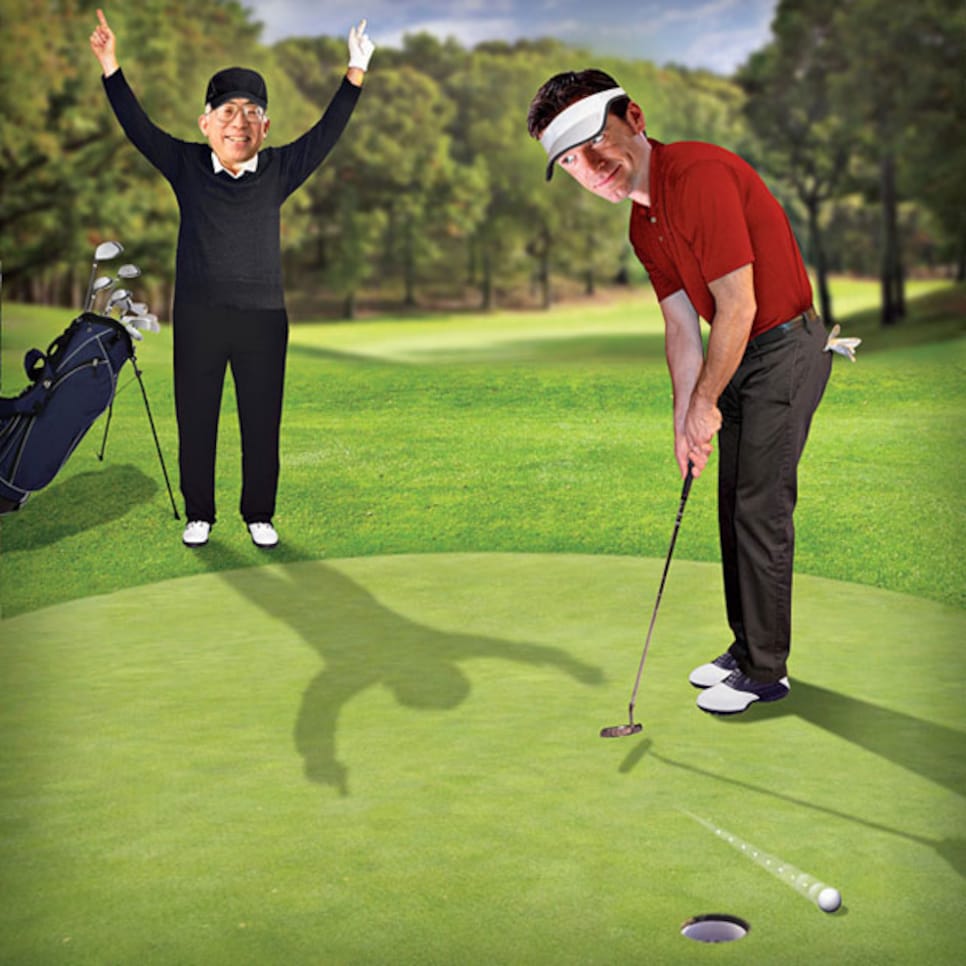 Is there a better way to connect with a client (or a potential one) than with a round of golf? Not that we know of. But client golf can also be tricky. "When you play with a Type-A CEO, it's understood that there will be a certain level of competitiveness," says an ad-agency guy we'll call Andrew, who asked to remain anonymous. "And it's a lot better if they win."
If Andrew is arranging the foursome, he pairs his client with the group's best player and takes the worst remaining player as his partner. He tries to make sure the client and his partner have enough strokes to ensure victory. Yet sometimes Andrew must—how to put this delicately—lose on purpose. Here's what to do.
MAKING SURE YOUR PARTNER GETS THE W
1. Don't be obvious about it.
If you need to throw a match, you can't suddenly start jacking the ball out-of-bounds. That'll be a dead giveaway. You need to be more subtle. "The purposeful three-putt is your go-to shot," says Andrew, our ad-agency client-golf expert. "They'll start saying, 'Oooh, the pressure is really getting to you.' You can just nod. You've got them right where you want 'em."
2. If you're going to lose, lose early.
Don't wait until the last minute to tank. If your birdies and pars turn into doubles and triples with four holes to go, it's going to be obvious something is up. Also—and this is key—you need to be sure your client doesn't choke away his chance at victory. Andrew recalls reaching the 18th hole all square in a client round. He got on in three and was prepared to three-putt if necessary. His client knocked his second shot out-of-bounds, reloaded and hit that one O.B., too. The client left the course fuming.
Lots of people—including many who are probably reading this page right now—think losing on purpose is extremely bad form. Telling fellow golfers you've done it only increases the chance that (a) they'll think poorly of you and (b) that someone will blab to your client about it. The latter is far, far worse.
Golfer Grant Whybark sparked controversy four years ago by purposely losing in a college event. Competing for the University of St. Francis (Ill.), he'd already assured himself a place in the NAIA national tournament when he intentionally double-bogeyed the first playoff hole of a conference tournament and allowed a golfer he knew from another college to advance with him. Purists howled that it wasn't in keeping with the spirit of the game. "I totally understand why people felt it was wrong," says Whybark, now 23 and about to become a CPA. "But if I had a chance, yeah, I'd do it again."
49: Percentage of readers who'd "never, under any circumstances," lose to their boss or an important client on purpose. Twenty-nine percent answered "Only if my career depended on it" and 22 percent said "Absolutely, what's the big deal?"
Source: GolfDigest.com survey, December 2013