The Loop
Pete Dye in Golf's Hall Of Fame
__As you might know, this week Pete Dye was inducted into the World Golf Hall of Fame.
Dye has built--don't you dare use the term designed--"about 100 to 120 courses in six countries," according to his wife, Alice. His highest-ranking course on Golf Digest's list of America's 100 Greatest is the Straits course (No. 24) at Whistling Straits, which will host another PGA Championship in 2010. Dye has built nine of the top 100 on our list.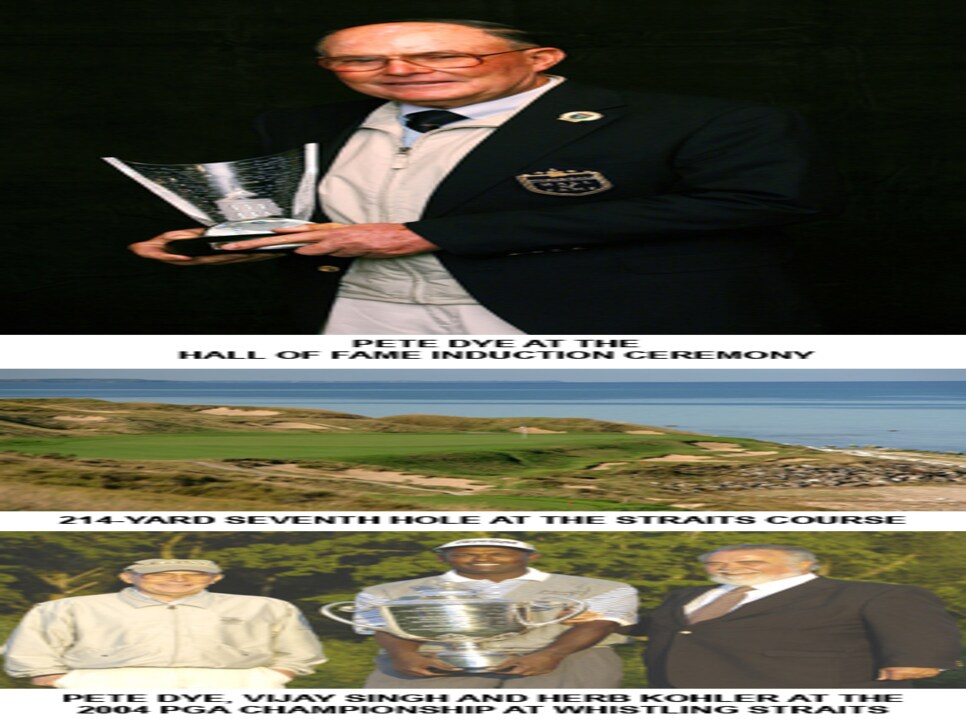 In a Q&A I did in May with Herb Kohler, owner of Whistling Straits, Blackwolf Run and the American Club in Kohler, Wis., I asked him what he loves about Pete Dye. Kohler's response:
"To my knowledge, he's the only designer in golf who is a consummate artist. He doesn't own a computer, doesn't even own a cell phone. [Laughs.] He walks the land four or five times. Then he takes a topo map and puts a dot for a tee, a dot for a landing area and a dot for a green. He has a routing and then connects the dots. That's the last time, and the only time, a pencil touches paper.
"And then everything is accomplished by Pete Dye working with a project manager, who he's probably worked with for 20 years. Mind you, he has about a dozen of these fellows, but he'll come to that site every seven to 10 days. He goes over the details with the project manager, who knows all of Pete's likes and dislikes, and they make adjustments, and they lay out another 10 days' worth of work, and away he goes. It's absolutely natural--it's Pete's hands--and he's such an artist with a great feel for the game.
"One important aspect is that he always builds five tees. And those forward tees are often very considerate of the amateur, but the back tees will screw with the mind of the pro, or the 3-handicap or less, in such a way that it'll cause them fits. Pete's always screwing around with the mind of the professional, and he does it in an amazing way. Those are some of the reasons that attracted us to him, and we've stuck with him ever since.
"In my mind he's clearly the strongest living designer. Tom Doak is a pupil of Pete Dye, and he's building some fantastic courses."
I spoke to Tom Doak today for an upcoming travel Q&A. I asked Doak to name his three favorite Pete Dye courses (in no particular order):
"The Golf Club in Columbus, Ohio, which I haven't been to in ages, but I just love it. The Golf Club, minus the railroad ties, is actually a minimalist golf course, believe it or not.
"Long Cove, on Hilton Head Island, which is the first place I worked for him in construction and kind of a little bit of a reaction to the TPC. He had just finished doing Sawgrass, and it was his next course, one of the few courses in that period of his career that he wasn't designing with the idea that there were going to be a whole host of tour pros there next week.
"And Casa de Campo in the Dominican Republic, which, when I worked for Pete, bar none, that was his favorite of all the courses he had done. He might be more political about it now, but back then, there was no comparison. It's the best site he ever had to work on."
Adds Alice: "Pete's favorite thing to do is build a course that's open to the public." The Pete Dye Course at the French Lick Resort in French Lick, Ind., opens in the spring.__