Joe Highsmith is a college senior not unlike so many other college seniors this time of year, uncertainty their bane. What's next? The question is a weighty one, certain to induce sleepless nights, or at least handwringing, in Highsmith's de facto major. He is studying to be a professional golfer and good entry-level jobs are scarce.
The 22-year-old attends Pepperdine, though it is the PGA Tour U. from which he hopes to graduate, a tall order. Its graduating class numbers only five—the top five in the ranking of college seniors after next month's NCAA Championship receive Korn Ferry Tour exemptions through the remainder of the year. Another 10 will have access to one of the international developmental tours under the PGA Tour umbrella.
The competition for the five is fierce, though moderately less so with two virtual locks for the final five—Texas A&M's Sam Bennett and Oklahoma State's Eugenio Chacarra—recently withdrew from consideration so they could return to school for an extra year of eligibility available due to COVID-19 interruptions.
"I was pretty pleased," Highsmith, a key contributor of Pepperdine's national championship run a year ago, said via telephone last week. "It got me a lot better chance of getting in the top five. I kind of saw it coming, though. I talked to Sam … we played together at the Golf Club of Georgia Collegiate [last October], and he was undecided and leaning on going back [to school]. And I played with Eugenio. It wasn't a shocker. But it was great news for me."
It allowed Highsmith to move from 11th to ninth on the university's Velocity Global Ranking, having won once and posted five top-10s in 11 starts during the 2021-22 college season. Time, though, is no longer an ally; the Waves have three tournaments left: this week's West Coast Conference Championship, the NCAA Regionals and the NCAA Championship. Highsmith, sporting a 71.42 scoring average, will have to reprise his post-season starring role from a year ago—the lefty went 3-0 in match play in the national championship, memorably rocking a bucket hat—to revel in pomp and circumstance.
Everyone agrees that the PGA Tour U. is a good thing for aspiring tour players, but it increases the level of stress for elite college players. The dichotomy is that golf is an individual sport, though with a team element included at the college level. Now add to the mix the possibility of earning a coveted post-college job and, well, a downhill five-footer to win has substantially more stress.
"No doubt," Highsmith said. "Obviously, before the PGA Tour University came out it was only the Matt Wolffs and Collin Morikawas getting any kind of exemptions. Only the top of the top amateurs in the world were getting PGA Tour exemptions. It definitely amps up the pressure. It's a challenge you have to work through. There are always going to be things that add on pressure.
"I think that's the main challenge of the game, trying to work around those things, the PGA Tour University or a million other things, even thinking about turning pro or last year thinking about winning nationals. It's all part of the challenge. You try to find a way to not let it get in the way of performance. When I'm on the course I think I do a pretty good job of not letting it affect me, but if I play bad it hurts a little more because I know what's on the line. At least when I'm playing well it doesn't affect me."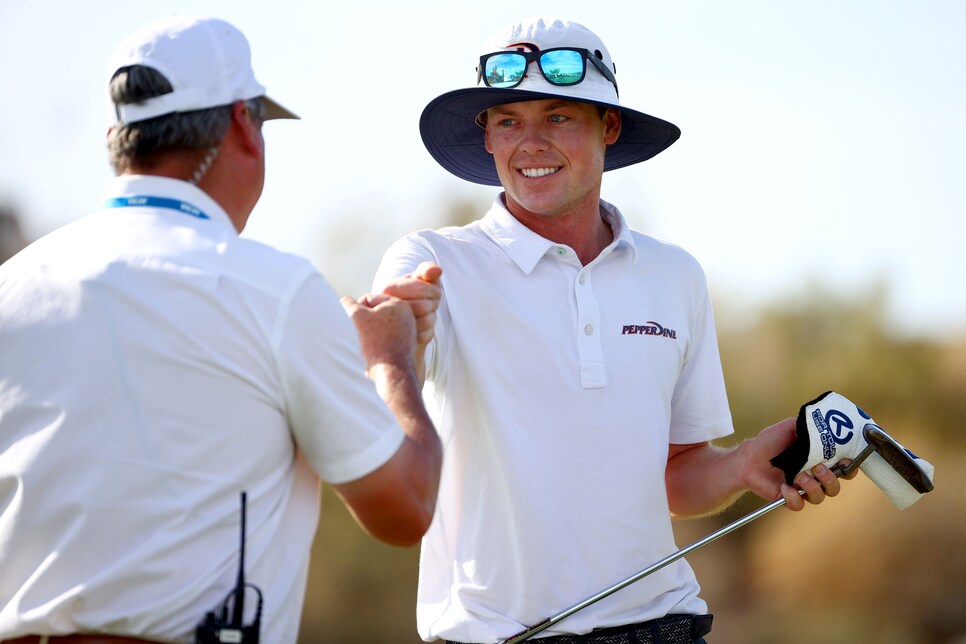 Going 3-0 in match play, Highsmith was a key contributor for Pepperdine en route to winning the 2021 NCAA team title.
Jamie Schwaberow
The importance of obtaining PGA Tour U.'s Korn Ferry Tour exemption is that it allows one to launch a professional career at the highest developmental tour and in so doing possibly hastening a promotion to the PGA Tour. Highsmith's former Pepperdine teammate, Sahith Theegala, who finished third in the Waste Management Phoenix Open this year, qualified for the PGA Tour by virtue of his play on the Korn Ferry Tour.
A Tacoma, Wash., native, Highsmith has been determined to play golf for a living once he became one of the top 10 players in the American Junior Golf Association. "Seeing all other guys in the same place in the AJGA, the Jordan Spieths and Justin Thomases, seeing them out there winning majors, that became something I'm going to try to pursue."
Highsmith, incidentally, won't graduate from Pepperdine this year, though he is a senior. "I'll finish my degree at some point," he said, "but it's definitely the time to move on."
The question, then, is where will he be moving on to? Should he finish in the top five in his class at the PGA Tour University, that will more than suffice as a stand-in for a Pepperdine diploma.