News
Pebble Beach caddies rally around one of their own in his fight against cancer
Jay Stella (far right) is back at work after doctors removed a tumor from his larynx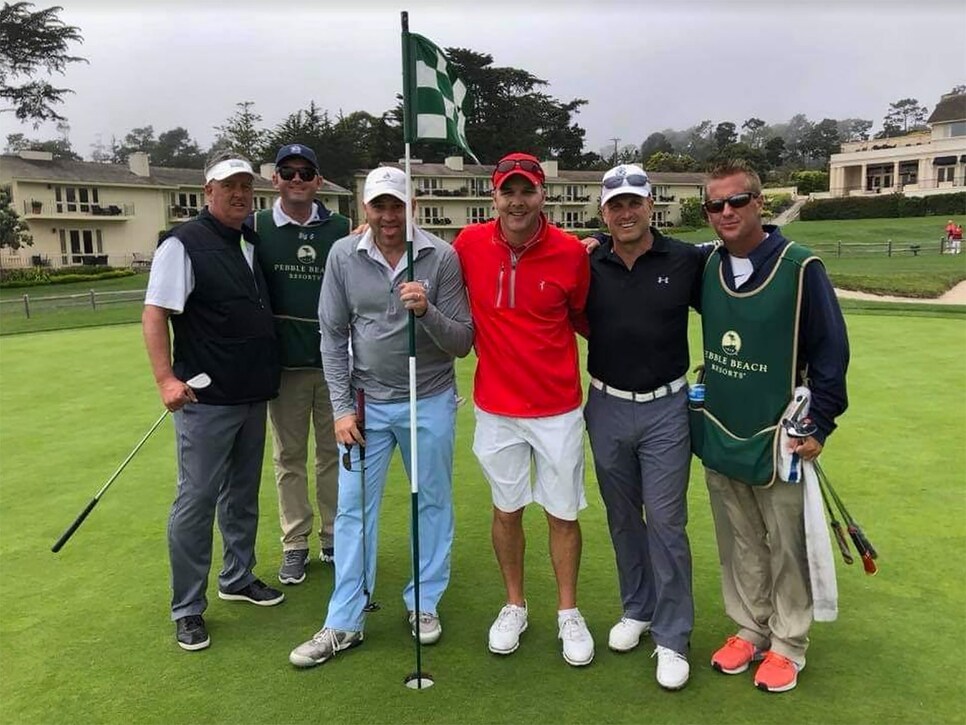 Photo By: Courtesy of Jay Stella
"Are you having a hard time breathing?" the ear, nose and throat doctor had asked.
"No, not at all," the Pebble Beach caddie replied. "Why?"
"You have a large tumor on your larynx. Your airway is almost completely blocked."
Jay Stella had just turned 43.
My phone lit up with a message preview from Rich Beem that read something like: Give me a holler. I have something that might interest you.
I called him back and could tell he was in a golf cart, on a golf course with some buddies. In typical Beemer style he asked me to wait while he hit his approach shot with me on speakerphone. Then briefly told me about a caddie acquaintance of his who had something of an inspiring story to tell. "You caddied. Now you're a writer. Maybe you could speak to my friend?" Beemer said.
"Sure. Leave it with me." I replied. A week or so later, I dialed the number he had given me.
Prior to attending Furman University in Greenville, S.C., Jay Stella spent the first 17 years of his life growing up in the town of Andover, Mass., 20 miles north of Boston. "I wasn't what you'd call the greatest golfer in high school. I was good enough, though—made the team," he explains.
He did it again in college at Furman, walking on as a freshman. However, from that point forward, getting on the golf team was pretty much the only good thing that happened to Stella at Furman. "I really screwed things up," he says. "I was interested in girls, in drinking, in smoking weed—just doing everything that was stupid."
By his own admission a very immature 18-year-old, Stella predictably flunked his freshman year having barely attended class. His academic capitulation was hardly unique. But suddenly, as an adult with no college safety net to catch him, his young life arrived at its first telling crossroads. The turn he chose took him back home to the Boston area, where he fell into a temporary job in a friend's printing factory. Before long, "temporary" became nine years.
Regardless of his day job, golf and the wider world that surrounded it always seemed to come easy to Stella. During these years of laborious shift-work in the factory, he never completely let go of the game. And no wonder. By any standards, Stella was a naturally talented player reliant on feel—possessing enough game to take part in a couple of Hooters Tour events.
"I was a scratch golfer, a member at a club, but I was never one for grinding on the practice area too much," Stella explains. "At one event, I shot five under for the week and I hit it really good. I was over the moon with my rounds. Then, when I realized I was still 19 back of the leader I thought, Meh, I need to do something else. Looking back now, I would have done things a lot differently."
In 2004, romance intervened. Through a friend, Stella reconnected with a girl, Sandra, who he'd gone to high school with. It turned out she'd moved to Las Vegas. For a while they did the long-distance relationship thing until she asked him to move out to the desert. So he did, driving with his few belongings to start a new life.
"Long story short, we got married, had two little kids," Stella explains. "But as much as I love Vegas, it's a horrible place to raise a family." For a while, Stella and his crew were on the verge of moving back east to Boston.
Fate dictated his course again. While mainly working as a valet at The Mirage for a few years, Stella also picked up the occasional looping job on the side at Lake Las Vegas. The caddie master there at the time, Rich Dudawho, would soon take a similar post at Pebble Beach.
"We were just talking on the phone one day," Stella recalls. "And then, out of the blue, Rich said, 'Why don't you come out to Pebble to see if you like it out here?' Being a golf nut and somewhat experienced caddie, I thought Why not?"
Instead of moving back to the safe familiarity of Boston, Stella and his family went to the Monterey Peninsula in the spring of 2011.
Caddies usually start at Spanish Bay, as did Stella. But for some reason he rubbed people the right way and managed to become a Pebble caddie within his first year, a promotion that takes some five, six, even seven years to do.
Stella fell blissfully deep into the caddie life, and loved every minute of his day job among the 120 regulars looping Pebble's hallowed turf—many of whom had never experienced anything else in their lives.
"Caddies sometimes get a bad rap. There will always be these salty guys who bitch about money, and how the bags are too heavy," Stella says. "Pebble, as great as it is, was no different. But for me, having worked in a factory for many years, these common complaints were just so inconsequential. I was just so happy to be out there. It didn't even feel like work."
Every year in November, Pebble Beach hosts a Taylor Made sponsored event called the Pebble Beach Invitational that pits players from the PGA, LPGA, PGA Champions and Web.com tours against each other—with rotating teams of four amateurs mixed in to the format.
"Since Year 1, I told the caddie master that I specifically wanted to caddie for pros. I figured that I do enough of caddieing for amateurs the rest of the year," Stella laughs. "And in 2016, I got paired up with Rich Beem for the first time—who is by far the best guy I've ever caddied for."
During this particular event the following year, Stella, a smoker for the preceding 20 years, started feeling oddly under the weather.
"My voice started getting really scratchy. I thought I was getting laryngitis—something I'd never had in my life to that point. I don't think I even knew anyone who'd had laryngitis. That's how alien the feeling was."
Doctors called Stella a 1 percenter because he never got tired or sick during treatments. 'I had to go to seven chemos and 30 radiation appointments. I drove myself to every one of them.'
The feeling persisted beyond the event, and after a few days of delaying any further action, Stella eventually made a trip to a doctor who, at that point in time, saw no particular cause for alarm.
"They told me I probably had strep throat, that it would probably run its course with a prescription for antibiotics they'd given me and then I'd be good to go." Stella remembers.
A month or so later, nothing had changed.
"My voice was getting steadily worse. I was having an increasingly hard time swallowing food," Stella recalls. "But there were no other symptoms at all. I didn't feel tired; I was just regular Jay. I was working."
Frustrated and worried on her stoical husband's behalf, Sandra stepped in and suggested a visit to an ear, nose and throat specialist. "I was like 'yeah, yeah, yeah,' but she made the appointment for me anyway, and I actually missed the first one because of the annual caddie cup I was playing in on Jan. 3, 2018."
On Jan. 4, Stella walked into the specialist's office with his wife. The doctor on duty examined his throat. The moment the scope went in, the atmosphere in the examination room palpably changed.
"She told me to swallow," Stella remembers. "So I swallowed. Hard."
The doctor's expression altered. Eyes widening.
As she spoke, describing the tumor she had found, the color drained from Stella's face, accompanied by a cold sweat. He began to replay his past in his head. "I relived pretty much every cigarette I'd smoked in the previous 25 years right there," Stella says.
A day later, he was on an operating table getting emergency surgery. "It all happened so quickly. They had to give me a tracheotomy to help me breathe and put a feeding tube in. They stayed there for 90 days. For those 90 days I didn't have a morsel of real food in my mouth. It was all liquids. Amazingly, I only lost six pounds."
Stella underwent a rigorous regime of chemo and radiation under the watchful eye of oncologist Dr. Zach Koontz, one of whose previous patients had been R.J. Harper, Pebble Beach's renowned executive VP of golf and retail who suffered from pancreatic cancer, a disease that took his life in November 2017.
"Dr. Koontz told me I was a 1 percenter, a unicorn," Stella says. His body didn't get tired from the treatments it endured. He never threw up and never got sick. "I didn't even feel like I had cancer. I had to go to seven chemos and 30 radiation appointments. I drove myself to every one of them."
As it turned out, Stella had been extremely lucky. Because the tumor on his larynx had given him relatively instant feedback, the cancer hadn't even spread within his throat. "Dr. Koontz told me that, had it been in my liver, brain or my pancreas, it could have been years before I knew about it. By which time it could have spread and it could easily have been game over. As it happened, it didn't even reach a lymph node."
The chain of events that unfolded in the aftermath of Stella's cancer surgery, are the heart of this story. It would be no exaggeration to say that caddies, the world over, haven't always had the best reputation at times—all too often labelled as transient, unreliable, mercenary and much worse. But in the early winter months of 2018, the caddies of Pebble Beach did more than their bit to redress the pervading stereotype.
"I was in the hospital for nine days, so everything happened kind of behind my back," Stella says. "But one of the guys [Mike Abruzzese] set up a GoFundMe page on my behalf for the monetary aspect. And in the first couple of days, $4,000 or $5,000 were raised."
As with most major golf courses, the Pebble Beach caddies are engaged as independent contractors. If they don't work, they don't earn money. No medical insurance is provided either.
It was January, the dead of winter when most guys aren't making great money. Yet Stella's caddie friends and family managed to raise almost $20,000.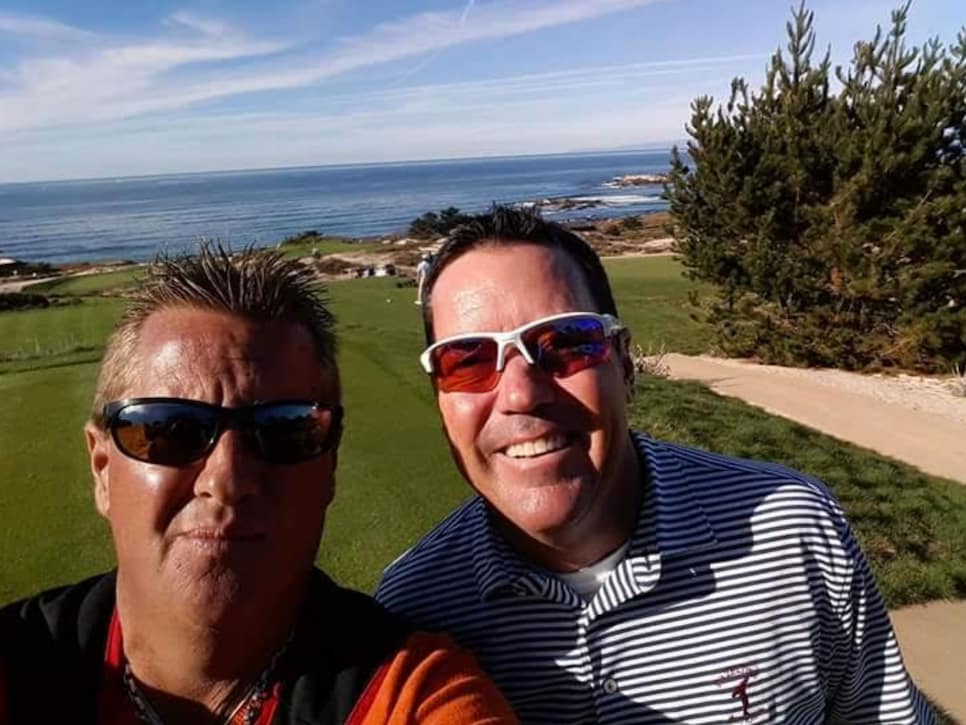 At this point Stella's voice audibly cracks on the phone. He opened his mouth to talk, but no words came out.
"I'm sorry. I'm getting a little emotional …"
He goes on to tell me about one particularly astounding, life-affirming interaction that took place while he was in the hospital, as a fellow caddie came to visit him in his recovery room.
"This guy, Bob Gifford—it was his first year. I'd met this guy once," Stella begins.
I say "begins" because soon the voice dissolves again to be replaced by loud sobbing on the phone.
When he gathers himself, Stella continues.
"I am absolutely not one to brag, but people seem to be drawn to me," he tells me. "And this new guy, who I'd shot the shit with once at the caddie barn, comes to visit me at the hospital with a check in his hand. 'I want to pay your rent,' he says—and fills it out for $1,700. I barely knew this guy."
Stella's story may not be unique in life, but in the context of the caddie shack, it's a reminder that as tough as life is, people, even relative strangers, still retain that fundamental human instinct that makes them want to pull together with whatever they have, to help out one of their own.
"The whole reason I wanted to talk about this was because I just have never experienced such kindness, " Stella says, still choking back tears. "Caddies get such a bad reputation. People say half of us are stoners, and the other half are alcoholics … you know the drill. And believe me, if you go into the bars of Carmel on any given night, you'll find four or five caddies bellied-up at the bar."
Stella gathers himself for one last attempt at articulating his emotions.
"This whole thing … talking to you about this. It's because I can never pay these guys back financially. I've hugged and kissed and cried with 90 percent of the people that supported me. But I still feel that these guys—Lincoln Lyles, Ralph Wilson and Gary Anderson to name just a few—these working caddies, need to be recognised more. And that's why I reached out to Rich, and luckily he put me in contact with you—an ex-caddie yourself who'd understand. The great humanity of these guys is a story that just has to be told."
As of November 2018, Jay Stella's recovery from cancer continues. He caddied for Devin Hernandez in the U.S. Amateur in August, and this week, he's looping again at the Pebble Beach Invitational.