News
The day Pebble Beach cried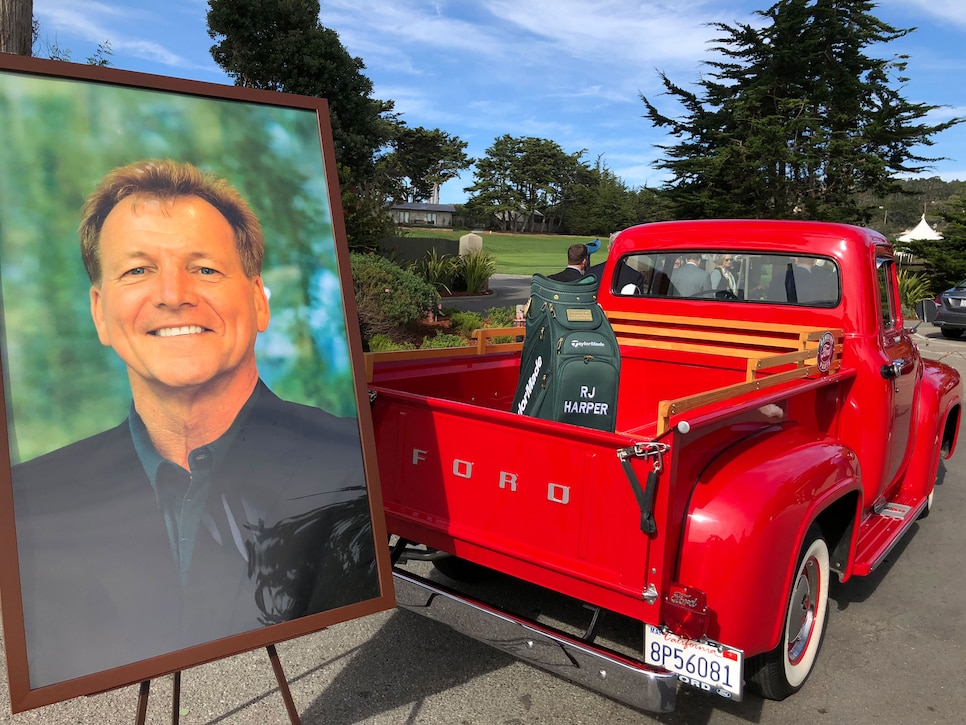 PEBBLE BEACH — In the way some people have a knack for turning lemons into lemonade, Robert Thomas Harper was once misidentified as Robert J. Harper in the sports pages of a Memphis newspaper. His friends called him "RJ" ever since. RJ played on the winningest football team in the history of Rhodes College, and his pass-receiving yards by a running back is a record that still stands.
That wasn't all we heard at the memorial service for the head of golf at the Pebble Beach Company on Tuesday. First of all, the head of golf at Pebble Beach is like being the head of the church at the Vatican.
RJ's 9 a.m. memorial service started with 300 Pebble Beach employees walking up the iconic 18th fairway to the mourning sounds of a bagpiper. About 800 friends, family and colleagues sat in rows of chairs facing the green. Clint Eastwood wearing a black suit and tie sat next to Heidi Ueberroth. T Bone Burnett sang "I'll Fly Away," George Strait gave us "The Old Rugged Cross," and at the end, "Amazing Grace" was saved for Clay Walker.
RJ had come from the wrong side of the tracks in Memphis. "You gotta be from Memphis to know how wrong that can be; most people don't ever get out," said his friend Sam Reeves, who lived in Memphis. Baseball and football let RJ find the exit, and golf came later, watching his hero Arnold Palmer on television.
RJ's former wife, Kelly Yost Harper, did one of the readings, Psalm 23, which RJ had selected for the occasion. This is another moment to pause. His ex-wife had returned home to care for RJ for the last year of his life. "I don't even have an ex-wife, but if I did, I guarantee she wouldn't have done that for me," somebody whispered.
Pebble Beach CEO Bill Perocchi, in his melodious Boston accent, told us about RJ's 32 years of rising from a $5-an-hour course marshal to senior vice president of golf operations. But mostly he talked about RJ's smile and his uplifting spirit and the way he "lit up a room" until the end of his battle with pancreatic cancer. RJ had Arnie's touch for people and you only had to be in his presence a moment to see it. Bill and his wife, Nancy, were more than friends—they took RJ to every doctors' appointment, every treatment; they asked the questions he couldn't think to ask; and when it was time, they prayed with him, too.
Jim Nantz, who lives up the road from The Lodge, didn't disappoint. He spoke of "the power of friendship" and reminded us that RJ was diagnosed the day before Arnold passed away. "Arnold and RJ were like father and son," Nantz said. When Palmer came to town to look at the course, there was always RJ in the cart beside him. Nantz said every change at Pebble Beach over the last 20 years—the fifth hole, the 13th green, the new 10th tee by the ocean where the old one used to be—was conceived in that cart by Arnie and RJ.
About a month before Harper's death at age 61, he summoned Nantz to come to his house for a walk. "He was frail by then, but he needed to talk," Jim said. "I kept encouraging him to head back, but he insisted we go on. He wanted to talk about everything he was thankful for in his life, starting with the love he had for his sons, Tucker and JT. I couldn't believe it. We walked for an hour and 40 minutes." Jim said if there was one message to relay this week of Thanksgiving, it is to "take a 100-minute walk like RJ" and remember all the things we're thankful for.
A 21-ball salute followed with 21 of RJ's closest pals lined up on the 18th fairway and simultaneously hitting drivers—Peter Ueberroth, Dick Ferris, Paul Spengler, Lance Barrow, Casey Boyns, David Abeles and a passel of familiar names and faces smoked drives into the Pacific. The whole ceremony was organized, like his life, by RJ's longtime assistant Margo Daniels, his best friend Jerry Hampton spoke, and Father Seamus O'Brien officiated.
But the image that stood out from all these special moments was when JT Harper went to the podium to talk about his father who never had a father but who was always there for his sons. JT has RJ's movie-star looks, he has RJ's smile, and he spoke with RJ's eloquence about the importance of family and friends. JT said his dad always dreamt of a house on a lake with a fishing pole, but RJ came to realize "he was dreaming of Pebble Beach."
At one point, Nantz asked his wife, Courtney, to hand him his cellphone and he held it up to the microphone to play a recording that had been made for the CBS telecast of this year's AT&T Pebble Beach Pro-Am. It was the unmistakable voice of RJ Harper talking about the last 32 years. It ended with the words: "Pebble Beach—where no two days are alike, but every day is a blessing." You could tell it was his epitaph and he knew it.