News
Remembering The Final Round In 1999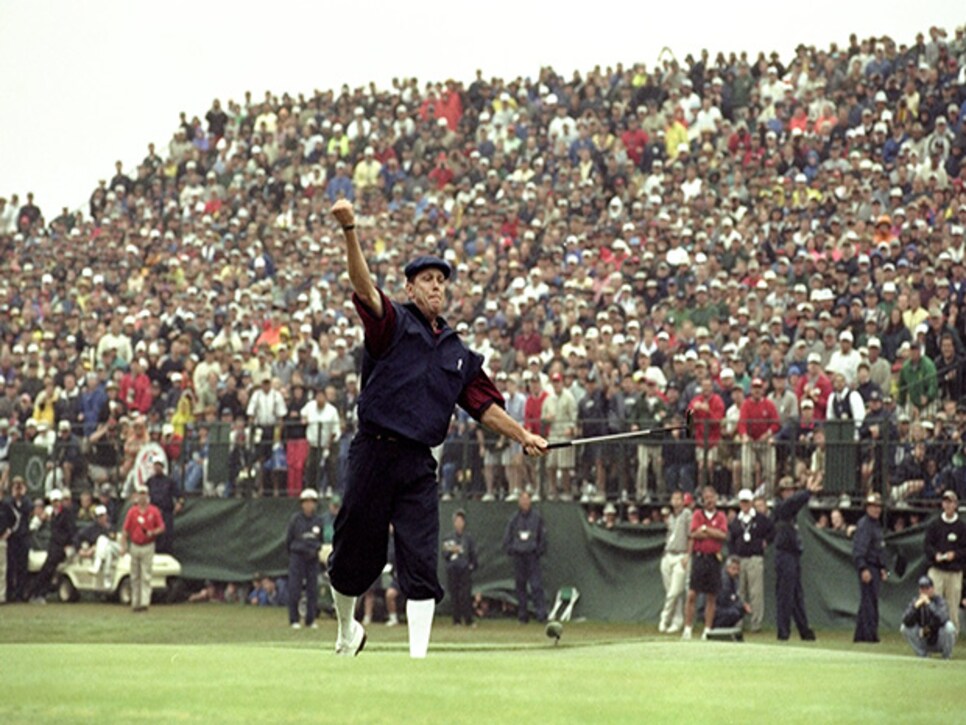 Stewart will always be remembered for his win at Pinehurst.
The six years seem to have passed so quickly that the moments and memories from the 1999 U.S. Open at Pinehurst remain vivid in the minds of those who played a part in that final-round drama. The first Open to be played at the celebrated No. 2 Course evolved into a battle among four of the game's top stars, all with their own back stories:
• Payne Stewart, then 42, a disappointed runner-up at the Olympic Club in San Francisco a year before, was leading by a shot with 18 holes to play and seeking his second National Open championship.
• Phil Mickelson, Stewart's final-round playing partner, had turned 29 the day before the championship. Though winless in majors, Mickelson was adamant that he would make it home to Arizona to be with his wife, Amy, for the birth of their first child, even if it meant leaving with the lead during the final 18. Which, at the Open, is on Father's Day.
• Also lurking near the lead were Tiger Woods, 23, and Vijay Singh, 36, Woods looking for a breakthrough of his own in the Open, and Singh, the reigning PGA champion, looking for his second major victory.
Under unseasonably cool and misty conditions that Sunday, the course played tough but fair. Each of the top-four finishers shot par or better in the final round (Singh's 69 matched the best of the day; Stewart, Mickelson and Woods all shot even-par 70).
Ultimately the Open came down to the final pairing of Stewart and Mickelson, with a Monday playoff looming after Stewart found the rough and a bad lie with his tee shot on the 72nd hole. Acting on a Saturday-night putting tip from his wife, Tracey ("Keep your head still"), Stewart had already made putts of 25 feet for par at the 16th hole and four feet for birdie—and the lead—at the 17th.
After a conservative layup and approach to the 18th, Stewart faced an uphill putt he estimated at 15 feet—the longest ever holed to win an Open outright. It became even more epic four months later after Stewart's death in a plane crash.
Golf Digest talked with dozens of the principals and those on the periphery of that amazing day—and those at the celebration that night that stretched well into Monday—to get recollections of what happened and what might have been.
Chuck Cook, Stewart's swing coach: Tracey told him, "No matter what happens, we love you." Hicksy [caddie Mike Hicks] told him, "Trust your swing. Trust yourself." I told him, "You've done this. You know how to do it. These other players haven't done it." Then I said, "Well, I guess that's it, we're about out of clichés."
Roger Maltbie, NBC on-course commentator: I talked to Payne before the round and was struck by how calm he was. He'd lost a pretty tough one the year before, and you'd have expected him to be a little tighter than he was. That made an impression.
Dick Coop, Stewart's sport psychologist: I was wearing a short-sleeve rain jacket and tried to give it to him, but it didn't fit. Payne never liked much on his forearms when he was playing; the cuffs were tight and he didn't like feeling restricted. I went to try to buy him one like mine, but before I could he had taken a pair of scissors from the teaching center there on the driving range and cut the sleeves off.
Dan Hicks, NBC: We saw that on our monitors, and I remember thinking, Here's a guy who's one of of the most stylish golfers we've ever seen, taking a pair of scissors to his rainsuit because it didn't feel right. This guy is pretty intent on taking care of business today.
Jim (Bones) Mackay, Mickelson's caddie: One of my favorite memories from that day was when the players left the range to go to the first tee they had to walk across the 18th fairway. And those were the biggest bleachers I've ever seen, down the left side of that fairway. When we walked across the 18th, everybody in those bleachers—and there were thousands and thousands of people there already—went nuts, cheering. They knew they weren't going to see those guys again for another 4½ hours, and as fate would have it, they saw quite a finish when we finally got back.
Mike Hicks: Payne was all business that day, really in the zone. I remember on the fifth hole he hit into a sand-filled divot; we had four of those for the week, two on that hole. But he had practiced those shots, so he hit it on the green and two-putted. He just dealt with it. You learn in that tournament not to get surprised at anything that happens.
During the week, a good deal of attention was focused on the fact that Mickelson's wife was expecting the couple's first child any day. Mickelson brought a beeper from Amy, which was kept in his bag and monitored by Mackay. Mickelson repeatedly told a skeptical media, "If that thing goes off, I'm going to high-tail it out of here."
Amy and her doctor gave Mickelson the go-ahead to play in the championship, but Amy kept her condition and her contractions a secret from Phil until it was over. Mickelson flew home Sunday night, and after hours of replaying the final round in his mind, he went with Amy to the hospital Monday morning. Their daughter, Amanda, was born at 6 p.m. Monday in Arizona—only hours after a playoff would have concluded at Pinehurst.
Amy Mickelson: We talked before Phil left for Pinehurst about what we hoped would happen. Phil said, "I'm going to go win the U.S. Open, then we're going to have the baby, and it's going to be the best week of our lives." We also talked about one other scenario, and I said, "What are the chances that you're leading on Saturday night and I go into labor?"
Mackay: Phil let me know early in the week, "If this goes off, I don't care what's going on, where we are, I want you to let me know." That was clear. He would have left in a second. That I can guarantee you.
Amy Mickelson: From the time Phil left for the tournament, things really sped up, and the doctor wanted to see me every day. On Thursday he said, "If you had looked like this before he left, I wouldn't have let Phil go."
Phil's a sweet husband, but he wanted to play if he could. We felt it was a great venue for him, the way Pinehurst set up. Then, basically, Saturday night the one-in-a-million scenario we talked about was almost happening: Phil was one shot out of the lead, and at 6 p.m. I started having contractions. I'm freaking out. My mom and dad took me to the hospital, and I was there until midnight or 1 a.m. The doctor did what he could to slow the contractions and sent me home with a sleeping pill.
Phil Mickelson: I talked to Amy while I was warming up on Sunday, about 30 to 45 minutes before I teed off. She didn't tell me about her condition. Obviously it was a very emotional time for us.
Amy Mickelson: Phil calls me, and I just started crying, because of being in labor and being in stress and not knowing what to do. I just told him, "I love you; it's a big day for you. Go out and do your best and have fun." I laid on the couch watching it on TV, with pillows under my pelvis, taking the medicine. I really thought he was going to win. When it's your husband, you can see when he's comfortable in his own skin.
Mackay: There were people in the gallery who had Phil in the office pool yelling for me to take the battery out of the beeper.
Dan Hicks: There was never so much talk about a beeper in the history of sports. The whole thing takes on a bigger aura when you realize what happened the next day.
Paul Azinger: I almost wish Phil would've gotten the call, just to see what he would have done. Honestly, I think he would have left. I really do...I wonder if he had gotten the call, like on No. 11 [laughs], if he'd have finished out the round.
Scott Van Pelt, former reporter for The Golf Channel, now with ESPN: You'd like to think he would do the right thing. But who's to say what the right thing in that instance would be?
Maltbie: There's a part of me that says Amy wouldn't have called if he's leading the Open with five holes to go. But we'll never know.
Earlier in the final round, John Daly, frustrated by Pinehurst's sloping greens, made an 11 on the par-4 eighth by whacking his ball as it rolled back to him. Daly finished with an 83, the day's high round.
Tom Meeks, USGA senior director of rules and competitions: I'm still not sure we got his score right. He did so damn many things wrong there, it was hard to add them all up.
With play bogging down in the final groups, Woods and Tim Herron had been told to speed up on the eighth hole, and they did. Meeks, the USGA's lead rules official, later approached Stewart and Mickelson on the 12th. Meeks had had an unpleasant such encounter with Stewart the year before at Olympic.
Meeks: It doesn't matter if it's the last group in the U.S. Open. As I recall, the problem that day was not Payne. It was Mickelson who was lagging back a little. But you're telling the group. They started walking faster.
Mike Hicks: Payne was clearly not rattled. I don't think he even acknowledged that he was playing slow. He got the bad time in '98 because he was trying to figure out what to do from that sand-filled divot and because Tom Lehman was practice-putting in between holes.
Tiger Woods: We were grinding so hard—the golf course was so hard—that we kept putting ourselves in places where it was just hard to get a feel for your shot. You had so much stuff in front of you that you had to take your time to figure it all out. Where to miss it? If I miss it, how hard to hit it? Where am I going to land it? What kind of spin am I going to put on it? We ended up getting about a hole or a hole and a half behind.
Woods holed a long, curling putt on the 14th to move within two shots of the lead. Mark Rolfing, NBC's on-course reporter with Woods: Tiger had been frustrated, hitting a lot of good shots but not holing putts. That putt on 14 was the first time he really got his crowd energized. It made the last few holes tremendously exciting. At that point everybody was thinking Tiger could still win.
Steve Stricker, paired with Singh: I thought I was playing with the winner again. At that point in my career it seemed I was playing with a lot of winners: I was with Janzen at the Olympic Club in 1998 and with Singh later that year at Sahalee in the PGA. I thought, Here we go again.
Vijay Singh: The bogey I made at the 16th hole really cost me the tournament. If I didn't make that bogey, I probably would have been in a playoff with Payne.
HEADING TOWARD A BIG FINISH
After holing a 15-foot, right-to-left putt for birdie on the 13th hole, Stewart missed an eight-footer to bogey the 15th and drop one stroke behind Mickelson, whose 30-footer for birdie caught part of the hole but didn't drop.
Mike Hicks: That missed putt didn't hurt Payne's confidence at all. He came over to me after that and said, "That was the best putt I hit all week. I just misread it; it broke more than I thought it would."
The 489-yard 16th was then the longest par 4 in U.S. Open history, and it played into the wind on Sunday. It would be a pivotal hole for every contender.
Gary Koch, NBC: I remember a stat at some point that players were hitting that green in regulation only 15 percent of the time.
As Mickelson addressed his tee shot on the 16th, a roar erupted from the green and caused him to back off. Woods had made a 15-foot birdie putt, getting within a stroke of the lead, and punctuated it with an emphatic fist pump.
Rolfing: I'm sure they heard it, and I'm sure everybody knew what was happening. Back then, a Tiger roar was different from any other roar. That's not so much the case now, five to six years later. Today, a Phil Mickelson roar is pretty big, too.
Koch: Payne didn't hit that good a drive. It was in the fairway, but quite a ways back. Then Payne did not hit a very good second shot, a 1- or 2-iron, and it bounced out of a cross bunker about 40 yards out. If he'd gone in the bunker, he really would have had problems.
Mike Hicks: It was an awful second shot, a thin pull with a 2-iron that I think clipped a tree limb.
Koch: Kind of typical of the way Mickelson played back then, Phil hit way too aggressive a second shot. The pin was front-right, and he missed short and right to where he didn't have much green to work with, and he was in thick, gnarly Bermuda rough. To me, after watching Stewart come up short of the green, he should have been thinking, Put the ball in the middle of the green, or maybe a little bit left. If I make par, maybe I pick up another stroke.
Coop: Payne's chip shot in there at 16 [25 feet past the hole] was probably the worst shot he hit all day. He almost sculled it, real hot running past the hole. ["For some reason," Stewart said after the round, "I felt like I had to chip that ball in."]
Phil Mickelson: I was concerned about what Tiger was doing at 17 as we were playing 16. After Payne chipped by the hole I was able to see what Tiger was doing, because that green was so close. But he didn't birdie 17.
Woods: I figured if I could par the last two holes, I'd post a number and I just might win. And what do I do but bogey 17 [missing a five-footer].
Facing the slick, downhill par putt from 25 feet at 16, Stewart smoothly rolled it in and reacted almost nonchalantly as he strode across the green and took the ball out of the hole.
Mackay: That was one of the most amazing putts I've ever seen. You can't describe how tough it was and do it justice. It broke at least two ways, and I remember thinking, Gosh, this is a tough read. Never mind getting the speed right. And the thing went in like it was going in a thimble. Amazing.
Koch: I remember other guys' putts from a similar part of the green earlier that day, and very few players had read it correctly. They just didn't see the break the way Payne did.
Mike Hicks: You can't read that putt, much less make it, and I didn't read any putts for Payne all week. I remember thinking, Let's just two-putt; don't give two back here.
Coop: A lot of times under pressure one bad shot begets another, but Payne let it go after that poor chip. After he holed that putt he stayed calm, kept his gum working and just raised one finger. He didn't fist pump or anything. Sometimes you can get too high or too low in those stressful situations, but you can't let your mind race away from you under pressure, and he didn't.
Mike Hicks: I wanted to jump through my skin when he made that putt, but you can't do that. Payne never showed any emotion after the bad chip or after making the putt. And as a caddie, you have to stay as close to your player's emotional state as possible.
After Stewart made his putt and Mickelson missed his eight-footer for par, leaving it just outside the hole, the two were tied with two holes to play.
Mike Hicks: With all due respect to Phil, when somebody does something like that to you, making a big putt, the hole does this [holds thumb and forefinger to form a tiny circle]. It shrinks on you. You don't expect a guy to make that putt. You're actually thinking, He's probably going to three-putt. Payne's putt on 16 won the tournament. That flip-flopped the momentum. A lot of things change if he doesn't make that. Phil probably holes his, and now he's two ahead with two to play. Who knows if Payne hits the shot he did at 17 if he'd missed the putt at 16?
Stewart had the honor on 17, and he stiffed his 6-iron to four feet. Mickelson followed with a 7-iron just outside Stewart.
Mackay: After Phil's ball hit the green, I just remember everyone in the stands leaped to their feet. Everyone was like, Wow, this is a heckuva tournament.
Mickelson missed his putt, and when Stewart calmly rolled his in, he led by one.
Coop: I asked Payne later when he felt secure. He told me he heard Bones and Phil reading that putt on 17, and in his mind they were reading it wrong, from his read in practice rounds. They over-read the break.
Mike Hicks: Phil pulled that one and the one at 16. Back then, especially under the gun, he sort of struggled with it. He has a much more solid stroke now. Payne's putt was basically a gimme, 3½ or 4 feet at the most. He hadn't missed one that length all week, and you didn't expect him to miss that one, either. He didn't.
As Woods was playing 18 the bells in a nearby Pinehurst church began to ring.
Rolfing: Dick Enberg alluded to the chimes in the distance. I said, "And they're playing 'Angels We Have Heard on High.' I'm not sure how I knew what song it was. I look back on that now, to think that's what was playing, seems amazing.
Tim Herron, paired with Woods: The flashes [from cameras] going off were unbelievable coming in the last few holes, especially on 18. It was wet and kinda dreary, and those flashes just lit up the sky. People didn't know if Tiger was going to win or what was going to unfold. It was kinda cool.
Woods' 35-foot birdie putt at 18, which would have given him the lead in the clubhouse at even par, just missed, and he bent over in agony.
Rolfing: That was one of the greatest putts I've ever seen that didn't go in. It defied gravity not to.
Van Pelt: After he missed, Tiger was leaning on his putter, like hara-kiri. If it had been a sword, he would have died on it.
Woods: Put it this way, Payne making that putt at 18 made me feel a lot better, because then I lost by two. If he had made bogey on 18 and I'd lost by one to both Phil and Payne and been out of that playoff, I would have been some kind of hot.
Stewart, with a one-stroke lead, missed the 72nd fairway right, into a bad lie in wet rough. Mickelson hit the fairway.
Mike Hicks: There was no discussion about going for the green, because it was the worst lie he'd had all week. He just asked how far he had to the cross traps and hit an 8-iron.
Mackay: The green was sloped pretty severely, back to front, with the pin three-quarters of the way back. The thing that was tough was, it had been misting, and at that point the greens were getting soft compared to what they had been early in the week. Phil's 8-iron spun back a bit, and he ended up having 30 to 35 feet for 3.
Maltbie: Payne played to his strengths, just hacked it up in the fairway to 100 yards or so. You wouldn't call his third a great wedge shot, so you're thinking playoff: Here we come tomorrow.
Mackay: As Payne proved five minutes or so later, anything short of the hole, you were putting uphill and you could really take a swing at it. You were going to have a putt you could be aggressive with.
Maltbie: Phil hit a very good putt; at the end it started breaking hard left around the hole. It didn't miss by much. I was behind left of the green as Payne was over his putt, and Tracey Stewart was standing right next to me. It was the first time I'd seen her all day. I gave her a little wink to say, "Good luck."
Following a superstition, Tracey Stewart had been watching the final round at the home she and Payne were sharing less than a mile from the course. She arrived after Stewart birdied the 17th.
Tracey Stewart: The day Payne won the PGA [in 1989], I went in after nine holes to watch on TV. He shot 31 on the back nine and won the tournament. After that I just sort of felt he putted better when I wasn't out there. It was probably just superstition, but he always told me he knew exactly where I was when I was out there, that he would always find me. I would tell him, "You shouldn't be looking for me, you should be focused on your golf." If I was watching on TV, I didn't have to worry about him getting distracted at all. At Pinehurst I was standing next to a very tall USGA official. He told me that Payne had to lay up. I saw where his third shot stopped, but once they took the flag out I couldn't see the hole from where I was.
Mike Hicks: After Phil's miss we don't have to make the putt to get into a playoff, so there's a certain relief. I had organized an outing with Payne, Paul Azinger, Freddy Couples and Hal Sutton for the next day in my hometown of Mebane [benefiting North Carolina Children's Hospital]. Putting together something like that you're always worried something's going to go wrong. When Payne was over that putt at 18, I started thinking, If he misses this putt, who are we going to get for tomorrow? I'm going to have to call Neal Lancaster to fill in. I cleaned Payne's ball, handed it to him and said, "Knock it in." To be honest, I didn't think he was going to make it.
Billy Mayfair: I'd never been out there when the last group came up in the U.S. Open. I was pretty proud of how I'd finished [tied for 10th] and would have loved to have been out there myself. I told my wife, "C'mon, we may never get to see this again." Obviously I'm good friends with Phil, but to be out there for the finish and see the whole atmosphere was a tremendous thrill—the crowd, the noise, the feeling in the air. It was like walking into a football stadium with the crowd going crazy.
Woods: When Payne made that putt, I was down behind the back of the green, standing right there.
Singh: I think to win a U.S. Open you have to play half-decent, but you have to putt like God...That finish was incredible. I was so happy for Payne, because the year before, he deserved to win that one.
Mackay: The thing I remember about 18 green is Hicksy asking me about the dots. They put a little white dot on the green where the hole's going to be for the following day's play. I had noticed a couple of them during the day—they were on there for a Monday playoff—but there were a lot of things going on that day, so I didn't see all of them. As Payne's standing over his 15-footer, just five seconds before he putted, Hicksy asks me, "Hey, did you see the dots?" As I was thinking about that, the next thing I know, Hicksy is running across the green jumping into Payne's arms.
When Stewart's final putt went in, he gave it a full-throttle fist pump, then embraced a leaping Hicks. A tearful Stewart cradled Mickelson's face in his hands and consoled his competitor: "You're going to be a father, and there's nothing greater in the world. You and Amy are going to make wonderful parents."
Phil Mickelson: What was impressive was, so shortly after holing the winning putt, just seconds after his moment of glory, Payne was thinking of my situation. That was pretty classy.
IF THERE HAD BEEN A PLAYOFF...
Meeks: It's one of those hypotheticals where we'll never know what would have happened. I'm glad the USGA didn't have to make a decision [if Mickelson had left to be with Amy]. I have my own thoughts. I would have said—and I think Payne would have said—"You're not going to give me the U.S. Open because he can't play tomorrow." I'm telling you, Payne would have refused the championship and said, "We'll come back." The only fair thing to do under those circumstances would have been to come back at an agreed-to date.
Amy Mickelson: Phil would not have been able to make the playoff. Amanda was coming Monday. I just barely pushed. Azinger: If there had been a playoff and Phil would have left, I don't think Payne Stewart would have ever gotten any credit for winning that championship. It would have been tragic. It would've de-legitimized Payne's victory, similar to what Bob Goalby had to endure for Roberto De Vicenzo signing an incorrect scorecard in the [1968] Masters.
Ron Read, USGA official: Payne asked me at one point, "Can you get champagne for the press tent?" I found out there were, what, 1,300 accredited media? So I found a manager at the resort, and I'm asking him, on the spur of moment, to come up with 200 bottles of champagne. He told me, "Sorry, but there's no way."
Meeks: I went down and stood outside the door to the scoring room. Payne's wife was waiting there, too. When Payne came out he saw me and grabbed me and took me through that little tunnel that led back into the locker room. He took me beyond those doors and said, "You set up one helluva golf course." It's probably the supreme compliment of my work over the almost 30 years I've been with the USGA. That meant a lot to me. I thought to myself, I don't really care what happens the rest of my career. This was the high point.
Van Pelt: I saw Payne before he did our Sunday interview [after the round]. I remember telling him we were cheering his last putt the year before at the Olympic Club. Had he made that putt, there would have been a playoff. So when he missed, we cheered. And then at Pinehurst when he made it there wasn't a playoff, so we cheered again. I explained that we weren't cheering against him and we weren't rooting for him—we just didn't want a playoff, because in the media we're selfish bastards, and we didn't want to stay another day.
Amy Mickelson: What an exclamation point that was on Payne's career and his legacy as a person. Although that was probably Phil's most devastating major loss at the time, it was replaced by one of the most spiritual moments of our lives to that point. We checked into the hospital the next day under an assumed name. We were in our own little world, and no one could get ahold of us. We had three days of pure joy after the baby was born. We didn't talk about the U.S. Open once. Not until we got out of the hospital did we realize how the golf world reacted.
Jimmy Roberts, former ESPN reporter, now with NBC: I remember getting ready to do the Sunday conversation. For 10 minutes or so you're adjusting lights, and we're just sitting there talking. Payne was worn out, and it might have been his first chance to take a deep breath. He talked about how he felt bad about the type of person he had been. He could be a little prickly, as you know. But he had kind of seen the light. He needed to have a bad stretch to become a much better person. We talked about the peaks and valleys of life and needing to experience a valley to understand more about yourself. I thought to myself, What an incredibly cool and aware thing that was. We don't often in life get that opportunity. He just seemed like a more generous and gentle man.
Craig Smith, USGA media official: Payne had done all his interviews, probably more than he could stand. I remember there was this woman from Fox News. She was new, and we hadn't set up anything beforehand, but she hung around, waiting. It was two hours after he'd done all his press stuff, and he saw her with this little puppy-dog look and summoned her over, "Come here. What do you need?" He took it upon himself to give her an interview.
Mike Hicks: We finished up at the course around 10 p.m. and dropped off Tracey at the Pinehurst airport. My next-door neighbor in Mebane is a state patrolman named Bobby Culler. He walked with us on the weekend. Bobby followed us as a police escort while we drove to my house that night. Payne and I were in my van, and a friend of mine who's a teaching pro in Dallas was driving. It's an hour-and-a-half to where I live, and Payne was trying to get reception on his cell phone, but it wasn't working very well.
We stopped in Siler City, about 35 to 40 miles from my house and the home of Aunt Bee [Frances Bavier] from "The Andy Griffith Show." Payne wanted a beverage, so we walked into a convenience store. Payne was wearing his psychedelic T-shirt and jeans, and he had put that "Sun-In" in his hair a few weeks before, turned his hair all blonde. Payne throws a 12-pack of beer on the counter, and my buddy Bobby Culler is there in his state-patrol uniform. He says to the girl behind the counter, "Aren't you going to card him?" She says, "No, he looks old enough to buy beer." Bobby says, "Ma'am, this guy just committed the biggest robbery in the history of this state!" I guess you had to be there. We sucked down several of those beers on the way to Mebane. I don't know how many were left when we got there, but there weren't many.
Cook: I finally reached Payne that night on his cell and said, "Well, I bet you're drinking champagne." He said, "No, I'm in the back of a van with a 12-pack of Bud Light."
Mike Hicks: We finally got to my house around midnight, and Payne talked to some big people that night. Everybody and their brother was trying to get in touch with him. I think he talked to President Clinton and Tim Finchem. When we got to my house, we had a few friends there, family, maybe a dozen people. We drank a little bit of everything out of that trophy that night. What a night. Champagne went first, then we mixed up some vodka and orange juice or something. A couple of friends brought some moonshine over. That came last. That moonshine really wakes you up, believe me. That's probably why we stayed up most of the evening.
At 4:30 a.m. I was sitting on my counter in my kitchen. Payne's sitting at my table, bobbing and weaving [Hicks imitates Stewart nodding off]. I said, "Payner, it's time to go to bed." He said, "You're not going to bed until I tell you to go to bed!" I hopped off the counter and made it up to bed. I guess the next time he put his head up and saw I was gone, he went up, too. I got him up the next day at 9, and he looked like he'd slept 12 hours. He was ready to go.
Azinger: I wish someone had videotaped that outing. It was fantastic. I needled him to death. It was hysterical, some of the stuff that was going on. Nobody will ever get to see it or enjoy it except that group of people who were there that day.
Mike Hicks: Payne one-putted the first three holes with his eyes closed. Just messing around; just being Payne. It was similar to Sunday, cool and overcast, which was a blessing. Let me tell you, if it had been like it should be that time of year—hot and humid—this guy would have been dying. So would a few of us.
Winning caddies traditionally get the flagstick from the 18th hole. Hicks regrets not having Stewart add an extra note to the Pinehurst flag, as he had done after their PGA victory in 1989 and the U.S. Open championship in 1991.
Hicks: I just had him put his John Hancock on the Pinehurst one. You're not thinking; nobody knew [of the plane crash to come four months later]. God knew, but he was the only one.
Coop: When we dedicated that life-size statue of Payne at Pinehurst a few years ago, his family was there, and they cut the cup on 18 in pretty much the same spot as it was in 1999. Aaron [Stewart's son] went out there, and Hicksy dropped the ball in about the same spot he thought Payne was on Sunday. Aaron took about 20 putts without holing any. You know how kids are, not always or initially recognizing all that their parents have done. Aaron admitted, "This is harder than I thought."
Maltbie: I had a long talk with Payne at the Ryder Cup that year, in the players' dining area with Tracey. You could just tell talking to him and looking at him, he had kind of gotten his life figured out. He'd gotten it right. Whatever those demons were—not closing out tournaments, or having doubts about himself—they were all gone. Whatever Payne Stewart was going to be in his life, he got there.
Peter McCleery is a contributing editor for Golf Digest magazine.