The Loop
Paulina Gretzky's Vegas birthday bash, Brandel Chamblee gets married, and golf's fittest couple
Welcome to another edition of The Grind, where we've got more New Year's resolutions than ever this January: No more freaking out anytime Tiger Woods does anything (OK, easier said than done). No more getting jealous anytime someone else makes a hole-in-one (Again, easier said than done). And no more photos of WAGs. OK, so that's impossible.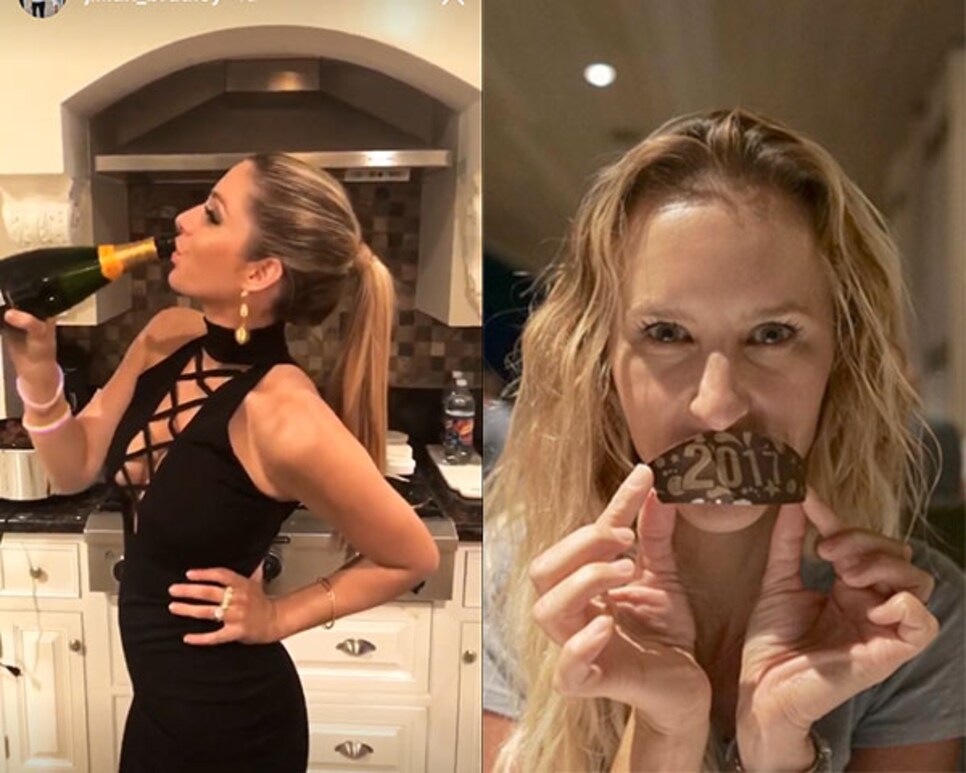 Anyway, Happy New Year, everyone! And happy Year No. 5 of The Grind! Let's make it a good one. And let's start by catching up on all that's been happening over the holidays.
Nike: For a company that got out of the golf equipment business, it's certainly found a way to stay in golf headlines. First, longtime golden goose Tiger Woods returned at the Hero World Challenge, and now, Nike has inked Woods' protégé, Jason Day, to an apparel deal. Oh yeah, and Rory McIlroy still wears the Swoosh. Speaking of him. . .
Rory's equipment moves: As first reported by No Laying Up, McIlroy is switching to Callaway woods and irons, a Titleist ProV1x golf ball, and an Odyssey putter. This, just weeks after everyone went gaga over his switch to a TaylorMade driver. Truth be told, we'd buy Rory using any equipment made this century. We're really just buying Rory. He's going to have a monster year. Book it.
Brandel and Bailey: Golf Channel couple Brandel Chamblee and Bailey Mosier tied the knot over the weekend. The occasion even caused Chamblee to show off a softer, gentler side on Twitter.
Demetrius Harris: Dontari Poe got all the attention for becoming the heaviest player (345 pounds) to throw a TD pass in the NFL, but how about the tight end he threw to on Christmas. No, it wasn't the toughest catch, but check out Harris' Tiger Woods-inspired celebration:
With the playoffs starting this week, let's go, Chiefs! (Especially if they play the Patriots.)
Seniors wielding golf clubs as weapons: Look, we feel for 83-year-old Linsey Owens. He thought he won a scratch-off prize only to be told he had to buy a CAR to redeem it. But we don't condone him going after two dealership employees with his car and a golf club:
Read the fine print before you get all excited next time, dude.
And. . . that's all for the negatives. We want to start off 2017 with positive vibes so "Mac Daddy Santa" and others are off the hook.
And just like that, the PGA Tour returns with the SBS Tournament of Champions in Kapalua! Did you miss it? Actually, we kind of did. Is that wrong?
Random tournament fact: There are more players ranked higher than 100 in the OWGR (nine) than there are players ranked inside the top 20 (eight) in this week's field. Yep, there were a lot of surprise winners in 2016.
RANDOM PROP BETS OF THE WEEK
-- Tiger Woods attended Brandel Chamblee's wedding: 1 MILLION-to-1 odds
-- Rory McIlroy will end 2017 at No. 1 in the Official World Golf Ranking: 2-to-1 odds (Actual odds)
-- Rory will end 2017 at No. 1 again in the unofficial fun-to-watch ranking: LOCK
Astronaut Shane Kimbrough shared a cool look at Pebble Beach and Cypress Point:
And the award for fittest golf couple goes to. . .
Camilo Villegas and Maria Ochoa are two people who do NOT need to make going to the gym more a New Year's resolution.
This came late in the year, but it wound up being one of the best of 2016. Assuming this guy survived this epic fail. . .
And speaking of the viral videos of the year, check out our Top 25 ranking. You'll laugh. You'll cry. And you'll probably want to watch a few of them over.
VIRAL VIDEO OF THE WEEK (TRICK SHOT DIVISION)
Trick shot artists elevated things to a whole other level in 2016. Both figuratively and literally. Check this out:
What will they think of next?
"I might just rotate them. White one day, pink the next." -- Bubba Watson on his new Volvik golf balls. Bubba gonna Bubba.
THIS WEEK IN PAIGE SPIRANAC BEING PAIGE SPIRANAC
It looks like Paige did pretty well for herself on Christmas:
And she got her 2017 off to a great start:
THIS WEEK IN DUSTIN JOHNSON-PAULINA GRETZKY PUBLIC DISPLAYS OF AFFECTION
Paulina Gretzky celebrated her 28th birthday at Drai's in Las Vegas. And the beachclub/nightclub welcomed her with these images from her 2014 Golf Digest cover shoot.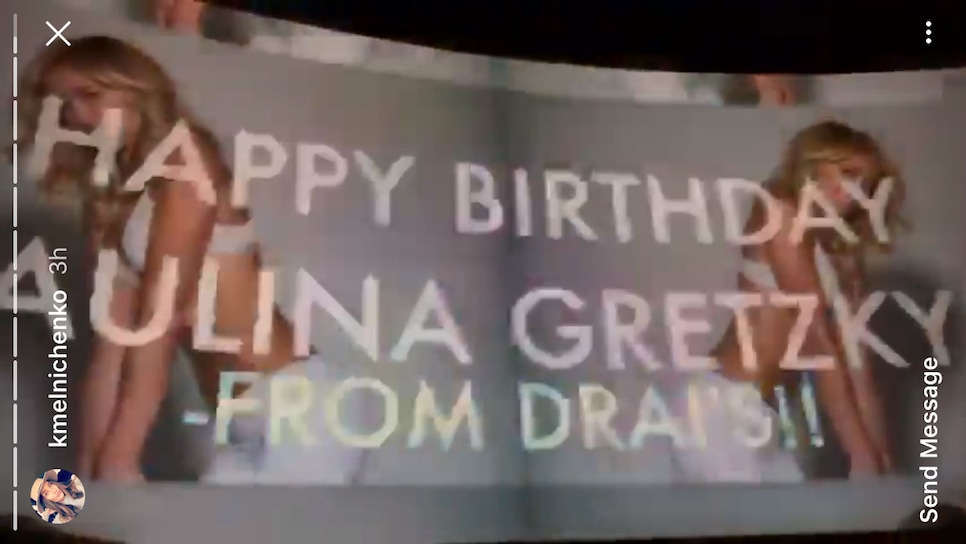 It also looks like it was a fun interesting party: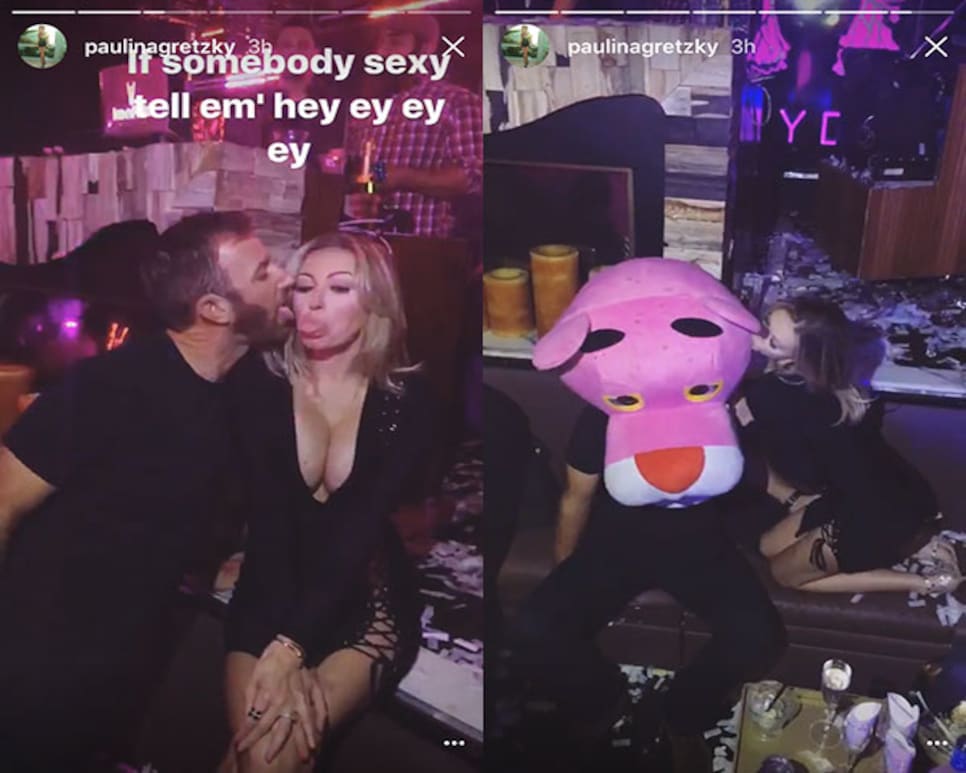 Rickie Fowler also celebrated his 28th birthday. Among his guests were the Ryder Cup and. . . Cindy Crawford?
It's good to be Rickie Fowler. . . . Andrew "Beef" Johnston might team up with John Daly in a "Birdie, beer and beef triathlon" after being challenged by Steven Bowditch and Boo Weekley. TV networks should be fighting over the rights to this. . . . And how about this commercial I came across while watching TV?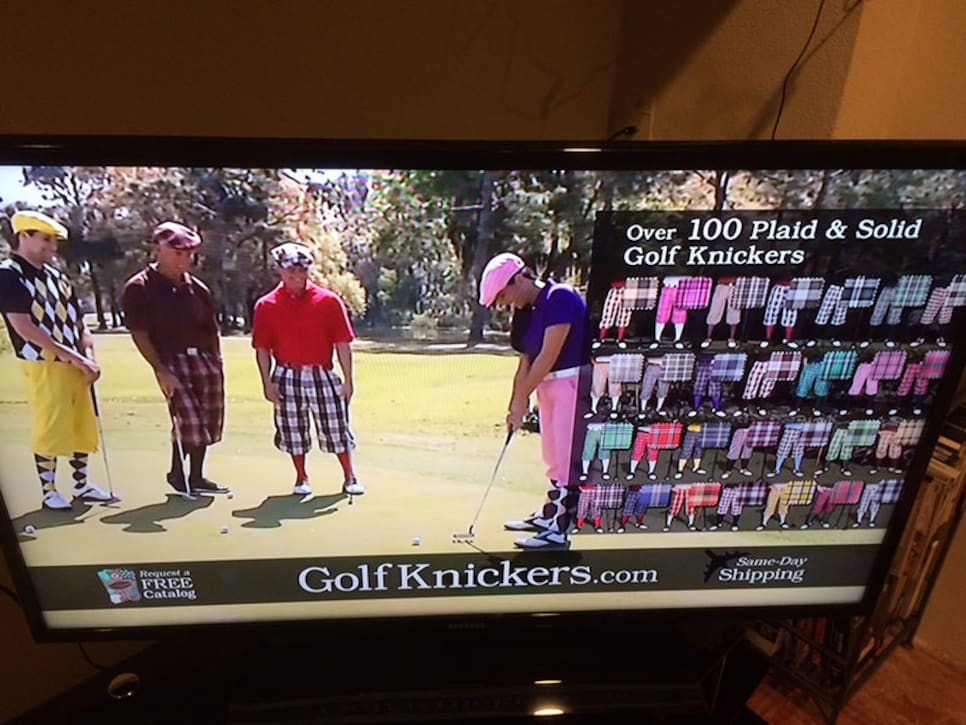 It can't be a coincidence this aired during ESPN's "Highly Questionable," right? . . . In more useful Christmas purchases, I got a shirt for 21 CENTS (Is there an Official World Shopping Ranking?), and I received a snow blower as a gift. Now I just need some snow. C'mon, Mother Nature!
RANDOM QUESTIONS TO PONDER
Who will win the 2017 PGA Tour Player of the Year?
What happened to all those Nike golf balls Rory was hoarding?
How much am I going to regret making that snow joke?