News
Paul Broadhurst thought he would miss the cut, instead wins the Senior PGA Championship by four shots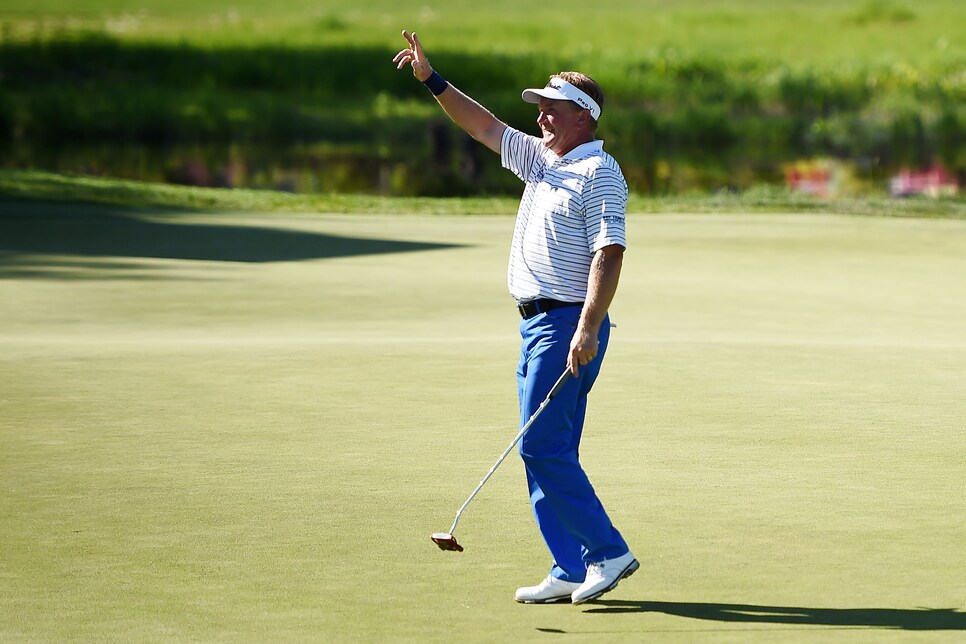 Paul Broadhurst was certain on Thursday that he was not holding the winning lottery ticket and was preparing to leave town on Saturday morning, a missed cut on his ledger. But then the numbers started to match up.
A 66 on Friday, a 64 on Saturday and then on Sunday, the capstone to a remarkable weekend, a flawless eight-under par 63 that won him the KitchenAid Senior PGA Championship at the Golf Club at Harbor Shores in Benton Harbor, Mich.
"I generally felt I was going to miss the cut on Friday," the 52-year-old Brit said. "I called my travel agent and said 'just check the flights on Saturday,' having shot one-over [on Thursday]. To shoot 19-under last three rounds was pretty special."
It was his fourth PGA Tour Champions victory and second in a major championship. Two years ago, he won the Senior British Open at Carnoustie.
Broadhurst said then that he had never considered himself "one of the real top, top players. So, for someone like me to come along and win a senior major was really special."
Humility is an endearing quality, more so when those sincerely possessing it havea reason not to. This was Broadhurst, who in 1990 shot 63 in the British Open on the Old Course at St. Andrews, to tie what then was the record for lowest score in a major. He won six times on the European Tour, was inside the top 50 in the World Ranking. He may not have been a superstar, but neither was he a journeyman.
Hence his extraordinary Sunday, when he hit 13 of 13 fairways and 17 of 18 greens in regulation. It was a superb ball-striking round on which he applied an exclamation point with his putter, riding it to a four-stroke victory over Tim Petrovic, a co-leader, along with Scott McCarron, heading into the final round. Petrovic shot a two-under 69, McCarron a one-under 70.
"No idea, to be perfectly honest," he said when asked about his putting. "I holed some bombs today, I really did. That's unusual for me this season. I've struggled on the greens. I've been working hard on the putting. I made some great 30 footers today, probably three or four, and to finish it off in style at 18 was really special."
He holed a 40-foot birdie putt at 18 to close it out. The turning point, however, was likely the putt he holed at 14 after an indifferent approach left him an exceedingly fast downhill chip that rolled 30 feet past the hole.
"To hole a 25, 30-footer there for par was massive," he said.
Broadhurst virtually assured his victory, increasing his lead to three, by making a 20-foot birdie putt at 17, while Petrovic was making bogey.
"The key was putting, especially today," he said. "I putted lovely. I didn't miss too much."
It was his second victory of the season; he teamed with Kirk Triplett to win the Bass Pro Shops Legends of Golf at Big Cedar Lodge.
But it also isn't likely the last we'll hear from him this year. The Senior British Open is being played on the Old Course at St. Andrews, "my favorite place to play golf," he said recently.