Chevron Championship
Patty Tavatanakit embraces Patty 2.0 in bid to erase a dismal 2022 and to possibly to win the Chevron Championship for a second time in three years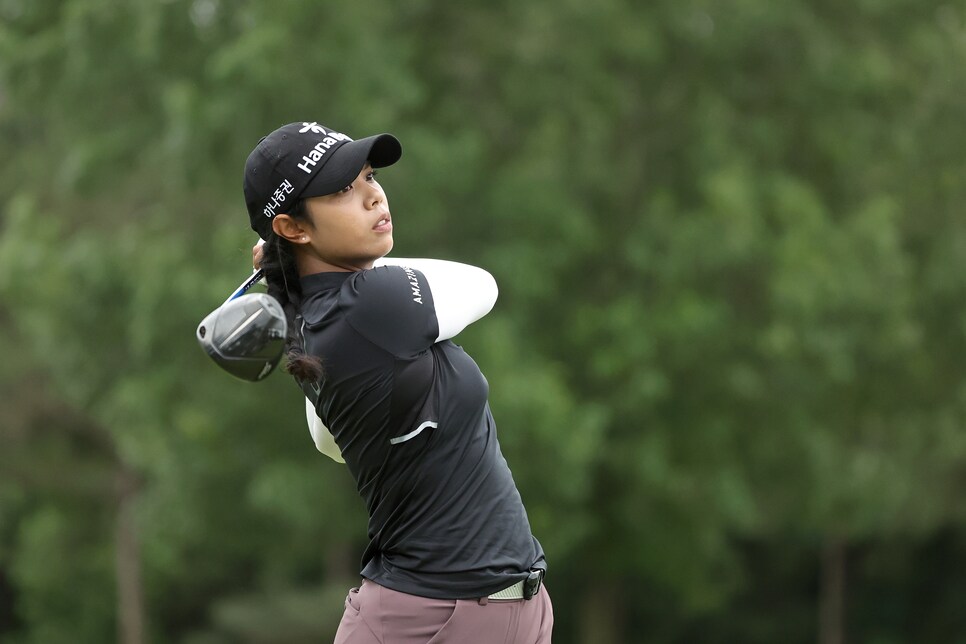 THE WOODLANDS, Texas — A halfway-across-the-country move couldn't stop Patty Tavatanakit, 24, from taking her resident position near the top of the leader board at the Chevron Championship. A five-under 67 Friday moved her to six-under par for the major, putting the 2021 winner of the event a stroke off Lilia Vu's morning wave lead. Alongside Tavatanakit's T-4 last season, her success foreshadowed the Thai star contending again at Carlton Woods.

Yet Tavatanakit's consistency at the Chevron hides the most challenging 12 months of her LPGA career, as she's posted only one top 10 since nearly defending her title in Rancho Mirage, Calif., last season.

"Mentally on the course, off-the-course bleed-in, just stuff like that," Tavatanakit said. "But I've learned, and I've grown so much over the past, I'd say two years, which is good. I'd say I'm so much stronger than what I was a year ago, too."
RELATED: Lilia Vu's newfound comfort level pays off on a difficult first two days as she sets an early pace

Following Tavatanakit's strong showing at the Dinah Shore course's swan song last April, the Thai's game found a Mojave Desert-level drought. She missed eight cuts and posted no top 10s over the rest of the season. The pain poured itself out as Tavatanakit cried through an interview following a second-round 66 at the Trust Scottish Golf Women's Open last July to make her first weekend in five events.

"Just so much in life right now, and I feel like being able to do that today, these conditions, this is my job, it's my career, like doing it (through tears) I don't know what I did out there, it was pretty amazing to come back," Tavatanakit said. "I didn't feel like I was going to do that this morning. But you know, it's in me, and I found it today."

The low moments of the last year forced Tavatanakit to reconcile who she was as a person. She explained her core values of being the best version of herself, refusing to let golf be her only identity, and finding ways to be kinder to herself. Recognizing her pillars of who she is allowed Tavatanakit to evolve into a self-proclaimed Patty 2.0, a name she shared following a T-3 finish at the DIO Implant open. It was her first top 10 since last year's Chevron.

Tavatanakit's metamorphosis is one that numerous top players have also gone through.

"We've seen many players in this position, and it's easy to get lost for a while, both with the golf and everything gets over-focused on rankings and outcomes," Pia Nilsson and Lynn Marriot of Vision54, Tavatanakit's mental coaches since 2019, said over voice memo. "And it's easy to forget the process, what got you there, and just learning how to deal with everything and still finding who you are and not just who you are as a player."

Deciding it's a new version of herself competing gave Tavatanakit the grace to reflect and acknowledge her journey over the last two seasons, from the vast peak of becoming a major champion to the bottom of hoping to make a cut once again. It let Tavatanakit, following a five-under opening nine Friday, take in stride her two bogeys on the 10th and 14th. She then closed her second round with birdies on the last two holes.

Now, Tavatakanit enters a weekend not merely thankful to play but calmly attacking Carlton Woods shot-by-shot, with a chance to become the eighth multiple-time champion of the major.

"The struggles I've been through, I feel like that made me so much stronger that I don't panic over a bad shot, and just kind of accepting and just move on and play the next shot," Tavatanakit said.