Chevron Championship
Lilia Vu's newfound comfort level pays off on a difficult first two days as she sets an early pace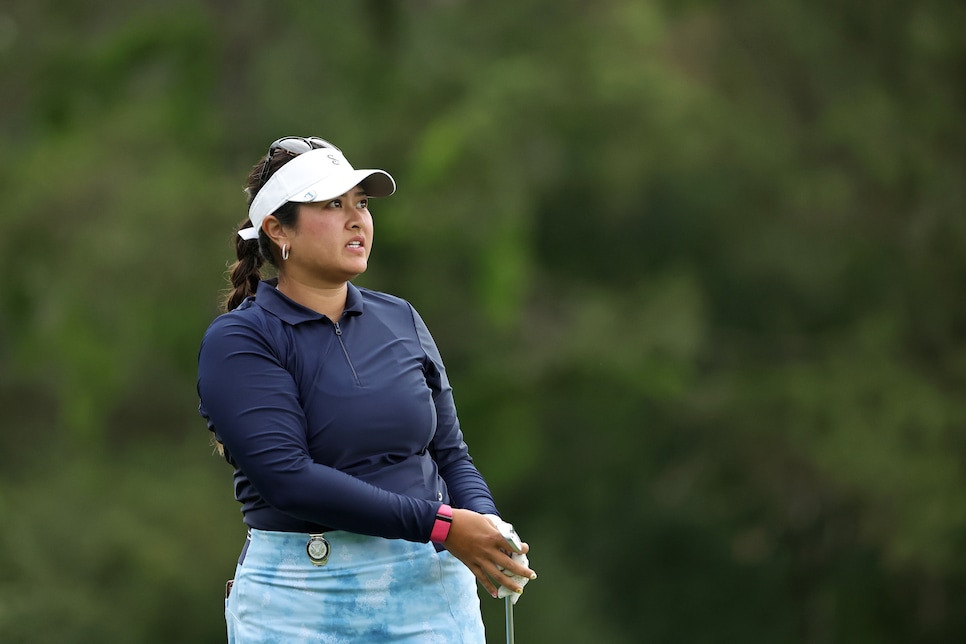 THE WOODLANDS, Texas — Lilia Vu's Friday at the Chevron Championship symbolized her approach to playing in contention on the LPGA Tour since the end of 2022. Vu, 25, got four hours of sleep as thunder and lightning raged overnight. A two-hour rain delay followed suit in the morning.
Instead of reacting to the challenging Texas climate, the seemingly unflappable Vu marched to an up-and-down three under 69. It brought the Fountain Valley, Calif., native to seven-under par for the championship, setting the pace as the 36-hole clubhouse leader at Carlton Woods.
"I just wanted to win so badly towards the end of last season and put too much pressure on myself, and now I'm just allowing whatever to happen happen and try and have fun out there," Vu said.
The 2023 Honda LPGA Thailand's slow boil from struggling to make cuts to a consistent force on the LPGA, staring at an opportunity for her fifth straight top-15 finish to open the year, began over the COVID-19 pandemic.
Within the isolation, Vu turned to multiple self-help and personal development books following her dispiriting rookie LPGA season. She made one lone cut over nine starts. Vu didn't retain her card and went to the Epson Tour, where 2020 provided similar struggles. She made three cuts over seven starts on the developmental circuit, with a best finish of T-29.
Then, in 2021, seemingly out of nowhere, Vu broke through, going from clawing to playing on the weekend to winning three times to regain her LPGA card.
Beth Wu played on the Epson in 2021 alongside Vu and traveled with her throughout the season. She watched Vu continue reading her books and felt in awe of the surge in growth of her best friend. She never doubted Vu's talent.
"I feel like if she finds something, she will hold onto it, and she will consistently do it because she knows that it's successful," Wu said over voice memo.
Vu held onto her routines with returning to the tour in 2022. She posted the first top 10 of her career, a T-8, the week before last year's Chevron Championship at the JTBC Classic. Unfortunately, an opportunity to punctuate her return to the tour ended up in the first missed cut of the season for Vu.
Her self-assurance, lacking in her previous LPGA stint, was apparent in her reaction to missing the weekend.
"I don't really take to heart a missed cut because I know that I'm pretty good and pretty solid," Vu said. "I was pretty excited to come back out here and just try and do better than I did last year."
Her season evolved from simmering to full heat following the final major of 2022 at the AIG Women's Open. Over her last 13 starts from the CP Women's Open in late August of last year to the DIO Implant Open this season, Vu finished outside the top 20 once. Even that finish was solid, a T-30 at the CME Group Championship in November. She's posted her first LPGA victory and four top 10s over the stellar stretch. While Wu, now an assistant coach on the University of Florida women's golf team, doesn't catch as much of Vu's rounds as she used to, she's unsurprised at her success.
"Once she gets in a groove, it's almost like it magnifies once she's found it," Wu said.
"And honestly, based on when I've been talking to her, the confidence is just there. The way she holds herself and everything, it's there. She's extremely confident."
Vu's conviction carried over to the bounce-back nature of her second round Friday. After a clean four-under front side, she followed a carded two birdies and three bogeys on the back. Vu closed with a four on the par 5 18th, her 11th birdie of the week. After the round, Vu reassured herself that Carlton Woods is challenging the entire field.
It's the latest thing she's holding onto that's put her in a position to contend for her first major title.
"I try to remind myself that it's a really tough week," Vu said. "Everybody is going to make mistakes. It's just how I come back from it, and then just try and make birdie the next hole and just let it go."