College Golf
How do you carry on when your biggest fan is gone? Oklahoma's Patrick Welch is searching for the answer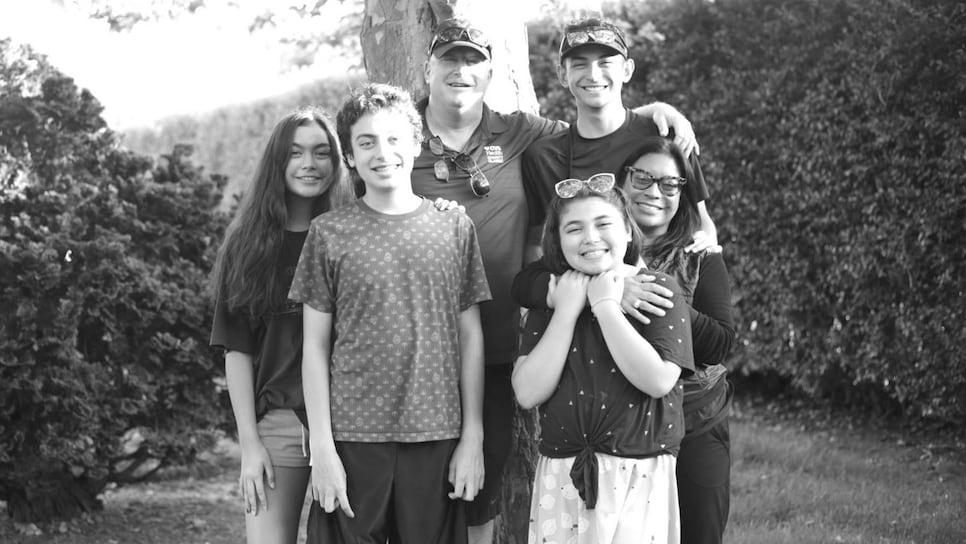 "I always called him after each round. I texted him first. 'Today I was hitting better ... today I was shit.' It was always something like that. And then I'd end up calling him when I got to the hotel, and I'd go through every single shot. What I ate for dinner. What I ate for breakfast. I told him my whole day, every single day. I'd talk to him for an hour, maybe more, just to get me ready for tomorrow." —Patrick Welch
When Grace Welch gets a call from her oldest son Patrick these days, she knows he's not talking to her. Not exactly. He's a junior playing for the No. 1-ranked Oklahoma Sooners, who compete in the first round of the NCAA Regionals on Monday; the No. 62-ranked college golfer in the country; and a 2019 All-American, and his lingo reflects that experience. She's endlessly supportive, and about as tough a person as you can imagine, but she has three other kids (Emma, Jack and Lucie) to raise and has never been what you'd call a "golf mom." So when Patrick goes into detail about why he hit a certain club from a certain lie on a certain hole, she's glad to listen and glad that he's talking, but the specifics have a way of flying over her head.
That's OK. She knows she's a conduit, just like the Oklahoma coaches have been and just like Patrick's friends and teammates have been. Patrick knows it, too. There's another person present in those conversations, and that person is his father, Marty Welch, who passed away last August after a long struggle with cardiomyopathy. Marty spent much of his final day thinking about his son, who was across the country in Oregon, at the U.S. Amateur at Bandon Dunes with Grace. Patrick had qualified for match play but couldn't get past Auburn's Andrew Kozan in the first round. Marty watched the match online—he was very much a golf dad, and it tore at him that he could no longer travel to watch his son play. All that week, the other parents asked Grace about him.
To watch Patrick and Marty together was to witness a real-life odd couple—the man who Oklahoma coach Ryan Hybl called a "loud, outspoken, alpha" guiding the boy whose coaches even today call "soft-spoken" and "meek." It was a case, OU assistant Bill Allcorn says, of opposites attracting. Where two fiery personalities might have clashed, Marty and Patrick fit together perfectly, and their relationship, while never losing the father-son dynamic, was more like a friendship.
Marty died on his daughter Emma's 18th birthday, at age 56, and it was his youngest daughter Lucie who found him on the computer chair in the living room; the one where he sat because it was the place he felt most comfortable in the difficult final years.
If you ever met Marty Welch, you could have guessed his background in an instant: born in San Rafael, Calif., the seventh of 10 children in a very Irish-Catholic family. Not only did he look Irish—if you didn't call him Marty, you called him "Red"—but he talked Irish. The magician Penn Jillette refers to certain people who have "thrown off the filters," and Marty Welch belonged to that rarefied group. He was uniquely himself, with everything that entailed: deliriously funny, a ballbuster, a storyteller who never met a stranger, a kind man by default but combative if the moment called for it. He was the type of guy, his obituary noted, who could talk his way into strange places where he didn't belong, like backstage at a Grateful Dead concert. On a given Sunday, you might turn on a 49ers game, and as the camera panned to the sidelines, Marty Welch would be standing with the team.
He operated by his own internal clock—one which rarely matched any actual clock—and he was always late. That's why, before the rehearsal for his brother's wedding in the summer of 1997, his family told him it began a half hour before the real start time. The strangeness of fate dictated that he was on time that day, and while he waited alone in a church pew, a woman who was always early came in and asked him if he was there for the Welch wedding. She was Grace Rodriguez, a Philly kid whose parents came from the Philippines and who had just moved to the west coast. They talked in the church, they talked some more at the rehearsal dinner, and at the wedding, when Marty found out they weren't sitting together, he campaigned actively to get the assignments switched until Grace—somewhere between delighted and horrified—convinced him to let it go.
They spent that night with his family, he drove her home, and when she spoke to her best friend the next day, she caught herself mentioning Marty Welch. And then mentioning him again.
They married in 1999, and their first son Vincent Patrick, with big ears and his mother's easygoing demeanor, was born in 2000. When he was a toddler, and Grace was pregnant with their daughter Emma, she would be near exhaustion by the time Marty came home from work. He was a mortgage broker, and to help maintain Grace's sanity, Marty would take the boy to Lincoln Park Golf Course in San Francisco, just blocks from their home. Swings and slides held no appeal for Patrick, but he was content to spend hours chipping with a plastic club. When it was time to leave the golf course, he'd protest with all the toddler energy he could muster.
Eventually he earned real clubs, graduated to Harding Park, and played his first tournament at age 6 in a nine-hole U.S. Kids qualifier. It was one of his first competitive experiences at a real course, and he shot 32 to win. The next day, he played in another qualifier—they had signed up for a second in case he missed out the day before—and shot 31. Patrick was young enough that he never thought about the implications, but for Marty, it was a sign that there was something different about his son. It wasn't long before Patrick began winning all over the state, at tournaments with names like the Mira Vista Jr. Classic, the Diablo Valley Junior, the Tokay Junior, the Top of the Bay Junior.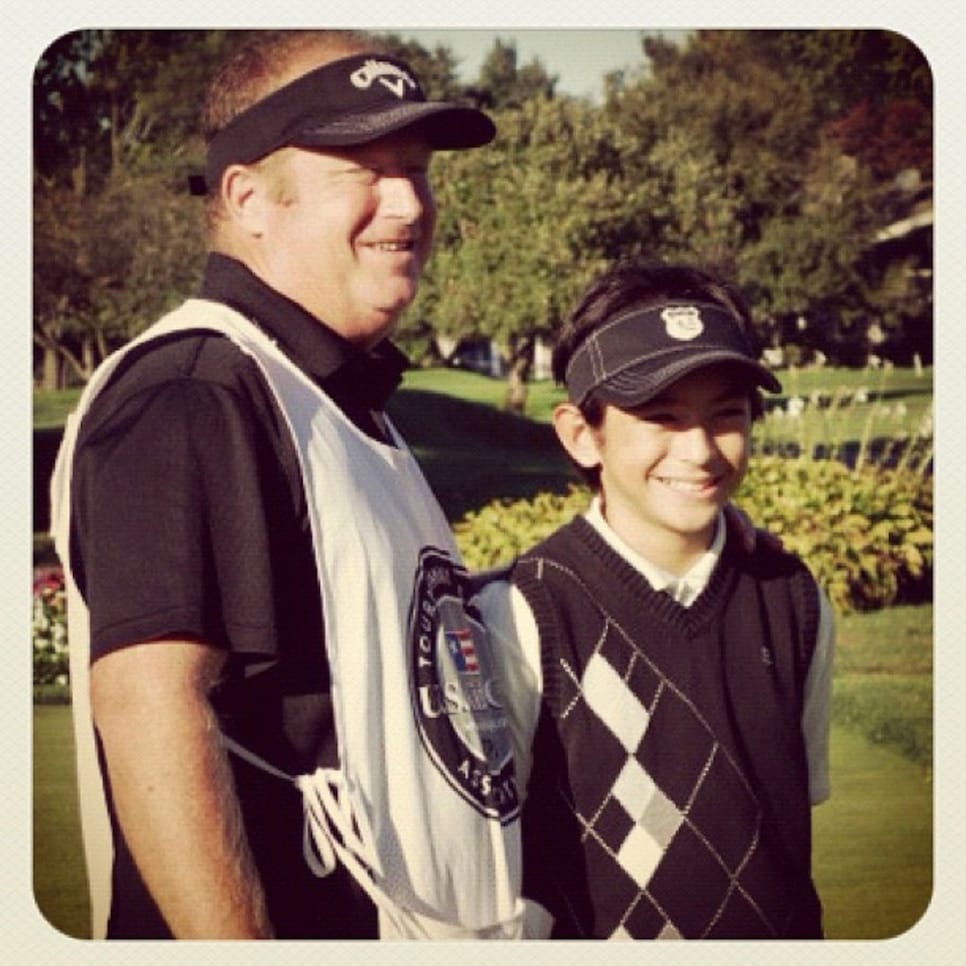 Marty helped develop Patrick's love for golf, which only grew from his days as a junior golfer through earning college All-American honors at Oklahoma. (Photos courtesy of the Welch Family)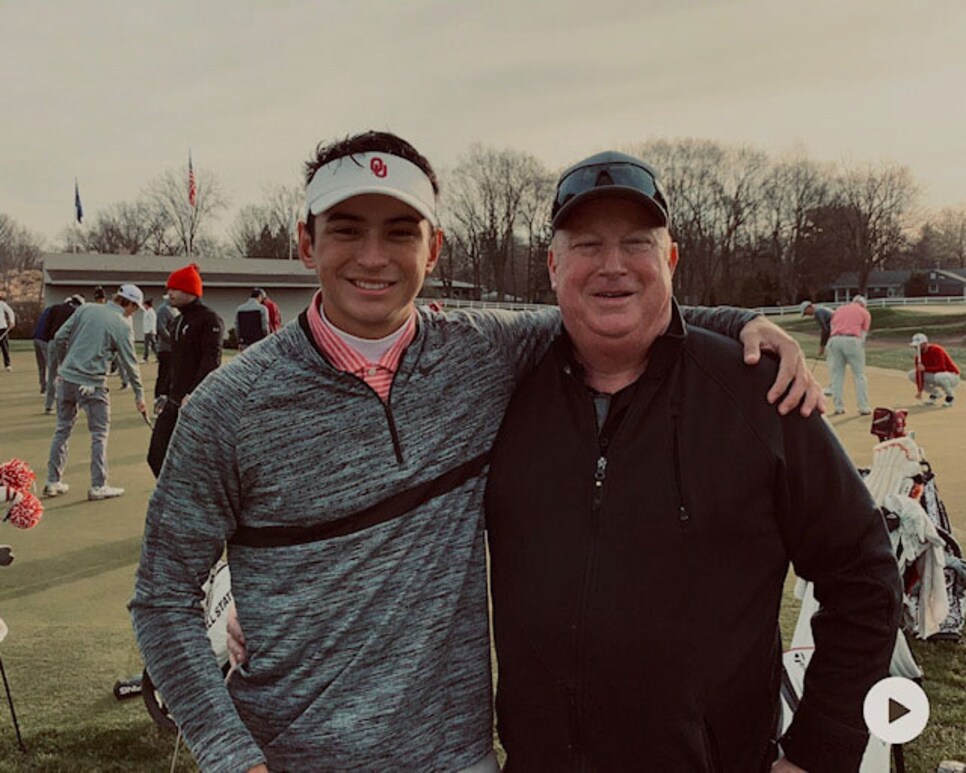 This was also the start of what became the quintessential fact about Patrick Welch the golfer—he hit cross-handed. It was partly because that's how he held a baseball bat—oddly, he bats lefty and but plays golf righty—and partly because that's how right-handed kids sometimes start out in golf. Unlike the overwhelming majority of other juniors who do, though, Patrick never changed. His father tried once, when Patrick was 5, but Marty met a stone wall of resistance and knew better than to try again. The grip made Patrick an instant curiosity wherever he played, and as he grew older and more successful, he and his family were inundated with the endless advice you'd expect from a sport where everyone's an expert: Change it now. He'll never be great until he loses the cross-handed grip.
Except he was great, and rather than concede to the pressure, the family hunkered down and became just a little embattled. They heard the criticism everywhere, they bristled, and Marty wasn't above a sharp comment when his irritation hit a breaking point. Patrick was cross-handed now, and he'd be cross-handed for good.
Bob Goldin had San Francisco Giants season tickets in the early 2000s, and he met Marty and Patrick at the games when Patrick was just 3. To have seats next to Marty Welch meant to know Marty Welch, and over the years they grew closer. Marty would tell his friend about Patrick's golf game, and Goldin, a solid amateur who had played in a few state events, would nod and treat the claims like you'd treat any other father with an alleged superstar on his hands. Nod politely, say, "That's nice."
And then one day Marty convinced him to come play nine holes at Golden Gate Park. Goldin watched the tiny kid play—Patrick didn't grow until he was 15 or 16, and he's still not very big—and he thought, Oh my God.
They stayed in touch until the mortgage crisis hit, and Marty stopped returning his calls. Like many others, Marty got hit hard—in finance lingo, he took a bath—and the lifestyle of the Welch family changed drastically. In 2004, Grace had invented a new kind of changing pad for babies, called it the PatEmm pad, and enjoyed modest success running her business online. Word spread, and one day "The Oprah Winfrey Show" reached out and asked Grace if she'd like to appear on the show. She and Marty made a YouTube video explaining the product, it went on the show, and orders boomed. In 2010, with Marty's career on the decline, they made the decision to move to Rhode Island, in part because of the proximity of cheap textile manufacturing in Massachusetts. In the wake of the financial crisis, though, seed money was hard to come by, and even the Oprah bump couldn't guarantee instant success.
All of which meant that Patrick, entering the prime of his junior career, would have a very different journey than the average young golfer. There is a stereotypical path for the average American junior, and it relies on three foundational elements: Money, climate and personality. The first two are easily explained: junior golf is expensive, which means that kids from well-off or wealthy families have a massive advantage, and it helps to play year-round, which is why the top juniors are usually found in the southeast, Texas, or California. Personality is a little trickier, but a reliable truth is that to become great at golf, a single-minded and even obsessive/perfectionist mindset is helpful in mastering the game at a young age. In many cases, great golfers are people who quit team sports because they become frustrated at having to rely on teammates.
When Patrick Welch moved to Rhode Island, he came from a family without money, lived in a state where playing golf was difficult if not impossible for at least half the year and, from the time he was young, he was a mellow, easygoing sort who loved playing on the baseball and basketball teams.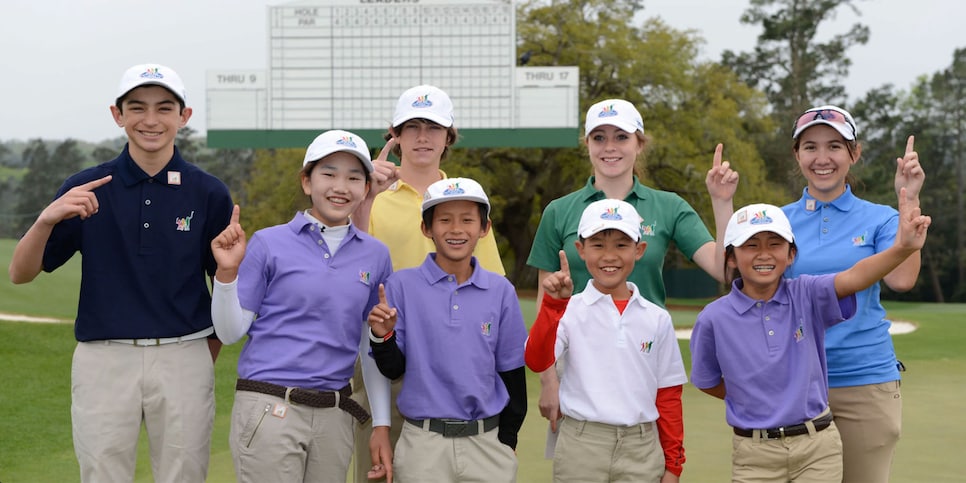 Patrick (back left) was one of the winners at the inaugural Drive, Chip and Putt Final at Augusta National in 2014. (Photo courtesy of Augusta National)
The deck was stacked against him, but Patrick never missed a beat. The kid with the cross-handed grip didn't have the money to play the AJGA circuit—not even close—but he traveled to the local tournaments he could make, and his name appeared so often in the local newspapers that Bob Goldin, who had retired and moved back to New England, decided to call up his old friend in 2013 to solve the mystery of why a kid from San Francisco was playing so often in the northeast. They hadn't spoken in years, but now Marty picked up the phone, and Goldin learned the reason for the long silence. Marty had been ashamed—an uncommon emotion, for him—and he didn't like to confront the story of what had happened, or why he'd moved his family east. But Patrick was a week away from trying to qualify for the 2013 U.S. Junior Amateur, and Marty wanted to know if Goldin, who knew the course, would caddie for him.
So they ended up together at Thorny Lea Golf Club in Brockton, Mass., where Patrick, just 13 and still small for his age, teed it up against players as old as 18, some of them bound for places like Duke University on Division 1 scholarships. Patrick shot 74 in the first of two qualifying rounds, which was already impressive considering the difficulty of the course and the fact that the par 4s were so long for him that he often had to hit driver-driver just to reach in regulation. It put him in 10th place, seven spots out of qualifying, and as far as Bob Goldin was concerned, Patrick had already proved himself.
And then he shot 66 in the afternoon to win the whole thing.
That was the start of a long player-caddie relationship between the two, and, perhaps more than any other moment, it was the coming-out party for Patrick Welch. He became the youngest ever Rhode Island state junior champion that same year—a title he ended up winning four times—won the 14-15 age division in the inaugural Drive, Chip and Putt championship at Augusta National in 2014, captured the 2015 New England Junior Amateur and finished second at the 2016 Junior PGA to qualify for the Junior Ryder Cup. This last feat wasn't well-received by some of golf's junior blue bloods. Who was this kid with the cross-handed grip from Rhode Island who was taking somebody else's spot? Marty and Grace heard the whispers, but it never fazed Patrick, who went 3-0 to lead the Americans to a win.
And while he might have come across as timid in person, he had a little Marty in him and would stand up for himself when it mattered. At one tournament, Goldin remembers how Patrick—"90 pounds soaking wet"—began to get annoyed at a competitor who was inching his ball forward on the greens after he marked. This player was from Colombia, much older, and massive. Goldin advised him to let it go, but Patrick wouldn't shy away. The Colombian, embarrassed, denied everything … but also stopped doing it. On another occasion, Patrick was playing in his first Rhode Island Amateur against a player named Jim Colucci, and noticed that Colucci had teed up ahead of the markers. He might have failed to notice, though, that Colucci was a former minor league hockey player who could break him in half. Didn't matter.
"Jim, you're ahead of the mark."
"Patrick, I come out here to have a good time," Colucci said. "If I wanted criticism, I get plenty of it from my wife."
But Colucci was a good sport. He moved the ball back and didn't resent it even when the 13-year-old kid beat him, 5 and 4.
Ryan Hybl, the Oklahoma head coach, saw Patrick play for the first time at the U.S. Junior that year. Intrigued by the talk of a cross-handed player, he followed him for three holes. Like many others, the grip threw him off at first, but he gradually began to understand the underlying talent as Patrick flushed shot after shot. The summer before Patrick's junior year in high school, Hybl began recruiting him in earnest. Hybl liked that Patrick was a strong baseball and basketball player—he knew from experience that those who stuck with team sports were more coachable—and he liked that he was a natural athlete. For their part, the Welches liked that Hybl wouldn't try to change his grip.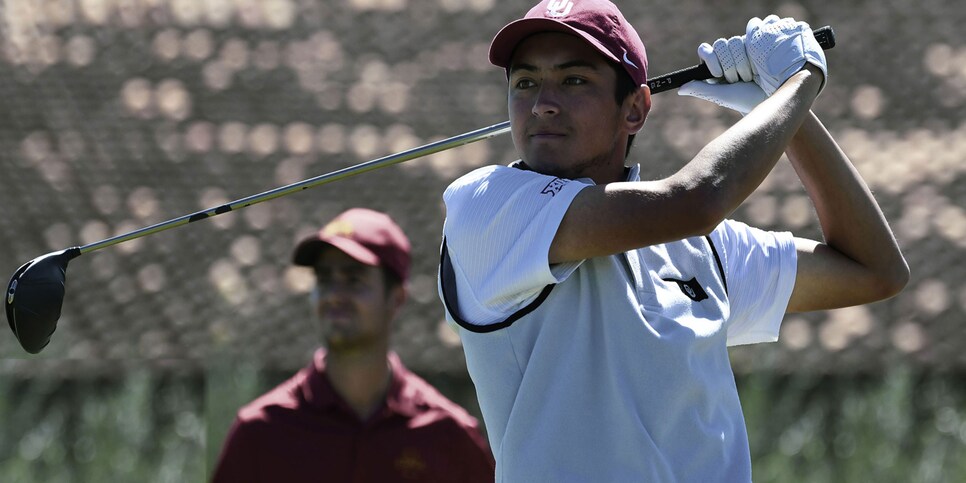 Patrick's cross-handed swing has been a curiosity his entire career, but it's something that's never changed. (Photo courtesy of OU Sports Information Department)
Patrick visited a few other schools, didn't like any of them, and then went to Oklahoma and felt instantly at home. The stress of having to make a tough decision vanished, and he called it "the easiest decision ever." In 2017, the year before Patrick went to Norman, the Sooners won the national title. He arrived at a juggernaut, but as always, the laid-back kid fit in without a problem. His teammates called him "Vinny," and he notched two top-10s his first season, made the All-Big-12 tournament team, and surprised even his own coaches by finishing 11th at the NCAA individual championship. That made him an All-American.
His sophomore season of 2019-20 began promisingly, but COVID-19 put a stop to all that. When the summer came, he headed back to Rhode Island with the U.S. Amateur on his mind.
Marty had been dealing with cardiomyopathy for years, but the only person who knew the full extent was Grace. To his kids, it wasn't that the problem was a secret, but that he downplayed it so much that none of them saw it as the life-or-death situation it really was. Even in June 2020, when his defibrillator went off, Marty joked with Patrick it felt like he'd been kicked in the chest by a horse, but he was absolutely fine. Patrick worried, but it's hard to keep worrying when a man like Marty uses the full force of his personality to tell you it's no big deal.
Patrick noticed other things, too, like the fact that Grace began driving and told him it was because she wanted to be more independent. Truth was, Marty wasn't supposed to drive, and his doctors told him not to travel, either. When Patrick came home for the summer, Marty would cook every meal, but the activity and the heat would leave him breathless, and Patrick would bring him towels full of ice.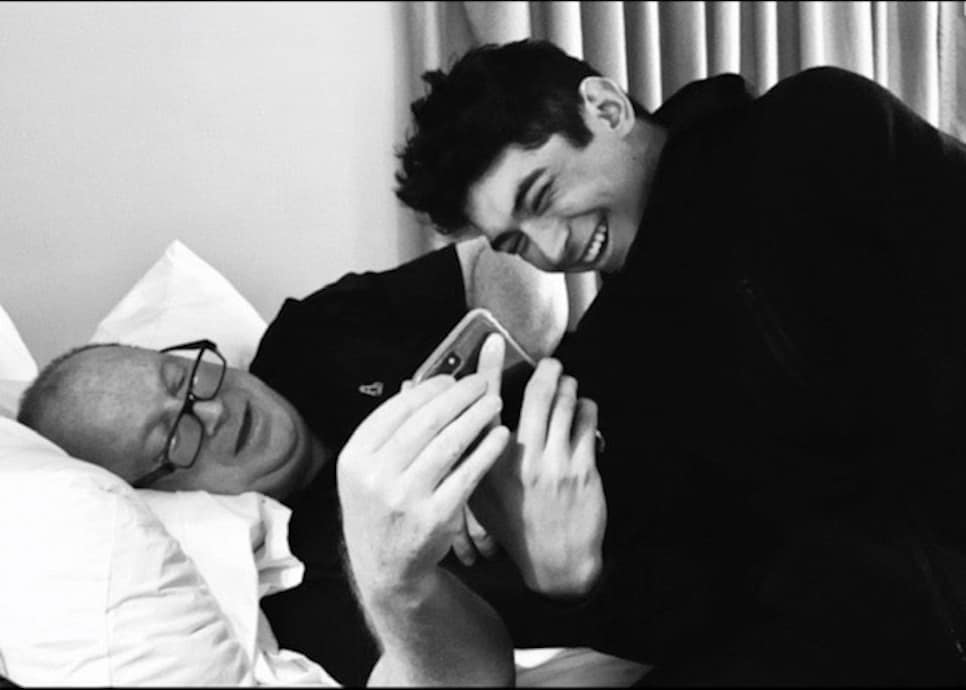 Patrick shares a moment with Marty in a hotel while the father and son were traveling in 2018.
In fact, unknown to most of Marty's family and friends, things were turning dire. He'd been on medicine to control the problem, and it worked for a while, but things got bad enough that he needed to see a specialist. What bothered him most was the mystery of how it happened in the first place. How did I get this? So he went to Tufts in Boston, they ran a battery of tests and came back with nothing but bad news. New medication made him feel better for a time, and he changed his diet, but it was never more than a band-aid. This man who had seemed to be made of pure energy now had none, and the fact that he couldn't see Patrick play golf ate at him.
He decided to pursue the option of a heart transplant. They tested him again, head to toe, and presented the results to the heart-transplant board that makes the final decision on which patients are eligible for the high-risk procedure. Finally, the results arrived in the mail: Marty wasn't sick enough to qualify.
He was devastated. He had been wary of the risks, but at a certain point he resigned himself to the fact that he needed the transplant, and once he made that mental leap, the optimism crept back in. He'd go through the operation, he'd watch his diet, and he'd feel better. He began to make plans again. He began to think of watching Patrick live, in person. And then they told him that he wasn't even sick enough for the very bottom of the list. The meds were helping, they said; he'd have to stick with those.
When COVID hit, traveling became more difficult and life became even harder. Grace lost her marketing job after the pandemic, and with it the benefits that had helped them offset the medical costs. She continued to sleep with one eye open, wondering each night if it would be one of the nights when he woke up and couldn't breathe, and they'd have to race to the ER.
On Aug. 11, 2020, a Tuesday, while Patrick was fighting to reach match play of the U.S. Amateur, Marty spoke on the phone with Bob Goldin and told him he wasn't feeling well. Goldin offered to drive him to Boston, but he said no, and when they spoke the next day he said he felt better. Patrick qualified for the round of 64 at Bandon Dunes, but on Wednesday he lost his first-round match to Kozan. Marty called Alaska Airlines to book their tickets home, but there was nothing available that night, so they'd have to leave first thing in the morning. He called Patrick next, told him he'd played great, and that he'd see them all tomorrow.
It was Emma's birthday, so that night in Providence they held a small celebration at the house. Grace and Patrick were watching TV in the hotel when she got a call from Emma's boyfriend. Strange, Grace thought, and when she picked up, she heard loud crying in the background and saw the flashing lights of an ambulance. "You need to call Emma," the boy said. Patrick reached his sister, demanded to know what happened, and stormed out of the hotel room. To Grace, the scene was pure chaos.
They managed to get the EMT on the line, who told them to call the hospital in 20 minutes. Those minutes felt like days, and when she got through, they were put on hold. Finally, the doctor came on, and the news was swift and sudden: Marty didn't make it. His defibrillator went off multiple times, but the cardiac arrest was fatal. Grace and Patrick broke down. The doctor did her best to calm them, tracked down the other kids outside the hospital and explained everything to the group over Facetime.
That began the worst night of their lives—stuck on the wrong coast, far from Marty, far from their families. Grace did her best to console her other children over the phone. She and Patrick never slept. They cried together all night, and on the shuttle in the morning, and on the plane ride home to the state they'd never liked very much in the first place.
The family reached a consensus quickly: We don't want to be here anymore.
A few moments sitting in his father's chair in the living room, the chair where he died, was enough to convince Patrick that they had no future in that home. It rained seemingly every day that week; neighbors dropped off notes, each one less helpful than the last. In Grace's words, they packed, they purged and they moved. On a particularly tough day, they went through all of Marty's things and decided to keep only some T-shirts and a few World Series jackets. Patrick kept his 2014 Drive, Chip, and Putt trophy and gave the rest to Goldin. Within two weeks, they left Rhode Island for Southern California.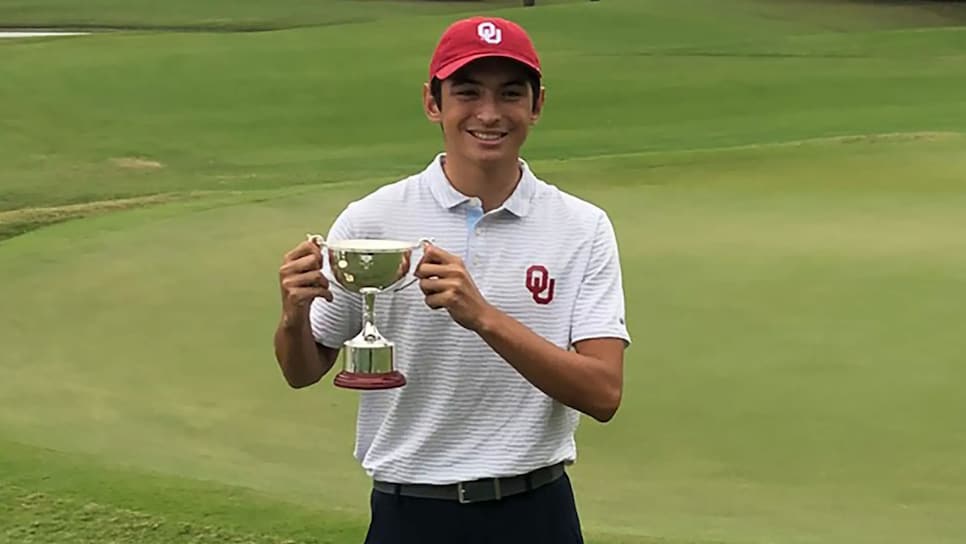 Last fall, Patrick captured his first college title at the East Lake Cup.
Patrick didn't know what he wanted to do—head back to Oklahoma just days after his father's death, leaving his mother and younger siblings alone in a new city? Or to stay with them and try to help? Grace made the choice for him: You're going, and her words brooked no argument. They didn't even have to discuss what Marty would want. Patrick's golf was the center of his life for years. He'd want him to play.
Back at Oklahoma, he felt grateful for the presence of his teammates, for the schedule that kept him busy. Some days, for brief moments, he would almost forget. And then came the nights, the brutal nights of breaking down, tossing and turning, and calling his mom at 3 a.m. to find out she was doing the same thing. For weeks, it didn't get better. Not even a little.
Brad Dalke, an Oklahoma alum, was the first to tell him to turn to the bible, and Bill Allcorn, the assistant, would text passages back and forth with him. They weren't Catholic like Patrick, but he found comfort in faith and found a bible app that would let him keep track of his streaks—78 straight days reading scripture. He was surrounded by men who believed that the Lord will tell you what you need to hear when you need to hear it, and it provided something Patrick badly needed when the question that rattled through his mind most often was the simplest and most difficult: Why?
He found himself going to Allcorn's office more and more, and though Allcorn had been lucky in life not to lose a parent, he had a special way of understanding Patrick. His own father had lost his dad when he was a child, and to this day, Allcorn will get a text on his grandfather's birthday: "Grandpa Billy would have been 100 today." He saw the pain and he knew this was an emptiness that never goes away. He knew, too, that he couldn't work any miracle on Patrick. He could only keep him connected in those early days, keep him close and let time do its work.
Patrick tried exactly once to play "for" Marty. It was his first tournament back at the Big 12 Preview at Colonial in the fall. We're taught that redemption and healing comes in cinematic moments, and who wouldn't want to believe that in the wake of loss? He was in fifth place late, close to the lead, and the minute he told himself he had to play well down the stretch to honor his father, his game went to pieces. Never again, he told himself. He understood an important truth then: If he played for himself, his father would always be there. His father was him now. They were the same.
In late October, at the East Lake Cup, two months after Marty passed, Patrick played for himself, shot 67 and earned the first win of his college career.
And yet ... and yet. Life resists fairy-tale endings.
Since that win, Patrick has played spurts of great golf, but by Hybl's own estimation, he hasn't been sharp in the past two months. He's brilliant with the long irons and has an underrated chipping game, but the putter is his Achilles heel. His struggles on the greens have hurt him this spring. His stroke average is worse this year than last year, which was worse than the year before. In the Big 12 Championship, he shot a final-round 75 to drop from inside the top 10 to 25th; Oklahoma lost to Oklahoma State by a single stroke in the closest conference championship ever.
Goldin started a GoFundMe page for the family. Grace's strength has carried the family through the hardest stretch, and when the pain gets really bad, they remember the times Marty made them laugh. She recently found a job, but money remains tight.
The Sooners, still ranked No. 1, play in Albuquerque the next three days trying to qualify for the NCAA Championship at the end of the month in Arizona. And just as he's done in every round since that staggering August day, Patrick will think of Marty when he tees off at 7:30 a.m. in the first threesome off the first tee. Every shot at every tournament, his father is on his mind, and every day that he can't call him after a round will hurt. The memory remains acute. He'll tell you that Marty is everything he could have asked for in a dad, and he knows that if he can be like that for the people he loves, it will make him happy in the end. And though he'll spend the rest of his life missing him, and searching for him, it's also true that Marty is there, that they are together, that they are the same.
TOP PHOTO: The Welch family—Dad Marty and Patrick in back; Emma and Jack in front from left with mom Grace wrapping her arm around daughter Lucie (Photo courtesy of the Welch Family)