Takeaways
Tour pros battling for Masters invitation, first PGA Tour wins in San Antonio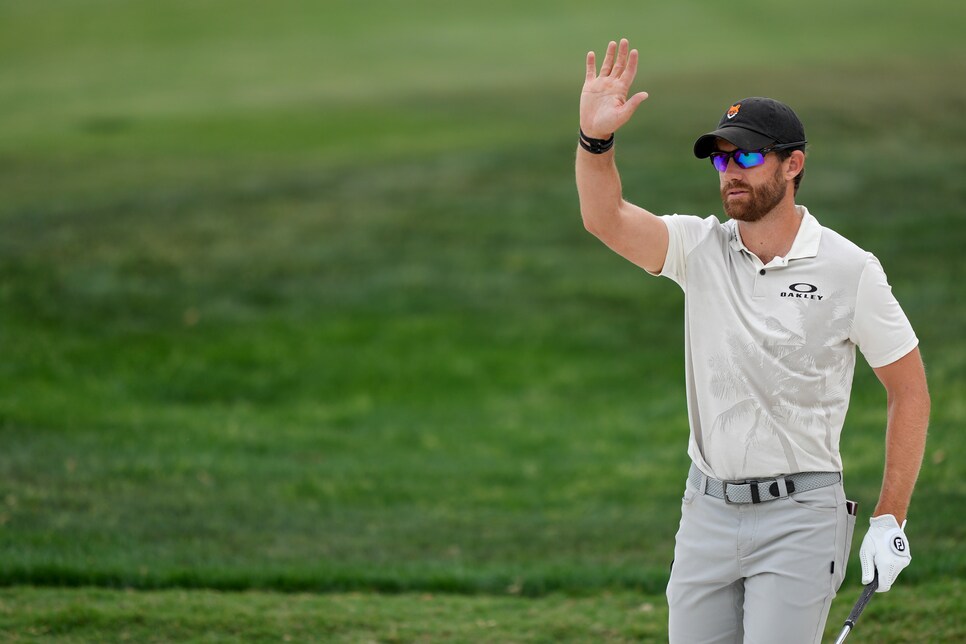 As the saying goes, "Everything is bigger in Texas."
And while the first men's major of the year is not until next week, the pressure to earn the final invitation to the Masters is never bigger than Sunday afternoon at the Valero Texas Open. Several tour pros jockeyed for position Saturday afternoon in San Antonio, with Patrick Rodgers (71) inching in front of the field at 12 under par. He has a one-shot lead into the final round.
Corey Conners (69) is his closest challenger, while Matt Kuchar (69) is three strokes behind and Sam Stevens (68) and Chris Kirk (69) are at eight under par, four behind Rodgers. Of that group, only Conners—by several criteria—and Kirk—via his Honda Classic win in February—already have a tee time in Augusta Thursday.
The man they're all chasing, Rodgers, is hoping for a double dip of sorts on Sunday. The 30-year-old was a highly touted amateur, sitting atop the amateur rankings for 16 weeks in 2014 and matching Tiger Woods' school-record 11 wins while playing college golf at Stanford. Yet after turning professional in 2014, he has just one win under his belt, on what is now the Korn Ferry Tour. A player's first win on the PGA Tour is always life-changing, but with more than $1.6 million going to the winner this week and an invitation to the Masters, the feeling is there's just a bit more on the line this week.
"I think we all know what's at stake with a win out here," Rodgers said. "I haven't gotten the job done in my career, but it's quite a thrill. This is why I play, why I compete and I can't wait to get out there tomorrow."
A bogey at the last narrowed his lead to one, but there's still no better place to be than in the lead. With his first PGA Tour win squarely in his sights, a late-afternoon tee time is all that stands between him and a flight to Augusta.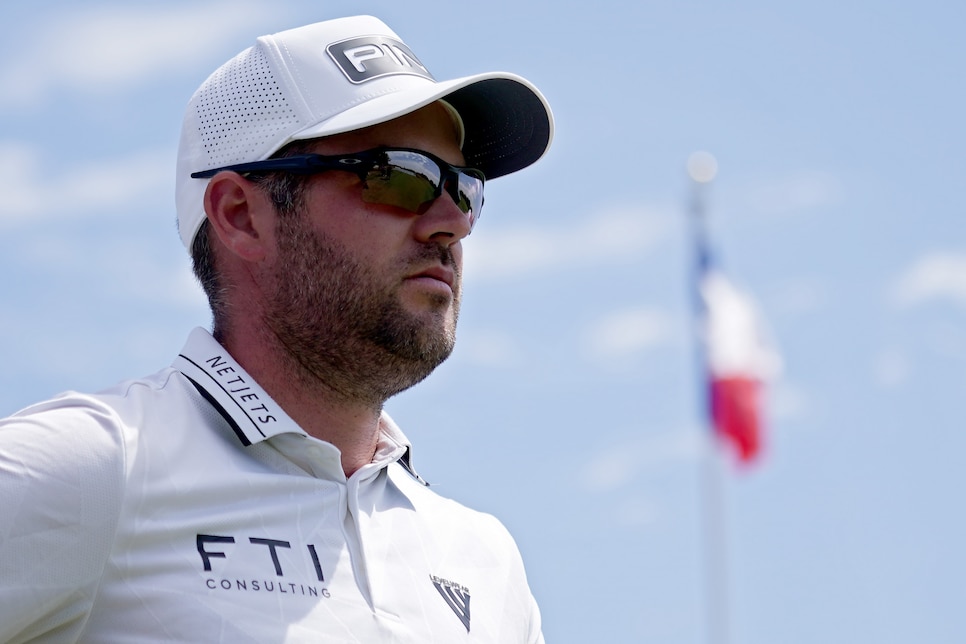 The battle for a Masters invite
He may be leading, but it shouldn't be a cakewalk to the winner's circle for Rodgers. Conners is playing this week as a tune-up for Augusta, but his lone PGA Tour win came at this tournament in 2019, as he claimed the final spot in the Masters field. He came home in four-under-par 32 Saturday afternoon, bringing a bit of momentum with him into the final round.
Then there's Kuchar, the wily veteran who was the low amateur at the Masters in 1998 and has four career top-10s in the year's first men's major. He's won nine times on the PGA Tour in his career, but does not yet have an invitation to Augusta this year. At 44, he's not guaranteed many more chances. Kuchar only trails by three, but he could have been even closer, if not tied for the lead—but more on that in a bit.
Stevens earned his PGA Tour status this year as one of the top finishers in the Korn Ferry Tour finals in 2022. The PGA Tour rookie has made just more than half of his cuts in 16 events played this season, yet he looks right at home, dropping back-to-back 68s to sit just four shots back after 54 holes. A win here would be a sort of meteoric rise for the third-generation tour pro, and an appearance in his first-ever major would be the cherry on top.
Kuchar is in fine position to win in San Antonio. Not great, but fine.
He could be in even better position though, if not for a tough break and a nightmarish final hole. On the 189-yard, par-3 third, Kuchar hit his tee shot exactly 189 yards on a direct line to the hole. What happened next was a befitting cruelty on April Fools' Day.
On most days, a near-ace that turned into a tap-in birdie would be the toughest break one could get on the course. Today was not most days for Mr. Kuchar.
Standing on the par-5 18th tee, Kuchar had a chance to pull within one of—or, given Rodgers' bogey some 15 minutes later, tie—the lead. Instead, he pulled his drive left—a big no-no on 18—and found his ball in a cactus. After taking an unplayable lie, Kuchar flared a hybrid from wiry grass way right up against a hospitality tent. He then took free relief, but opted to play his fourth shot while standing on the cart path, presumably because the lie he would have after taking relief from that would have left him with an even worse lie. From there, Kuchar barely cleared the creek that fronts and flanks the 18th green.
A bogey at the last is not the end of the world. But despite being the tour leader in scrambling percentage this season, Kuchar left himself more than six feet for his bogey putt and then missed on the low side en route to a closing double-bogey.
He can still win Sunday and earn a return to Augusta, but if not for a nasty horseshoe lip-out and a few tough bounces on 18, he could be even closer.