News
Patrick Reed Takes Aim At Ryder Cup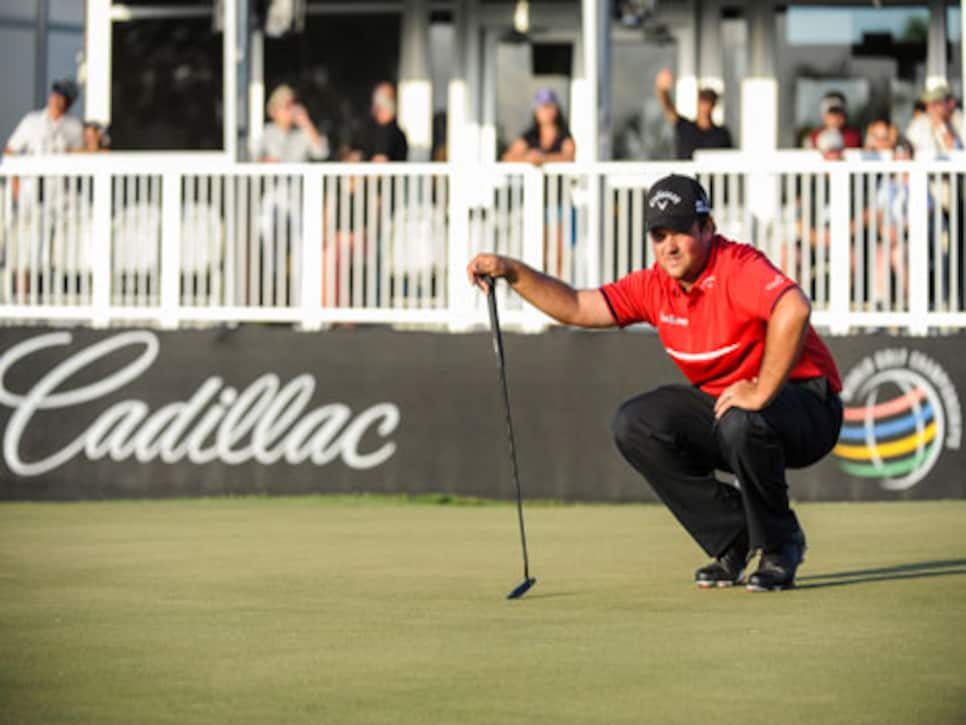 Reed won for a third time in 14 tournaments at the WGC-Cadillac Championship.
Patrick Reed plays with a purpose, and that purpose is to make Tom Watson's Ryder Cup team. The tough Texan figured the best way to take it out of Watson's hands was to take care of business over the weekend on the Trumped-up Blue Monster.
"That's my huge goal," Reed said on Friday after taking the lead in the WGC -Cadillac Championship. "I'm a great matchplay player, and I want to play for the United States."
Even as a Ryder Cup rookie, Reed feels like he could be a leader in the team room at Gleneagles. Besides Monday qualifying six times in 2012, he is always quick to quote his NCAA Championship record (6-0 in match play), achieved in his last two years at Augusta State as he led the school to backto- back titles. He is proud of beating U.S. Amateur champion Peter Uihlein twice, by decisive scores (4 and 2; 8 and 7). He also boasts about his victory over Harris English in an upset win over Georgia in the 2011 final.
Even more significant are his three PGA Tour victories in 14 events since last August. Now ranked 20th in the world, Reed was fifth best in his mind even before his win against the strongest field of the year. The Cadillac was not last year's Wyndham Championship or this year's Humana Challenge in terms of field quality. This was a Sunday when he started the day in the final pairing with PGA champion Jason Dufner, with Tiger Woods one group ahead.
"Hopefully, at one point, I'm going to catch Mr. Woods, and be the No. 1 player in the world," Reed said when we spoke behind the 18th-hole grandstands. "But it kind of seems like the only way that's going to happen is if Mr. Woods decides to retire."
With Mr. Woods hampered by more back spasms and a 78 on Sunday, Reed protected what he had to protect to become the youngest winner in WGC history. At 23, he plays tour golf with the same fearlessness that was his reputation as an amateur.
"I knew coaching him through college that he's got that type of ability," said former Augusta State coach Josh Gregory, who is now at SMU . "He has no fear. He's not afraid of anything. He thinks he's the best player out there. That's something you can't coach, can't teach."
Reed told me he was feeding off the wins by English, Jordan Spieth and Russell Henley, but he points to his own record saying, "I don't see many players that have done that."
The Masters will be Reed's first major, but after surviving on a week where four under was the winning score, don't count him out at Augusta or any of the majors. Playing every round like it was Monday qualifying, with first his wife and now his brotherin- law on the bag, Patrick Reed comes to Sunday final rounds wearing the red shirt Mr. Woods has made famous.
"I believe in myself," he said.