News & Tours
Patrick Reed says he's talked to Xander Schauffele about his critical comments after the Farmers: 'We're all good'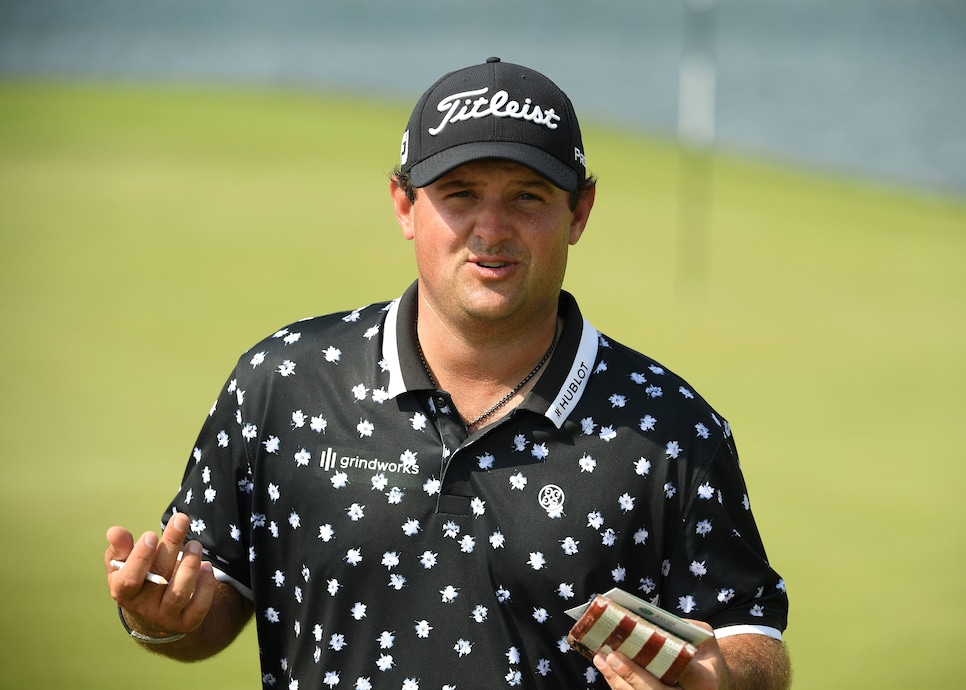 Patrick Reed smiles during a pro-am event prior to this week's Saudi International.
Ross Kinnaird
Coincidentally but appropriately, Patrick Reed was asked exactly 18 questions during his press conference on the eve of the Saudi International, his first competitive appearance since his much-discussed victory at the Farmers Insurance Open last weekend. Only three of those queries (two of which came from a European Tour media official) concerned Reed's participation in arguably the Old World circuit's most controversial event. For the former Masters champion, it seems, there is no escaping hot talking points.
First things first though. Before he was subjected to an interrogation on all aspects of the embedded-ball drop he took on the 10th hole at Torrey Pines, Reed went through the almost compulsory pre-requisites after a 17-hour flight. To no one's surprise, he informed the waiting world that he arrived in the Middle East "jet-lagged like crazy," that the hospitality at the Royal Greens Golf & Country Club is "amazing" and that he is making "huge strides" with his on-going swing changes under the eye of coach David Leadbetter (they are working on more body rotation, less hand action).
Then it was down to the more pressing business, at least for the assembled journalists. Asked if, in the future, he will not be picking up his ball before the arrival of a rules official, Reed took refuge in his now familiar refrain.
"I went through the processes that are in the rules," he said. "You put the tee down to mark the ball after asking the guys and declaring that you're going to check to see if the ball is embedded. So you put down the tee to check to see if the ball is embedded. And when it looked like it was, that's when you call over a rules official to see, not only have him just reconfirm but also to take a drop and figure out what the rules are. That's one of the rules that has changed from the past. It used to be you dropped at the closest spot; now it's a club length. So for me it was making sure I was doing the right drop rather than taking an incorrect drop.
"If I waited for a rules official every single time, you worry about pace of play and holding groups up behind you, as well as getting out of position," Reed continued. "But any time it's a situation where you don't know or no one was sure of what it did or didn't do, that's when you're always going to have a rules official come. Any time I hit it, whether it's in a water hazard or whether it's by a sprinkler head or any kind of drop, you bring a rules official in just to make sure you're doing the right drop."
As it turns out, Schauffele had contacted Reed by text. The pair subsequently exchanged messages that have apparently eliminated any potential for awkwardness next time they meet face-to-face.
"I've actually talked to Schauffele," said Reed, who also dismissed any notion that his reputation might cause problems within future U.S. Ryder Cup and Presidents Cup teams. "Him and I actually talked earlier this week. I'm just going to leave it between him and I because really, it's one of those things that all you can do is try to do the right thing and from that point, move on. We're good. We're all good. I've always been really good at blocking out noise and focusing on what's at hand. To be really good at golf, you have to really be mentally strong. That's the best way to be successful today."