News
Patrick Reed is halfway to the Race to Dubai title despite working out the kinks of a swing change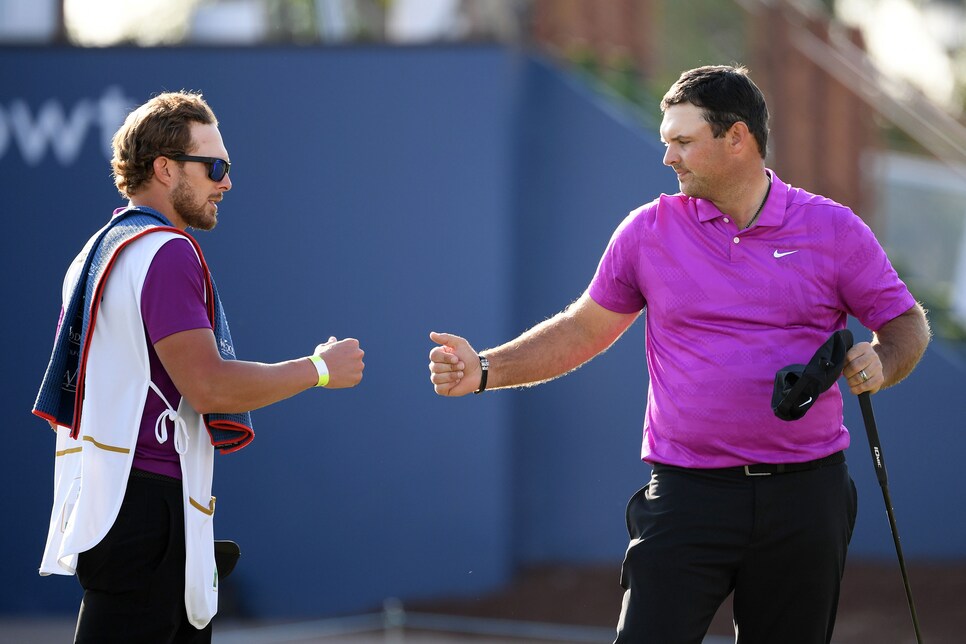 Patrick Reed's second-round 64 has him two shots in the lead after 36 holes at the DP World Tour Championship. With a win, he would become the first American to claim the European Tour's year-long points title.
Ross Kinnaird
Captain America is taking the desert by storm. Courtesy of a second-round 64 that included nine birdies, Patrick Reed is the halfway leader in the European Tour's season-ending DP World Tour Championship in Dubai. The former Masters champion sits at 10-under 134 after two circuits of the Earth Course at the Jumeirah Golf Estates, and two shots clear of Matt Fitzpatrick.
Should Reed stay clear of a formidable chasing pack—as many as 12 players, including Tommy Fleetwood, Danny Willett, Martin Kaymer, Tyrrell Hatton, Viktor Hovland and Lee Westwood are within six shots of the leader—he will become the first American to win the tour's year-long Race to Dubai title, formerly known as the Order of Merit.
There is, though, much work to be done. While every "home" player has been saying all the right things—"Welcome Patrick," "Great to have you here, "Thanks for coming"—it is safe to assume none of the proud Europeans piled up behind the leader will want to see the iconic Vardon Trophy disappearing across the Atlantic. Not now; not ever.
Still, should Reed continue to play with the sort of style and panache he displayed during his march to the head of the 65-strong queue gathered in the United Arab Emirate, he will take a bit of catching. Justifiably, Reed was all smiles after rounding off his day with three birdies in the last four holes.
"Anytime you shoot eight under par you're always happy," he said. "Today, I got off to a little better start than I did yesterday. The putter was working. Yesterday, I felt like I did a lot of things pretty well, but the putts weren't really falling. I burned a couple edges and a couple of iron shots weren't as close as they needed to be. Today, I tightened it all up. I was able to hit the ball a little closer to the hole, which gave me more opportunities. And I was seeing the lines a little better too."
All was not perfect though. Remarkably, Reed revealed that, helped by coach Sean Hogan, he is in the early stages of emerging from a fairly significant swing change. All in the search for more consistency, despite the fact that he arrived in Dubai on the back of five consecutive top-20 finishes.
"Ever since I started with the new swing, it has felt a little bit more controllable," he said. "It feels as if I don't have as big a curve going on with my irons. Because of that I feel like, whether it's a right flag or left flag, I can aim closer to the hole rather than trying to aim farther away and trying to sling it in there. For me, it's more of a comfort thing as well as just a consistency thing. With how good the guys are out here, whether on the PGA Tour or European Tour, when they are on, they're on. It's the days when it's not quite feeling right, the ball still needs to be in play, still needs to be on the green if you are to have a chance to make birdies. That's been the biggest difference so far. My misses are playable as far as I can still handle them, get up-and-down or even have a putt for birdie."
Ah yes, birdies. Reed is still going to need a few of those over the next two days. His nearest challenger, Fitzpatrick, is a past winner of this event and something of a course specialist. But at least one informed observer sees Hatton as the bigger threat among the half-dozen Englishmen gathered within five shots of the leader.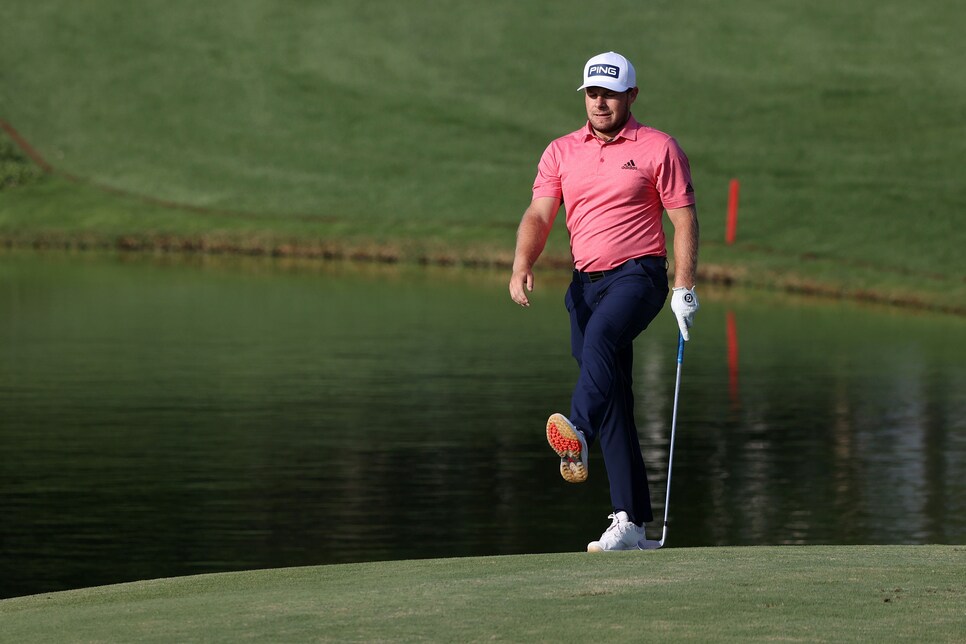 Hatton is three shots back of Reed and has arguably the biggest win on the European Tour calendar in 2020 with his victory at the BMW PGA Championship in September.
Francois Nel
"Yes, Patrick can win with his 'B' game," said former European Ryder Cup captain Paul McGinley. "He is one of the best at winning when he's not quite on. He's great at churning out a 69 or 70. But the English guys are the biggest challengers, with Hatton, who is three back on seven under par, the most dangerous of those. Tyrrell is such a tough competitor. And he can go head-to-head with Reed. [Tyrrell] has won in Europe and America this year. He really is something special. And, like Patrick, he can win without his best stuff—we saw that [in his win at the BMW PGA Championship] at Wentworth a couple of months ago."