News
A former Ryder Cup hero is thanking the COVID-19 break for saving his European Tour career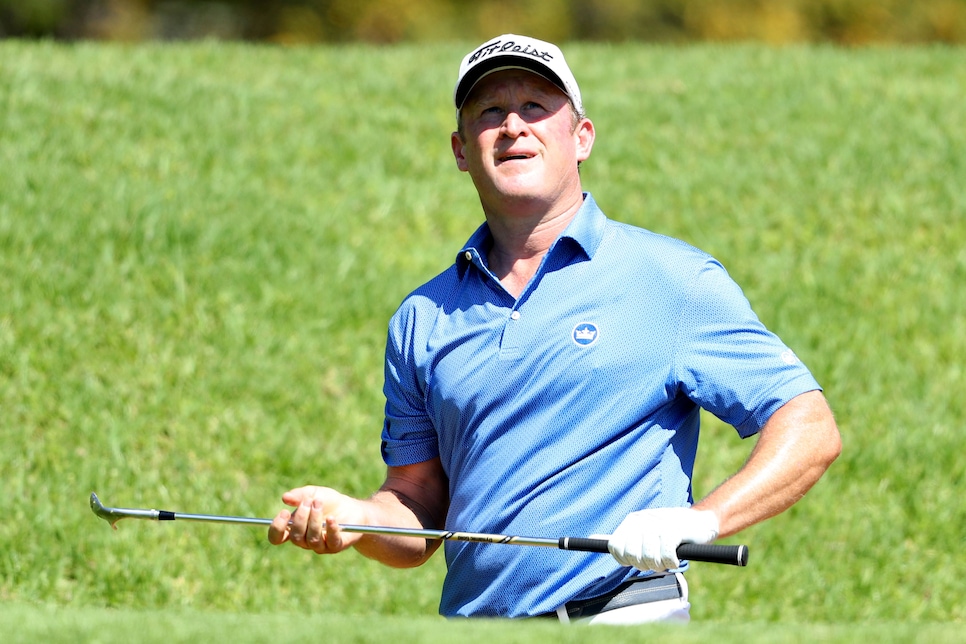 Jamie Donaldson, Ryder Cup hero for Europe in 2014, had lost his status on the European Tour but his recent play hints that his game is returning.
Warren Little
Jamie Donaldson isn't the first-round leader at the DP World Tour Championship in Dubai. That honor belongs to France's Victor Perez. But the 45-year-old Donaldson's opening two-under-par 70 over the Earth Course at the Jumeirah Golf Estates has him only three shots back, tied with, amongst others, Race to Dubai leader Patrick Reed and inside the top 10. Not too shabby for a man who, not that long ago, was facing the equivalent of golf oblivion.
Towards the end of 2018, Donaldson underwent surgery on a left wrist that had been troublesome for maybe two years. And it showed in the six-time European Tour winner's play. By the time he shot a third-round 80 to miss the cut at the Dunhill Links Championship in October 2018, Donaldson had had enough. And no wonder. His highest-finish in 22 events that season was a T-23 in the Hong Kong Open. Clearly, something had to be done.
"The wrist had been bothering me for a couple of years," he says now. "I kept having cortisone injections to mask the pain, which was a mistake. I was hoping it would just go away, but it never did. It just kept getting worse. And even after the operation, I feared the worst. That was the point where I thought my career was over. When the bandages came off the wrist it didn't look or feel good. I couldn't pick up a pencil. I spoke to a couple of lads who had gone through similar operations and they were miles ahead of me at that stage."
Seven months on from that initial feeling of dread, Donaldson returned to the tour at the British Masters. It was the first of 16 starts that produced a couple of top 10s, but which were more notable for missed cuts. By the end of the 2019 season, the former Ryder Cup player was back at the tour school, where he retired after only two rounds.
Still, even that wasn't the lowest point. Playing on a medical exemption that called for him to earn at least 85 Race to Dubai points in nine events, Donaldson missed the cut in four of his first five starts in 2020. His only weekend away from home was a T-50 finish in Oman.
"When I came back, the wrist didn't feel great and I played the rest of 2019 with indifferent results," he says. "My swing was way off, and I was still wary of the pain. I ended up compensating for it without really knowing that was what I was doing. Every time I tried to get my swing back to where I wanted it to be, there was pain. Even after the wrist had healed. Into 2020, I was still playing badly. I just wasn't hitting the ball properly, or playing any good."
Then came COVID-19. The four-month break from the tour turned out to be maybe the best thing that could have happened for Donaldson's career. For him, the forced rest was just what his wrist, his mind and his game required. It didn't happen immediately, but soon enough his performance level started to improve.
"I've played well for a while now," Donaldson says. "And even when I haven't, I've been able to ground out decent scores. My experience has told at times. So it's all been good. When I came back from lockdown I felt so much better. It was such a big thing for me. Had it not happened, I'd have kept going, playing every week and probably getting worse rather than better."
Understandably, there has been pressure. And there will be again. Again, Donaldson started this season playing on a medical exemption that required him to earn 85 Race to Dubai points in nine events. And that's where he is to start 2021 (unless he wins this week). Because of the interrupted season, every European Tour player has had his status "frozen" this year.
"At 45, I'm chasing my tail a bit," Donaldson admits. "Time is short for me to get back to where I want to be. But I'm getting there. My confidence is growing. That was hard to build at first. I've always been known for my ball-striking so it was hard to look up and see so many bad shots. And yes, my status has not changed for next season. I'll be back where I started this year. It's deja vu for me. But that's fine. If I keep playing the way I have been, it won't be an issue."
Indeed, clearing the "85 from nine" hurdle will be relatively straightforward should Donaldson continue to show his recent form. This week is his 14th tournament since the tour cranked up again at the British Masters in July. In the previous 13 he has had six top-15 finishes, most notably the second-place performance he came up with in the nick of time at last week's South African Open. Had he been only one spot lower, he would not have qualified for Dubai.
Still, there remains room for further improvement. For all the encouragement he has gained from the last five months, Donaldson hasn't quite scaled the height he reached at the 2014 Ryder Cup at Gleneagles. A plaque sits in the middle of the 15th fairway on the Centenary Course, right at the spot from where the former Welsh Amateur champion struck a 9-iron stiff to the flag. It was the shot that clinched a 4-and-3 singles victory over former PGA champion Keegan Bradley and clinched the biennial contest for the European team.
"That seems like a long time ago now," says Donaldson with a smile. "But it is a great memory, one I'd like to repeat."
That might be a stretch given how low he has been. But he's getting there.