The Loop
In Pat Mahomes, we have an honest-to-god football magician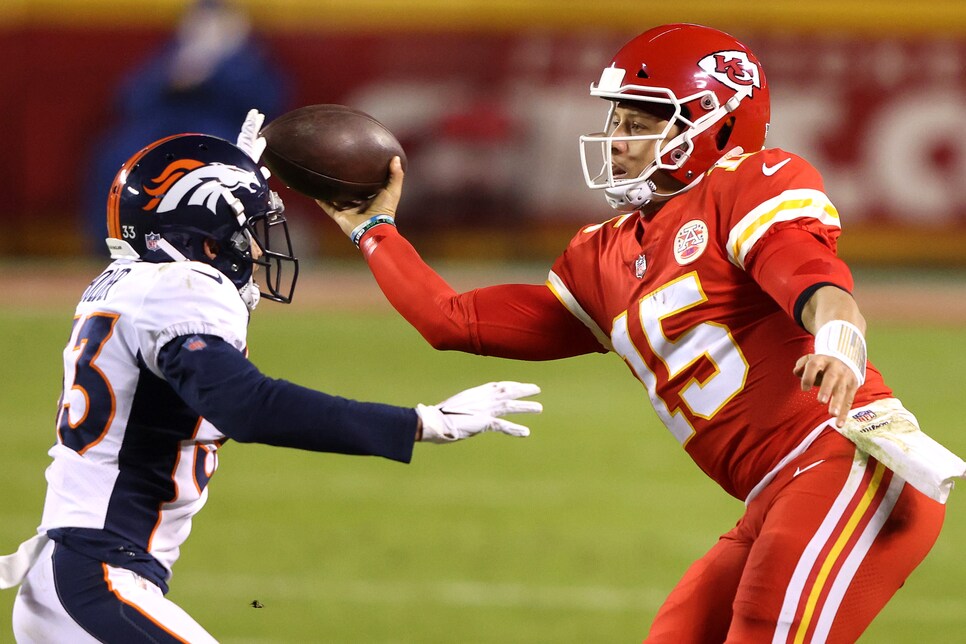 Look at what this man—if he is indeed mere man—is capable of:
That last one in particular, at least to me, is astounding. I played quarterback in high school, badly, and if there's one thing every good or bad quarterback knows, it's that throwing even five feet "against the grain"—to the right when you're running left—is basically impossible to do with any strength or accuracy. The amount of skill, athleticism, and strength it takes for Mahomes to throw a decent pass 15 yards downfield under those circumstances is just wild. But he does this kind of thing all the time, under duress and otherwise. He's like Michael Vick if Michael Vick could pass like Peyton Manning.
I know this will sound like an insane thing to say about a 25-year-old, but I think Mahomes is the best quarterback I've ever seen. At the very least, I've never seen anyone play the position like he has over the last three years. The Chiefs know it too, which is why they just signed him to the largest contract in the history of North American sports. With this guy at the helm, they know there's nothing you can't do (including win the Super Bowl, which they've already done.)
I have to emphasize that it's not just about the spectacular plays. It's the sheer consistency amid the spectacle—the guy has the highest QB rating in the game and the most yards, but he also has an astounding 31 touchdowns to two interceptions. There's no amount of gushing that can cover what he's doing on a weekly basis, and on top of all of that, he's played an enormous role in making NFL football fun again. If he played in New York or Chicago or L.A., we'd already be talking about him in the whispers reserved for Michael Jordan types. As it is, you can't hide him anywhere. Even if this guy played in Siberia, his greatness would speak for itself.
The "Speaking of Rolling Left" Secondary QB of the Week
This isn't quite the same, since he got to semi-plant and throw off his right foot, but Russell Wilson is also stupidly talented:
We are truly in a golden age of quarterbacks...unless you root for the Bengals.
The "Wow, These Guys Are Bad and I'm Not Sure I Like It" Team of the Week: Kentucky Basketball
As a Duke fan, I should be enjoying Kentucky's struggles immensely. Eee-mentz-lee. Their humiliating 79-62 loss to Georgia Tech—a team that has, itself, already lost to Georgia State and Mercer—is about as humiliating as it gets for one of the nation's blue-blood programs. Here's a shocking stat for you, courtesy of ESPN:
Along with the poor start, this is also the first time Kentucky coach John Calipari has suffered two double-digit losses to unranked, nonconference opponents while coaching an Associated Press Top 25 team during his career, according to ESPN Stats & Information.
John Calipari has no answers. He has things to blame—the pandemic, bad conditioning, a "tough schedule"—but beyond threatening to make his team run more in practice, there aren't a ton of solutions being bandied about.
Again, this should be a delight. Somehow, though, amid the grossness of 2020 generally, there's a shameful part of me that wants Kentucky to be good. How much toppling of the universe can we really take? Can't a few things be normal?
There's also this: When it comes to the college basketball style wars, Kentucky is on the side of good. Great athletes, fast tempo, exciting, acrobatic, skill-heavy hoops. Sure, hate their mobs of fans, but at least they're not Virginia, smashing the entire sport with an aesthetic hammer. The number of good teams that play fun basketball is vanishingly small, and Kentucky is still among them.
You can never quite tell when a coach's star begins to fade. Maybe this is it for Calipari, or maybe it's just a weird roadblock on the way to more success. By some measures, he still has the best recruiting class in the country, and as long as that translates into high draft picks, it's not changing. Still, his reputation as an in-game coach has always been dicey, and by Kentucky's high standards, this is a really embarrassing start. If only I could enjoy it more.
The "Beast Unleashed" Narrative of 2021: Zion Runs Free
ZION WILLIAMSON WILL HAVE NO MINUTES RESTRICTIONS HEADING INTO THE NEW NBA SEASON.
This is such happy news. Don't worry, I'm still incredibly worried that he's injury-cursed, but at least there's a chance we'll get to see what he can accomplish without restrictions in the NBA. The man is a physical marvel, and ever since seeing the dunk at the 28-second mark in person when he played at Duke...
...I've been dying to see him bring that impossible combination of size, strength, and springy athleticism to the highest levels.
Like Mahomes, I think Zion has the chance to be a generational talent. I'll grant you there's a lot more mystery involved—whether the knees on a body that strong and athletic can take a career of pounding play, whether his unique style of game can translate—but the potential is there, and I'm excited to have a chance to see that process truly begin on Dec. 22...and on Christmas day, when the NBA has wisely given the Pelicans the noon slot against Miami. Bring on the new season