Genesis Invitational
The results don't lie: Patrick Cantlay is the best golfer on the planet right now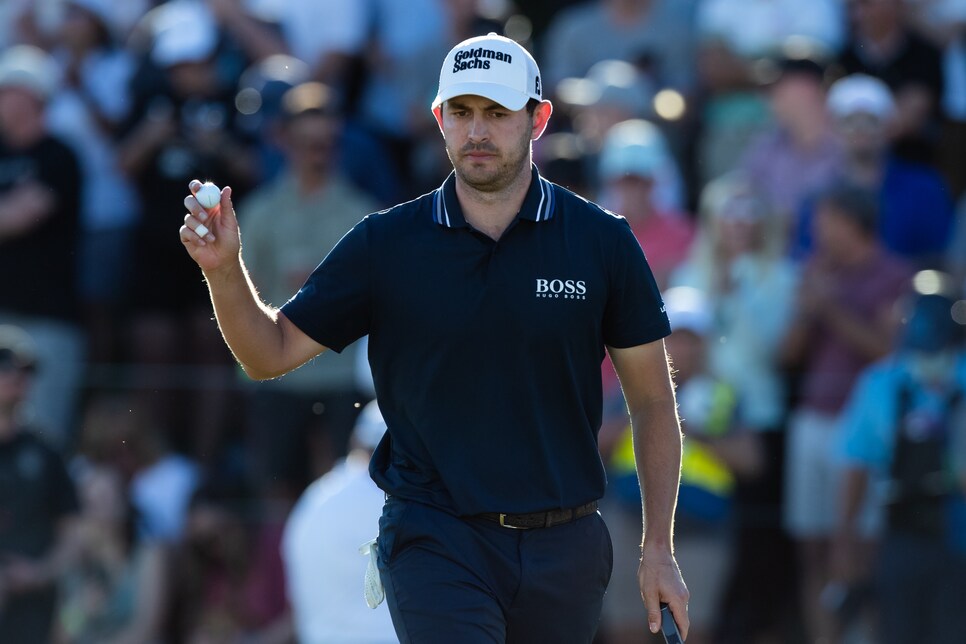 Patrick Cantley salutes the fans after sinking a putt during second playoff of the final round of the WM Phoenix Open.
Icon Sportswire
PACIFIC PALISADES, Calif. — He does not have any majors, nor has he been particularly close, and majors remain the currency of elite professional golfers. The big four, however, comprise a small percentage of golf tournaments. And in the events outside the major bubble, there's a not-ridiculous case to be made that Patrick Cantlay has been the world's best golfer over the past six months.
We can explain. Cantlay returns home to Southern California for this week's Genesis Invitational at Riviera Country Club playing the best, most consistent golf of his 29-year-old life. The heater began last summer, when he caught fire in the FedEx Cup Playoffs—a T-11 to begin the three-event sprint at The Northern Trust was followed by an electrifying playoff victory over Bryson DeChambeau at the BMW Championship. He held off a hard-charging Jon Rahm to "win" the staggered-scoring Tour Championship, a victory that brought him the FedEx Cup and the $15 million that comes with it and carried that form into an undefeated—and uncharacteristically spirited—performance at the Ryder Cup.
Cantlay was named PGA Tour Player of the Year via a controversial vote by his peers; many felt Rahm, who posted 15 top-10s in 22 starts, including a U.S. Open victory, deserved the nod. However, it went to Cantlay and his breakout summer, which extended into the media room.
Cantlay's a bit old school demeanor-wise; a speak-when-spoken-to type of guy whose reticence has been mistaken for dullness. No longer; he's become a press-conference darling for cerebral answers like the one he gave at the Tour Championship to a question about the Player Impact Program. Patrick Cantlay, as the kids say, had a moment.
He then disappeared from public eye for the entirety of the fall, four months in total. When Cantlay is not playing on tour he is … well, he's doing whatever he does. You won't find him posting swing videos to Instagram or tweeting about the football game. It's part of the reason, along with his barren major record, that he often fails to pop up in the best-player-in-the-world conversation.
He returned to competition at last month's Sentry Tournament of Champions and finished solo fourth. Next came another top–10 at The American Express, a top-five at the AT&T Pebble Beach Pro-Am and a playoff loss at last week's WM Phoenix Open, where he missed a nine-footer on the 72nd hole that would've won him his seventh PGA Tour event. Two holes earlier, at the raucous 16th, his uphill birdie putt struck a rock and came up well short. He summed that bad break in one word: "golf." He is a combined 113 under par over his last six events, an average of 4.7 shots in the red per round.
Despite the costly late misses in Phoenix, Cantlay took great pride in playing mostly mistake-free golf over the entire weekend at TPC Scottsdale, flashing the relentlessly consistent brand of golf that has seen him rise all the way to No. 3 in the Official World Golf Ranking.
"I obviously played really well all week, played solid," said Cantlay, who can jump ahead to No. 1 in the World Ranking with a win and Rahm finishing outside the top four. "Had two rounds with no bogeys on a golf course that I had never seen before, so my game's in a really good spot. Obviously, I would have liked to get over the finish line, but I did as best as I possibly could and that was the result and sometimes that's how it goes."
He arrives at Riviera as the clear-cut second favorite, ahead of Dustin Johnson and Rory McIlroy and trailing only Rahm in the bookmaker's minds. Cantlay's string of results is the primary reason for that, and his comfort on Riviera's kikuyu fairways and rough and its Poa annua greens certainly bolster his chances. The former UCLA All-American finished T-4 in his first Genesis appearance in 2018 and has posted three finishes between T-15 and T-21 at the event since.
"I think most people's problems with kikuyu is they never play on kikuyu," he said. "There aren't very many places in the world where we see this grass; even the other L.A. courses don't really have kikuyu. So anytime you have to play on a surface that you've never played on before or played very rarely, it's difficult. I fortunately grew up a Southern Californian, so I like the kikuyu grass and don't think it's that particularly difficult."
He fully expects to be in contention this week. He doesn't hope to be, he expects to be, and there is absolutely a difference. He has reached that level, where getting in contention no longer scratches an itch; he's disappointed every time he doesn't close the deal, as was the case in Phoenix.
"Any week that you don't win is not an ideal week. But that's the nature of it," he said. "So trying to find the right perspective where you never get satisfied with finishing second or third, while at the same time recognizing that if you're competing to win tournaments often, that will happen is one that I try to walk the line really finely. I try to do my best to understand and realize that seconds and thirds and playoff losses are going to happen while at the same time never being satisfied with all top-10 finishes this year. The goal is to win tournaments and so far, this year I've been shut out."