The Loop
Sergio Garcia's Sanderson win helped this bettor win nearly $3K on a $1 parlay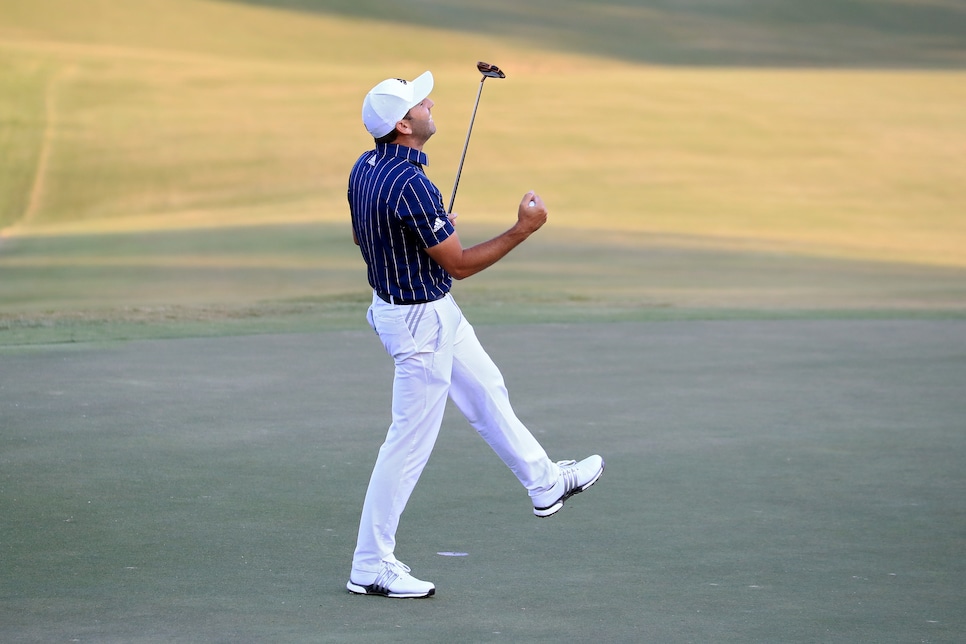 For the general public, the most enticing thing about sports gambling is the prospect of betting a little to win a lot. That's what makes large parlays so popular, as each pick added to the parlay jacks up the odds. It's also what has made betting on golf so popular. Take, for example, this week's Sanderson Farms Championship, where a $10 bet on Sergio Garcia winning outright would have won you $700 at the DraftKings Sportsbook, where Garcia opened at 70-1. Not bad.
One bettor took it one step further, throwing Garcia into a four-pick parlay on Thursday evening while Garcia was still playing his first round. At that point, his odds had dropped from 70-1 to 67-1, but this bettor added three other picks and parlayed them together with a Garcia victory. He/she wagered just $1 on the bet, and if it hit it would pay out nearly $3,000.
Amazingly, the first three dominoes fell, and they were all pretty insane in their own right. The first was a touchdown from New York Jets quarterback Sam Darnold at 10-1 odds. In order for that to hit, Darnold had to score a rushing touchdown. A passing TD is a TD credited only to the player who catches it in that particular prop. Darnold proceeded to rip off an incredible run from midfield for the first Jets touchdown of the game. One pick down, three to go.
The next two picks were a pair of run lines in baseball, meaning the team this bettor wagered on had to cover a 1.5 run spread. The San Diego Padres did just that against the St. Louis Cardinals in Game 2 of the NL Wild Card Series, winning 11-9 (+225 odds). Later that evening, the L.A. Dodgers covered the 1.5 by beating the Milwuakee Brewers 3-0 (+193 odds). With all three hitting the same night, the bettor had three long days to wait and hope Garcia could cash this ticket. The rest, as they say, is (gambling) history:
Think of the many ways you've erroenously spent $1 in your life. Perhaps on a McChicken or a crappy cup of coffee or bag of Doritos from the vending machine at work. Now, as you feel youself seething with rage, just imagine this person laying on their couch on a Thursday afternoon and saying "what if I just threw all this crap together and bet a buck on it? What's the worst that could happen?" Three days later that person is almost 3 grand richer, while you got Cool Ranch Dorito dust on your fingers. Thems the breaks I suppose.